Backdated to 20th - 26th April, 2014 ~ Apologies to my readers. Due to a slight change of lifestyle, I haven't been updating my blog. So, now for the long overdue entry.
In April, we (my guy & me) went vacationing in Lombok, Indonesia. Why Lombok? Why not the more popular Bali which is across a strait from Lombok? Well, mainly is we don't like crowd & rowdy places. Bali is over commercialised. Most things you could get or see in Bali can be gotten in Lombok at roughly half the price. Booked our flight & resort online based on our preference of going on off-peak period. Cheaper & less crowded.
Some advices regarding Lombok: Unlike Singapore, it's a big island. Choose your destination wisely based on your preferences. Unless you have lots of time with a huge budget, traveling to many scenic spots take up much time & will be factored into the cost. For beach lovers, the favorite destinations are the popular Gili Islands in the North. Senggigi to the West is a good jump-off point for many & Kuta, a rustic place in the South. Forget about Mataram, the biggest city & capital of Lombok. We passed by a few times during our day trips & it doesn't look interesting to us. Just another typical town.
Note: It's not my habit to list prices here as they tend to varies depending on season & circumstances. Furthermore, I seldom keep track as it's my guy who deals with money matters most of the time. Please use the enclosed links or Google to help yourself.
7.30am - SilkAir flight from Singapore to Lombok.
@Singapore Changi International Airport.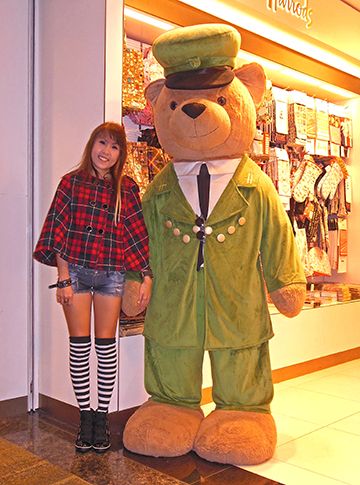 The flight from Singapore to Lombok takes about 3 hours & flying over Bali along the way.
Bird-eyes views of Lombok.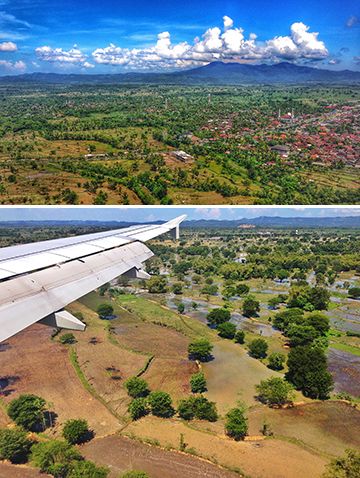 Singapore to Lombok by SilkAir.
10.45am - Touch down at Lombok.
Arrival at Lombok International Airport.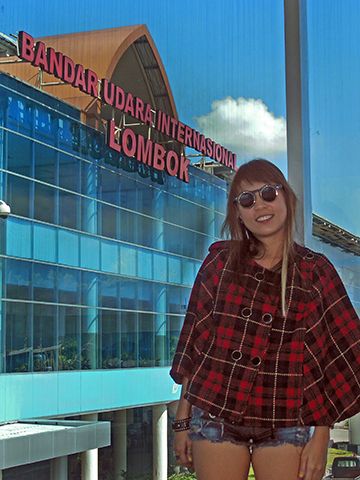 We opted to travel by airport taxi/cab which took about an hour to reach our resort at Senggigi. Preferred that to wasting 2 over hours if travelling by the airport bus.
Landmark structure on the highway.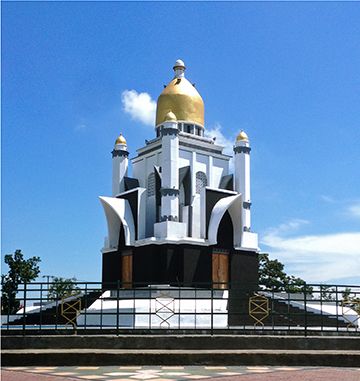 11.30am - Arrival at Pacific Beach Cottages aka Pacific Beach Resort. We picked Senggigi & this resort for a number of reasons. Don't need an up-class spa or boutique hotel. Just a modest priced decent place to stay will do. Senggigi in West Lombok is ideally centralised for us to visit places to the North or South. The resort is by the beach (this is a must!). Not in a noisy area, but is just 15 - 20 minutes walking distance from Senggigi town. You'll never know when you might need fast access to convenient facilities. These are the few of our priorities when on holiday. The free wi-fi at the resort is just a bonus.
Arrived @Pacific Beach Resort.
Pacific Beach Cottages, Senggigi, Lombok.
Reception area & with Mustang, the friendly receptionist.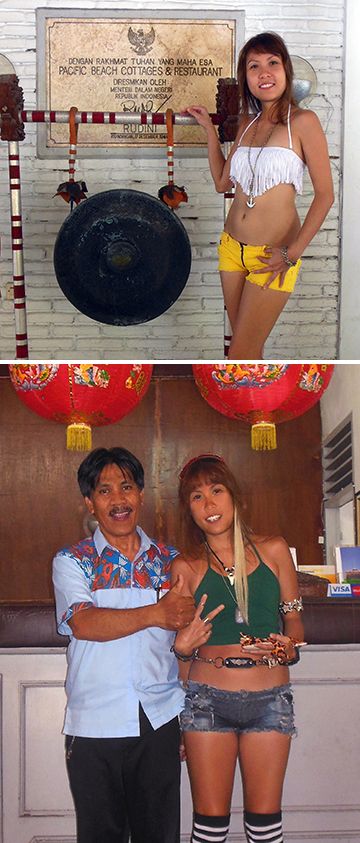 Outside our room & map of Lombok.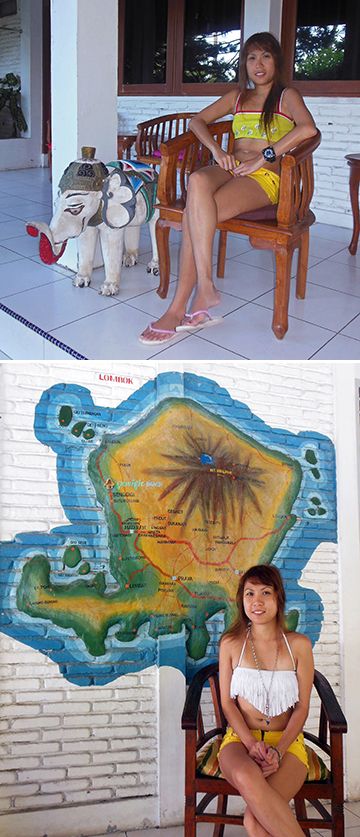 After checking in & unpacked, we walked to Senggigi Town for lunch. The resort where we stay is at an area known as Kerandangan Beach, about 2 km northward of Senggigi Town.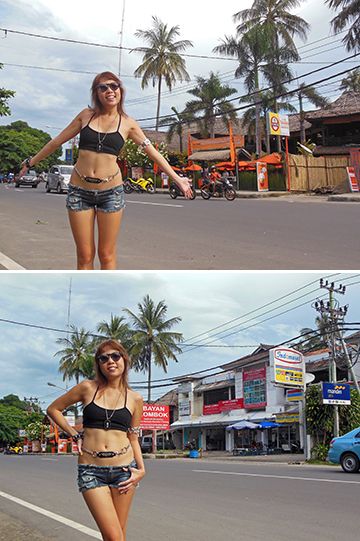 For traveling around Senggigi, options are walk, rent a motorbike or a car. Bicycle is not a great option as some parts of the road are quite steep. The local traffic with narrow lanes & speeding, is not really suitable for pedalling. You can also take the public transport known as bemo which looks like a converted van or pickup truck. These only operate at daytime with operation ceasing by 6.30pm. Horse carts, known as Cidomo are available too & it seems at Senggigi, they operate only in the evening. We didn't see any during daytime. Clearly marked taxis are widely available. These operate by meter. Just make sure that the meter is turn on after you board.
Advices: For female traveling alone, my advice is not to board the many local cars/vans used as unofficial taxi offering to pick you up. I'd been approached many times when my guy was a little distance away from me. Always use official taxi. Those taxi of Blue Bird Taxi Company have the best reputation. Be safe, not sorry.
Hawkers or peddlers are irritating, but inevitable at any tourist spots. If you're not interested in their wares/services, ignore them or tell them no firmly or they will keep following you. Some locals will try to engage you in seemingly casual conversation which will turn out to be a pestering sales pitch which will keep following you around.
If you want their service or buy something which price is not marked, bargain, always bargain!
Senggigi is named after a princess in a local legend. Senggigi central is a small town with many convenient stores, eateries, tour operators, money changers, a few banks, a few clinics & a police station. We discovered that the banks offer higher rates than most money changers. The highest rates is a bank near the southern end of the town. Don't be deceived by the fake or not-up-to-date signboard rates put up by many money changers. Always ask before exchanging. Banks' rates are in real time.
Senggigi Central is a slow paced town & at off-peak season, it is really quiet with little road traffic.
Interesting architecture & playing chess to pass time.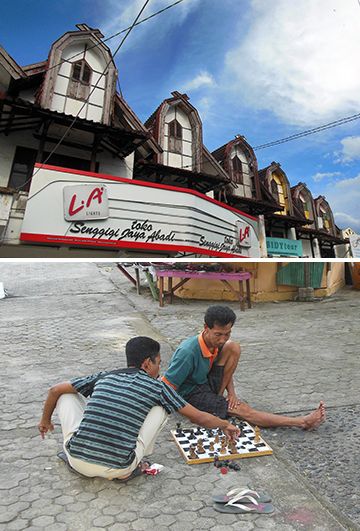 A bus stop & sheltered look-out over a beach.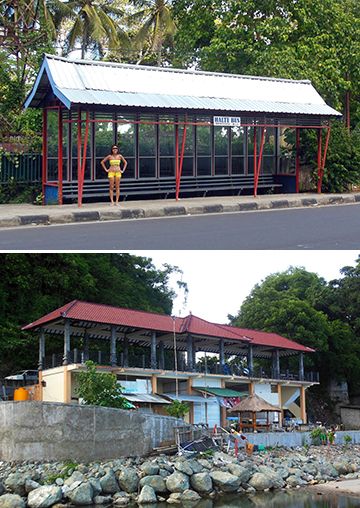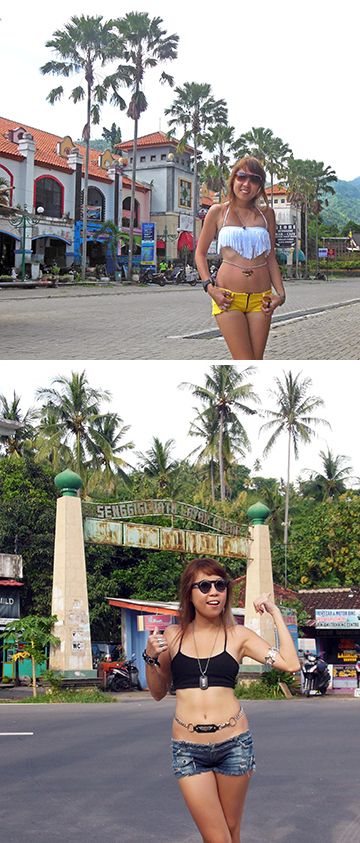 The Art Market located at Senggigi Town has many small stores selling handicrafts & souvenirs.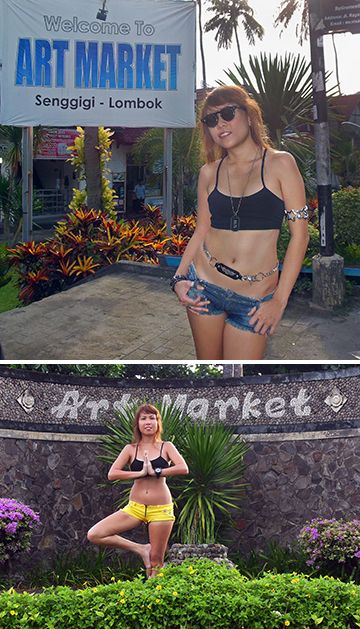 And a shopping plaza which many shops weren't in operation perhaps due to the low season.

Many boat operators & ferries, including some to Bali, operate from the jetty at Senggigi Beach which is just behind the town area.
Tour Operator & Ferry Rates.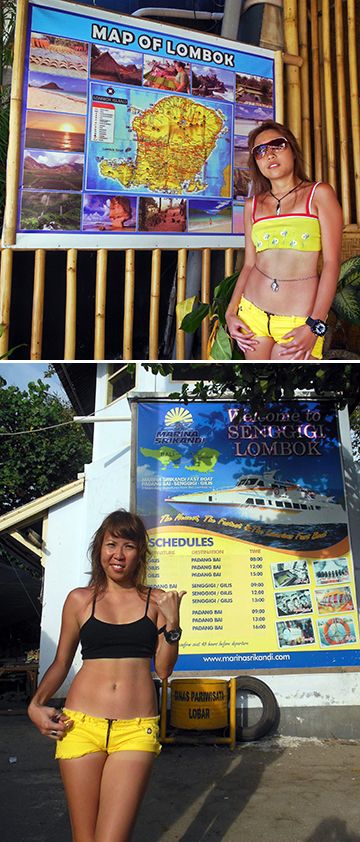 Pink Buddha statue & a funny signboard.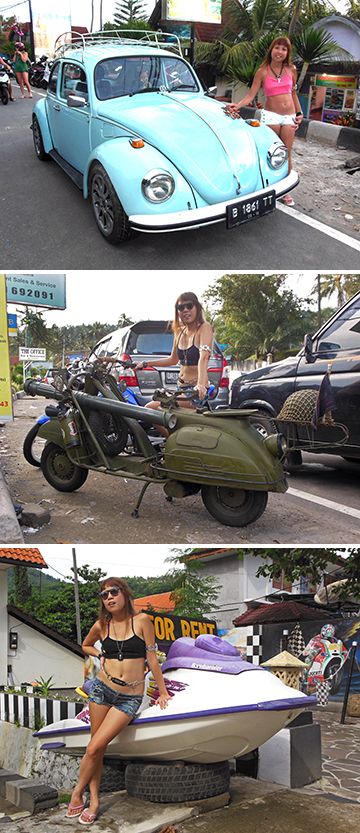 Many Singaporeans love to ask "Where to eat?" or "What to eat?" No worry lah! I can't recommend what to eat as I'm not a foodie. However, where to eat is not a problem. Many eateries & a wide varieties of food to choose from at Senggigi town.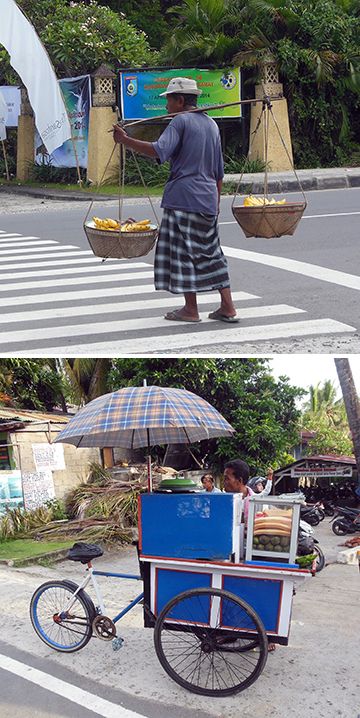 A warung is a small stall, usually by the roadside, selling mostly cheap local food. You can find warung almost everywhere in Senggigi.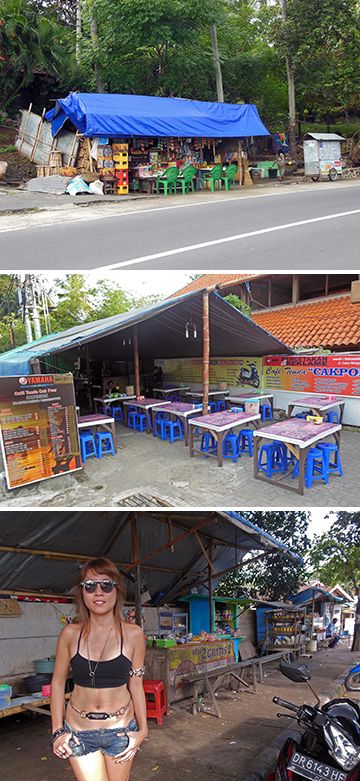 Up class from those cheap local street food will be those numerous mostly Western-styled cafes & restaurants. Many of these eateries offer free wi-fi, a bonus to those addicted to FaceBook. =P
Eateries @ Senggigi Town.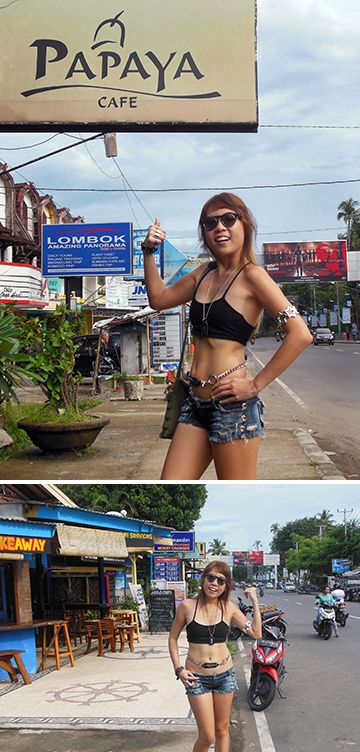 Our room rate comes with free daily continental breakfasts. We took almost all our lunches & dinners at the town. Convenient to be near a town within walking distance.
Starting on fruits, breakfast at the resort.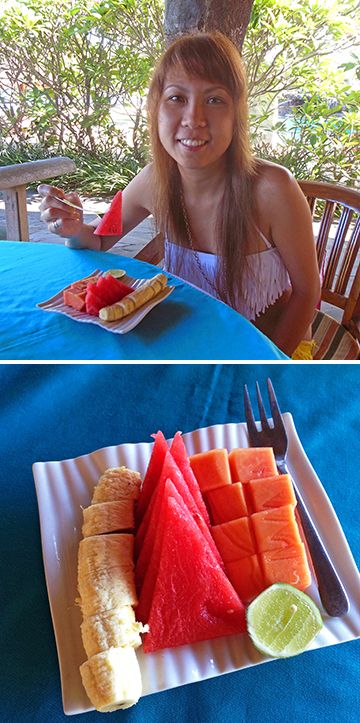 Fried Kampong Chicken - YUMMY!
Freshly baked Baguette with toppings - DELICIOUS!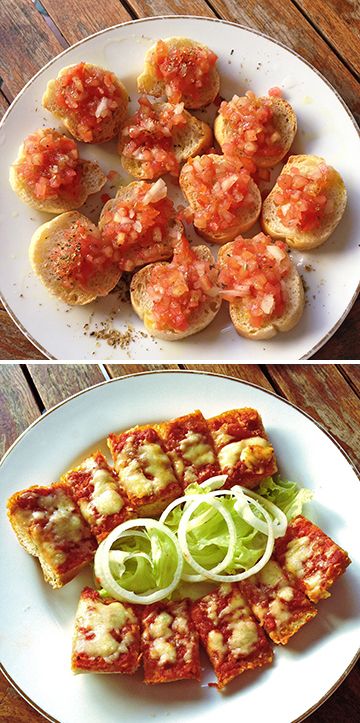 Drink & dessert at a cafe in Senggigi Town.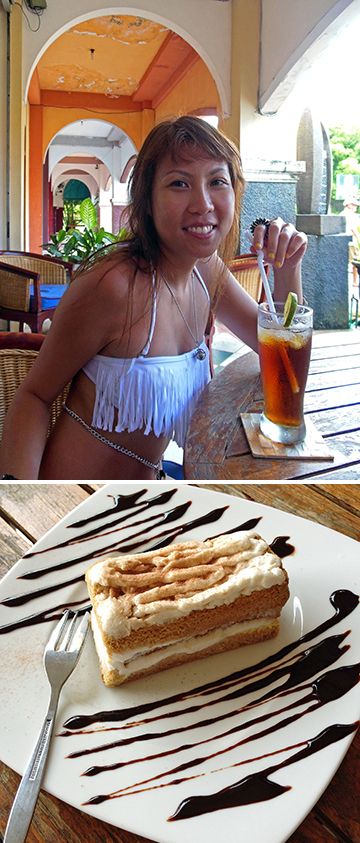 Dining at Angel's Cafe & Happy Cafe.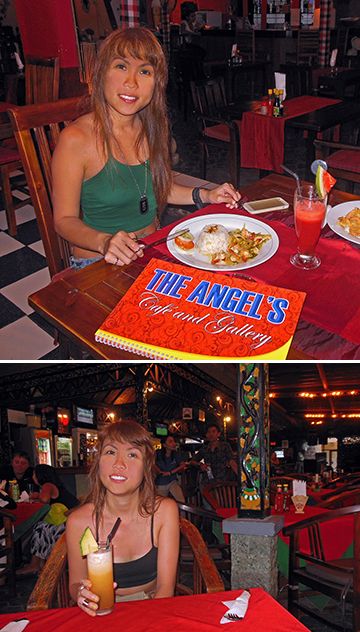 Shrimp Curry & Steak - MOUTHWATERING!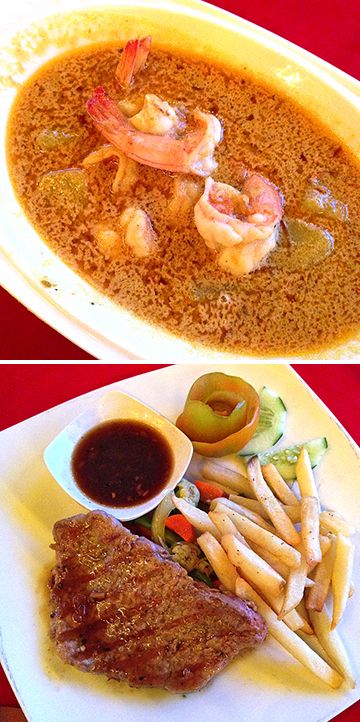 Food is not what lures me to Lombok. Heard of some nice snorkeling spots at Lombok & wanna try them. Good snorkeling spots is one of our top priority when choosing destination for a beach vacation.
Rant ~ Whenever I mentioned snorkeling, some egoistic diver will insist that I should try diving. Geez…Read this >>> I DO NOT wanna try diving! Please STOP telling me what I should or should not do! I just wanna go snorkeling. Get it?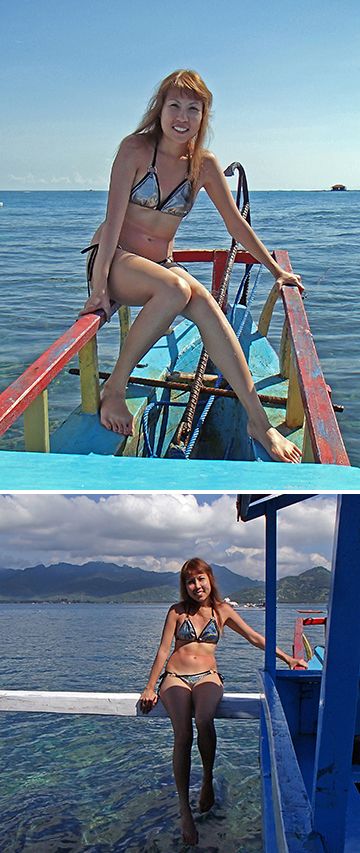 With young & handsome boatman.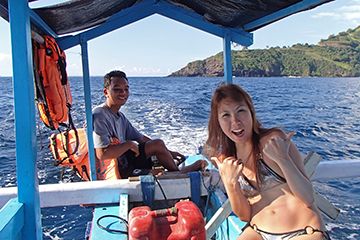 On our way to the Gili Islands.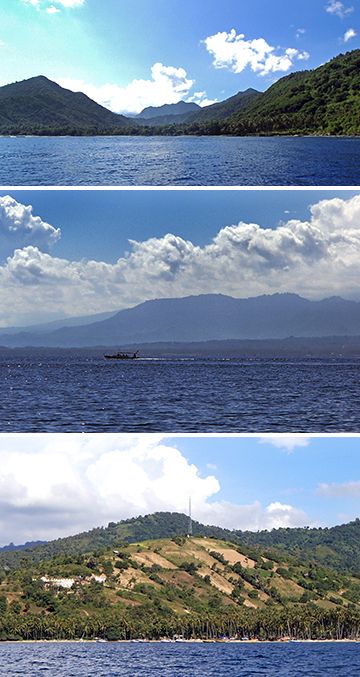 Our first destination is Gili Trawangan, the biggest of the three Gili Islands. Wandered around for about an hour.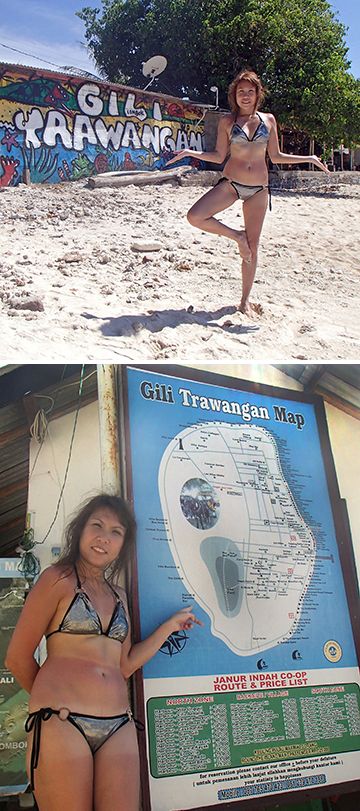 Beach near the jetty @Gili Trawangan.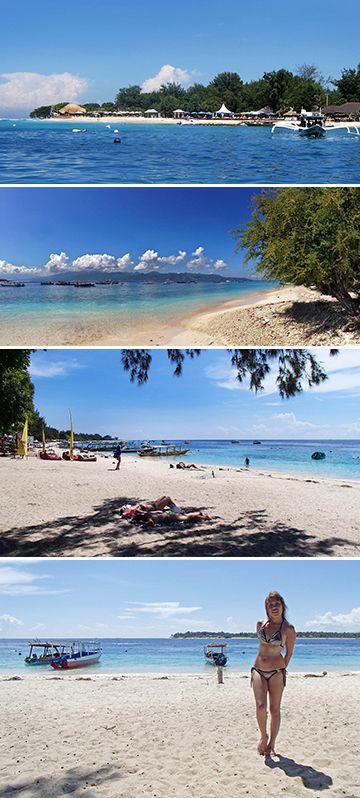 There is no motorised transport on any of the Gili Islands. The only mode of transport are horse carts.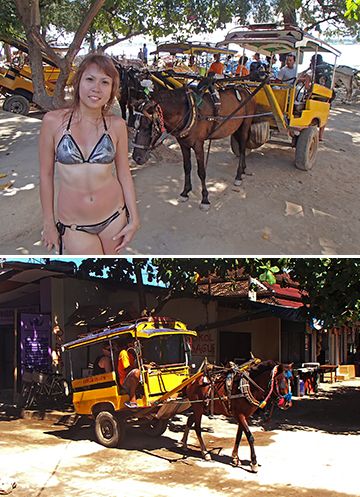 Most tourists there are Westerners. We are the very few Asians around & when my guy's back was turned, I was asked by strange Western guys for my FaceBook which I then pretended not to understand English. FaceBook? FacePalm, you want? LOLZ! =P
Street of Gili Trawangan.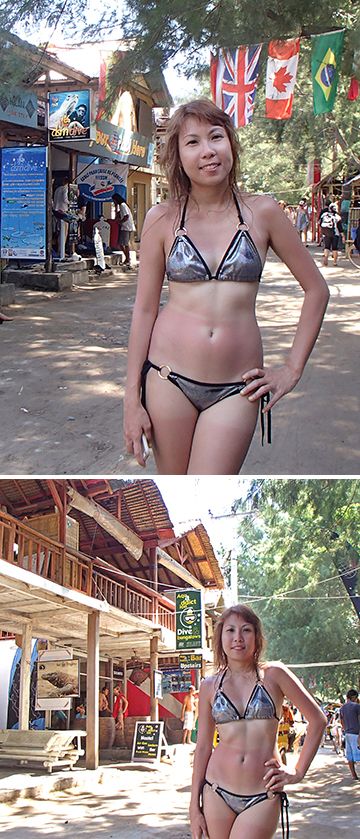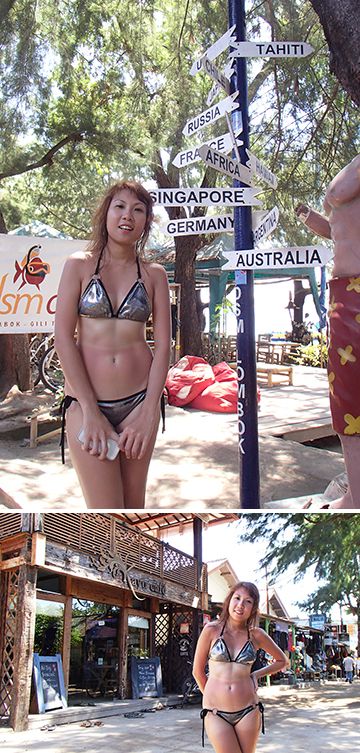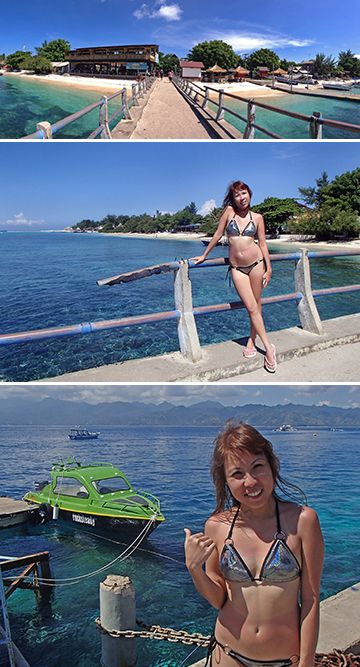 Eateries @Gili Trawangan.

Gili Trawangan is too crowded, too rowdy & too noisy for our liking. More of a beach party than a quiet beach holiday. Many like it that way, but not us. After returning to our boat, the boatman brought us to a spot between Gili Trawangan & Gili Meno for snorkeling. We explored the coral reef there for some hours. Sailed to Gili Air for lunch. After meal, we went to a spot near Gili Air for more snorkeling fun.
Snorkeling Fun at Gili Islands.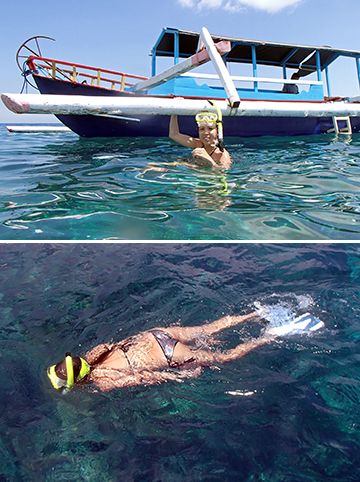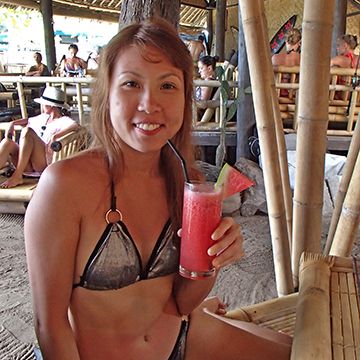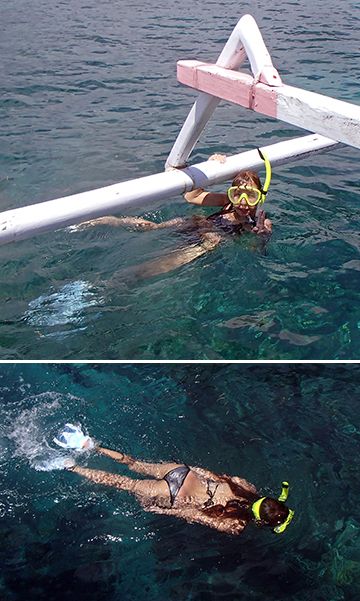 Snorkeling at Gili Islands is awesome! Water visibility is great & no current to speak of or very mild current at some spots. The corals there are fantastic with very little damages. One of the best snorkeling spots I have been to. No regret whatsoever!
Enchanting coral garden, a panorama of fascinating shapes, patterns & colors. The purple & blue corals are spectacular. Beautiful inhabitants of the reef go about their daily aquatic business. Am not a wordy person, so I'll let my pictures & video speak…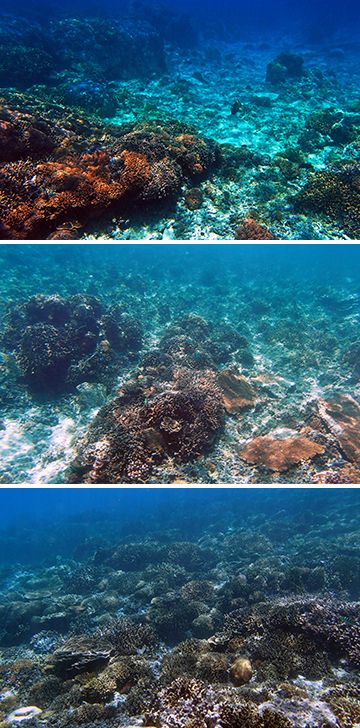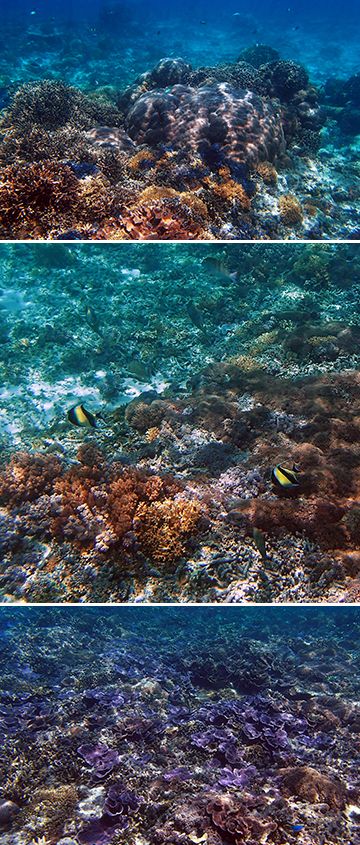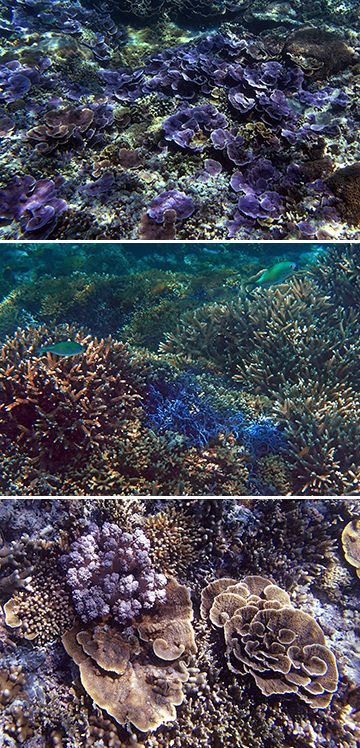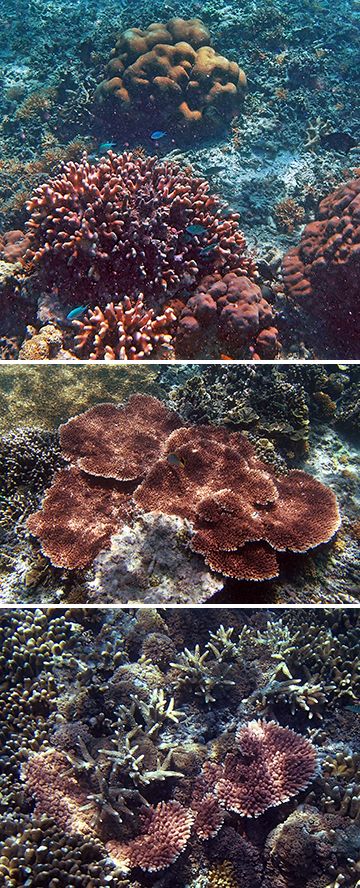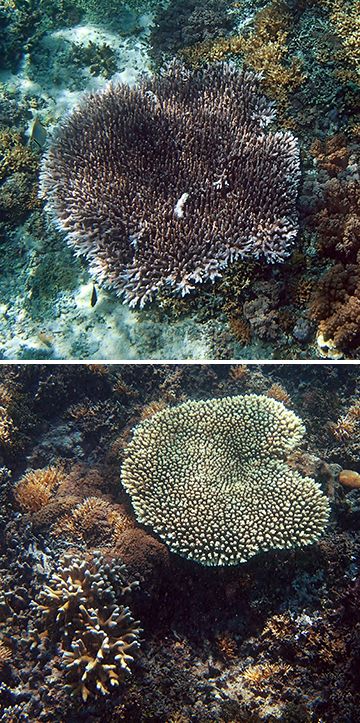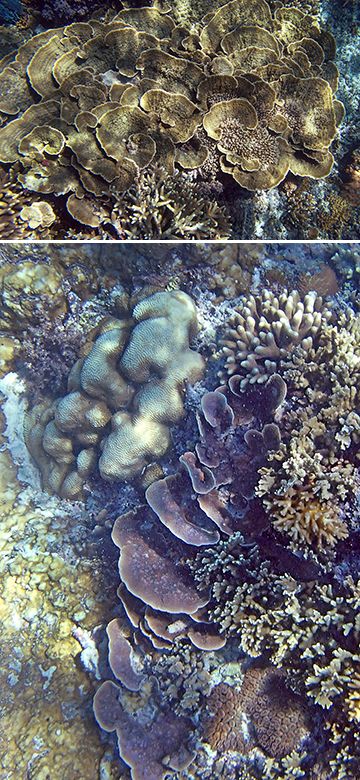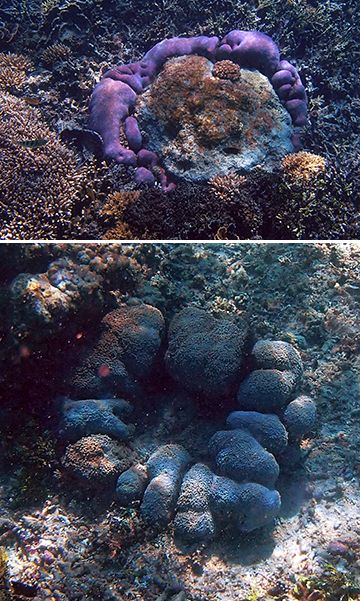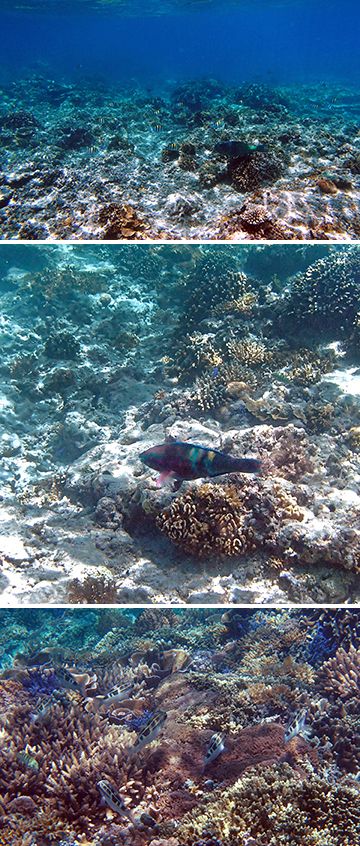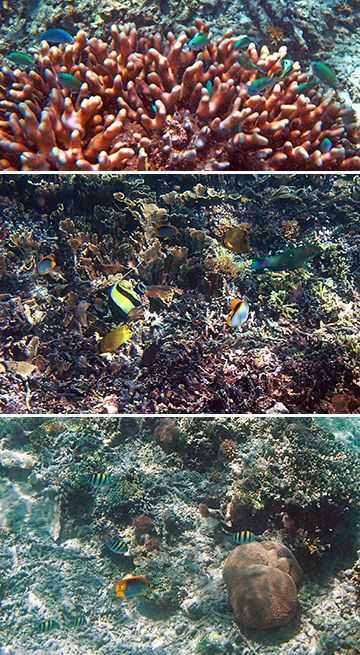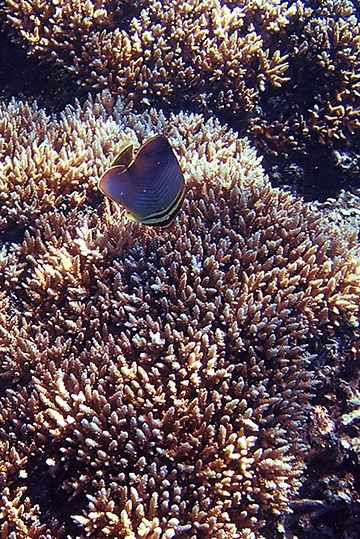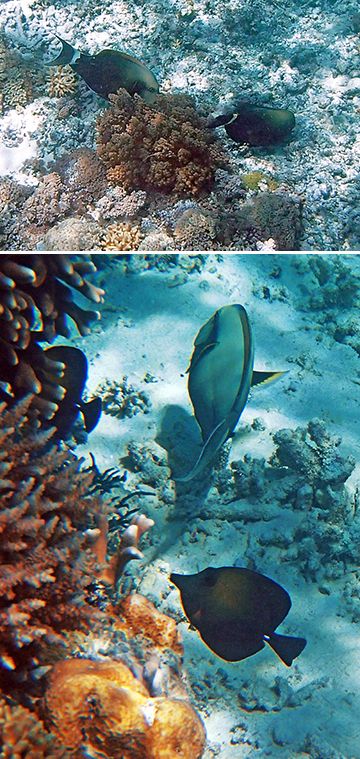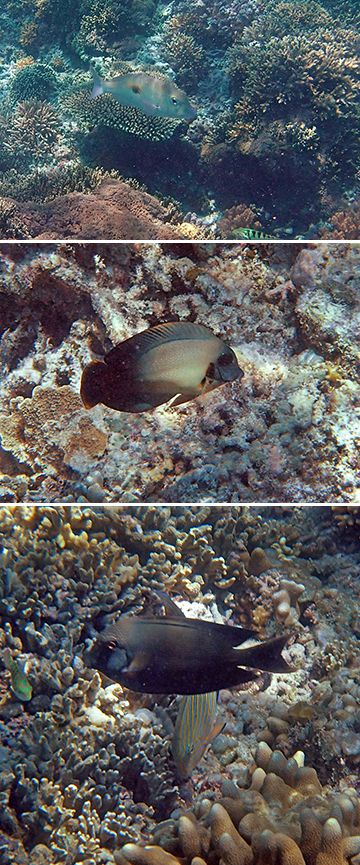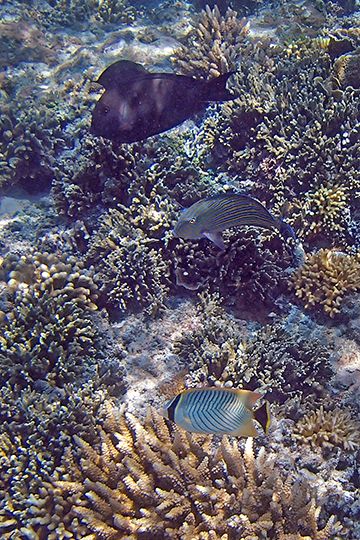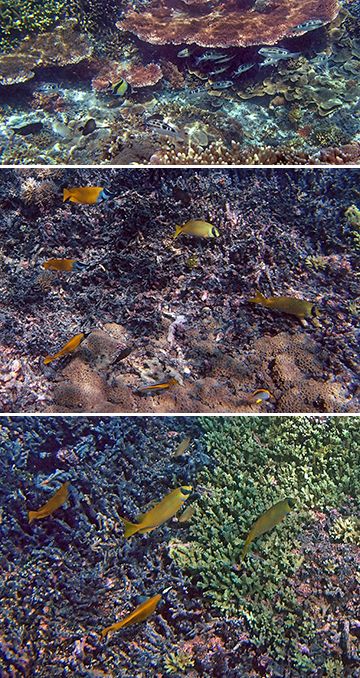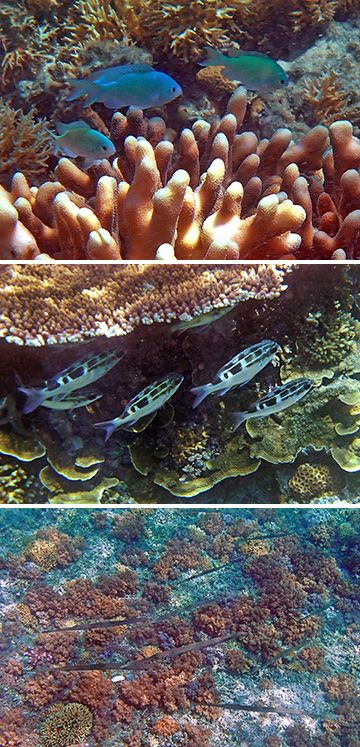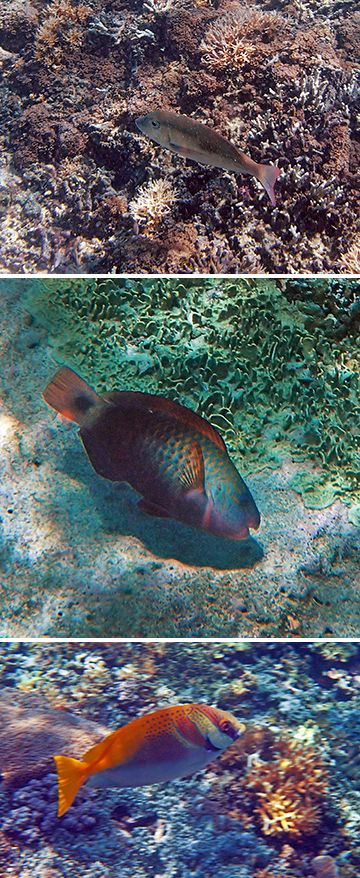 Furry What? and a broken Top Shell.


And the highlight of the day is when we spotted a Green Sea Turtle! There's something not right about its shell which seems to be damaged at the left side. Nonetheless, this is the first time I saw a sea turtle in the wild. Am so happy!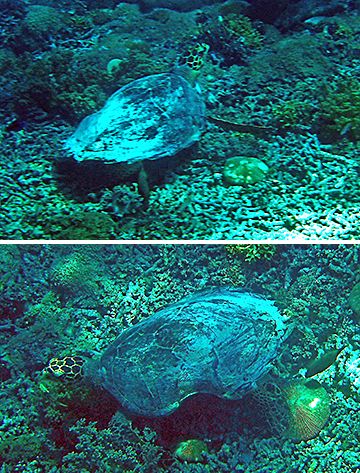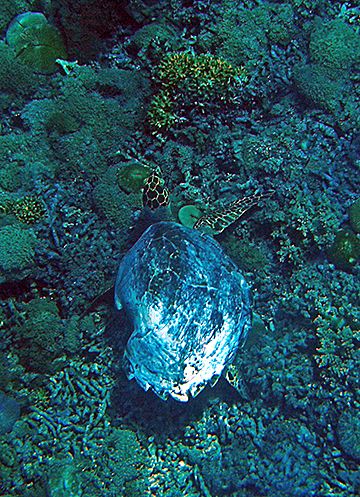 It was a fantastic day which I will never forget!
Snorkeling Trip @Lombok, Indonesia.
Note: All pics & videos of the snorkeling trip were taken by an underwater camera, an Olympus Stylus TG-630.
Earlier in the morning, our boatman told us that we have to return before 4.30pm cos the sea will be rough in the late afternoon. We thought he was pulling a fast one on us, but it turned out that he was telling the truth. The sea was much rougher on the return journey & we could hear the boat little engine straining against the current & the waves. Even with outriggers, at some stretches, the little boat was rocking from side to side, something which we didn't experienced in the morning trip out.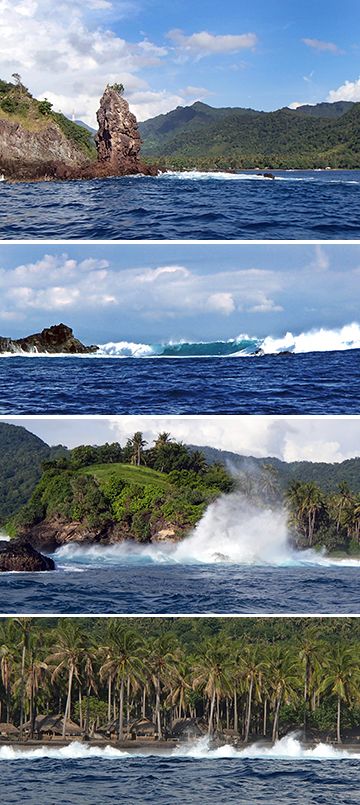 Our boatman is friendly & more importantly, very attentive. At the reef, he did not anchored the boat. Instead, he let it drift at a safe short distance from us, watching us & the surrounding all the time. He was the one who spotted the turtle for us. There was once when a boat full of tourist was coming towards us. Our boatman carefully positioned his boat at the oncoming boat path so that the other boat has to slow & change course slightly to avoid us. He also warned us when we swam too near the boat traffic channel. He's not just our boatman. He's also our safety officer. A great fellow.
For a one & a half day sightseeing tour, we engaged a local guide by the name of Zul & his elder brother who acts as our driver. On the first day, they picked us up from our resort & our first stop is a traditional pottery factory where I messed up a pottery making procedure. Heh! =P




Next we visited a traditional weaving factory.
With the salesman/guide of the traditional weaving factory.
Dressed up as a Lombok Princess. =P
Before going to Lombok, I heard of the beauty of Kuta Beach & wanted to at least see it for myself. That was the next stop for our first day trip. Kuta Beach is really beautiful! As it was the slow season, there wasn't any tourist around, except for 3 lady peddlers who hounded us for a short distance.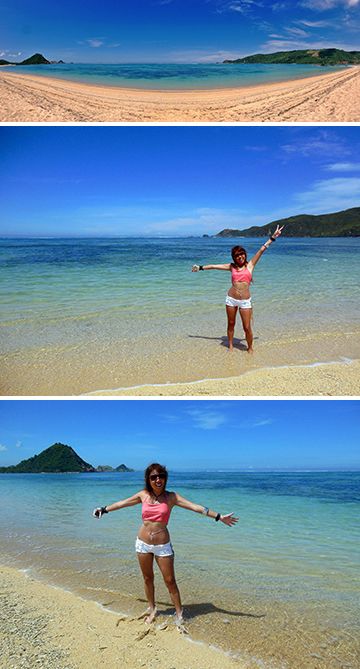 Attempted to walk to the left end of the beach, but failed miserably. Let me tell you… it was very hot & humid. I perspired like a horse! Fat raindrops of sweat continuously streaming from me. I think I lost 2kg of weight in water alone! The strange loosely-packed pebbly sand makes walking very difficult for long distance. We slipped & slide with every step we took, sinking up to my upper ankle & my guy sank nearly to mid-calf. Half the way, we gave up. Treasonous sand!
Resting after failure & pic of the treasonous pebbly sand.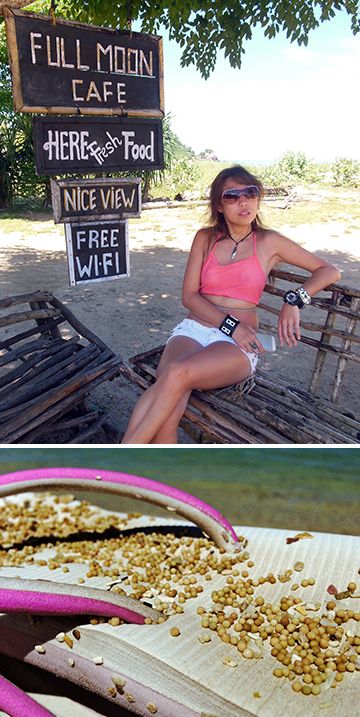 If on a tight budget, you might wanna try staying in one of these.
Super low budget stay at the beach.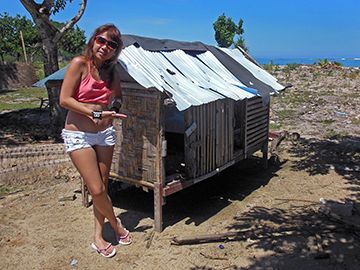 Haha... I'm joking. That is a chicken coop. Heh… =P
Lunch was at an restaurant near Kuta Beach & I took a pic with our guide & driver. Zul is on the right of pic & his brother on the left.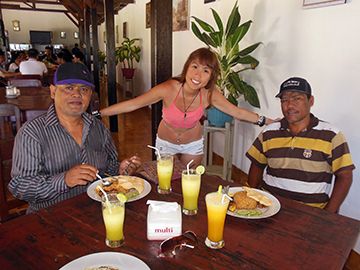 After lunch, our guide took us to Mawun Beach. Oh wow! Mawun Beach is even more beautiful than Kuta Beach! It is one of the most beautiful beach I have ever saw. A huge 'C' shaped bay with soft fine white sand & clear turquoise water. Franked by low hills, Mawun Beach is an awesome sight to behold. Photo alone does not do it justice. Pity I was not expecting that & didn't have my bikini along. Would love to go back there for a swim someday.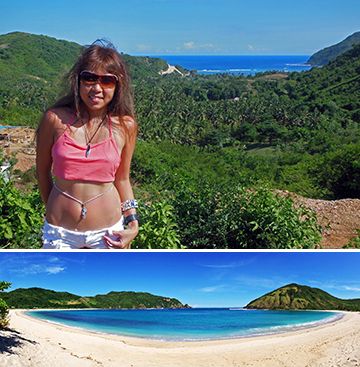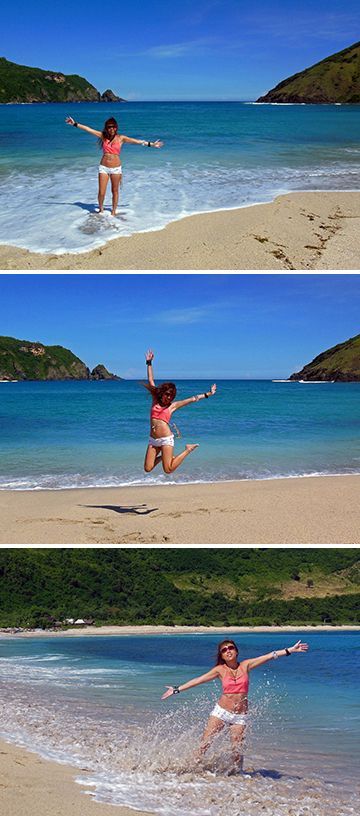 Driving away from Mawun Beach, my guy told our guide to take us to hilltops which able to overlook Kuta Beach & Mawun Beach as we wanted pics of both beaches from high ground.
Kuta Beach & Mawun Beach.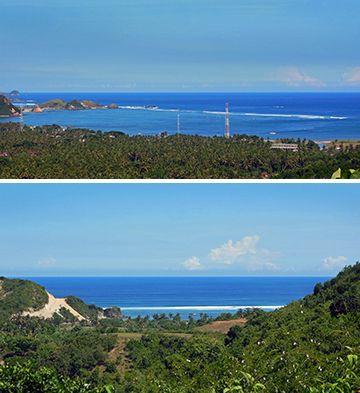 And at one hill, stopping for pictures, we saw below us, according to our guide, a gold mining operation.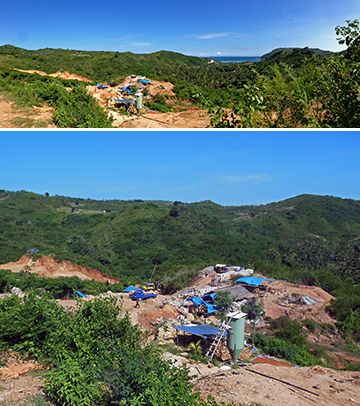 Our next & final stop for the day was at a traditional Sasak village. The Sasak are natives of Lombok & this village was being preserved by the authorities for tourist revenue. This is one of the tourist spots which outside guides cannot conduct tour inside the area. The village guides will take over, earning tips as wages. Not only you have to tip the village guide, at an official-looking booth, you will be encouraged to make a donation towards the preservation of the village at its original traditional state. Seems legit. No fix rules as how much you wanna tip & donate. All up to you.
Traditional Sasak village & with the village guide.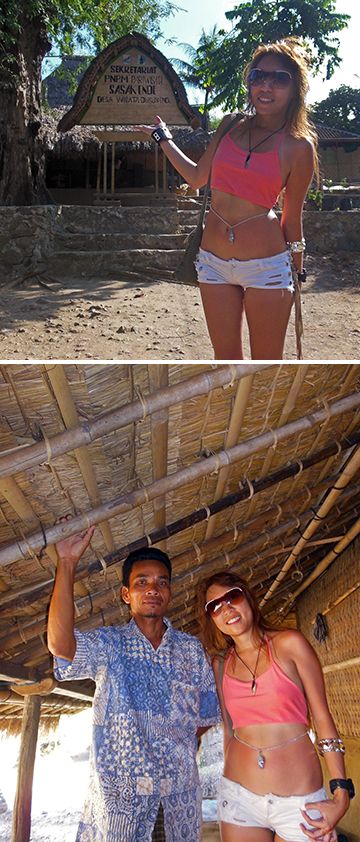 A traditional Sasak rice storage barn & an entrance to a Sasak home.

The unique shape of the traditional Sasak rice storage barn is widely depicted in signs, symbols & architectural designs all over Lombok. It's predominate & omnipresent in Sasak culture, reflecting Lombok's status as a rice producing province of Indonesia.
All the village houses & structures are built with natural materials. Their roofs need to be replaced every 6 years or so, hence the donation.
Traditional Sasak houses.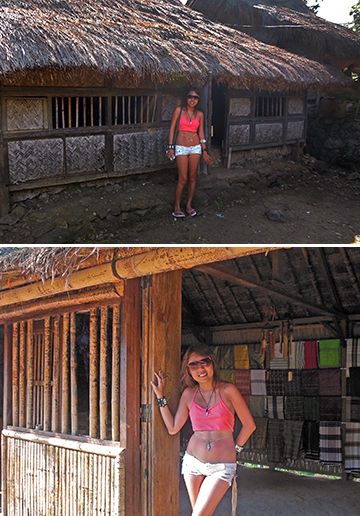 With a Sasak grandma, an occupant of the house we visited.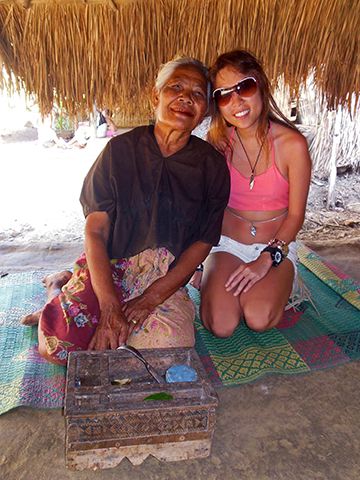 Simple Sasak village life & Sasak cattle.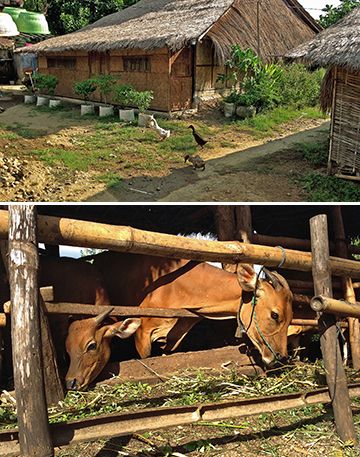 And with that, we concluded our first day trip. On the way back to our resort, we saw Durians for sale at roadside. Bought 1 to try, but our guide seemed so desperate for it that we gave it to him instead. Oh well, next time then.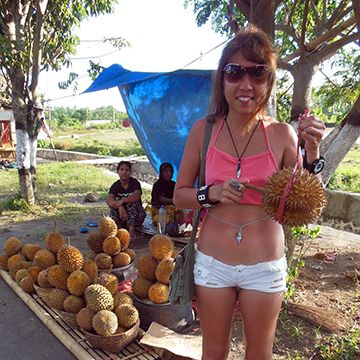 The next day, as I wanted to see paddy fields, our guide brought
us to a rice harvest. Rice is the staple food for most East & South-east Asians & I'd been eating rice my entire life without knowing how it was produced. Quite an eye-opening experience for me at the paddy fields. Love the taste of Lombok rice!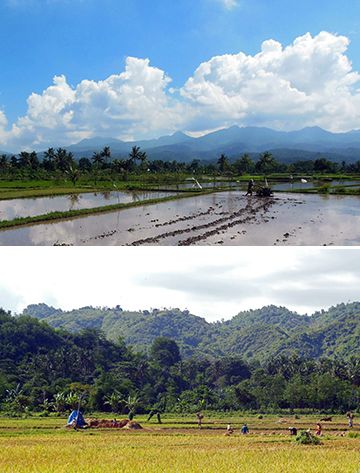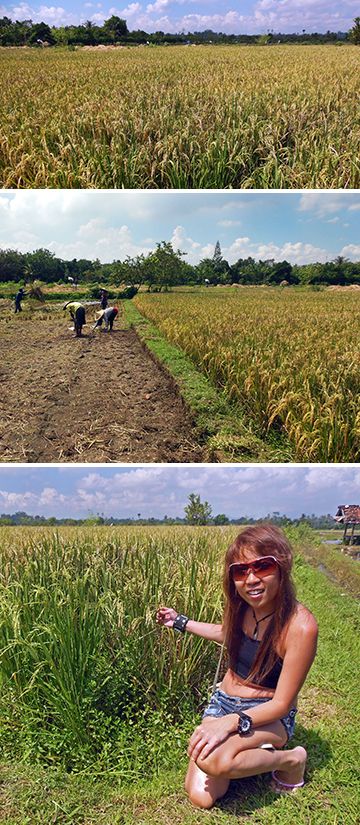 Threshing out the rice grains by traditional method.
Sort of rice QC going on here & I'm just a busybody. =P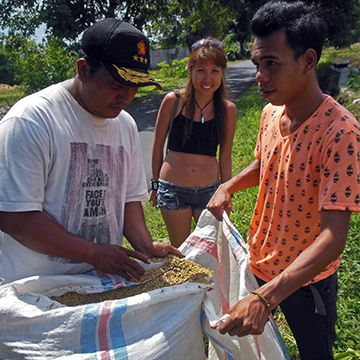 A farmer heading home after a hard day work.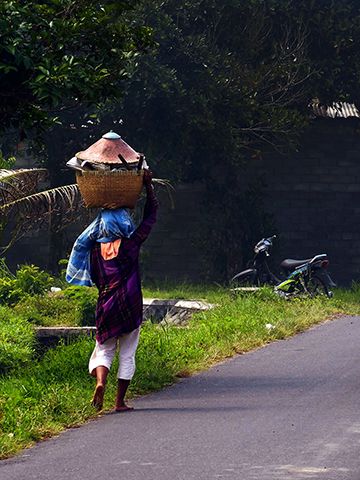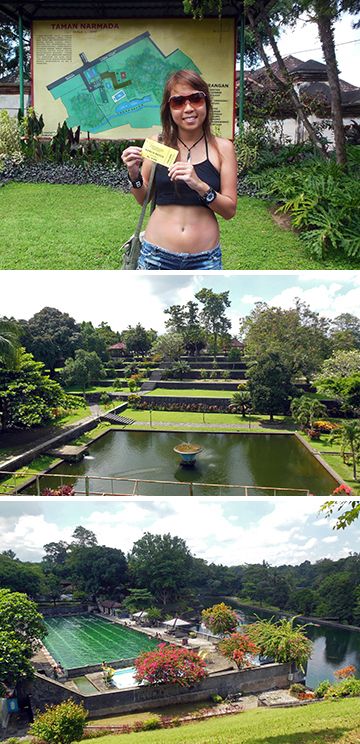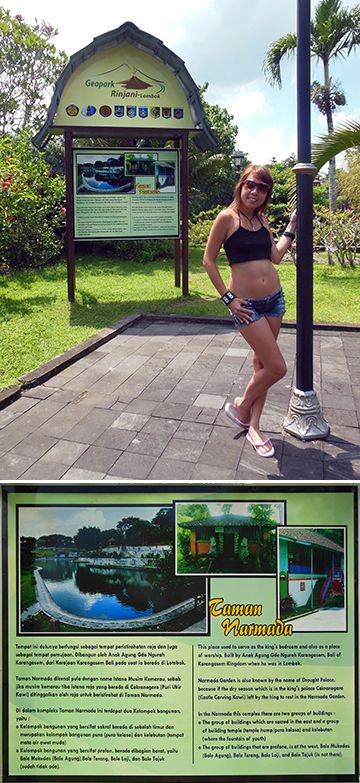 Intriguing roof & window designs.

Red, Green & Gold Predominately.


Buying snacks from hawkers @Narmada Park.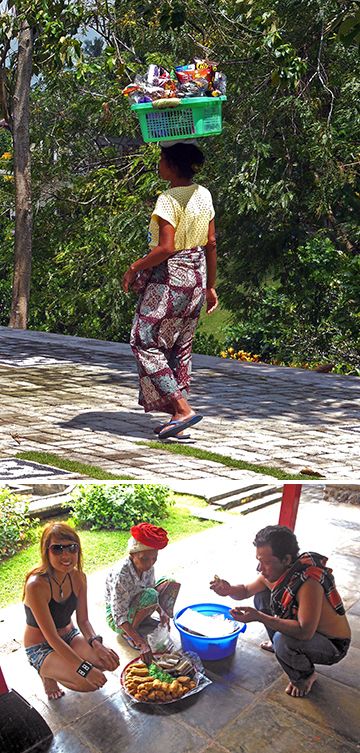 Hindu Temple in Narmada Park.
Holy Temple, Sacred Rules.


Same as certain tourist spots in Lombok, this place does not allow outside guides to conduct tour inside. Our guide was replaced by a temple guide. To enter this temple, I had to 'borrow' & wear a sarong. So, temporary, I became a Lombok maiden. =P
Lombok maiden with the temple guide.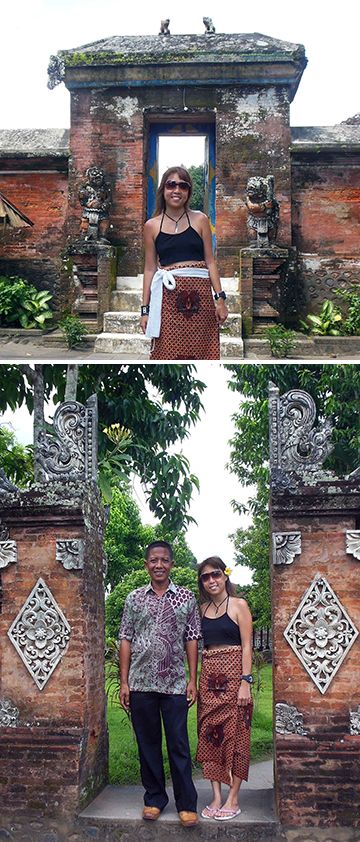 In the temple, there's a wishing well with eels & a washing area where the water is piped from Mount Rinjani. Here, you can wash your face as a purifying ritual & is considered good luck too.
Wishing well & purifying water from Mount Rinjani.

At a compound, displayed on a platform are rocks from Mount Rinjani which are wrapped in yellow & white cloths. We were told these are Children of Mount Rinjani & are sacred.
Temple steps & sacred Children of Mount Rinjani.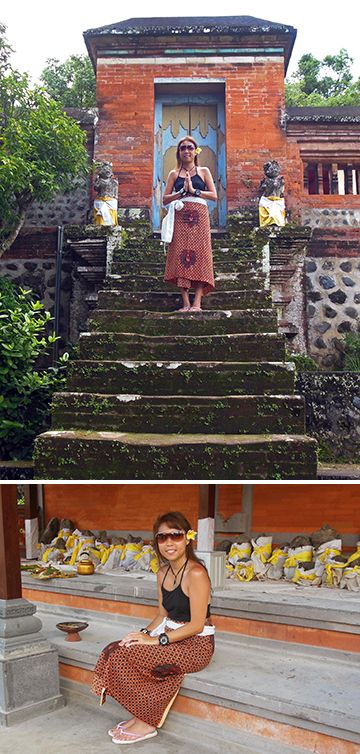 Paying respect to the 3 deities of the temple.

Magnificent door & weather-worn sculpture.

To enter the inner temple, we had to rent a white sash for a small fee. The temple guide might ask for a donation to the temple, excluding his tip. As we didn't see any official donation booth, my guy just gave him a total amount, telling the guide that amount is his tip & the donation altogether. How much from that amount the guide wanna donate to the temple is his to decide. Simple solution.
After Lingsar Temple, it should be the end of the sightseeing tours. However, our guide, Zul had idea of his own. He invited us to his house for a late lunch. We accepted his invitation. On the way, we told him to stop by a super mart where we could buy small gifts for his family. When it is the first time visiting an Asian family home, it is impolite to go without gifts. Natives like Zul welcome gifts of practical items. Food, drinks, snacks, daily use stuffs from any super mart.

A simple lunch with Zul, his wife & his elder brother.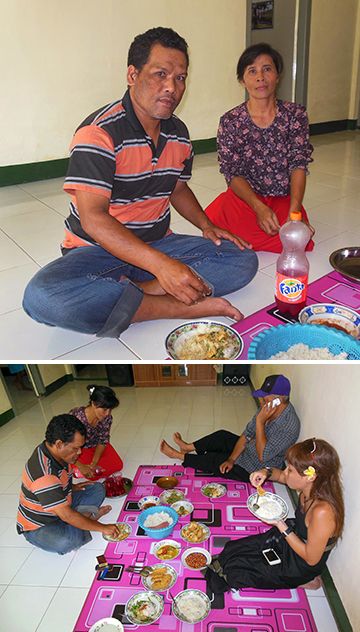 With Zul's wife who gifted me a lovely sarong.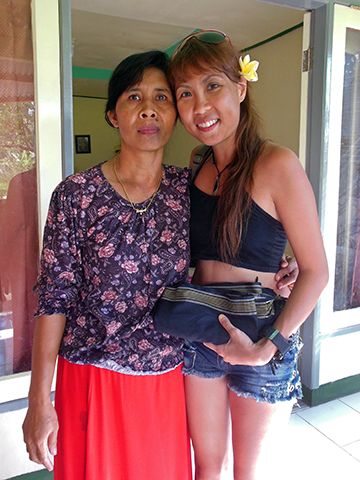 After lunch, Zul's elder brother, also our driver, invited us to his house which is located within the same village. We wasn't expecting that & had no more gifts. The brother said it's fine as nobody's home, except one of his sons.
For natives like Zul, life is a constant struggle, fending off an enemy named poverty. His house is inherited from his father. Zul's eldest brother (our driver), being the oldest (most cherished by parents of Sasak culture) among 8 siblings, is better off. Given a higher education to get a better paid job for the ability to buy his own house & is now semi-retired. The house is much bigger with a compound, chicken coop & the only table tennis table in the entire village.
Chicken coop & playing ping-pong with Zul's nephew at eldest brother's house.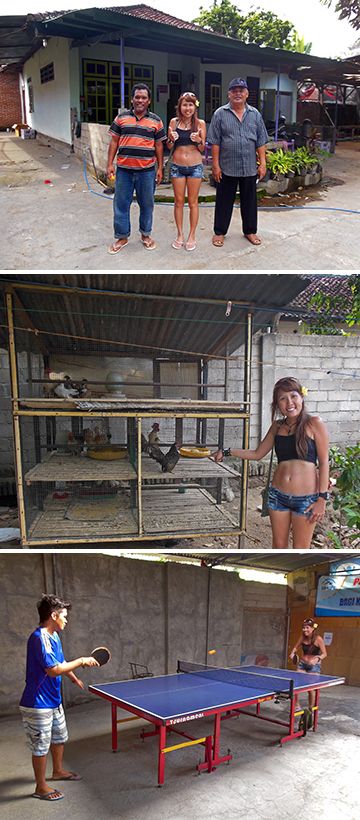 Lombok local guide, Zul's contact: +62 878 65583896
Note: By Lombok's standards, Zul is reliable, trustworthy & honest enough. We do not collect any commission & if you wanna use him as a guide, please drive your own bargain.
We spent the rest of our stay at Lombok beach walking, an activity we both love. During off-peak period, most of the beaches are relatively empty of people, which is the way we like it. Beaches at Senggigi area are separated from each other by steep rocky headland. From those high viewpoints, on clear days, you can see Bali to the West. The black sand of the beaches is of volcanic origin. With speckles of tiny mineral crystals reflecting the sunlight, like billions of twinkling stars in the sand. On sunny days, the sand heats up & it's not advisable to walk bare footed. Even the sole of our slippers were worn down by the heat & friction caused by the fine volcanic sand.
From our resort, we explored northward about 5 km reaching Mangsit Beach. And about 3 km southward to Batu Bolong Temple, a Hindu temple build on a small headland. The distances given are straight line measurements on a map. In reality, the beaches are not straight. Most of them are like a shallow curve. When the stretch of beach ended, blocked by an impassable steep rocky cliff, the only way to continue is to divert to the road & climb the hill. And it's damn bloody hot with high humidity. Remember to bring along water if you wanna do beach walking in Senggigi.
About 2 km South from Kerandangan Beach where our resort is located, is Senggigi Beach with the road & town running parallel to the beach. North is Mangsit Beach, a nice place to swim.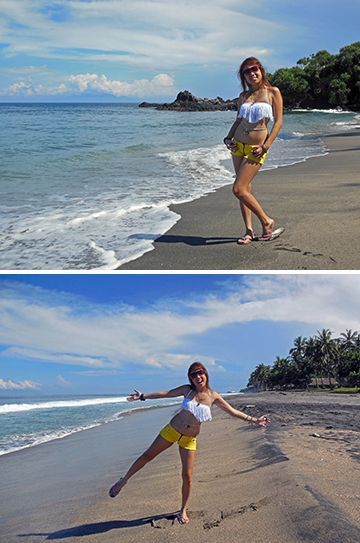 Facilities along the beach.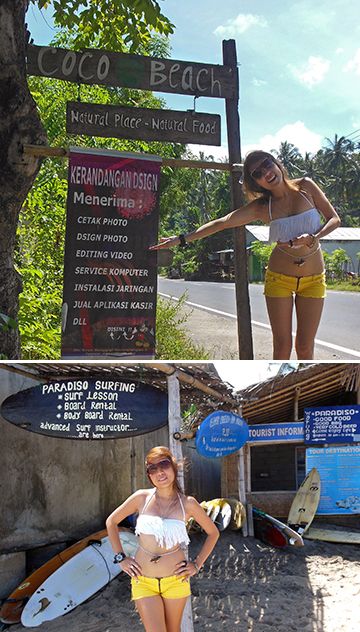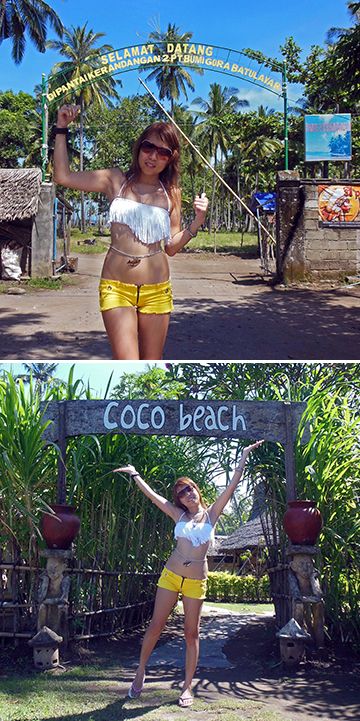 Crab & a dead Pufferfish.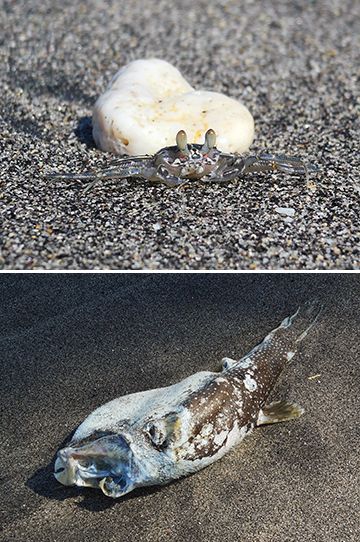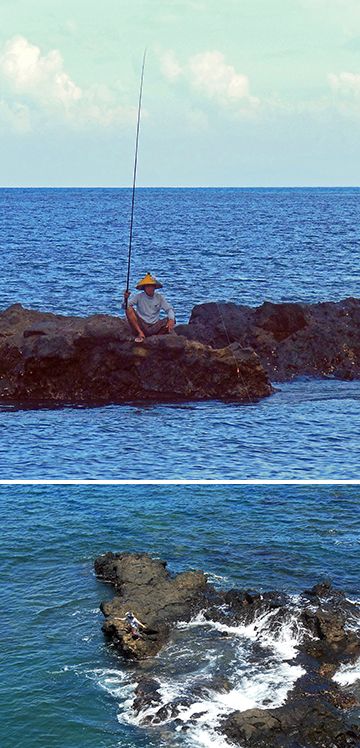 By the look of that fisherman wearing a helmet in the pic below, the fishes there must be very dangerous! =P

Lovely scenery & friendly village girls.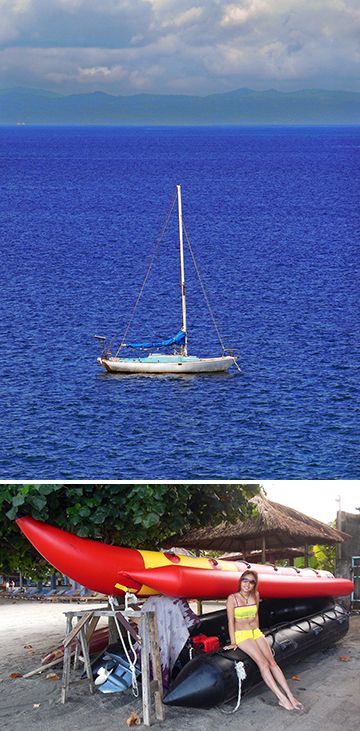 Traditional Outrigger Boats.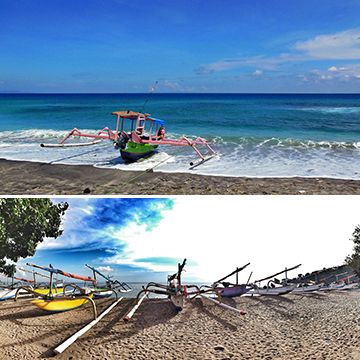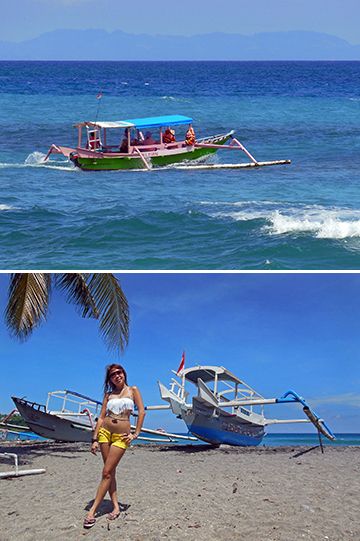 My Pretty Outrigger Boats.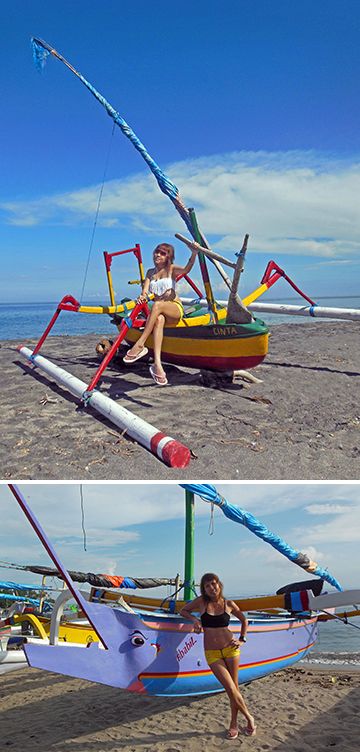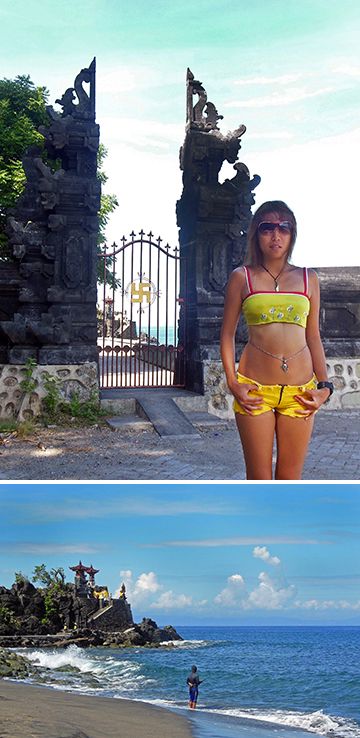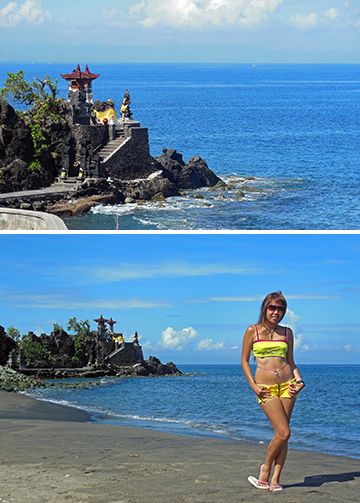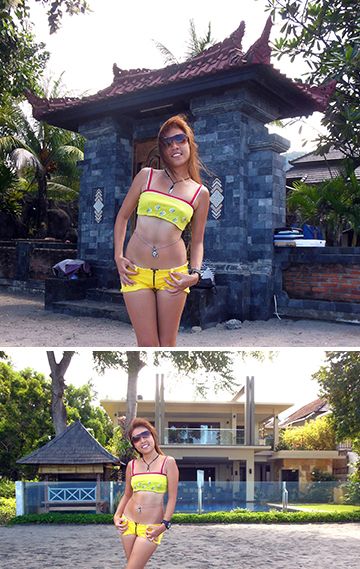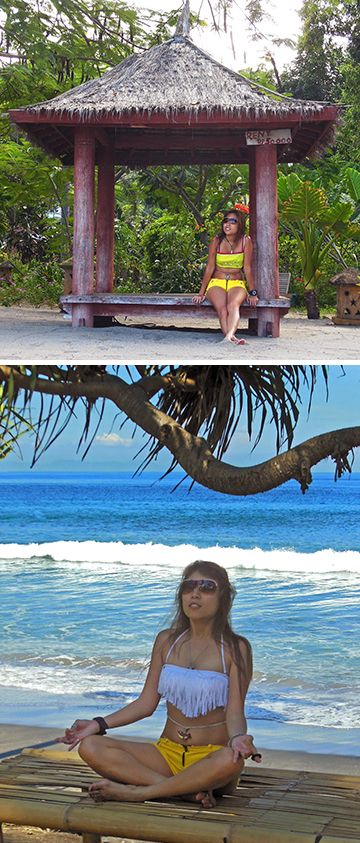 She sells seashells & fell asleep on the cushion.

Stopped by a beach warung for a cool refreshing coconut drink.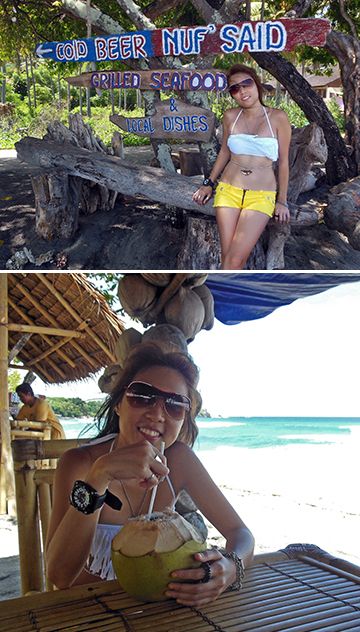 Wonderful Beach Vacation.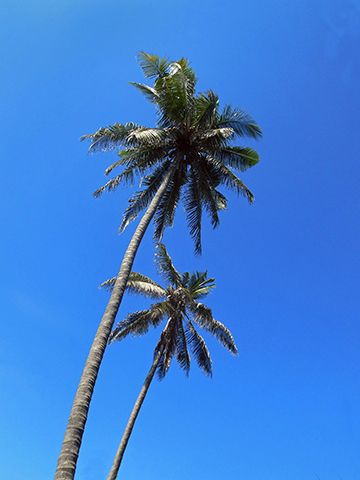 Wherever I go, I love to take photos of animals.
Kampong (village) chicken with chicks.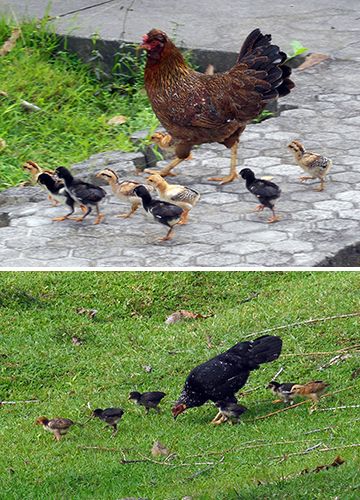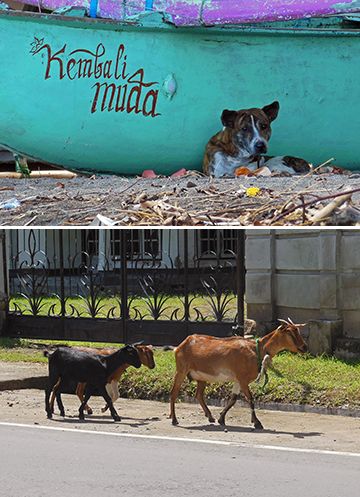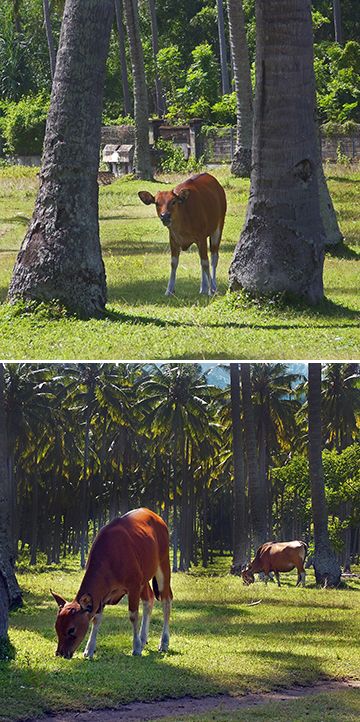 Water Buffalo herd with a cute little calf.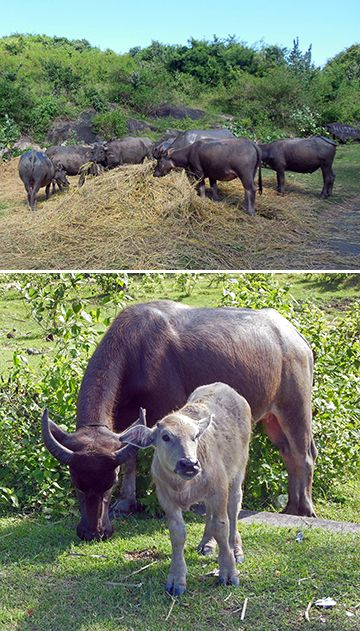 Saddlebag Glider (Tramea transmarina) & Tortoise Beetles making mad crazy love.
St. Andrew's Cross Spider, Golden Orb Web Spider & Huntsman Spider.

On vacation, we don't spend much time at resort/hotel. Most time we are out wandering about exploring. That's why it would be wasteful if we book an up-class resort. Time spent at resort are mostly sleeping, taking a few pics & using the pool. if any.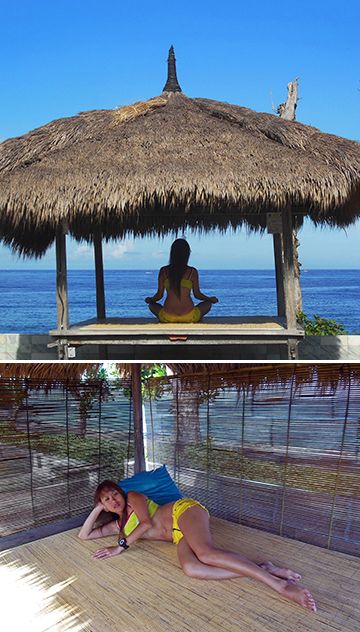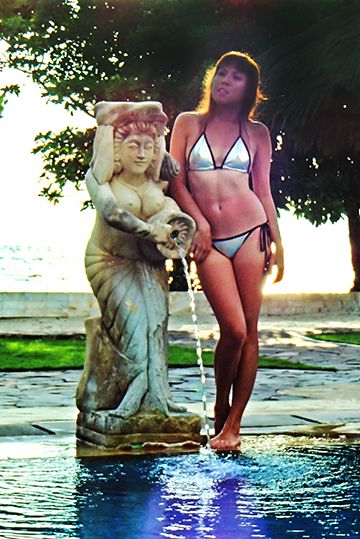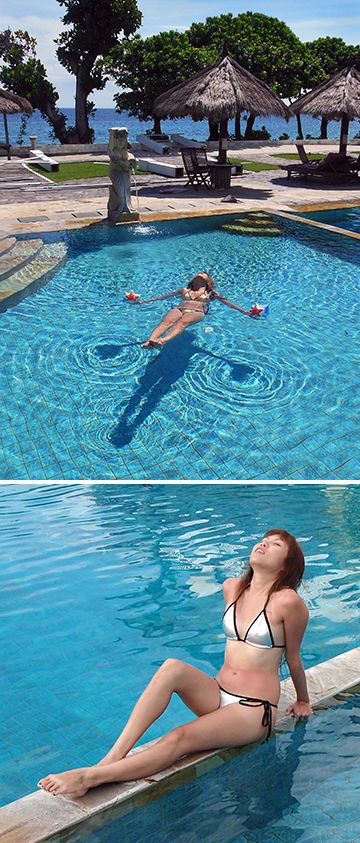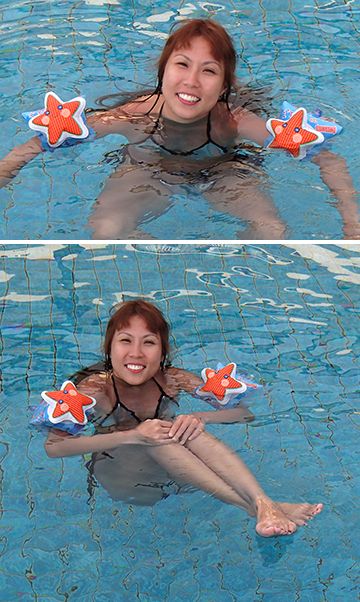 Oh, I can swim. Am just having fun with these water wings meant for children. Due to my petite build, they float me very well. Love the sensation of effortless floating on water. Heh… =P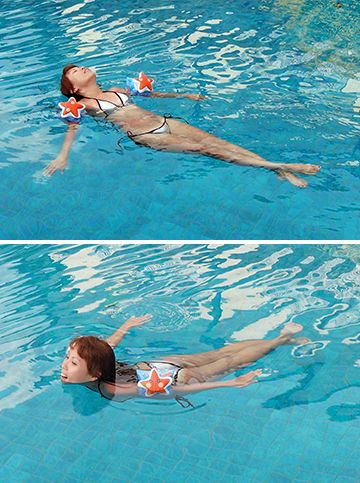 A pretty rainbow casted its glory over our resort before the day we left. On the day we checked out, there was a wedding reception at the resort. We were given permission to take pics of the deco. A rainbow & a wedding. Feeling so lucky!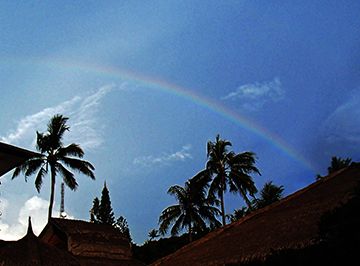 Wedding reception at Pacific Beach Resort.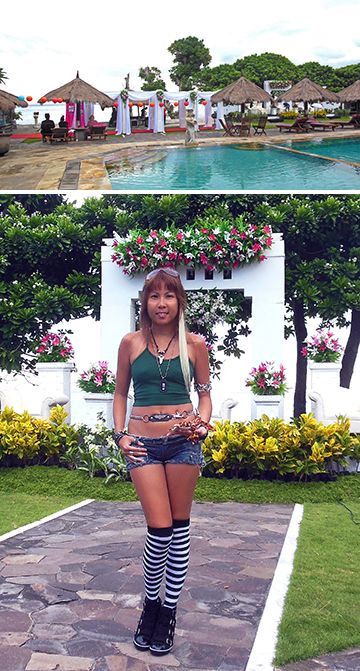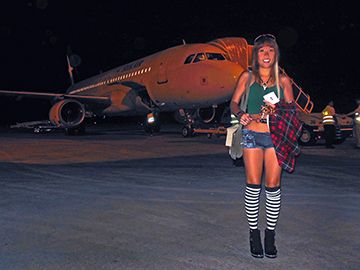 I love & miss beautiful Lombok! Wanna visit again. Still many lovely places I've not been to in Lombok. Till then, I will hold you firmly in my memory, my charming Lombok!

Lovely Beaches of Lombok.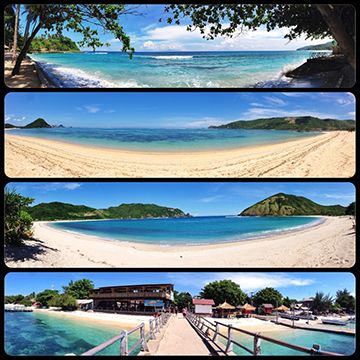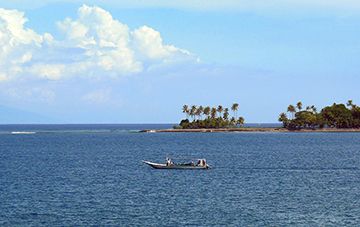 Note: Two cameras, an Olympus Stylus TG-630, a Nikon Coolpix S6300 & an iPhone 5 were used for taking pics on this trip.