Redforum Outting
We came from a galaxy far, far away(another forum) looking for a lost civilization of mankind. A place where men are still monkeys & women are sex goddesses. We founded Redforum. On this day, was one of the
1st
outtings we ever had in Redforum.
2004

.02.02
, we had our
1st
loh hei at some kopitiam.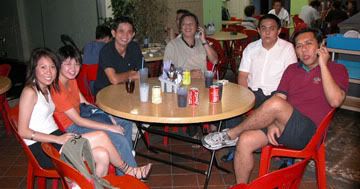 2004

.04.03
, we had another gathering at Marina South having steamboat.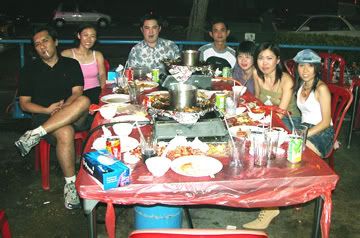 2005

.05.18
, it's our Mister Hard-2-Get AhDot叔叔's Birthday.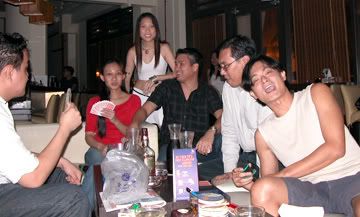 2005

.06.16
, sharky had a lucky strike and we got a treat at Yan's Palace.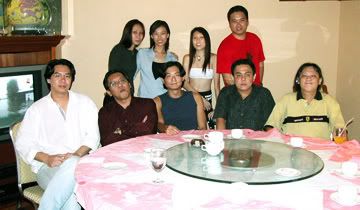 2006

.02.08
, we had our
2nd
loh hei at Mouth's Restaurant.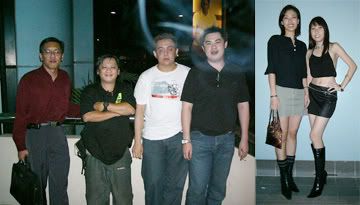 (oh my! Look at how scrawny I was.)
2007

.03.03
, we held our
3rd
loh hei at Mouth's Restaurant again.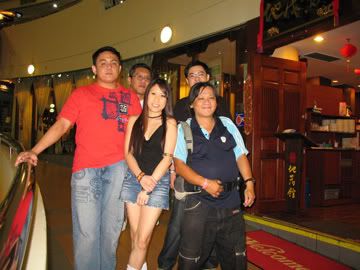 Through the years, Redforum outtings has been improving from a kopitaim & gradually to restaurants. What's next? A first class hotel ballroom Dinner & Dance?
At the restaurant, after our chattering & laughter were causing distress to both staffs & patrons alike, we got out before we were thrown out.
Wandered around seeking for a reasonable place for both smokers & non-smokers' butts to rest on, to have some drinks, start erratic topics which jump from one to another - never ending, causing happy tears & hysterical laughters.
In our continual travelling at ChinaTown, we came across this lion dance troupe. A strange sight indeed. What would be your immediate reaction when you see an
AngMo
Lion Dance Troupe that came complete with a dog? A Golden Retriever... we wondered what it's role will be? To retrieve stray Ang Baos?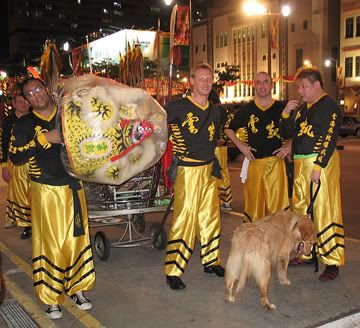 After which, we moved on to Wu Bar to chill out with some new addition, but also missing a few.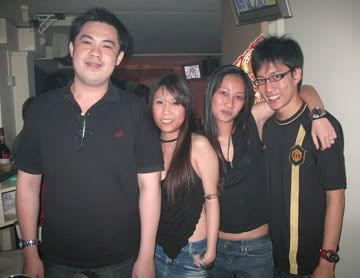 Ha! I looked rather tipsy there with 2 reddish ang ku kuah cheeks! Am I cute?
1 of the songs sang at Wu Bar:
1 million (一百万)
Oh! Before I forget, let me introduce you to our beloved Mrs. Moi San!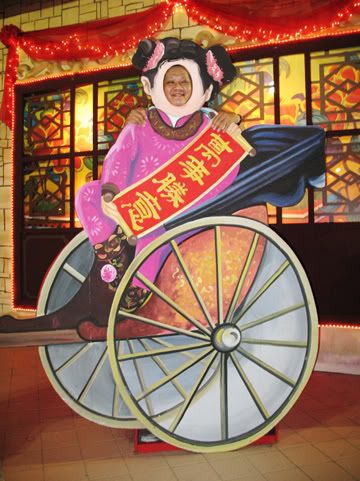 Although Chinese New Year is over, but still...
新年快乐!万事如意!