My Vacation at Redang Island
7th - 11th Oct, 2013 ~ Redang Island or Pulau Redang is an island 45km off the coast of Terengganu state in West Malaysia. Famous for crystal clear waters, white sandy beaches & numerous reefs near shallow water, it's a paradise for divers & snorkelers.
Map of Redang Island/Pulau Redang.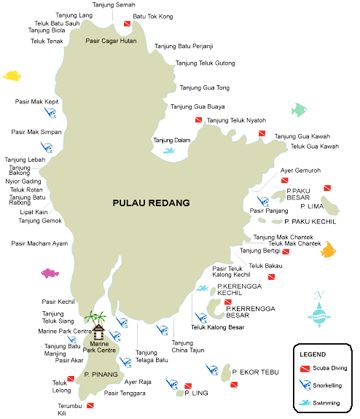 We (my guy & me) had heard of this lovely island & love vacationing at beach resorts, but for years, we delayed going there coz the journey from Singapore to Redang is a little daunting. Imagine a 10+ hours bus ride in cramped space with only 2 far between stops during the whole trip & another 1+ hour of ferry ride. Total time taken including waiting: About 12 to 14 uncomfortable hours. The direct flight to Redang costs as much as the stay at the resort. So, we're stuck with a long & torturous bus ride.
Advices for those riding the bus to/from Redang.
1: DO NOT drink too much liquid before or during the journey. The bus will ONLY stop twice. The time between the 2 stops is approximately 6 hours & for many buses, there's NO toilet onboard. Well, if you have to go, you could always threaten the driver to let go on his bus. He will definitely stop, but you'll have to do your business in the jungle or oil palm plantations lining both side of the road. If you're traveling at night (usual for the outward bound trip), good luck to you. There is no lamp pole, no light & near complete darkness with zillions of mosquitoes waiting for your tender butt. LOLZ! =P
2: Bring a jacket, a small blanket or dress warmly for the bus ride. The air-con is COLD!
3: Bring snack/food/drink, especially for the trip back. The ride to Terengganu (which is usually overnight) is ok as you're expected to sleep most of the time. You can fill up at the first stop at Yong Peng in Johor which is only a couple of hours from Singapore. The second stop, 6 hours away, is at a petrol station in Terengganu. This stop is only for toilet (10 min). The ride back to Singapore is reverse. You better stock up before the bus fetch you from the jetty cos you'll most probably traveling in daytime. After the stop for toilet at the same petrol station, it would be way way past lunch time before the bus reaches the food stop at Yong Peng.
We started off from Singapore at about 9.30pm on Oct 6. Reached Yong Peng in a couples of hours. This is the first of the 2 stops. It's a food & toilet stop, so you will have half an hour. The next stop is about 6 hours away & we tried our best to sleep in awkward positions. Problematic for tall people like my guy.
Arrived at the Shahbandar Jetty in Kuala Terengganu at about 9am. At the ferry terminal, you will have to check-in, half an hour before ferry departure, at the booth of the resort that you booked. The ferry departed for Redang at 10.30am.
Bus & ferry ride to Redang.

After an hour & 15 min of ferry ride, we arrived at Pasir Panjang Beach on the Eastern side of Redang. Pasir Panjang is the biggest beach at Redang with 9 resorts.
Southern & Northern part of Pasir Panjang Beach.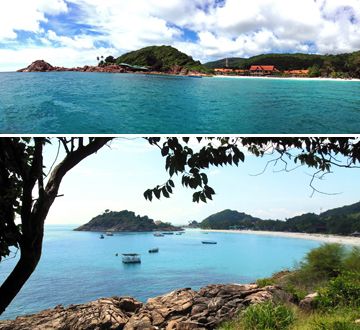 There is no jetty at the beach. Instead a unique system for unloading passengers is used. The ferry docked with a sort of a "landing craft" (my guy's description based on his military experience). The passengers & luggages are transferred to the landing craft. The flat-bottom landing craft has a ramp which is lower when it reaches the beach, allowing the passengers to get off without getting wet.
Ferry & Landing Craft.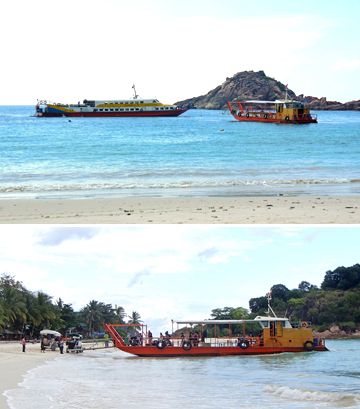 Woowoooooo! Finally, we are at Redang!
Panoramic views of Pasir Panjang Beach, Southern (top) & Northern (bottom).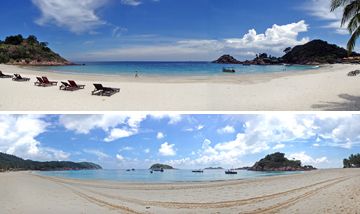 Redang!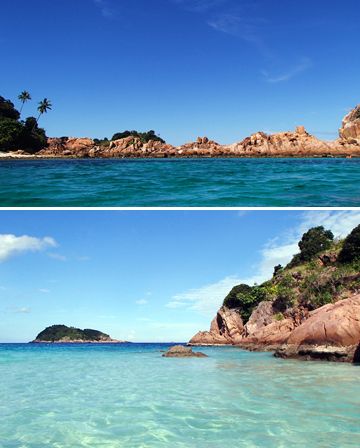 Redang is truly beautiful! Pasir Panjang Beach consist of 2 bays, divided by a small rocky outcrop. The Southern end is always busier, more crowded than the Northern end. Many Malaysians, Singaporeans & PRC Chinese love to stay at Laguna Redang Island Resort which is located at the Southern part of the beach. Families, honeymooners & couples flocked there, drawing hearts in the sand & snapping pics, millions of selfies. I know of guys who purposely chose Redang to propose to their girl. All due to a particular reason. A Chinese movie released in 2000, "Summer Holiday"
(
夏日的麼麼茶
)
was filmed at the Laguna Redang Island Resort. A replica of the tea house, the More More Tea Inn which featured in the movie, now serves as a souvenir shop.
The Southern tip of Pasir Panjang Beach & nearby, the famous More More Tea Inn.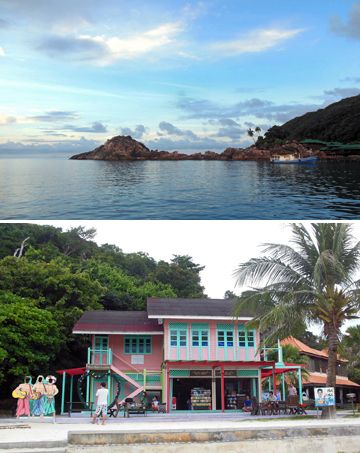 Note: As non fans of Chinese movies, we didn't know about this movie until we got there & noticed the activities near the pink house at the end of the beach. Inside this gift shop are many framed pictures & info about the movie. If my guy had know, he would have booked a resort further away from that area as we preferred quiet & not at all into cheesy Chinese love story with all those people trying to reenacted the whole damn movie!
This sort of thing is one of the reasons why we like vacationing at beach resort during near off-peak season. Even with the popularity, it's still much quieter than peak season. And for peace & quiet, we can always go to the North end of the beach where there are not much people & the water is clearer.
Nonetheless, I'm very happy to be at the beach again! Booked a package at the Redang Beach Resort which includes 2-way ferry transfers, 4 meals (breakfast, lunch, tea & dinner) & 2 snorkeling trips per day. Staffs are helpful & friendly. Food is decent & facilities are fine. Just give me a room with clean bed, air-con and hot shower. No need much pampering when I'm at a beach.
Redang Beach Resort.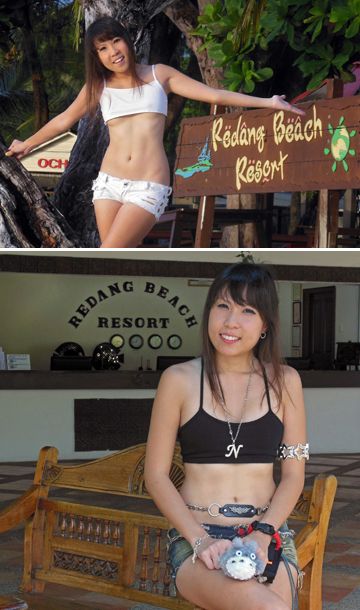 Many people asked, what to do at a beach resort? Wouldn't it be boring? No TV? No internet? No shopping? No clubbing? OMG… mosquitoes! Most of these people are city dwellers who can't or won't leave their comfort zone. Eeeeeek! It's so hot! My skin will burn & I will turn dark! Should see the way many PRC Chinese women cover up. Long sleeves, long pants with wrap & their face so thick with sunblock or sunscreen lotion that they turn ghostly white! Some even wore full dive suit with gloves & booties just to soak themselves in a few inches of water! And some equipped their children with life jacket, a swimming ring plus arm floats! On open water snorkeling trips, they took a look at the open sea & refused to leave the boat, sitting there, wearing their dive suit, gloves & booties. We overheard one remark from a PRC woman to another when we arrived at the snorkeling spot. The water is only about 2 over meters. The woman & her friend were in full dive suit with life-jacket on. She looked down at water & said "Are we swimming here? We will drown!" Wtf! And when some plucked up enough courage to enter the water, they screamed at the slightest wave, clinking to the boat ladder refusing to let go & inconvenient those that wanna get up. After one sea trip, they will never turn up for second, which is a good thing as the boat will be less crowded. Why these people go to a beach resort in the first place? I believe it's most probably due to status. They will return to China boasting that they had been to a beach resort! Idiots!
Me? I'm a beach Hamster! I love the sand, sea & sun! Hahaa!
Beach Hamster!
Sun, Sand & Sea.
Exploring Possibilities.

Bought a Coke with 'Lenglui' printed on it. Was told by Nath that it's a special production available only in Malaysia. The word (2 words actually) 'LengLui' means 'Pretty Girl' in Cantonese. Drank the Coke, but didn't turned any prettier… cheated my feelings! LOL! =P
LengLui gets swallowed by a shark & turned into a Sand Angel!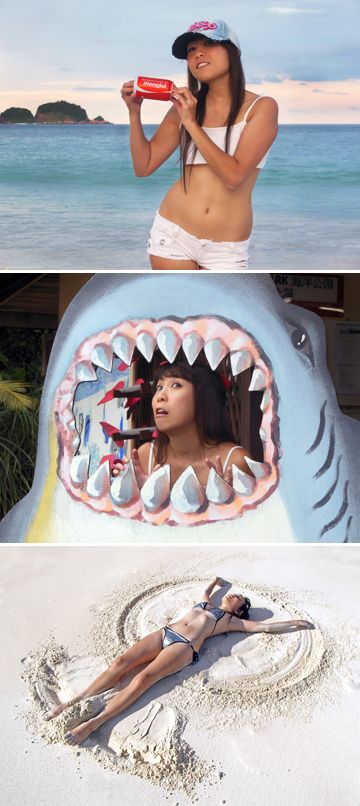 I have a mini surf board! Hahaha… not exactly. No waves to speak of. Used the board to sorta body surf, letting the waves push me, gliding on water, watching fishes in the crystal clear water. Fun!
Surfing Hamster!
Gliding on water.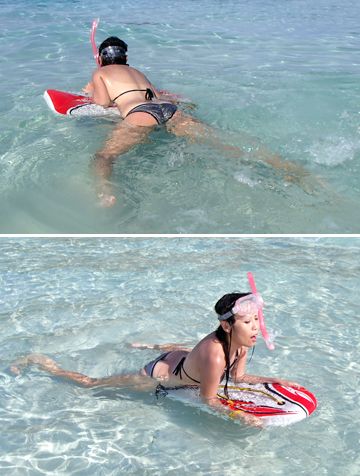 My favorite activity on beach holiday is snorkeling. Have my own mask, snorkel & fins. Life jacket can be rented from the resort. Price is RM15 for jacket & if you need mask/snorkel, it would be another RM15. The price is for the whole duration of your stay.
Snorkeling, yeah!

Sea Hamster!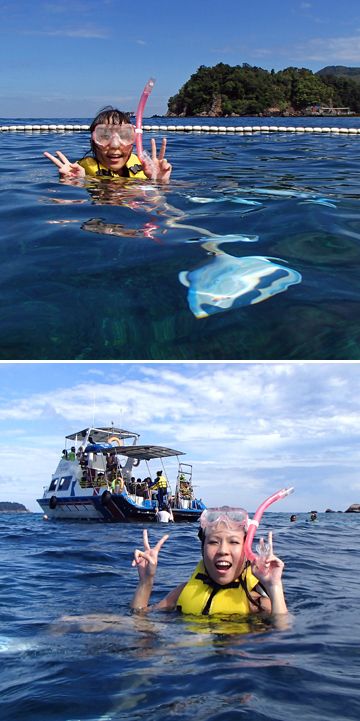 Is that a Dugong Hamster? =P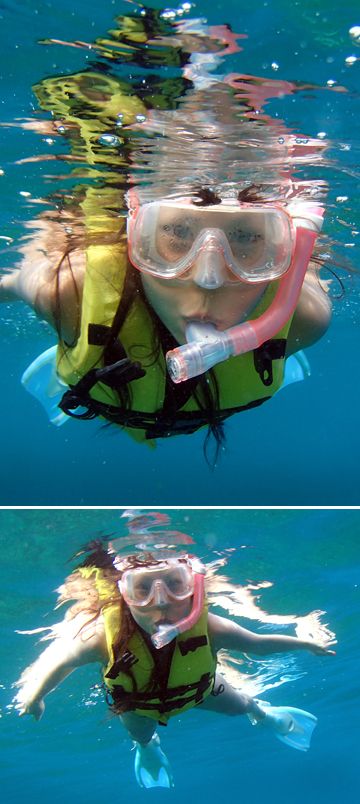 With help from a boat crew, pushing me under for some underwater photos.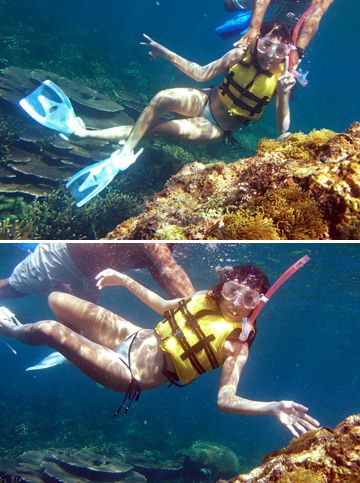 Nathalie joined us on the afternoon of our second day there. It was a last minute arrangement. Nath claimed she was stressed out by her nagging mom & had to get away for a few days. Her mom will never allow Nath to stay at a beach resort unless accompanied by me with my guy. Sigh… everyone has their problems. Nevertheless, we had a great time together.
Nath & me @Redang.
Silly Fun.

Lovely Posing.

Colorful Ambiences.

Says It All.

Beach Ball & Feeding Fishes.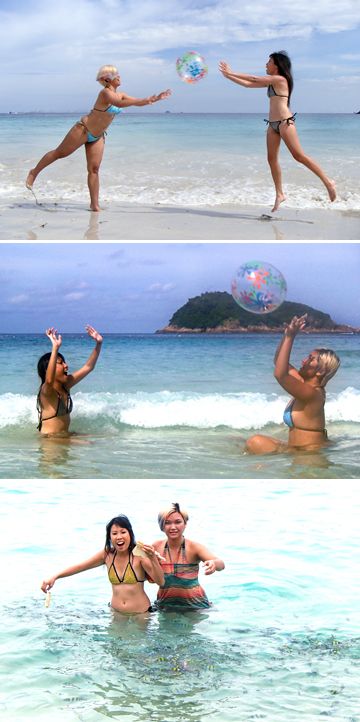 *Stop! Rant! Nath, if you're reading this, please go on a diet or slimming program! We were shocked, appalled at how much weight you had put on since the last time we met, which is only a few months ago! How long are you gonna deny that you are getting fat & fatter? Look at your pics now & compared them to your past pics. Do you want to be called a Hippo wherever you go, just like what that boat crew mentioned at Redang? Brace yourself & do something! Mouse said to put this here as a constant reminder for you to slim down. What are friends good for if not to improve oneself? So, for your own good, we will constantly nag at you! Haha…
The package deal includes 2 snorkeling trips for everyday we stay. Boat will leave at fix timing, 9.30am & 2.30pm. The morning trip is always to the Marine Park. The afternoon trip is to open water, which destination is not fix & depending on the tide. Half an hour before boat departure, everyone should gather at the Snorkeling Center for a safety briefing.
Enjoyed snorkeling so much that I bought a waterproof camera, an Olympus Stylus TG-630, for this trip. It's so convenient that I'm not afraid of my camera getting wet or drop it accidentally.
Snorkeling!
Underwater pics of Nath & me, with some help from the boat crew.
Here are some interesting scenics spotted on our way to various snorkeling spots.
One Tree Island, top boulder & Pulau Pinang looking like a whale. At the tail is the Marine Park Center.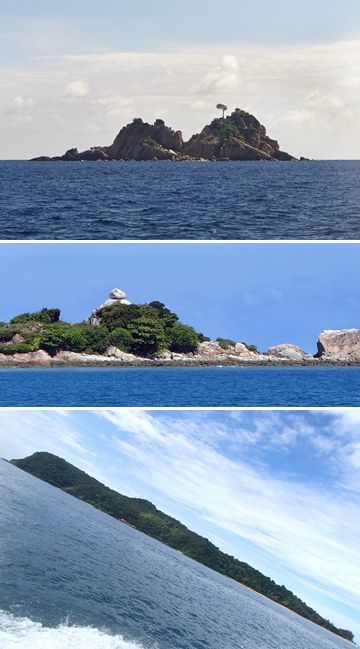 Sea Scenics & a Sun Halo we saw on our second morning.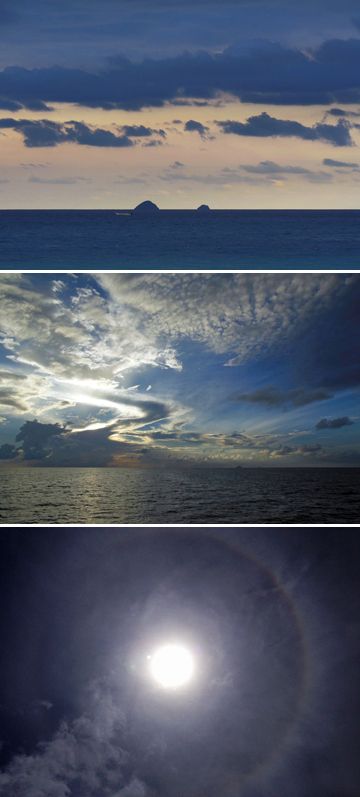 The Marine Park @Pulau Pinang.
On land, we didn't encountered much animals.
A Pacific Reef Egret. Plantain Squirrels which are everywhere. The resorts are infested with them & are so friendly that you could feed them by hand. A Frog on a lamp stand.

When we were investigating the resort's pool one morning, we saw a Toad struggling in the water. It couldn't get out as the side of the pool is too slippery & steep. My brave guy scooped it out, saving it from drowning, but none of us girls were brave enough to kiss it, thus, Toad remain a Toad, not a Prince. LOL! =P
Dancing Toad & a rescued Prince, supposedly.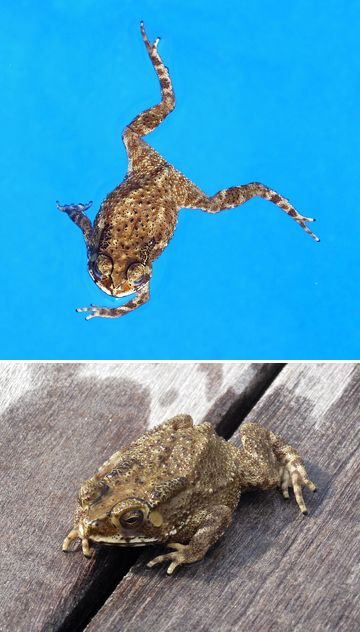 One night, when we were exploring around, we saw a huge Red Spotted Tokay Gecko which nearly freaked me out. Never seen a Gecko so big before. It's about a foot in length! In contrast, the 2-footer Malayan Water Monitor, which we spotted near a tiny stream, is small, according to my perspective as I knew these species can grow up to 8 feet/2.5 meters in length.
Huge Gecko & small Water Monitor.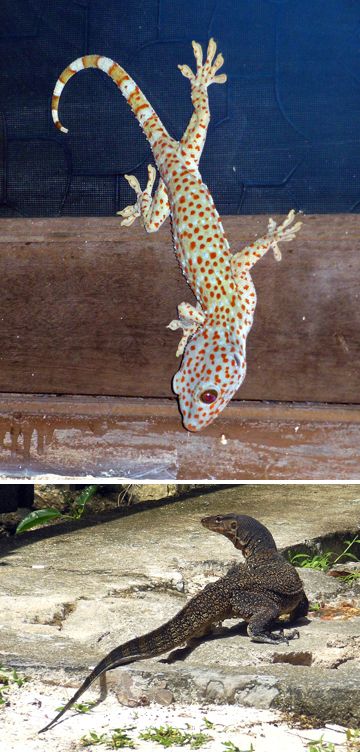 After one of the snorkeling trip, we were fortunate to be shown 3 baby Green Sea Turtles presented by some of the boat crew. We had seen adult Sea Turtles from the boat, but far away or just a blur shadow underwater. Am so thrilled to hold those baby Turtles! Dunno where the crew got them from, but there's a turtle hatchery on Redang.
Green Sea Turtle Hatchings.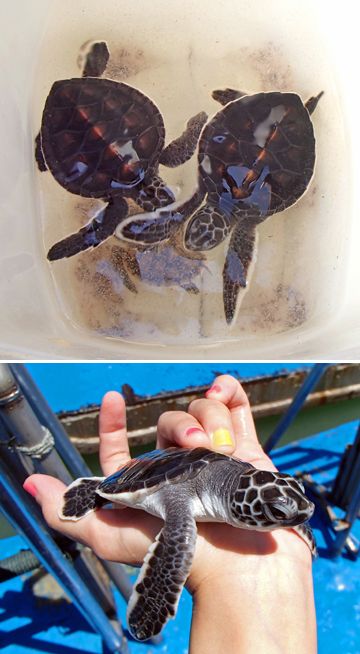 Happy happy Hamster with baby Green Sea Turtles!

In comparison to the land, not surprising, the sea around Redang is brimming with a huge variety of life. This is the reason why I love the sea & also fear it. Every time I went snorkeling, I'd this little girl silly fear, a stupid fear of marine life attacking me. In my runaway imagination, the corals with their multiple tentacles will attack me! The underwater rock will move & chase after me. Fishes will come swallow me whole! I know, I know… I'm a silly little Hamster who love to snorkel, see marine life & yet I am so afraid. And I got bitten by a Damselfish on my second snorkeling trip at Redang! I wasn't feeding them & do not have any food on me. Many fishes were swimming, gathering around me & suddenly this little Sergeant Major Damselfish bit me on my hand! See? They all wanna hurt me! My guy continually tried to calm & reassure me. He said that most creatures will leave you alone as long as you don't provoke them. They don't cause harm with intent to human as we are not their natural prey, only by accident & only if you are too near those venomous ones. But that little fish bit me without provocation! My guy said it's just a loving kiss. But it's a painful kiss, with rows of teeth marks! He said that will leave longer lasting memory. Grrr… I'm gonna have my revenge! I will have fish & chips for dinner! =P
Somehow, I managed to conquered some of my fear, enough to take lots of underwater pics. Silly Little Sea Hamster loves taking underwater photos! Hahaha… =P
Bitten by Fish!
Underwater Scape.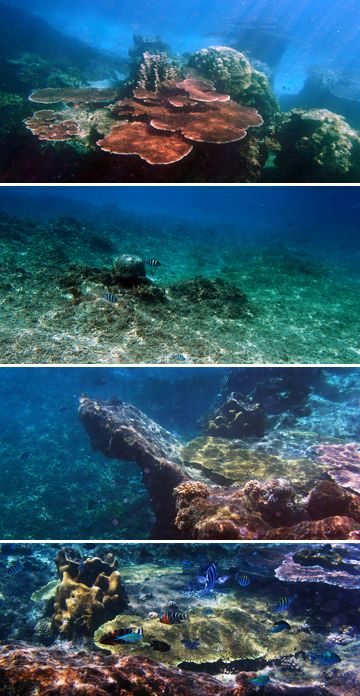 Coral Reefs.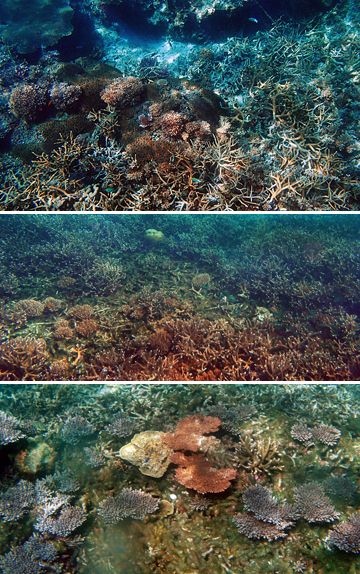 Coral, coral, coral everywhere!
Coral & Sponges.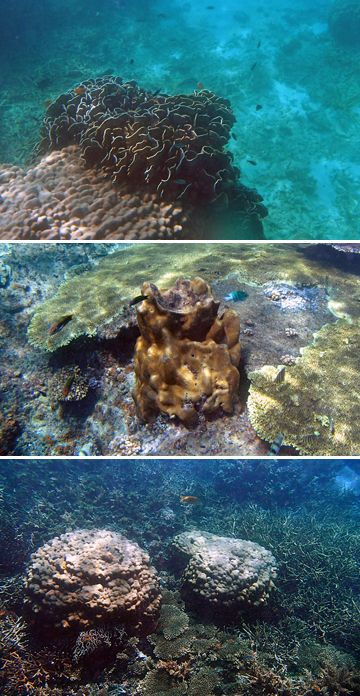 Reef Life.
Came across some unknown structures, everyone of them has 4 holes. Are these natural or man-made? I asked around, even among divers, but no one seem to know what they are.
Unknown structures on the sea bottom.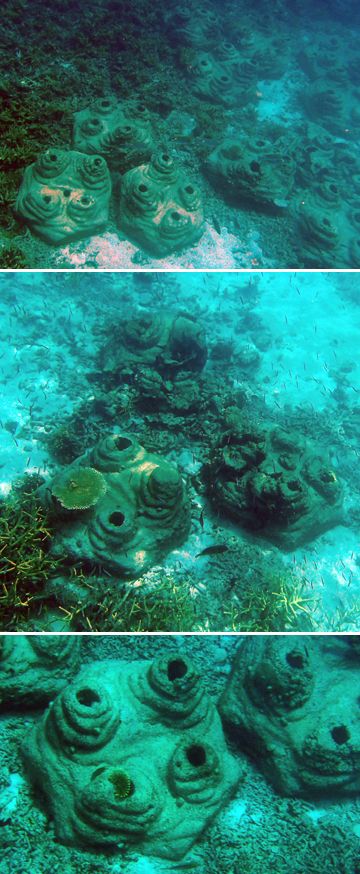 Unfortunately, due to my fear, I didn't managed to get much close-up pics of the marine creatures living in the reefs. I will try better next time & for now, here's a few pics of life on a reef.
Christmas Tree Worms & a Sea Cucumber.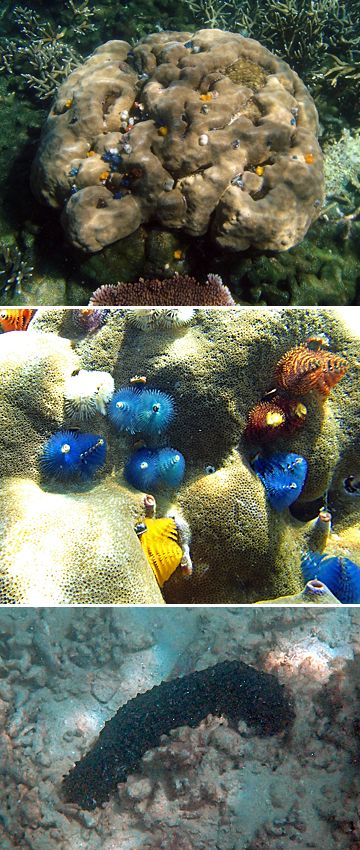 And so very happy to spotted so many Giant Clams.
Giant Clam with grayish yellow mantle & 2 Giant Clams with dark brown mantle near a Sea Anemone.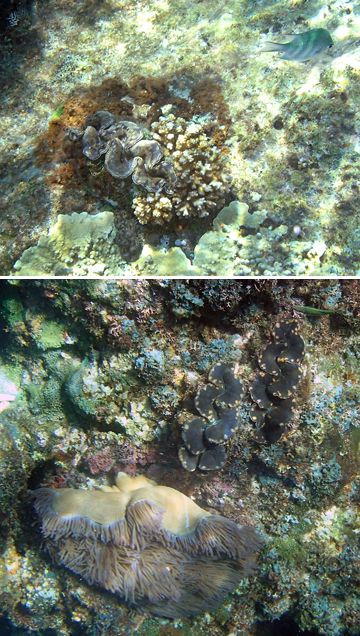 Giant Clams.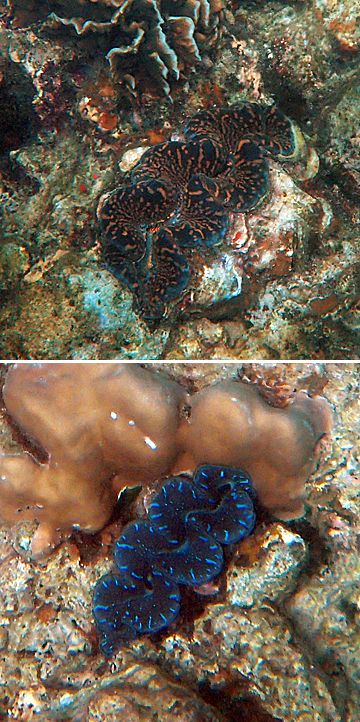 Giant Clams with electric blue mantle.
The reef creatures featured in the pic below were brought up, not by us, but by a boat crew who was guiding us around. He returned them to their original place after the photos were taken.
Pin-cushion Starfish & Mushroom Coral.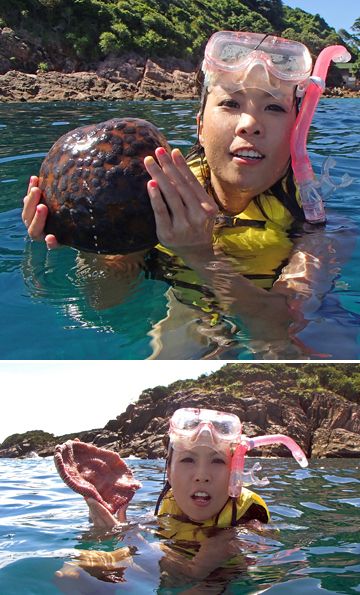 Tropical reefs are sanctuary or hunting ground for many colorful reef fishes. They are a sight to behold. So glad that I bought a underwater camera! My guy lamented that I went crazy trigger-happy, snapping over a thousand underwater pics & he's the one who has to do most of the post-processing! Heehee… =P
Sea Hamster now present a few selected fishy pics.
Colorful Reef Fishes.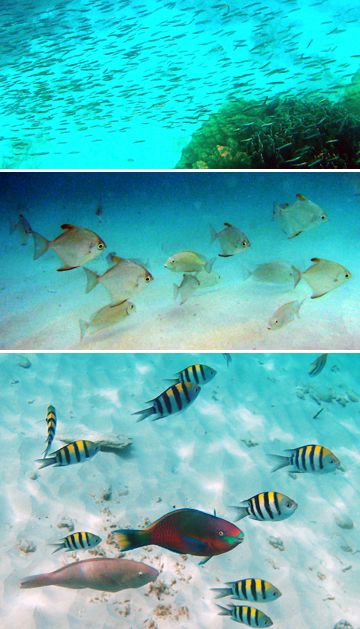 Sergeant Major Damselfish.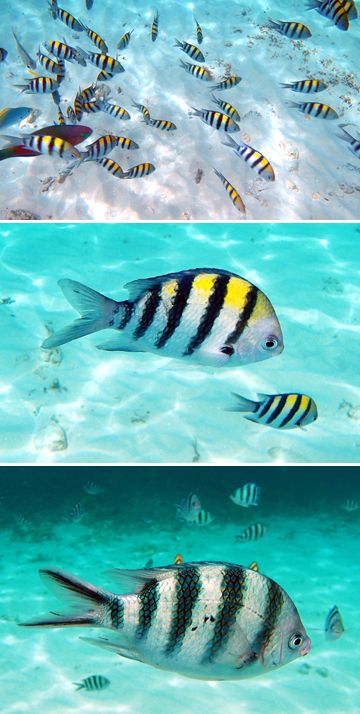 Golden Rabbitfish.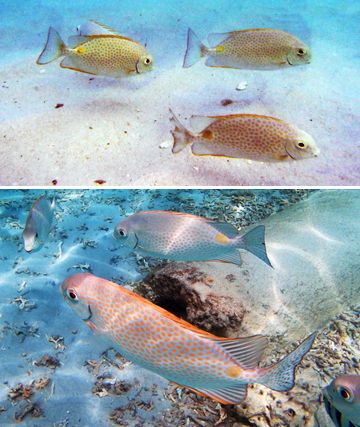 Rabbitfish.
Silver Moony with Rabbitfish. Silver Moony is always mistaken as Pomfret by many people.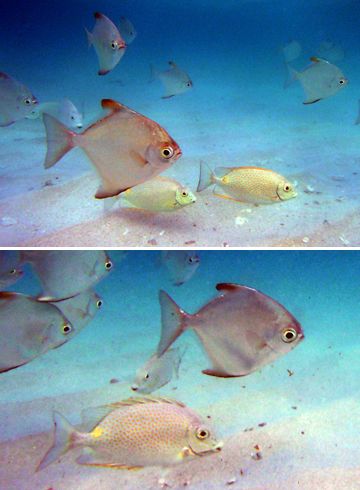 Parrotfish.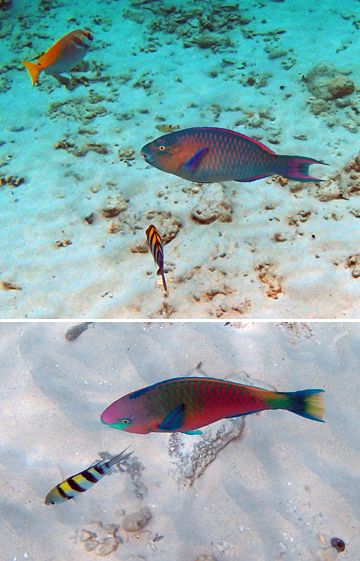 Needlefish.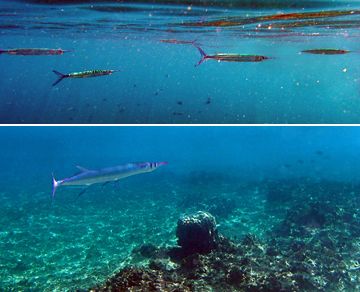 A school of Mullet & another Rabbitfish.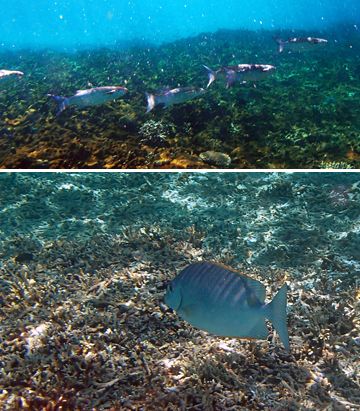 Swimming with Fishes @ Redang Island
On one of the snorkeling trips, with the help of the boat crew, we spotted a baby Shark! During my early snorkeling trips, I'm afraid of shark attack. However, my guy told me that, due to safety purposes, all designated snorkeling area for tourists are in very shallow water & big sharks won't enter very shallow water cause they can't maneuver. They will get stuck & sharks need to move in order to breath or they will drown. They need to move even when they are asleep. That's how their gills works. Only small or baby shark will be at very shallow water. Furthermore, human are not the natural prey of sharks. Sharks seldom attack human except in a very few areas around the world & most of these attacks are either accidental or mistaken ID. Now, armed with these info, I'm not so afraid of shark attack when I snorkel, but still afraid of attacking corals! LOLZ! Stupid Hamster! =P
Baby Blacktip Reef Shark with a Remora attached.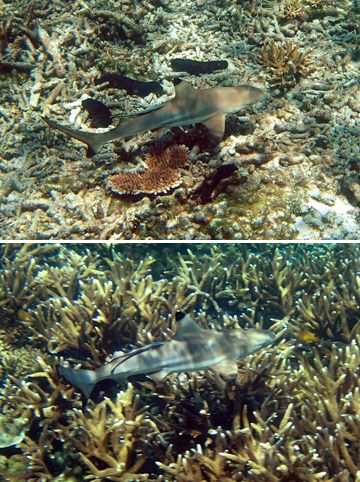 The rest of the fishes in my pics I couldn't ID.
Other Reef Fishes.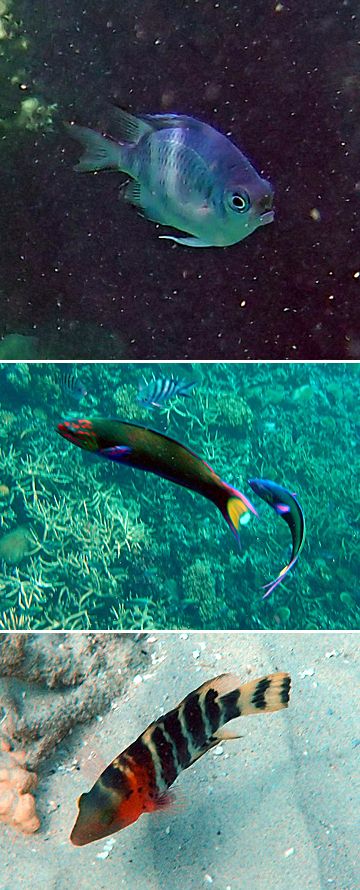 Fish & Fish.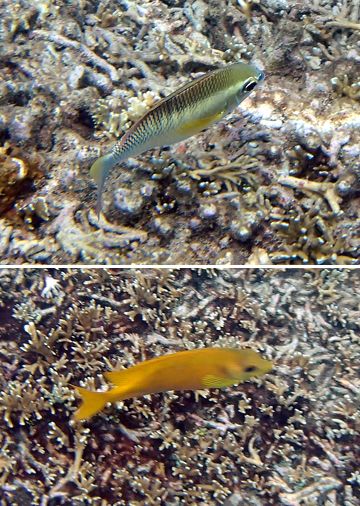 Fish & NEMO!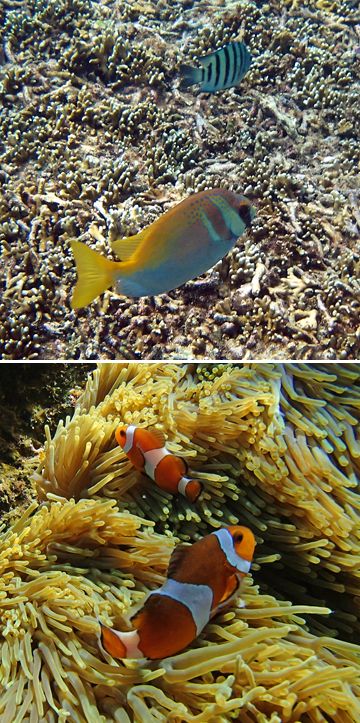 Now, everyone knows that one! Hahaha! The actual species name is Clownfish which lives among Sea Anemone. Nemo is just the name of a cartoon character in an animated movie. But when anyone spotted a Clownfish, inevitably they will shout, NEMO! =P
Here, we would like to extent our thanks to the helpful & friendly Snorkeling Center team at Redang Beach Resort for the wonderful & memorable time during our stay.
Our grateful thanks to the Snorkeling Center Team at Redang Beach Resort.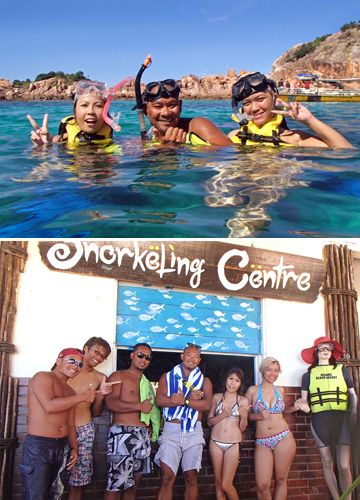 Redang Island, what a wonderful place to be. Other than eat, swim/snorkel, eat, swim/snorkel, we admired the sunrise & watch the stars at night. Coincidentally, we happened to be there when the Draconids Meteor Shower put up a show. I'm so happy!
Sunrise @Redang.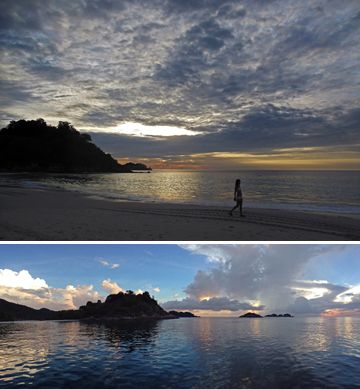 Also explored the beach from one end to the other & of course, me is cam-hogging all the way. LOL! =P
Redang Poses.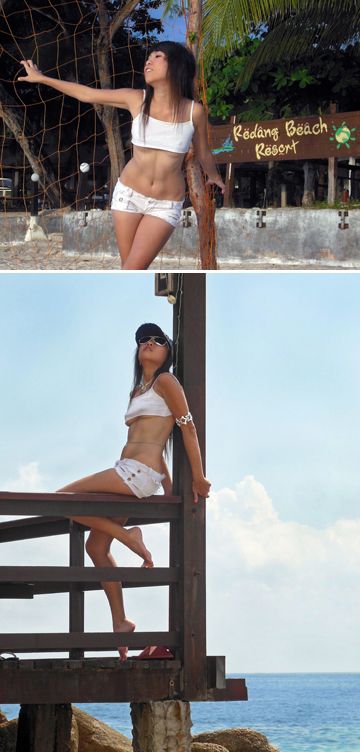 Sharky Friend.

Summer Point.

Beach Holiday.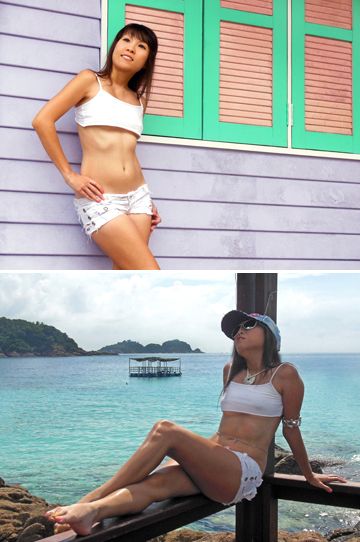 Beach Ball & Disco Ball.

Summer Vacation.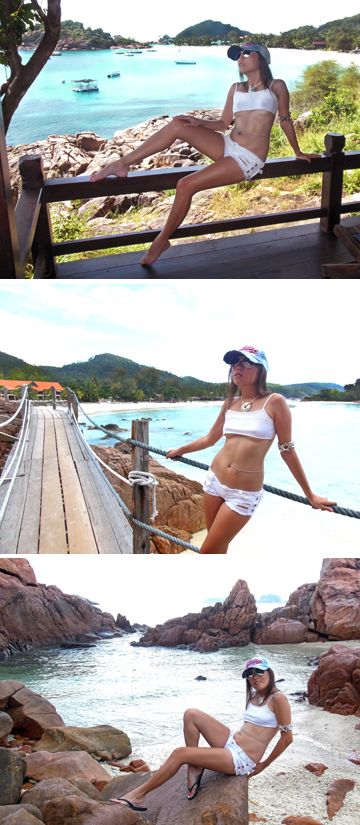 The Bridge To Paradise.
When it's time to leave, I'm sad. It's being a beautiful 5 days. However, there are still so many lovely beaches to visit & before long, I will be on another beach holiday. Hah!
Waiting for the ferry & onboard back to the mainland.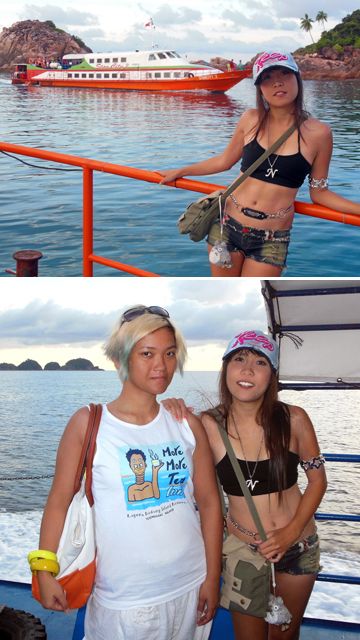 Goodbye Redang & hope to visit again!
Note: All information in this entry is accurate to date. And please stop asking me who took those pics of me featured in my blog, Flickr or FaceBook. Except for a very few selfie, almost all pics of me were taken by my guy, my one & only SiaoMouse who is also my personal photographer. He is always with me everywhere I go. As for the pics of underwater scenes or marine creatures, most of them were taken by me using my new toy, an Olympus Stylus TG-630.
Labels: Beach Holiday, Beach Resort, Malaysia, Marine, Nature, Redang, Vacation