Back To Changi & Pasir Ris Park/Mangroves
For the past year, I'd being going for nature walks to various nature reserves or parks, mostly for the purpose of photography. Also, these walks are enriching experiences to me. My guy will always accompany me & both of us love taking wildlife photos. Since I stay in the Eastern part of Singapore, some of the places we frequent the most are Changi Beach & Pasir Ris Park Mangroves.
Older entries of our visits to Changi Beach & Pasir Ris Park Mangroves are featured here:
A Walk @Changi Point
Go Wild @Pasir Ris Park & Mangroves
A Return To Pasir Ris Park & Mangrove Forest
@Changi Beach
Went to Changi Beach late one afternoon & encountered this cute little Nerite Snail crawling along the shore.
Nerite Snail @Changi Beach.
Near the beach, on a stretch of sandy land, grow some sorta ground creepers which produced fruits looking very much like mini watermelons when unripe. The ripe ones turned a rich golden yellow or orange. Dunno what are these plants, but I found a Ladybug on them. First time I ever saw a real live Ladybug!
Cute Mini Watermelons
Tiny LadyBug
Among the plants, butterflies flirted. Some species are new to us & cooperative enough to let us get off a few snaps.
Blue Pansy, male(top pic) & female(bottom pic).
Black Veined Tiger & Tawny Coster
Some of the birds we saw that day is a juvenile Asian Glossy Starling with big red eyes & a juvenile Scaly-breasted Munia which came very close to me, hopping around my feet foraging for grass seeds.
Juvenile Asian Glossy Starling & juvenile Scaly-breasted Munia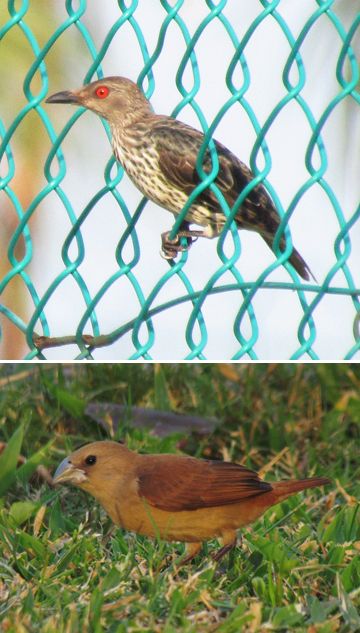 One of my favorite bird is the Oriental Pied Hornbill & we saw them almost every time we visited Changi Beach. They had being roosting there for quite some time already. Another bird which is fun to watch is the Pied Fantail which loves to spread its tail feathers when hunting for insects on the ground.
Oriental Pied Hornbill & Pied Fantail
The sunset was gorgeous that day & I considered it time well spend.
Sunset
@Pasir Ris Park & Mangroves Forest
One of my favorite place for my nature outing is Pasir Ris Park & Mangroves. It's a lovely place. Anyone not familiar with that place should give it a try. Keep your eyes peel, ears open & be quiet as possible. You will find many photo opportunities.
Flora & Fungi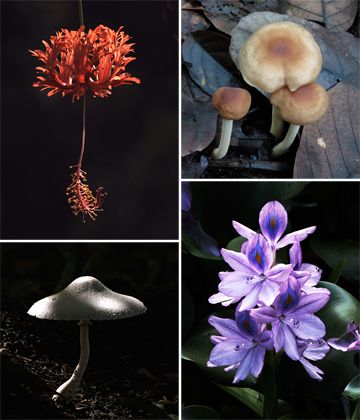 Many species of butterflies can be found there, in the park, especially in the delightful little garden or in the mangroves.
From left to right, top to bottom:
Pea Blue, Black Veined Tiger, Blue Pansy & Common Bluebottle.
From left to right, top to bottom:
Common Rose, Tailed Jay, Common Palmfly & Peacock Pansy.
From left to right, top to bottom:
Yellow-banded Wasp Moth, Great Swift & King Crow.
From left to right, top to bottom:
Small Branded Swift, Common Mime, Mottled Emigrant & Short-banded Sailor.
Striped Albatross, Leopard & Common Grass Yellow.
Plenty of Bees, Hornets & Wasps too. Problem is, I dunno even the common names for almost all of them. =P
Very Busy

Small bee-like fly & giant Carpenter Bee.
Wasps?
And other insects...
Praying Mantis, Grasshoppers & Robber Fly.
Spiders are not insects. They are arachnids. This much I know. =P
St. Andrew Cross Spider, tiny green spider & a Giant Jumper.
Dragonflies, these living fossils are a joy to photo.
Common Chaser & Scarlet Grenadier
Male & female Blue Percher.
Reptiles ~ usually saw lizards, including the giant Malayan Water Monitors, but seldom see snake.
Gecko & Common Gliding Lizard.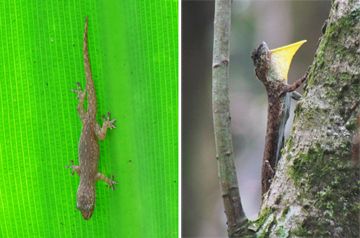 Tree-hugging Malayan Water Monitor.
To me, it's a bonus if Otters are sighted @Pasir Ris Mangroves. I love to watch them playing & hunting for food. They are Smooth-coated Otters & recently, 10 of them were sighted.
Smooth-coated Otter having a fishy meal.
Birds are our favorite subjects in photography, but with my little baby camera, a Nikon CoolPix S6300, it's not easy getting good shots of them unless they are very near. Usually it's my guy with his super zoom camera, perviously a Canon SX30 & currently, a Canon SX50, that got the bird pics. However, I do get lucky. Perhaps animals love me & they will let me approach very close. =P
With its many species of birds & some uncommon or rare ones, not surprising that Pasir Ris Mangroves is a favorite haunt for many birders, notably during the migration period between October & March.
Male & female Asian Koel.
A cute Tanimbar Corella.
Scaly-breasted Munia, adult & juvenile, feeding on grass seeds.
MealTime ~ Common Goldenback Woodpecker(male), Common Iora(female) & Oriental Magpie Robin(male).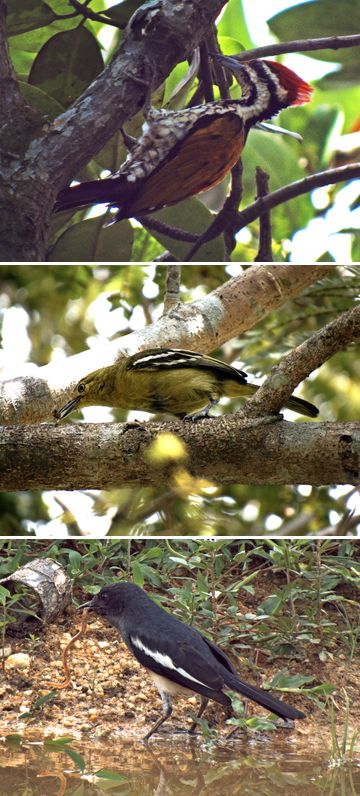 Dark-sided Flycatcher?
From left to right, top to bottom:
Grey Heron, Intermediate Egret, juvenile Little Heron & a juvenile Black-crowned Night Heron pretending to be Count Dracula. =P
Black-crowned Night Herons are migratory birds, staying for only a few months before going back up North.
Black-crowned Night Herons ~ sub-adult(top pic left) & adult(top pic right), adult(center pic) & juvenile(bottom).
Common Kingfishers & Black-capped Kingfishers are also migratory. The White-collared Kingfisher is a common local resident around our rivers & coast.
Common Kingfisher

White-collared Kingfisher & Black-capped Kingfisher
It is always exciting when raptors are sighted.
Changeable Hawk-eagle
And the star of Pasir Ris Mangroves in 2012 is a Buffy Fish Owl…
Buffy Fish Owl
A very expressive star indeed! =P
Owl Expressions!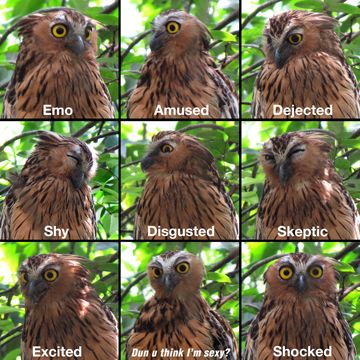 For more info/details on Pasir Ris Park & Mangroves:
National Parks
Wild Singapore
For free guided walks at Pasir Ris mangroves:
Conducted by -
Mangrove Action Squad
Conducted by -
Naked Hermit Crabs
Labels: Nature