Captain La Femme Nikita!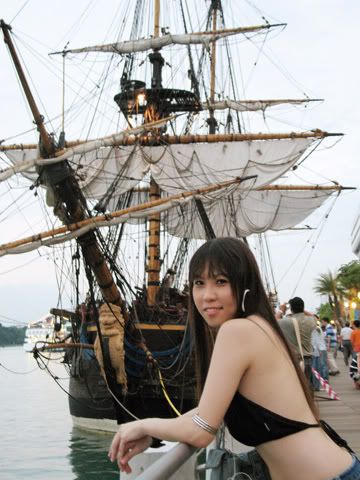 Forgotten I had this pic. Now then post up. Hee...
Visited Vivo City last year, Dec. 31, 2006.
It was quite late in the evening on New Year Eve.
Saw this grand old sailing ship park by the wharf.
She's the Götheborg from Sweden on a trade & diplomatic visit.
Try to get onboard, but no visitors allowed.
By the look of it, they're holding a private New Year party onboard.
There's a huge sign hanging from it's center mast with the words 'Happy New Year'.
What a disappointment!!!
I wanna see what's onboard a real sailing ship.
Very few of them left in the world.
Love the movie 'Pirates of the Caribbean'.
Wanna feel what its like to be Captain Jack Sparrow on the Black Pearl raiding the Spanish Main!
Hoist the Jolly Roger! Ready the cannons!
Prepare boarding party, me hearties!!!
Think I'll look cool as a female pirate! Le Femme Captain Nikita! Hahaha...
Oh well, at least I get to see a real sailing ship.