A Return To Krabi - Part 1
26th May - 1st June 2012 ~ After a year, my heart still long for Aonang in Krabi, Thailand which I'd a beautiful experience.
My Krabi experience a year ago:
http://ihengbok.blogspot.sg/2011/06/ao-nang-krabi-thailand.html
*Note: Info/details from my previous visit to Aonang would not be repeated in this entry.
Departure
So, me & my guy took a week off, jumped on a plane & hopped to Paradise... again.
Heading For Krabi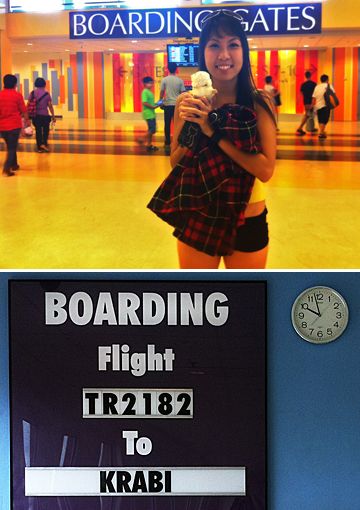 This time, we took along my pet hamster, nicknamed 'SiaoMouse'. Was its first flight & can you blame it for being nervous? After the smooth take-off, Hamster SiaoMouse woooo & ahhhh at the passing clouds & the scenery below. =P
Hamster 1st flight, taking off from Changi International Airport.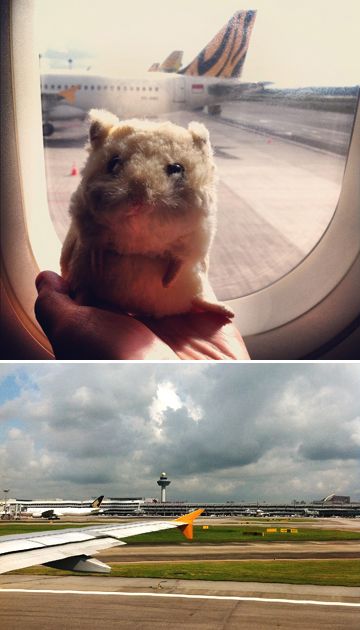 Beautiful Clouds & Meandering River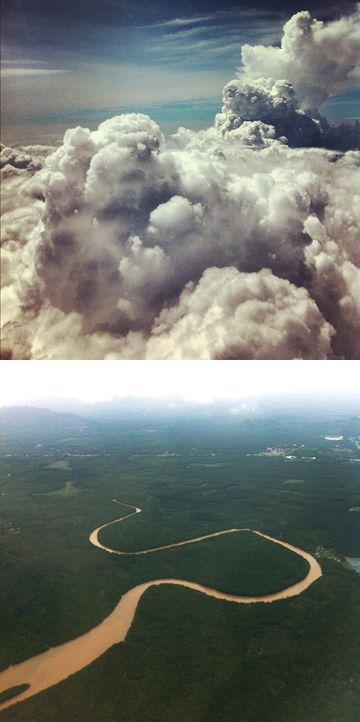 Arrival & Transport To Hotel/Resort
Landed at Krabi airport in the late morning. If you do not have a pick-up arrangement with your hotel/resort, there are only 2 options to get from Krabi airport to Aonang. After exiting the custom check point, on the right are 3 stalls, 1 for shuttle bus & 2 for taxi(featured in pic below). Just be prepared for the ruckus thrown up by the girls operating those counters, begging you to buy from them. Anyway, no matter which counter you buy from, price are fixed for bus or taxi. It's only choosing between these 2 modes of transport.
Shuttle bus to Aonang:
150 baht per person. There's no departure schedule. The bus will only move off once the bus driver or operators deemed there are enough passengers to worth the trip.
Taxi to Aonang:
600 baht per trip, max 4 person.
*Note: Prices listed above are accurate as of 2011 ~ 2012.
Bus/Taxi Ticket Counters & Bus Route Map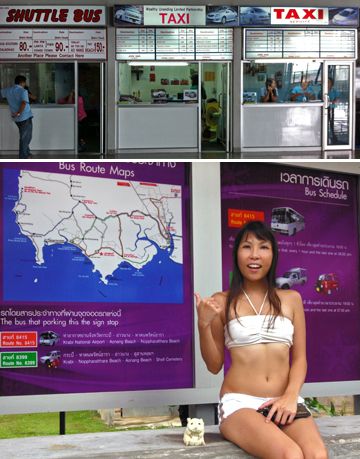 The journey from airport to Ao Nang takes about 30 to 45 minutes. Now, there's a catch. The bus or taxi will inevitably brings you to a 'stop-over' at the outskirts of Aonang. This so-called 'stop-over' is actually a travel agency which, well... tries to get your business. According to my guy, basically it's the same at any tourist spots all over Thailand. The driver of the tuk tuk or taxi you boarded will wanna bring you to a certain establishment before taking you to your destination. If you have the time, just entertain them. Treat it as sight-seeing. You don't have to buy anything & the driver will still gets some sort of commission. If you are in a rush, just tell them politely that you're very late for your urgent appointment.
At the 'stop-over' from Krabi airport to AoNang, they have a whole list of tours, hotels/resorts or transport bookings. If you're on a budget & do not have the time to bargain hunt, no harm looking through what they have on offer. It might also be cheaper, but I really can't say. If you traveled by the airport shuttle bus, buy or no buy, all passengers will be sent to their destination by mini bus/van operated by that tour agency. Just be prepared to waste some time. The staff at that travel agency won't hassle or pester you, so no problem. Alternatively, you can refuse to alight at the 'stop-over' by politely telling them that you had everything you needed. After everyone had alighted & when the bus move off, tell the bus driver where you wanna go. Best is, tip the driver when he start off. You will see a big grin on his face & he will be very happy to assist you. Relax. Be happy. You're the milk cow on vacation! Smile! Thailand, Land of Smiles. xD
By taxi to Aonang is much less of a hassle. The driver will do the 'stop-over' by telling you he has to stop by his 'office' for just a little while. A sale person will discreetly come by, open the front passenger door & ask whether you had booked anything. If you wanna, go down & have a look. If not, same thing: "Everything booked. Thank you & have a nice day!" & the stop will take less than 3 minutes.
Aonang All Seasons Beach Resort
If you're not on a tight budget, the price of the airport taxi is worth it. Without the lengthy 'stop-over' of the airport shuttle bus, we reached our resort good & early by taxi.
@Aonang All Seasons Beach Resort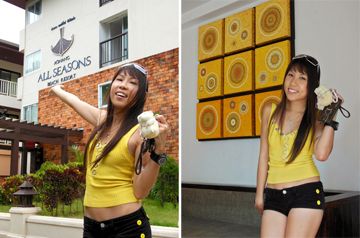 This resort provides free wi-fi which is 1 thing I like about it & a lovely view of the mountains. The balcony view of the previous resort we stay last year was of the next block.
View From Balcony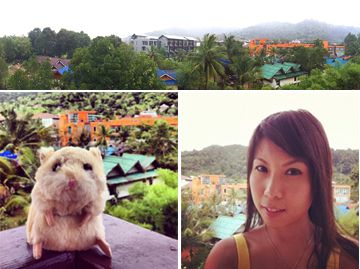 Pet Hamster by the resort pool & Duckies in the pool. =P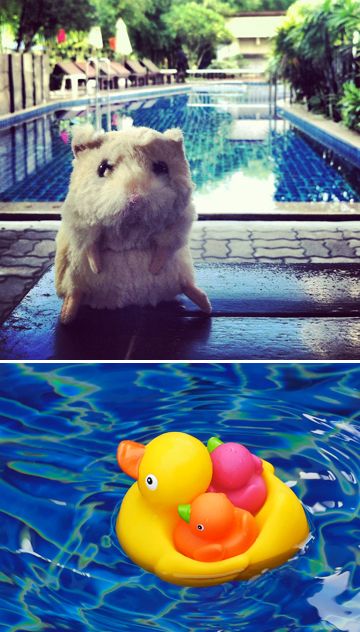 Bring a rubber duckie to a resort pool? Why not? LOL! =P
Playing with my Duckies in the pool.
Relaxation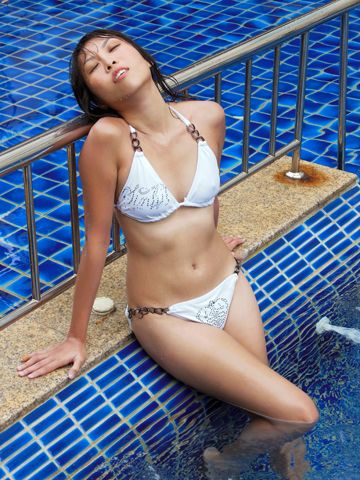 Transportation in Aonang/Krabi
Getting around in Ao Nang town is a breeze. As a 1-street town, many places can be reach by walking. If you are tired, many tuk tuks(3 wheeler motorbike) or taxies/songthaew(converted pick-up trucks or mini vans) about. From 1 spot to another within Aonang, it's 20 baht. Don't pay more than that. Always ask the price before boarding. For traveling outside Aonang, many taxi operators listed their prices on a board placed by the roadside where they parked their vehicle. Bicycle or motorbike rental are also available.
*Note: Prices stated are accurate as of 2011 ~ 2012.
Songthaew & Tuk Tuk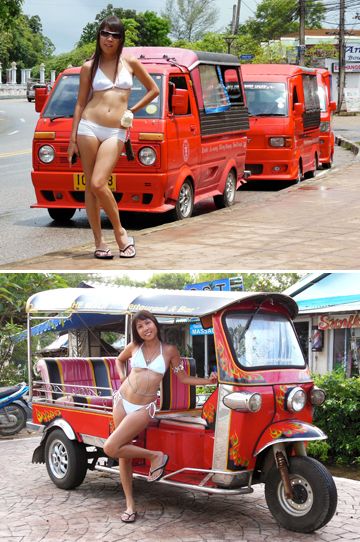 Motorbikes For Rental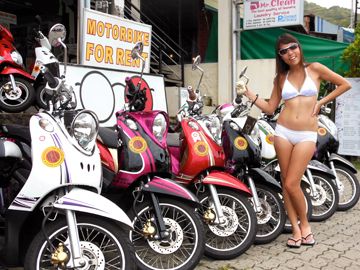 In Karbi, there's a transport service that uses a fix route, looping from Krabi Town to Aonang & back. Taxi or bus? Even the locals can't agree on the English term used for such transport. In the Thai language, the locals called these passenger vehicles, 'songthaew'. Those vehicles are actually converted pick-up trucks with a roofed-over passenger cabin behind, where the truck bed is. They are all painted in white with their destinations printed on the sides & in the front, above the windscreen. Even though there are bus stops around Aonang for this service, passengers can pick up or drop off anywhere on their route. Flag them & they will stop. Press the bell button on the roof & the driver will let you off. Usually it's pay when you get off. There's no fix schedule, but 1 will come along in about 20 minutes. Traveling within Aonang, it's the same 20 baht. Outside AoNang, you have to bargain with the driver. Price is fix for trip from Aonang to Krabi Town & vice versa.
Operation time:
7am to 10pm.
Price from Aonang to Krabi Town & vice versa:
7am to 6pm: 50 baht.
6pm to 10pm: 60 baht.
*Note: Prices listed above are accurate as of 2011 ~ 2012.
Krabi Transport Service, Price List & Bus Stop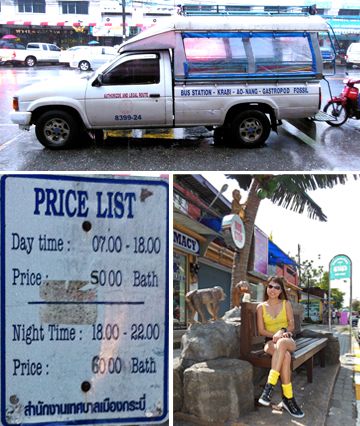 Krabi Town Weekend Night Market
We had planned to visit Krabi Town for its famous Weekend Night Market aka Krabi Walking Street which only operates only from Friday to Sunday, night only, with stalls setting up at about 6pm.
By Mini-bus To Krabi Town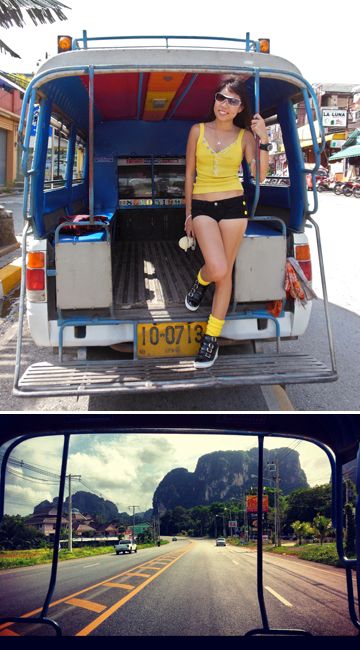 The trip took about 30 minutes & the mini bus deposited us at the 1 & only bus stop in town. This bus stop which is located in front of a 7-Eleven 24hrs convenient store, also serves as the pick-up point for going back to Aonang. We arrived in Krabi Town at about 3+pm, a little too early for the night market.
Krabi Town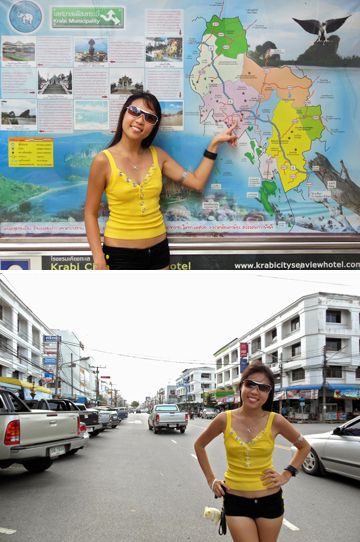 So we went around exploring the quiet town. Across the road, opposite the bus stop, is a Thai temple of some sort. We did not enter the premises, so we are not really sure what it is, but its beautiful.
Thai Temple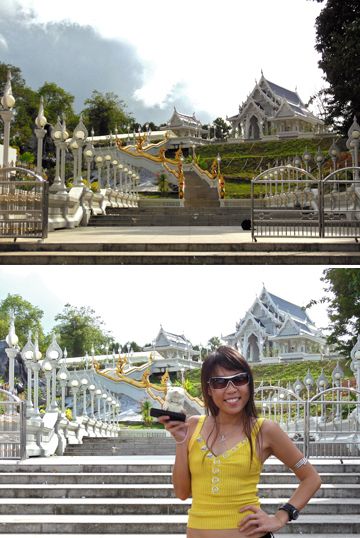 We walked a few side-streets & wandered into Vogue Departmental Store, the biggest retail outlet in Krabi Town.
Vogue's store display & giant spider outside a pub.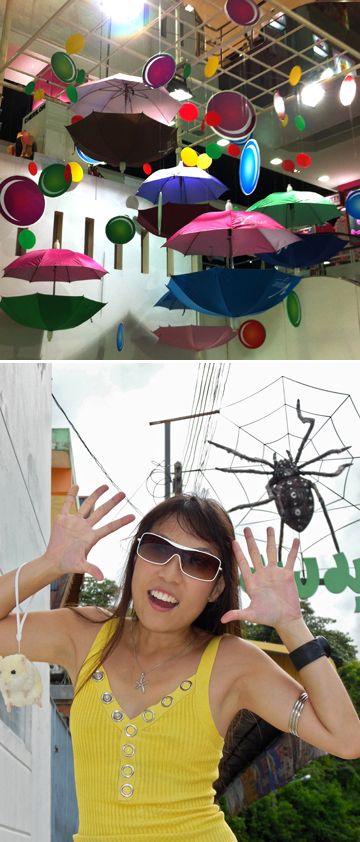 Ornate lamp poles topped with elephants lines the main street. At a junction, the traffic lights are exquisitely decorated with ape men & saber-toothed tigers at another. The sculptures depict the discovery of prehistoric human & animal fossils in the province of Krabi.
Elephant Lights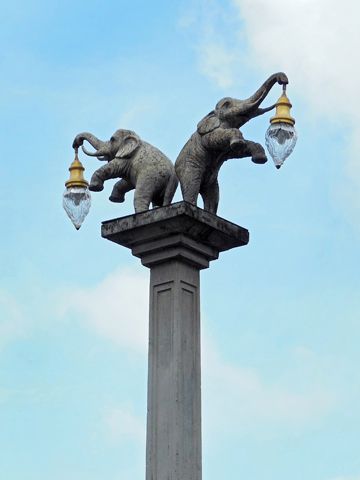 Prehistoric Theme Traffic Lights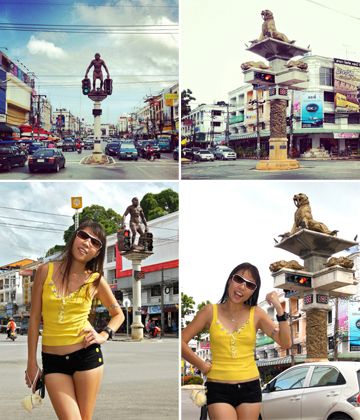 By 5pm, some night market stall operators had started setting up their stalls. Suddenly, it began to rain, from a light drizzle to a heavy downpour. A few stall owners packed up & left. Was praying for the rain to stop as I do not want to miss the night market coz we had only 1 weekend during our stay in Krabi. Fortunately, my prayer was answered & rain stopped exactly at 6pm.
Krabi Town Weekend Night Market aka Krabi Walking Street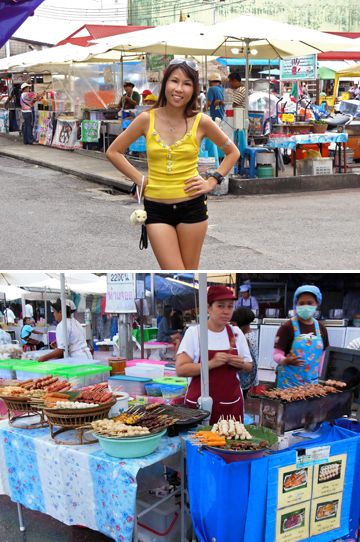 Most of the stalls are selling food or drinks. Now, the food alone will be a major draw for almost all Singaporeans & Malaysians. These 2 countries' national hobby = Shopping & Eating! =P
Ok, lets have a walkabout dinner.
Bamboo Drink Stall & BBQ Seafood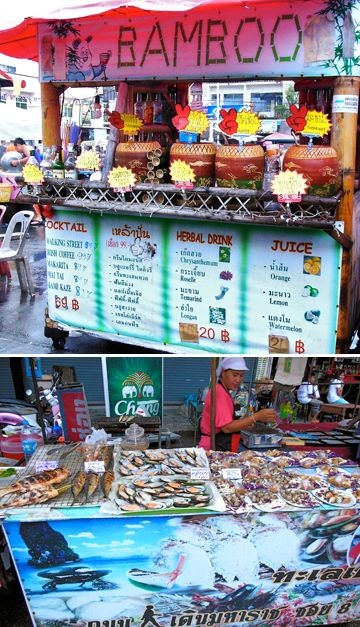 Piece Meat On Sticks
Don't ask me what those food items on display are coz most times, I don't even know what I was eating. Many-a-time, my guy would refuse to tell me what it is as he knew that I'm a timid Hamster, unadventurous when it comes to food. So, I just ate whatever he bought. =P
And to be honest, it was at this night market that for the first time, I ate street or hawker food in a foreign country. Never done it before & it was a big step for this timid little Hamster! =P
Street Food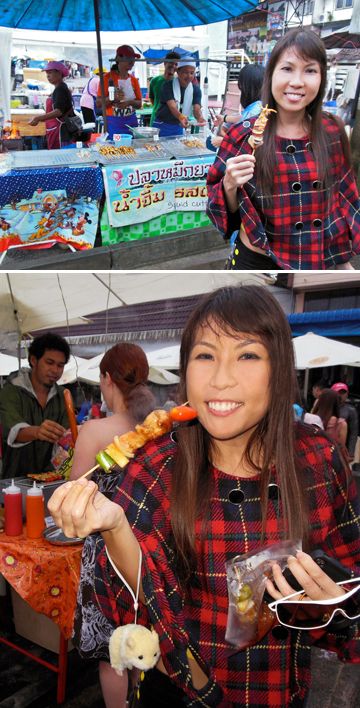 Was happily eating from stall to stall till sunset & came the power black out. Pooof! The lights went out! More stall holders packed up. Due to the earlier rain & the black out, about a quarter of the stalls was not set up. Except for a few emergency lights, Krabi Town was dark.
Welcome to Black Out Krabi Town!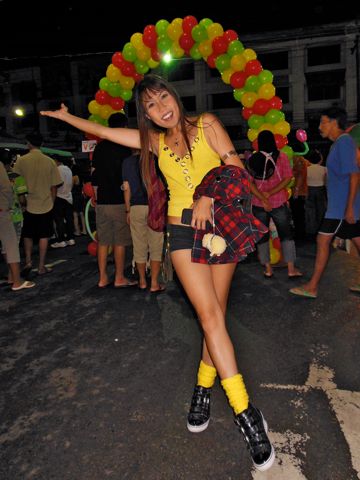 In the dwindling twilight, many stallholders still operate, hoping the power will return.
Black Out Stalls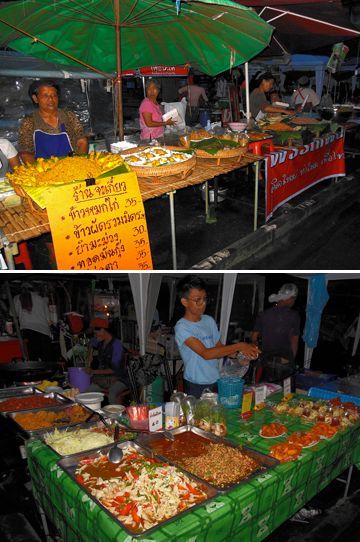 Night descended & still no power. Candles were passed around & we had a romantic street food experience. =D
Candle Light Hawker Food Dinner
Undauntedly, we carried on coz my guy has a torch. Heehee... he's the only tourist or customer there who has a torch. That's my guy. Always prepared & unfazed by almost anything. Tough, worldly & street-wise. Only person I trust & won't travel without him. Beside the torch, I think he has a Swiss knife & some first aids with him too.
The power came back on at about 8+pm.
Many of the food are BBQ meat on skewers.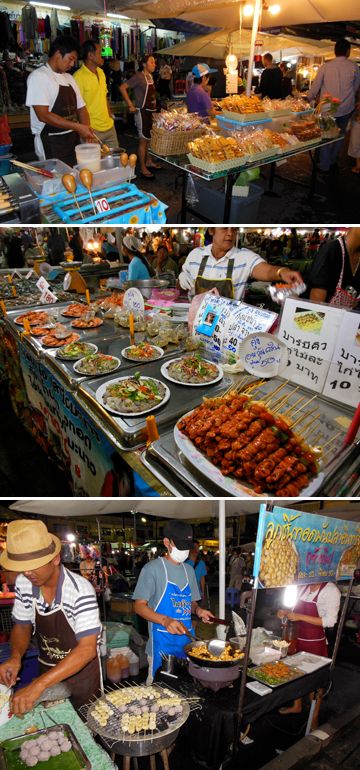 Food, food & more food!
Meat On Skewers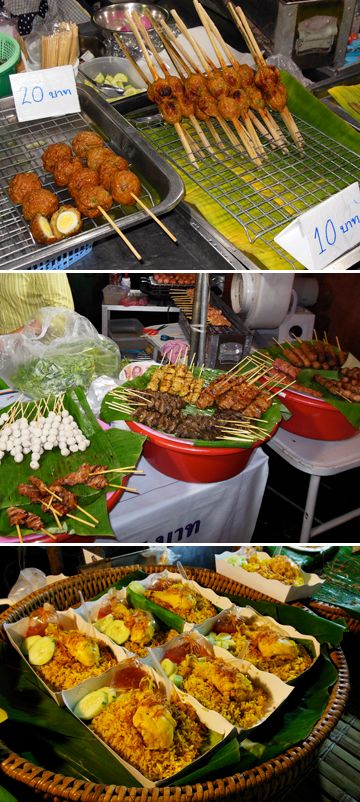 Salted Fish, Fish Cakes & Mini Sushi

Yummy Eating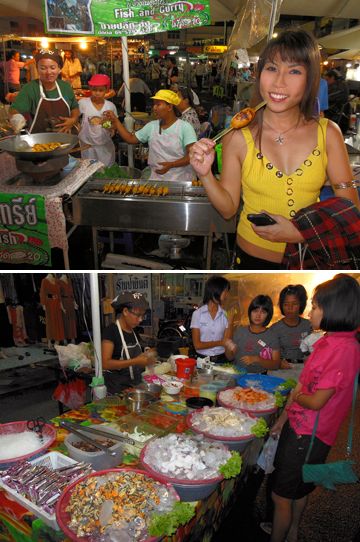 MouthWatering Fried Quail Eggs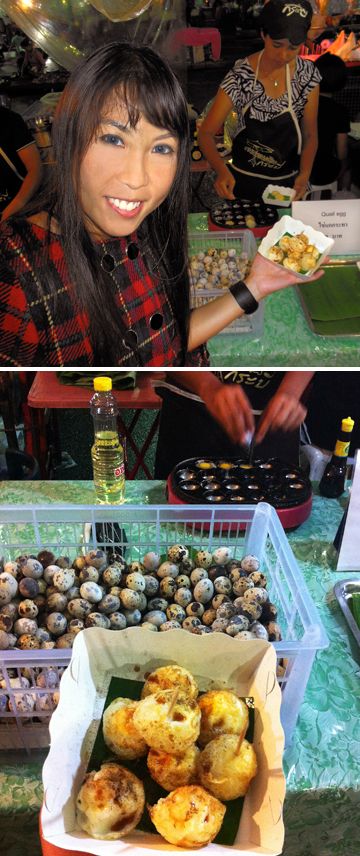 Now for desserts! Bought a box of the crepe-like mini-pancakes(below pic, bottom left image) & they are delicious!
Pizza & Thai Desserts
Also tried the fried ice-cream! =P
Fried Ice-cream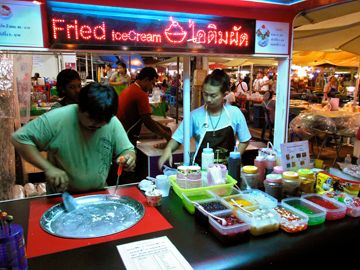 Besides food, there are handicraft & fashion items. However, many of those stalls were not open due to the rain & power failure.
Dolls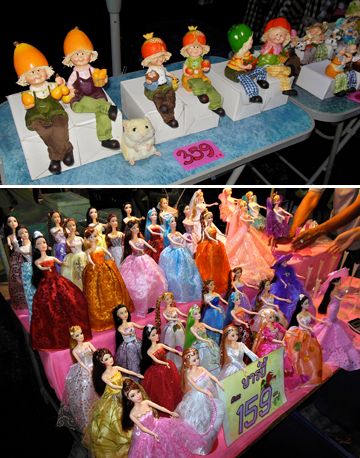 Arts & Handicrafts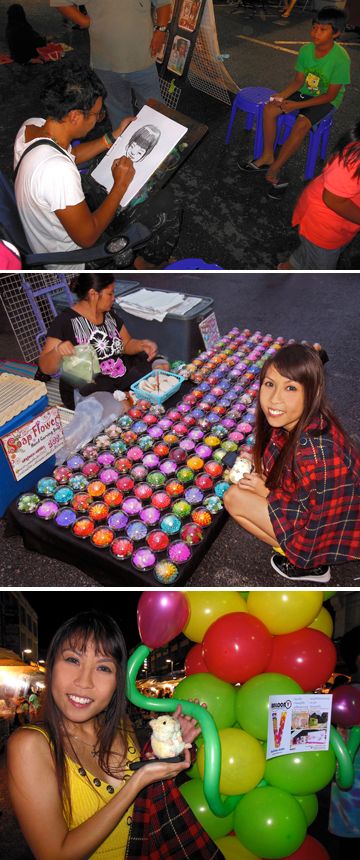 An open air pub with singer on stage.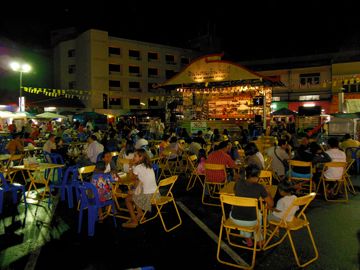 And a busker who painted himself pink & you can paint anything, anywhere on him. Knowing that I'm a cheeky Hamster, my guy dropped some coins & I had a go at the Pink Canvas Man! =P
Pink Canvas Man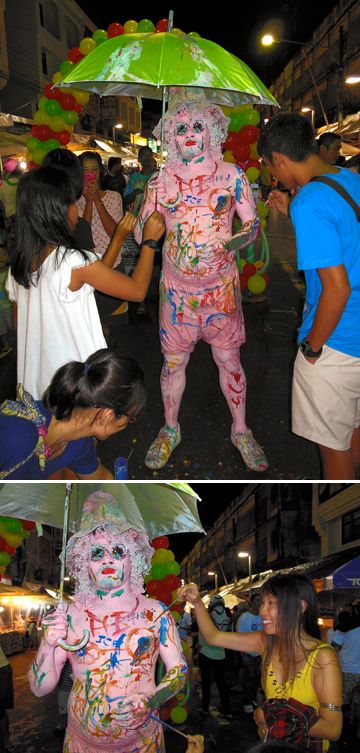 That concluded our visit to Krabi Town Weekend Night Market.
Aonang Town
Aonang was also effected by the power failure. For 2 days/nights, power supply was an on/off thingie.
Power Failure @Aonang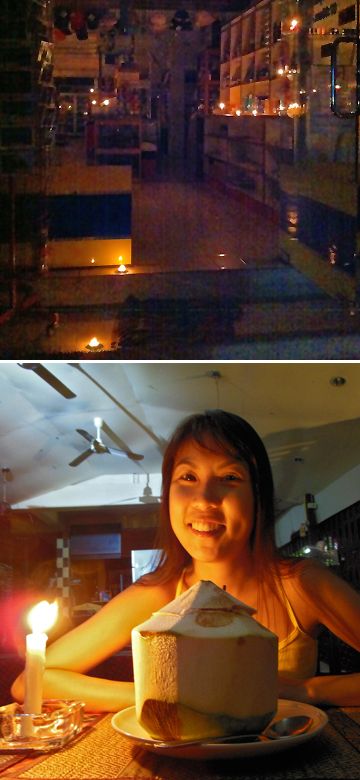 We were not really effected by the power failure as we are not the type to laze in the resort. If we are not walking the beaches, we will be roaming Aonang Town.
During this visit, 1 of the things I'm glad about is, the bridge we had to cross everyday, had been upgraded. On our previous visit, it frightened me every time we had to use this bridge which span a creek. The bridge was just wooden planks & beams, with lots of gaps, missing planks & beams. Every time we crossed is like a game of life & death to me, treading gingerly & jumping the gaps, all the while clinging on for dear life on my guy's arms. It was worse at night with the bridge poorly lighted. What a relief it was when I first saw the new bridge of solid concrete & with lots of lamp poles.
Nice New Bridge! =D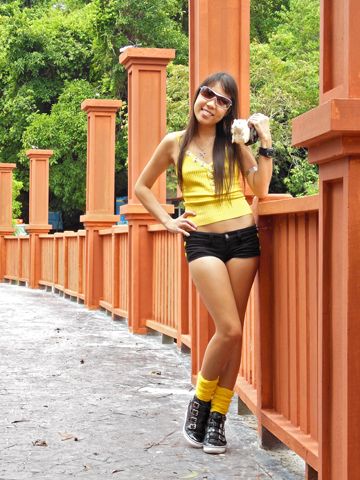 Not surprising, quiet AoNang town looks the same as when we visited last year. Below are some pics of Aonang town in additional to those we took last year.
*Note: Info/details about Ao Nang Town are in my previous entry: http://ihengbok.blogspot.sg/2011/06/ao-nang-krabi-thailand.html
Rocky Cliffs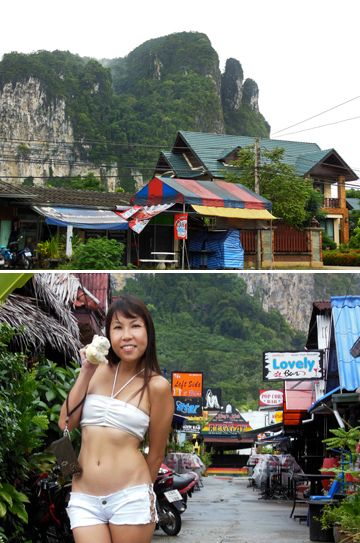 AoNang Scenes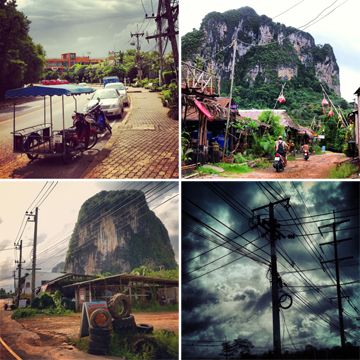 Streets of Aonang & Half-completed Mosque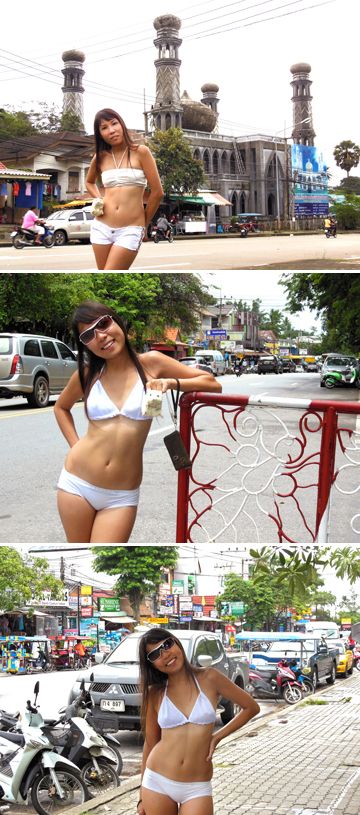 Cam-hogging in Aonang =P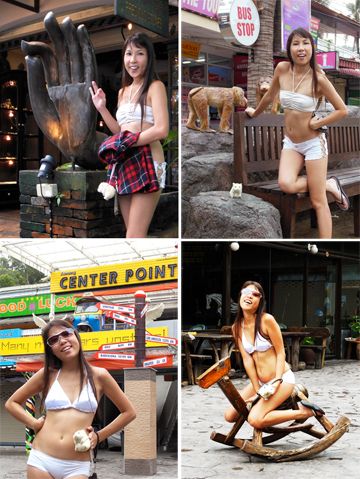 BarMister Long & Red Post Box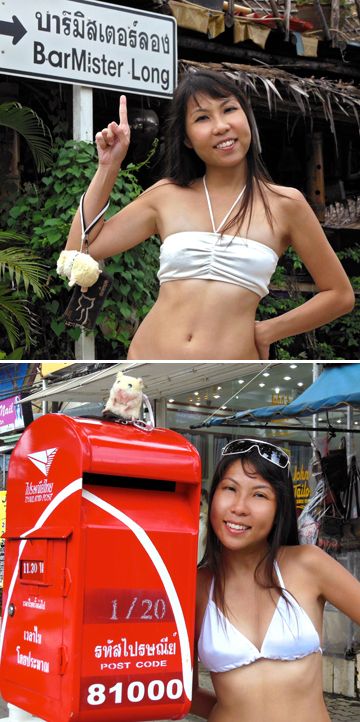 Sacred Boat & Bronze Goddess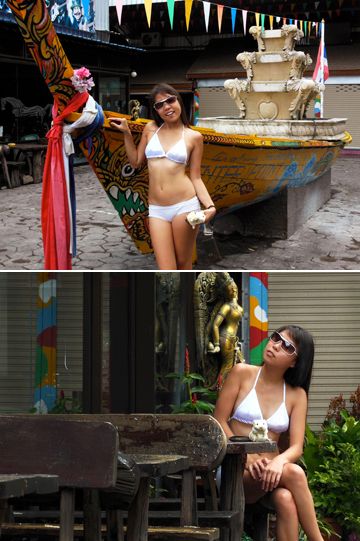 For some time, after finding out about sky lanterns, I wanna release one. There wasn't any around during my first visit. This time, we chanced upon a street vendor selling them & bought the biggest available. The kind lady seller helped us prepare it, lit the fuel & even provided a marker pen to write my wishes on the lantern. For luck, health & prosperity, we released a beautiful sky lantern!
Wishing On Sky Lantern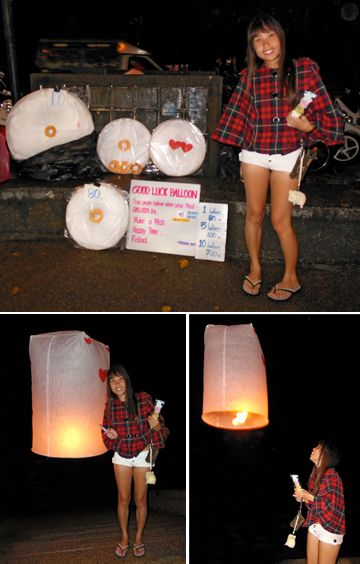 And our sky lantern, carrying my wishes, sailed towards the moon watching over Aonang. Moon, oh beautiful moon, please make my wishes come true!
Moon Over Aonang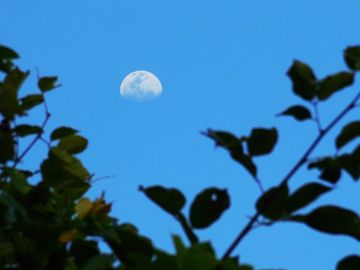 Food In AoNang
Now comes the part which would be most interesting & even crucial to almost any Singaporean or Malaysian. Everyday, the foremost things on their mind are: What to eat & where to eat!
Noticed there are more & more fat people? Your love for food will make you FAT! Therefore, to remedy that, All You Need For One Day are in the pic below. Perhaps a fresh coconut or 2 will suffice. =P
All You Need, For One Day or Go Coconuts! =P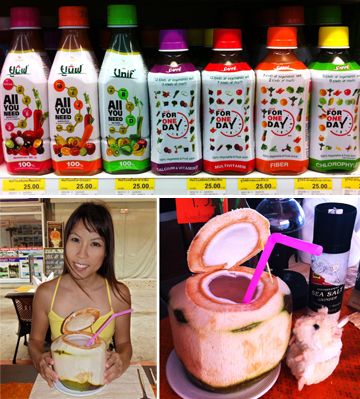 Ok, that's your diet & this evil little Hamster is gonna tempt you with all these yummy food pics. *Evil Laughter =P
Our daily breakfast in the resort was included with the room rates.
Breakfast By The Pool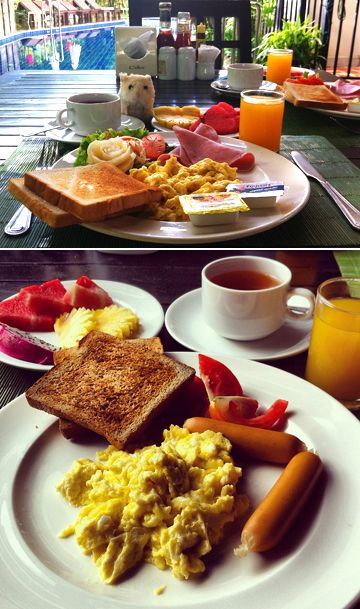 We, my guy & me, are not food lover or foodies as they are known. To us, food is just to sustain our body. Sometimes, we even find it a nuisance having to waste time looking for food. He can eat anything edible. No fuss. Me is a little more timid, less adventurous. So, he usually adhere to my choice of food or venue & I preferred Western cuisine over Asian ones. =P
There are about 6 Italian restaurants in Ao Nang & a few has pretty nice ambience. We had tried everyone of them... maybe. xD
*Note: Additional info/details about food in AoNang are in my previous entry: http://ihengbok.blogspot.sg/2011/06/ao-nang-krabi-thailand.html
I Love Pizzas! =P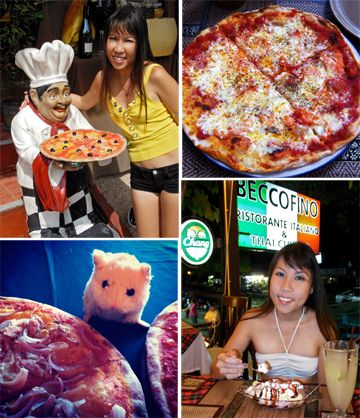 Italian Restaurant Interior Deco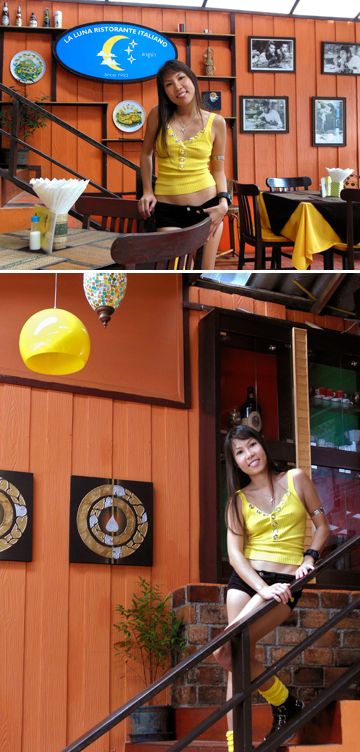 I'd changed my mind regarding my favorite restaurant in Aonang. Last year, it was Aning, but found that their standard had dropped. Now, I found a better one, Lacasa Italian Restaurant. Not as richly decorated as Aning, but the staffs, including the husband & wife owners, are very friendly & helpful. And most importantly, their food are SUPERB! After this discovery, we took nearly all our meals there. Save the trouble of deciding where to eat. LOL! =P
Lacasa Italian Restaurant
Pardon me if I didn't list the names of the dishes featured below. As mentioned, we're not foodies & couldn't be bother to remember the names of the food we ate.
Delicious Soups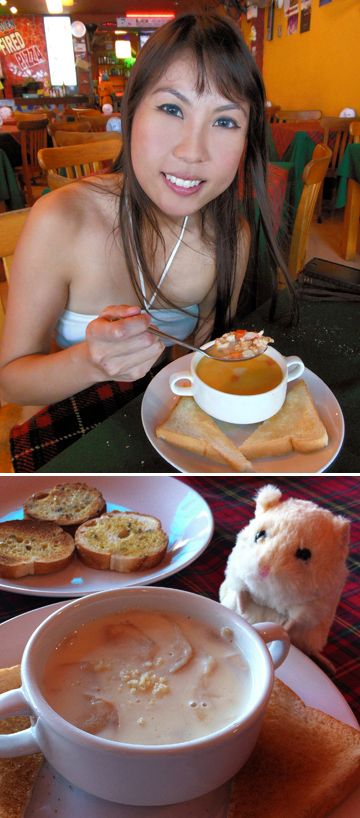 Pizzas & Garlic Breads With Toppings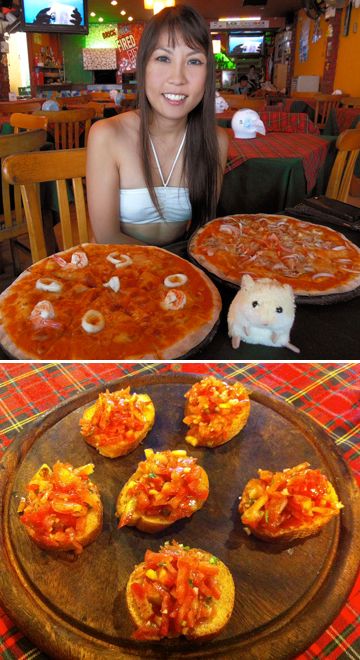 Delicious Stuffs!
Being to Thailand many times, but haven't tried local Thai food coz I can't take spicy stuff. A little spicy & I have to call in a fire engine to extinguish the fire on my tongue! Hahaha... =P
However, at Lacasa, they told me they can leave out most of the spicy ingredients in whatever dish we order. Not exactly a fan of Asian cuisine, but was encouraged by my guy to give it a try. So, it was at Lacasa that I had my first taste of Thai food & it was so FABULOUSLY DELICIOUS that I wiped out almost everything leaving almost nothing behind. Licked the plates too, if it wasn't for etiquette. =P
Leaving the gastronomic slaughter to me, my poor guy just calmly ate plain rice soak in curry with little bits of leftovers. I was really really hungry! I swear! Hahaha... =P
Super Yummy Meal!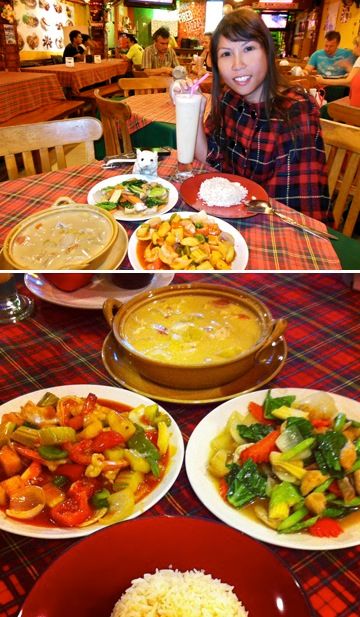 Hamster Loves Lacasa! xD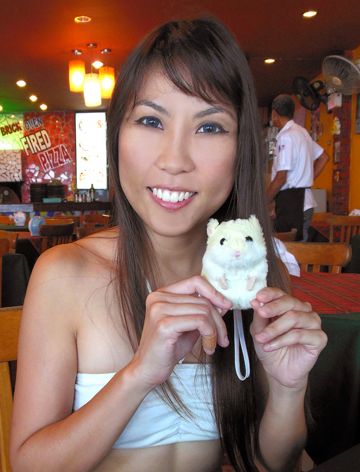 For a cheaper alternative to food, there are also many street food vendors at Aonang.
Street Food Venders @Aonang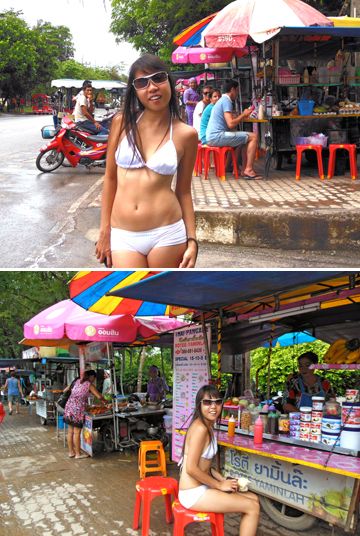 Hawker Food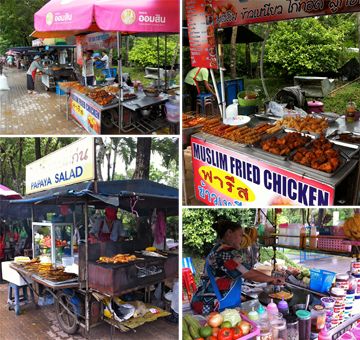 That was where I tried Thailand's famous banana pancake. Ordered mine with chocolate(30 baht) & is SUPER YUMMY! xD
Yummy Chocolate Banana Pancake!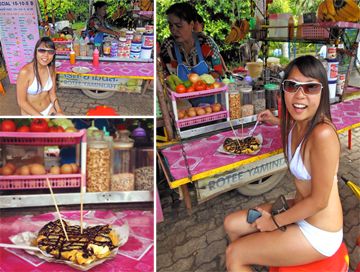 To be continue soon...
Return To Krabi - Part 2: Beach, Sea, Phi Phi Islands, Elephant & Shooting Range...
http://ihengbok.blogspot.sg/2012/07/return-to-krabi-part-2.html
Labels: Beach Holiday, Beach Resort, Krabi, Thailand, Vacation