Mini Nature Update @ Pasir Ris Park Mangrove Forest
Thu, Nov 24, 2011 ~ Here's a mini update on how's my nature adventure is coming along. Weather hasn't been really friendly in recent weeks; it was pouring everyday. On that blazing hot morning, looking like good weather to visit mother nature, we went out to Pasir Ris Mangrove Forest. *Poof!
Upon reaching the place, we saw a few nature enthusiast photographers, as well as birders having the same idea as us, but the weather tricked us again. It was overcast when we arrived. My soulmate has gone somewhere searching for Lace Woodpecker which we are trying to take better pics of, while I was at the bridge over Sungei Tampines trying to get a glimpse of the family of Otters we had encountered some time back. We hope to see them again as they usually swim in with the tide to hunt for food, but no luck that day. However, we witnessed the residential Stork-billed Kingfisher & a migratory Common Kingfisher diving for their preys, FISHIES! Yummy! The birds plunging into the river after their food was fascinating. It would be great if we could get a picture freezing the dive, but that needs very good light in perfect weather which unfortunately, did not happened on that day. I dunno what its with birds showing up on bad weather. It just happened that we seen to spotted more interesting birds on bad weather days.
Family of Otters we had spotted at Sungei Tampines:
Loving Mummy Otter Feeding Baby Otter
(Click on image for larger view)
Smooth-coated Otter Feeding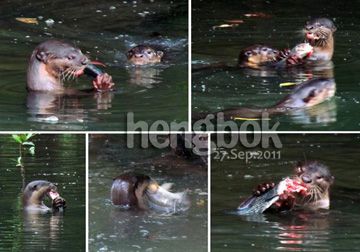 The adult otter caught a fish & gave it to the pup.
What a lazy morning.
Ah! Mother nature's throwing tantrums & rain is coming. We seek shelter just in case she decided to pour onto us. She did, but not for long. The sky cleared & birds started chirping again. We continued our journey into the mangrove forest.
At Pasir Ris Park, next to the mangrove forest, we came upon a little herb garden which seem to be in the process of revamping. Discovered a water-filled decor boat with lots of Water Hyacinth in it & they were blooming! It was my lucky day! Finally got a chance for a better pic of the Water Hyacinth flowers! These flowers have very short life span, blooming & withering within hours. The last time I took a pics of them was sometime ago at Orchard Central Sky Garden with my old & rusty Sony Ericssons mobile phone. When I returned with a better camera, they were all gone, just barely within a day!
Water Hyacinth taken with mobile cam(Top) / Canon SX30(Bottom)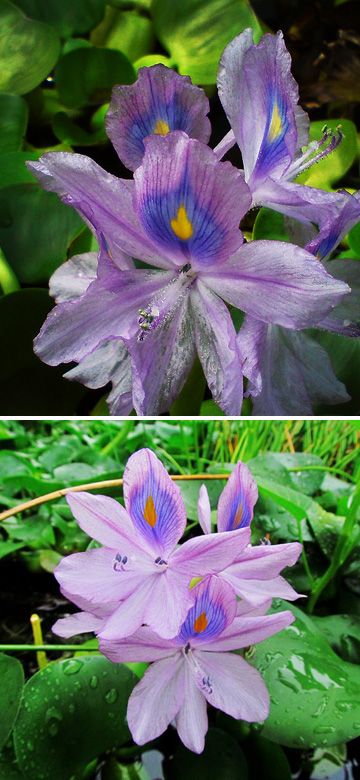 We decided to move on from the herb garden since there isn't much insects/plants to take pictures of as they're still redoing the garden with weeds grown out of proportion at some areas. While we were on the way out, I spotted 3 juvenile Zebra Doves on the ground. We creep up to them slowly & as quiet as we could in order to get a good close-up pictures. They looked awesomely cute when they puffed up. Not that they were frightened or alarmed which was assumed by people who have no knowledge of animals. Some birds do that to ventilate air for regulating their body temperature, as mother nature had decided to be really harsh after the brief downpour, with the sun scorching hot. The poor little doves were baked & me too! In the burning sun, the reward for slow, steady & quiet approach to the doves were really really close-up shots of them, at a distance which I could even used my iPhone cam.
This was how close I got to the little doves.
Me stalking them real close!
Puffed up!
And they starred in my video! =P
Alright, enough of these little cuties. I guess they must have also been wondering what are we up to. Not to worry, no animal was harmed in the photography & videography. Haha! We moved in further into Pasir Ris Park. Along the way, we saw a group of Red Jungle Fowls at the grass patch beside Sungei Api Api. Oh dear! They scooted into the dense bushes before we could get near enough for photo. What a pity! Nevermind, we will be back! Hope that they can be found around the same spot again.
Hop! Hop! Hop! Something was hopping beside the grass patch near a tree! It looks like a Mag-pie Robin, but of the wrong colors! Lifted up my binoculars to see what bird it was, but couldn't ID it. Tried getting closer, but it kept hopping away. Hey boy! Stop hopping away! I meant no harm! Alright... it stopped for a bit. Hmmmm... I don't know what bird is that. It has odd colors that I've never seen before. Brownish, orangey, black & is it some white on top of its head? Confused! Whatever... let's pretend we're not chasing it or take notice of it. It finally calmed down & behaved less panicky. Then, it started looking for food, catching worms or insects on the ground. Amazingly, it even hopped closer to us. Yes! Finally got a clear shot of it. Guess what bird is that? It's an White-Crowned Robin-Chat! Checked with a friend who is a naturalist,
Ivan
helped identify it. According to him, it's an African species & most likely an escapee. So, that explain it. Some regulars at the park who are into avian photography mentioned that this bird has been around that area for few months now. Very friendly bird who's not really afraid of people if its familiar with you. It looks healthy. I hope it gonna survive & hopefully find a mate soon. Makes me wonder if Magpie Robin & White-Crowned Robin-Chat can ever fall in love together? Haha! =P
Magpie Robin(Top) / White-Crowned Robin-Chat(Bottom)
Sky's overcast again & light's getting bad for good photography. After half a day of wandering in park, we decided to walk into the Mangrove pathway hoping for a glimpse of the Lace Woodpecker. No luck apparently, but we met a couple of Common Sun Skinks & one of them seemed to be injured with flies attacking its wound. What an awful sight! Eww...
Common Sun Skink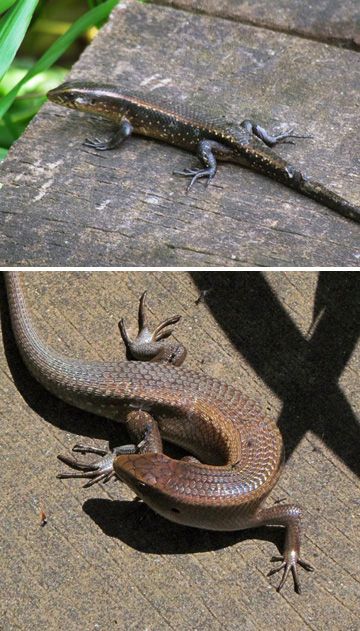 Well, I don't know how to describe the weather on that day, because the sun managed to peek through the clouds & the sky started clearing again! Gonna be a tanned hamster real soon! Ouch. No sunburn, please! It hurts. >.<
Walking out from the mangrove forest into open space & suddenly, a huge shadow went passed us. Looking up & saw two big raptors soaring up with the thermals, getting higher & higher into the bright blue sky. Managed to get a few pictures of them. Bad at identifying raptors, I have to ask my naturalist guru again. And again, I goes like, what bird is this? He's so good that he could replied almost instantly that it's a Honey Buzzard. Cool! :D
Honey Buzzard in flight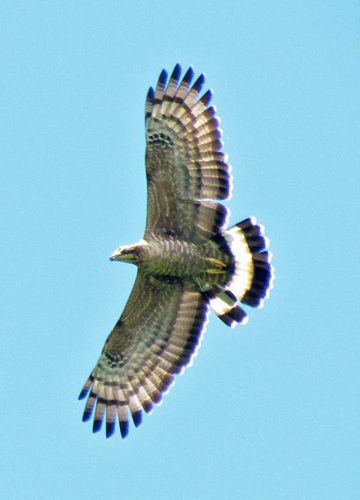 After all the weather changes, chasing, stalking & endless trailing of animals, we're tired. Humid, scorching hot & rain, weather throwing tantrum was stripping our energy, so we called it a day & headed home. Till then, prepare for our next venture into the wild side of life.
Labels: Nature