Singapore AirShow 2012
Saturday, 18th Feb, 2012 ~ Members of Movie Mania were invited to the Singapore AirShow 2012 & we were all so excited by this once-in-2-years event. Given Performer Passes, we attended the air show in our costume, me as usual, a KittyCat Schoolgirl. =P
A KittyCat @Singapore AirShow 2012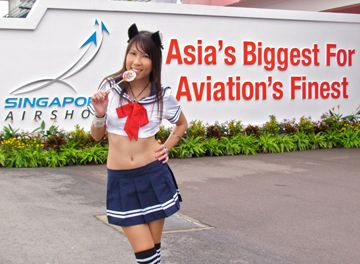 With some of my teammates.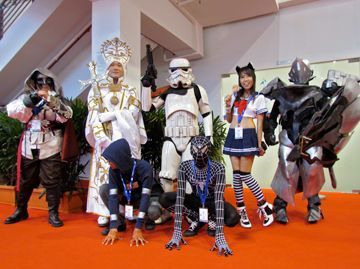 Ran into my childhood friend who was also attending the event & we took a pic together.
With Peiwen(at left in pink), my childhood friend.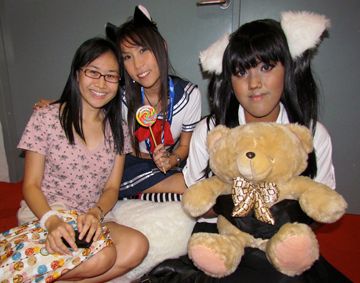 *Ranting Time!
A note about the entrance security which amount to being ridiculous. An arrogant & overzealous security team confiscated a pocket Swiss knife which belong to one of our teammate. More of a tool than a dangerous weapon, it was meant for repairing our costume's props. The fold-out knife in the tool is less than 3" & if you tries to harm someone with that silly thing, it will fold back & you will cut your fingers instead. I dunno what sort of training those part-time, ad-hoc security people got, but I'll bet those under-trained & paranoid monkeys can't differentiate between a real weapon & a harmless tool!
Another sour note is the disgusting behaviors of many foreigners at the event. They turned the indoor display area into a picnic ground, sitting, eating, chit-chatting loudly, playing games & sleeping on every open space. And they way they used their prams were like bulldozers, ploughing through the crowd. In these people's mindset, the pram is a guaranteed right-of-way. No "excuse me" or any form of politeness, they just banged the pram's wheels against anyone's feet & blatantly expect them to give way!
This is what you get when the government invited in too many uneducated foreigners who have no concept of the simplest form of courtesy. These uncivil foreigners had already out-numbered the locals & they will utterly corrupt this society!

Uncivil crowd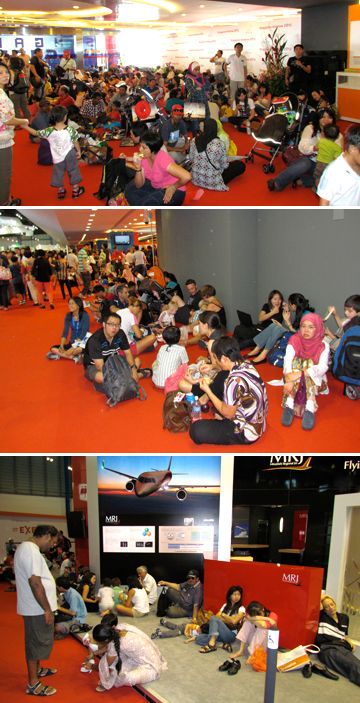 Bad-mannered people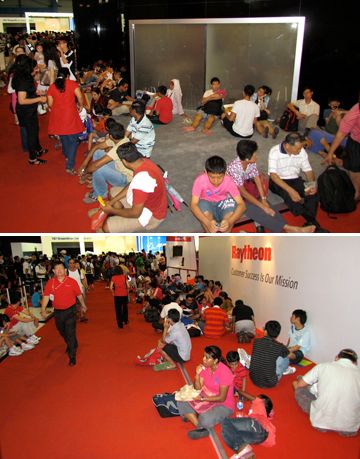 *End of rant.
Due to those rude foreigners who were getting into everyone's way, I didn't take much pics of the indoor displays.
A Kitty & an Osprey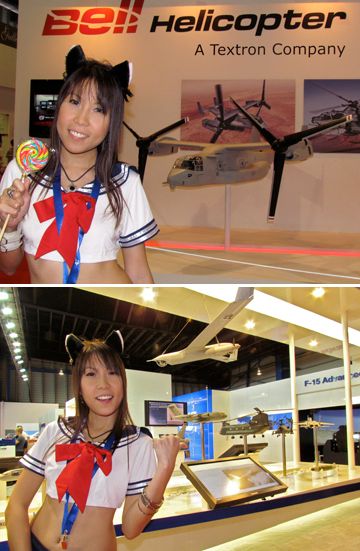 Model Aircrafts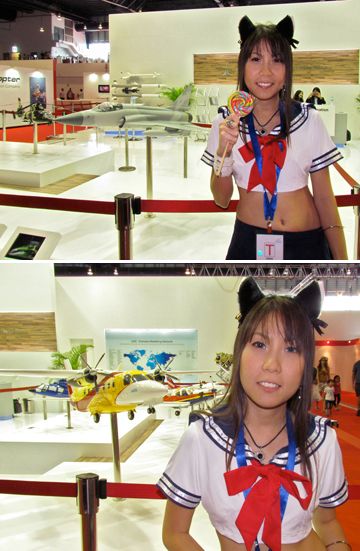 A Rolls-Royce For A Lollipop? xD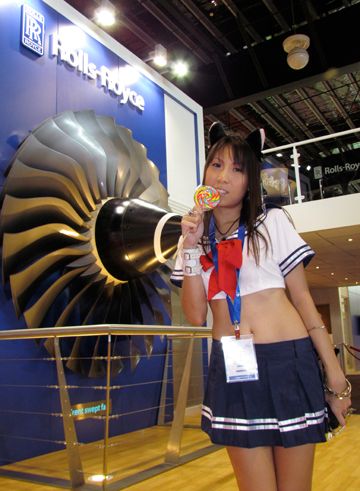 It was my first time attending an air show & I was totally thrilled by the aerial displays which to me, was the best part of the whole event. The only letdown was the weather that day. Overcast & gloomy which resulted in poor quality pics of the flying aircrafts.
Republic of Singapore Air Force's F-16C & F-15SG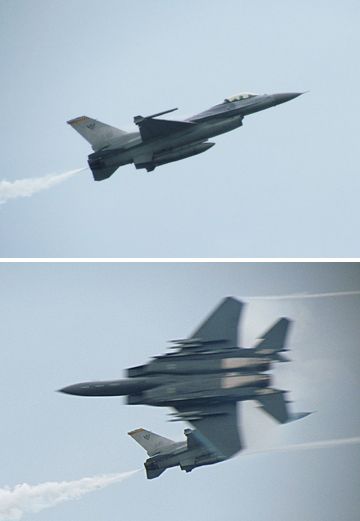 Royal Malaysian Air Force's Smokey Bandits MiG-29N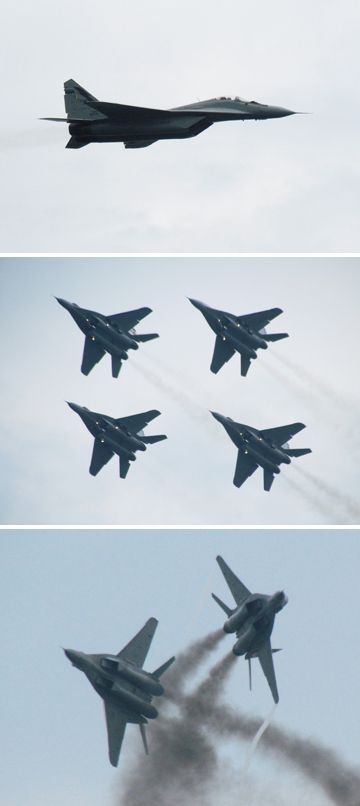 Blair Aerosports Rebel 300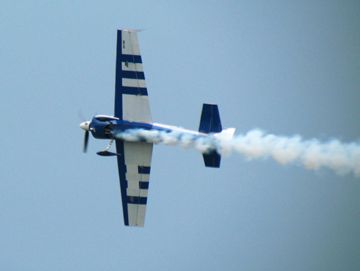 Royal Australian Air Force's Roulettes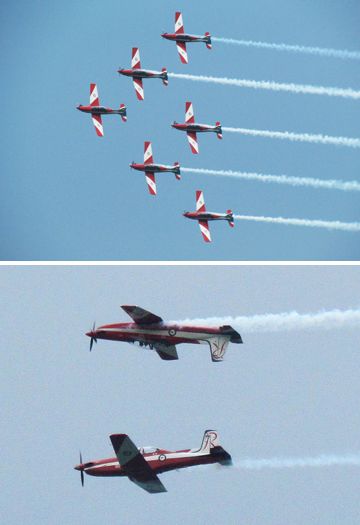 USAF's C-17 Globemaster III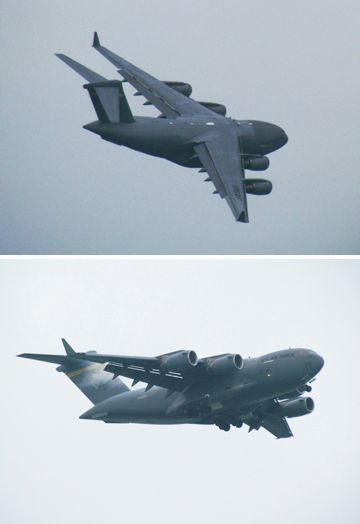 After the aerial displays, we went to take a look at the outdoor static aircraft displays.
Outdoor Displays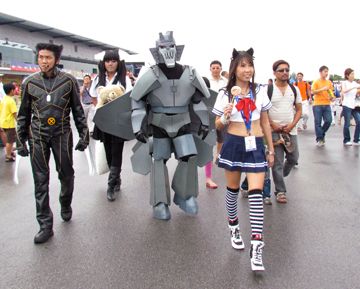 Our first stop was at the F-35 Lightning II coz 1 of the costumers, Howie, was suited up as Starscream from the Transformer movie & he wanted a pic with the F-35.
Kitty with StarScream & F-35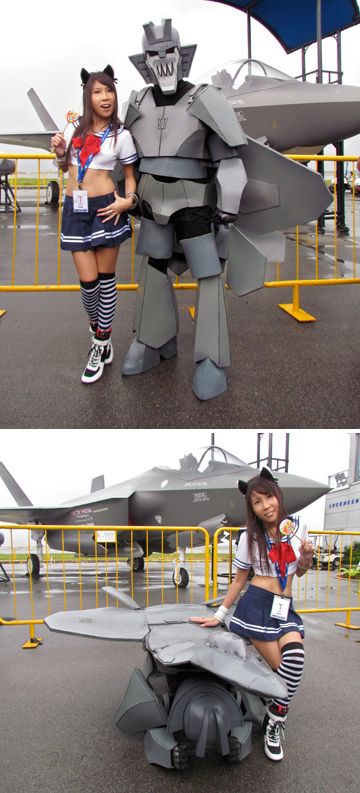 Alenia Aermacchi M-346 Master & RMAF's MiG-29N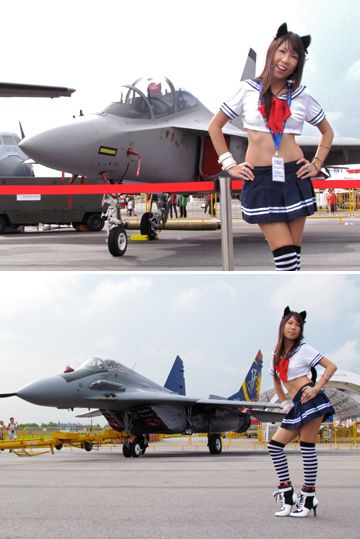 Alenia C-27J Spartan & Piaggio P.180 Avanti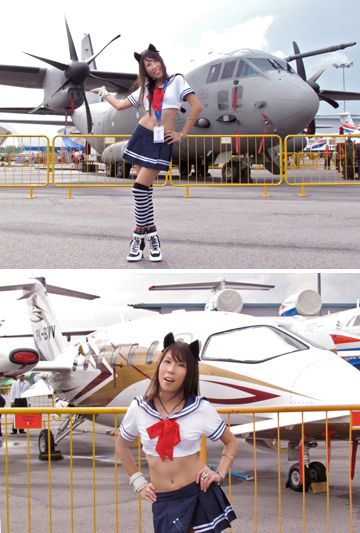 Ordnance, Hermes 450 UAV & Spyder Air Defense System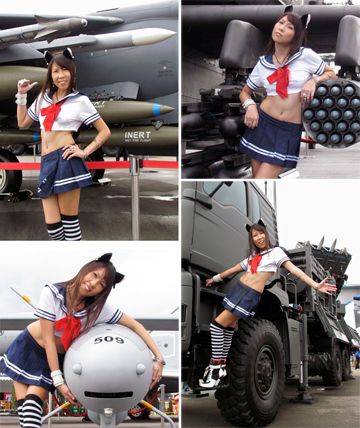 AH-64D Apache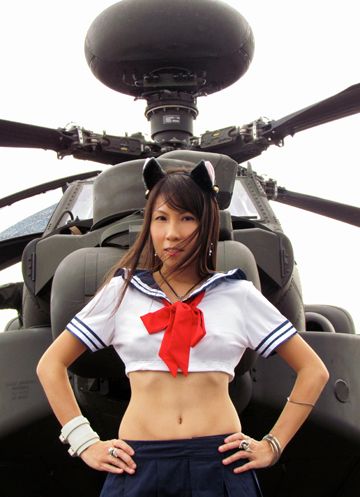 C-17 Globemaster III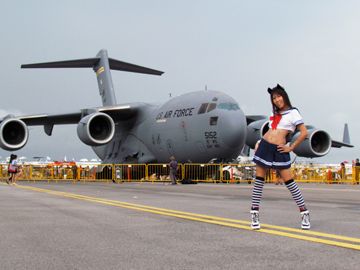 The C-17 Globemaster III has to be 1 of my favorite at the show & best of all, we were invited by the crew chief to 'inspect' it.
Team C-17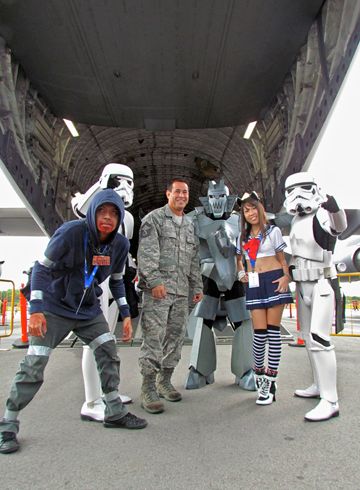 Mission Status: Ready!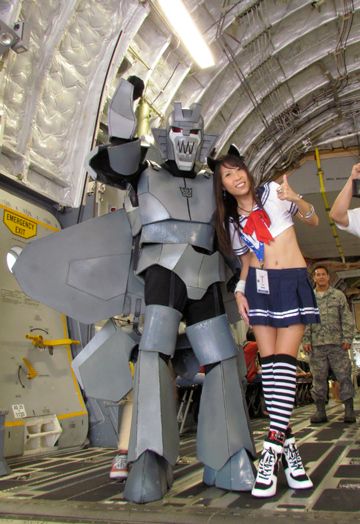 Was given a personal tour by the crew chief. He even claimed that his flying truck had, in the line of duty, airlifted a killer whale & a dolphin. Wow! How cool is that?!?
Crew Briefing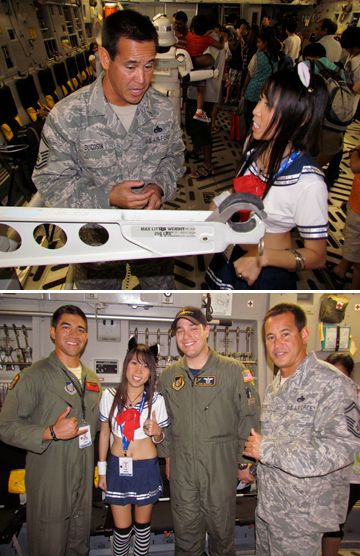 Was told that beside carrying cargo, C-17s are also used to carry troops, made obvious by the pic below...
Troop Transport of the Galactic Empire? =P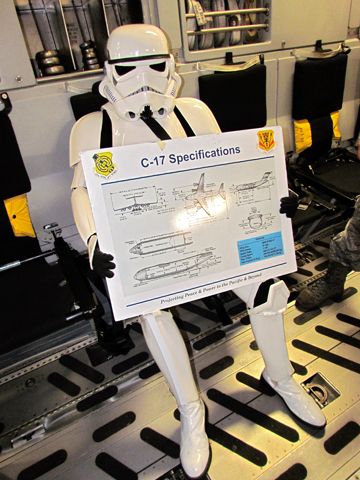 After close proximate with such powerful weaponry, the Force is in me. First, I beguiled the Jedi with my lollipop. For his folly, he was mocked & murdered by his teammates for being such a loser.
Jedi's Downfall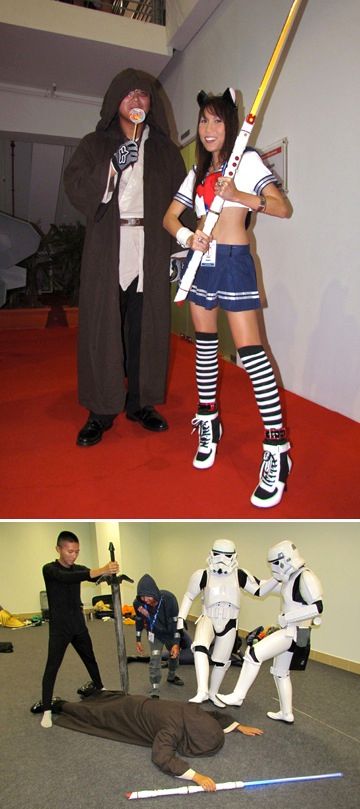 Then I turned my charm on the Dark Side...
Confusion in the Dark Side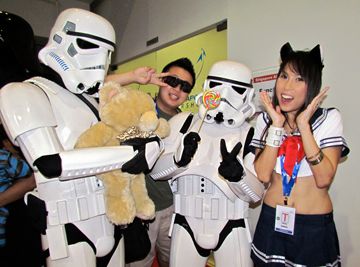 And when I pulled on
The
Helmet...
Worship Me & We Will Get Along Just Fine! =P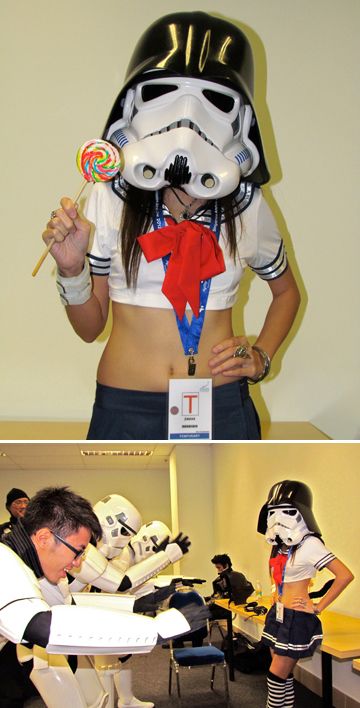 After conquering the galaxy, the whole universe is mine! LOL! =P
Costume Comedies =P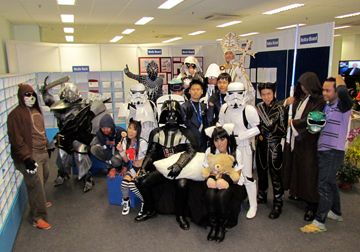 Disclaimer: The above story & characters in the last paragraph are frictional. Any similarity to anyone or event is purely coincidence. This author bears no responsibility for any trauma caused. May The Force Be With Me!
Labels: Event, Movie Mania