ZoukOut 2010
Saturday, 11th Dec ~ Touted as the ultimate beach dance party which clubbers from around the region look eagerly forward to each year, ZoukOut 2010 was held at Siloso Beach, Sentosa starting from 8pm on Saturday to the next morning.
ZoukOut 2010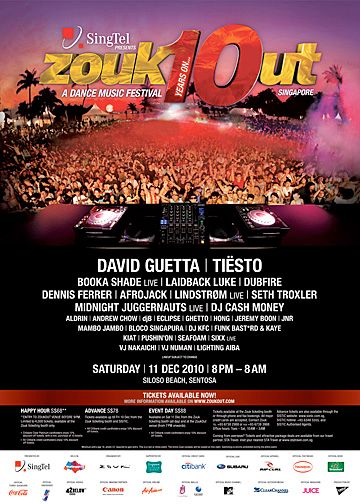 Map of ZoukOut site

@ZoukOut 2010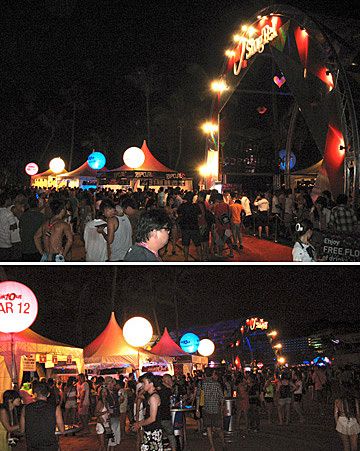 Blasting Music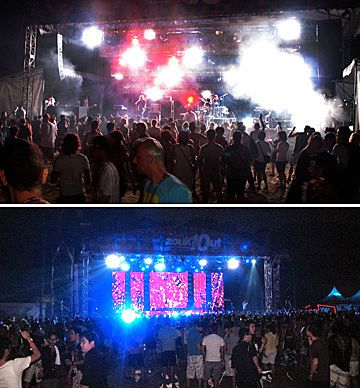 Weeks before the event, ZoukOut 'Early Bird' & 'Advanced' tickets were completely sold out. Some of those who bought these tickets were reportedly selling them online at inflated prices. On the event day, the queue at the ticketing booth was like hundreds of meters long & there were rumors of counterfeit tickets been sold.
Fortunately for us, we don't have to queue or pay for ZoukOut. We had sponsored genuine tickets allowing us to enter without much fuss. We(Tasha, Jorge, me & my guy) arrived at ZoukOut entrance at 7pm waiting for Nath to turn up. Oh yes, Tasha & me had collaborated to wear our cat ears to ZoukOut. xD
ZoukOut Kitties
Nath joined us a few minutes later & after a short wait at the 2nd entrance, we went into the Promised ZonkOut Land! =P
ZonkOut @ZoukOut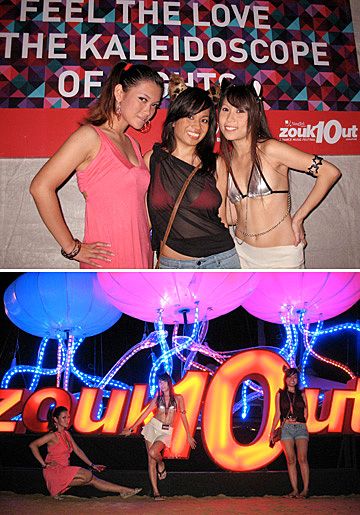 CarZouk!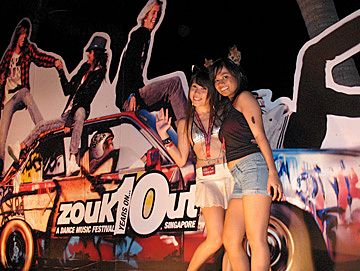 Much later, Tasha's sister, Narita joined us.
ZoukOut Gals ~ Nath, Narita, Me & Tasha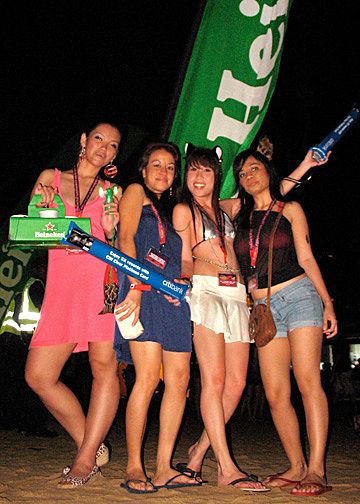 We were camhoggies with lots of pics!
Models & Promoters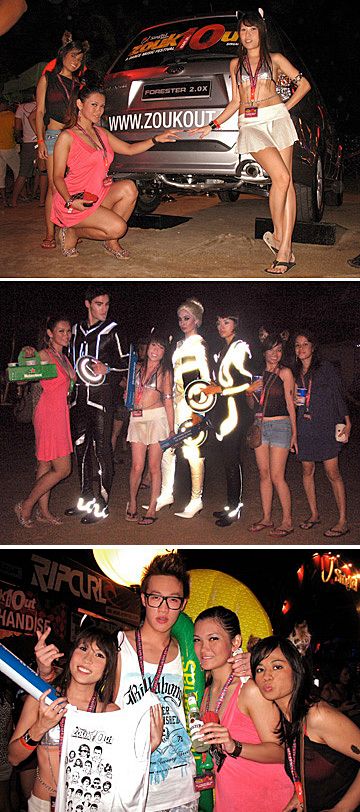 ZoukOut Poses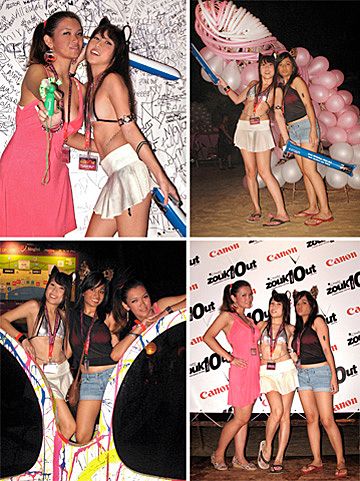 With Dazzling Stilt-walkers!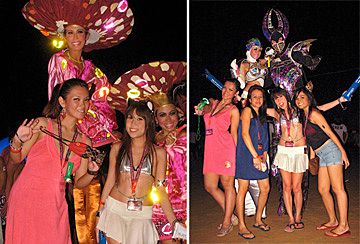 And I'm a Camhogging Princess! LOL! =P
Hamster @ZoukOut! xD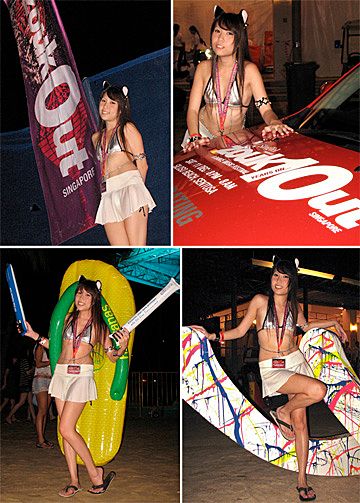 Beside the food & drinks(courtesy of Jorge & a certain booth), we collected a few freebies. Bandanas, mini electric LED fans to cool our hotness, T-shirts(paid by a guy) & condoms! LOL! =P
Free T-shirts & Condoms! xD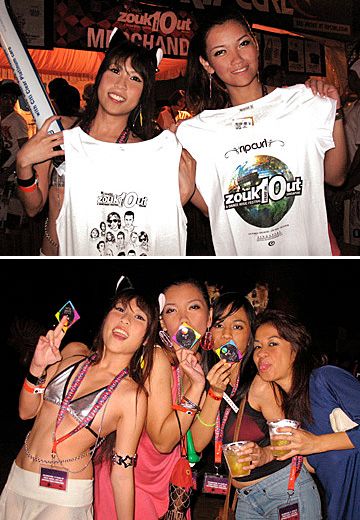 Cool The Hotness
One of the highlights of the festival was an elaborated fireworks display set off from the 3 islets off Siloso Beach.
Blooming Fire Flowers In The Night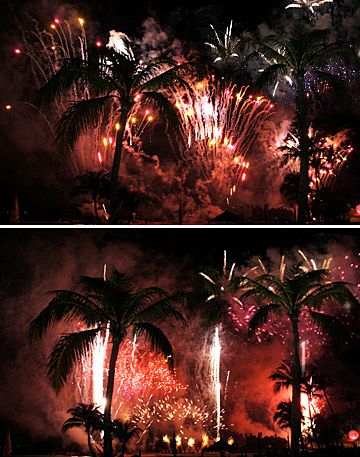 The music were mostly house & electro which I don't quite like. What's with those repeating blasting electronic sound? The laser display were nice, but no soul or art in most of the music played, except at Arena C which were playing pops mostly from the 80s. Although, it wasn't my era, I preferred 70s ~ 80s music. More dancable & groovy compare to the newer dance music which to me, is rather irritating. Arena C was where we hang around & danced the most.
Laser Displays

Dance To The Music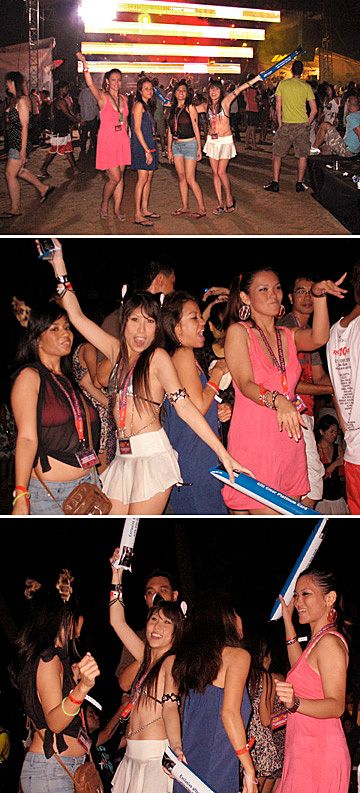 Groovy Babes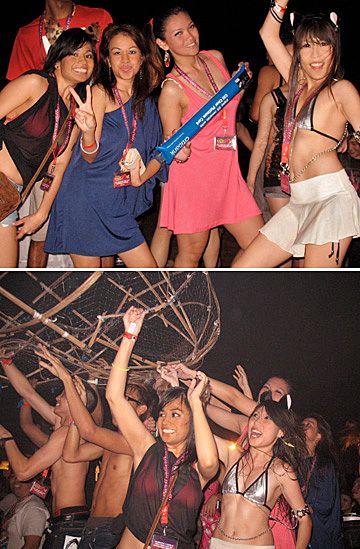 There was an incident while we were dancing on a crowded platform. A tall Indian guy tried to molest Narita. Fortunately, we had our own security detail, the 2 tough guys with us. My guy was noticing this Indian guy behind us. He was dancing with his hands held high & slowly lowing them onto us girls. Every time his hands were getting too near to us girls, my guy will look at him & the Indian pervert will quickly raised his hands higher. Then the pervert slowly edged closer & closer to Narita from behind. When he was near, he started to held his hands just behind her shoulder, bringing them lower & forward. Before he could touch her, my guy shouted at him & chased him off the platform. This sort of thing always happened at such event. Perverts are always taking chances cos of the tight-packed crowd. They will be bolder if a girl is alone. They hope that girls will be too scared, too stunned or too drunk to protest or react. Another factor that these perverts bet upon is that the guys with the girls will not be alert, are drunk themselves or too timid to protect the girls.
A piece of advice to girls who like to attend such events. The police can't be always around. Never be alone. Always have some guys with you. Get tough, reliable & trustworthy men. Soft pretty boys are useless for this task. That's why I like tough men, not wussy pretty boys who have more beauty-care products than a girl!
My guy, my personal bodyguard & photographer is constantly alert, never get drunk. Nath is quite tough too & she will protect the girls around her. I will never go to event without my guy.
Anyway, back to chilling @ZoukOut. At about midnight, it started to rain & we continued, dancing in the light shower. When it got too heavy, we danced with an umbrella! LOL! xD
Do The Umbrella Dance! =P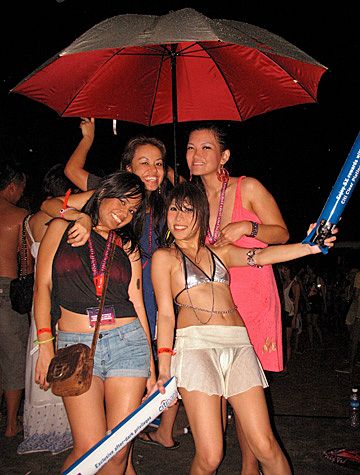 The rest of us were quite contented to stay at the area around the Wave House which is nearby Arena C, but Tasha & Narita wanna go to Arena A where the Dutch trance music king, Tiesto was DJ-ing. It was very very crowded. Jammed tight-packed sardines! At some point in the crowd, for a few minutes, we were stuck, unable to go forward, sideway or backward. When we got to a small clear area, we were stuck there, unable to move elsewhere. Had to wait till about 4am when the crowd thinned a little to get away & go home.
Some people were so frustrated by the jam & the inability to move around that they broke through the barrier at the water edge. An hour later, security personals came, shooed all escaped sardines back into the can & repaired the damage.
Didn't the event management learned from past experiences that they should organize a more effective human traffic control system allowing the partygoers to travel from one end of the venue to the other with ease? Perhaps by opening an entrance/exit at both end & using the roadway behind the stages or at the water edge.
Despite being highly acclaimed as the best beach party by many, in my opinion, ZoukOut is over-hyped. Guess I can't complain much as I went for free. Besides, I'm a ZoukOut veteran now. LOL! =P
The Crazy ZoukOut Hamster! xD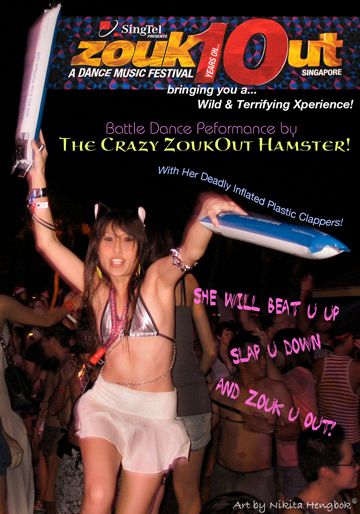 Cya guys at the Siloso Beach Party for the 2011 New Year Countdown! With my usual security detail & entourage, of course. LOL! xD
Labels: Event