Big Carnival @Marina Bay
Backdate - Sunday, 18th July, 2010 ~ Movie Mania members were engaged for a stage appearance at
Big Carnival @Marina Bay
. It was a rainy day, pouring from morning & was still drizzling when I arrived at the Movie Mania booth at about 4.30 pm. The carnival area was almost deserted. The event was a rainout. Despaired by the continual rain, many of the stalls were packing up.
Big Carnival RainOut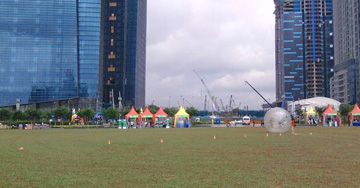 I was told that minutes before my arrival, the organizer had given up hope & cancelled our show which was supposed to start at 6 pm. Initially, Reno, founder of Movie Mania, started calling members informing them of the cancellation. At that time, quite a few of us had already arrived & more were on the way. Some turned up later coz they didn't get the latest news. Those who were already there decided to suit up & do our own show, just for the heck of it. We ain't letting some rain spoil our fun & we do not believe in disappointment! Encouraged by our spirit, Reno stopped the calls & suit up too, despite his earlier objection of wearing his expensive costume in the rain.
Out with the rain dance & on with the show!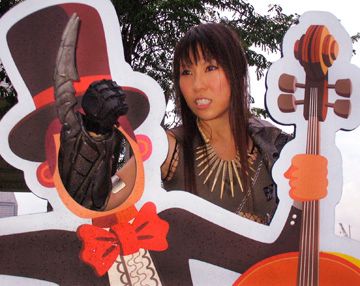 We braved the light rain & muddy field to stand on a narrow metal stripe putting up a costume display near the stage. My boots were nearly ruined walking on the muddy ground! Grrr...!!!
Costume Display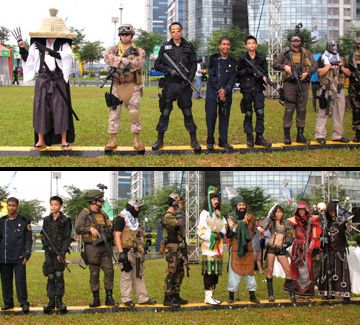 Cos-players/Costumers Line-up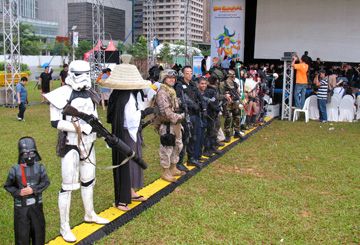 She Predator Machiko(me) & Night Elf Sorceress(Joey)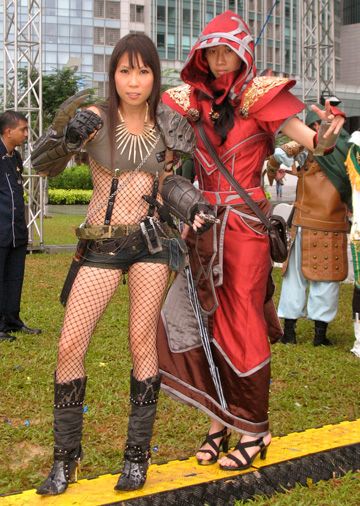 When more cos-players/costumers showed up, we moved to the concrete walkway at the edge of the carnival area. It was a dryer & firmer place for a group pic.
The Brave Few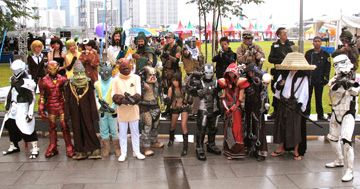 The Show Must Goes On!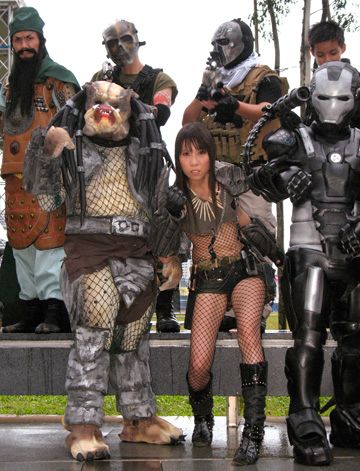 The rain stop at 6 pm & gradually, as a sideshow, we pulled in more crowd than the audience at the stage area.
Sideshow Crowd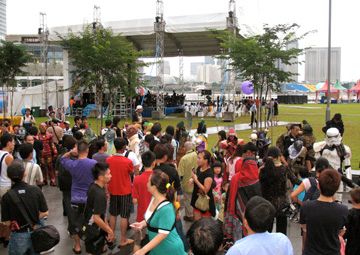 Red Magic vs Raw Power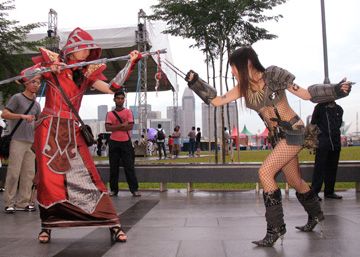 Machiko's cute little fanboy xD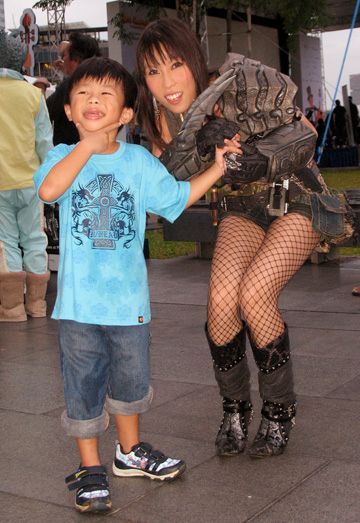 While we were posing for the crowd, some security people showed up & told us to line up at the edge of the pathway. Some VIP are coming through they said. And what do you know... seem like Mentor Minister Lee Kuan Yew was on a low-profile tour of the Marina Bay area.
MM Lee(in 1st buggy) coming through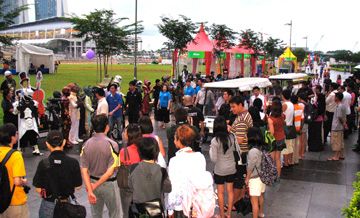 If it was not for our unpremeditated sideshow, MM Lee's tour in the rain would be like a visit to a ghost town. As we greeted MM Lee, I was thinking that our show brighten the day for him & our impromptu decision to suit up saved the event for the organizer of the carnival on that day as we & the crowd we pulled in was the biggest & most cheerful group of people in that area. I might be right coz soon after MM Lee left, we were called by the organizer for a stage appearance.
On Stage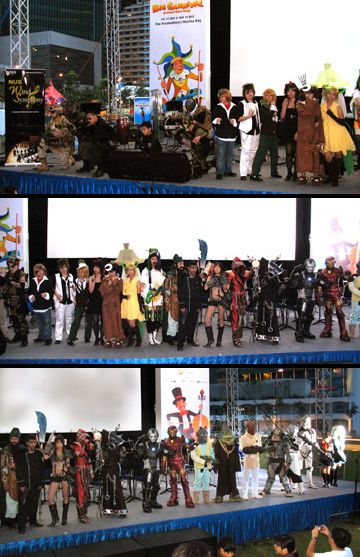 A total of 29 cos-players/costumers turned up for the event. Those brave cos-players/costumers who faced the rain/mud to pull on a show saved the day for the pride & spirit of cos-playing.
Quote "Never in the history of cos-playing was so much owed by so many to so few with so little." Unquote ~ Winston SiaoMouse Churchill. LOL! xD
Labels: Event