Museum of Horrors III, 2012
18th ~ 31st Oct, 2012
- The yearly Museum of Horrors, which was managed by Movie Mania, were back again at Scape for 3rd year running. However, due to my busy full-time work schedules, I did not help much. Was there only for 5 days, helping to mann the front desk. Didn't have much pics to show coz my guy who was involved in managing the project was too busy to be my photographer.
@Museum of Horrors with Janice Fion.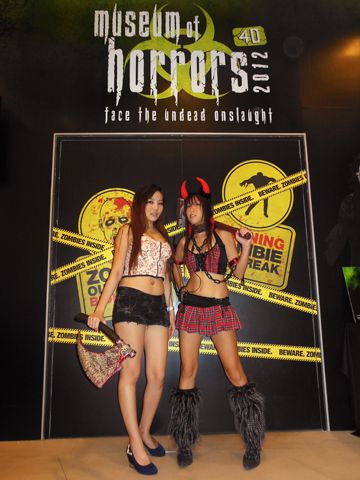 This year's theme at Museum of Horrors III was Zombies! According to the brief story line, a scientist, while trying to cure his zombie-bitten wife, went mad & accidentally let loose a deadly zombie virus he was researching. All the staff in his research facility, including his daughter, were infected, triggering a Zombie OutBreak!
Zombies Holocaust!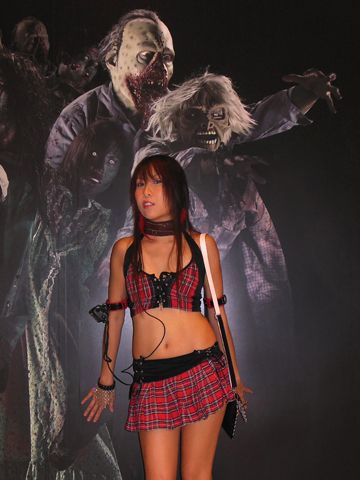 Therefore, beside being just a pretty face manning the front desk, I'd a more important task of preventing any zombies from escaping the venue by bashing their heads in with a sledge hammer! Was a heavy responsibility to put on such slim little shoulder. If you're not a zombie yet, you have me to thanks for! LOL! =P
Zombie Basher!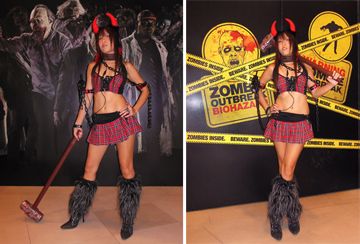 Not all the credit to me, mind you. Helping me is one of the best zombie killer team in business. The team is so good that they even have 2 or 3 tame & trained zombies to track & kill other zombies. =P
Some of the casts & crews of MoH III.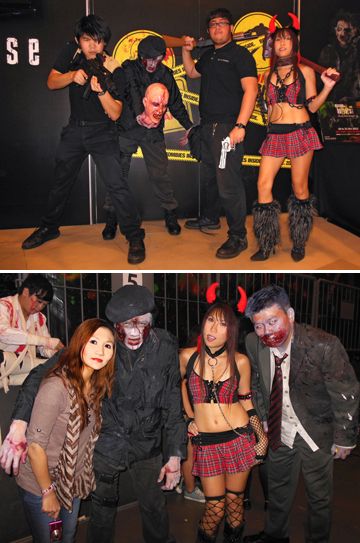 I wasn't around when 2 ministers of parliament visited the Museum of Horrors, but am glad I was there to welcome a group of the cute kitty cat girls! More fun than any minister if you ask me! =P
The Meow Gang @Museum of Horrors.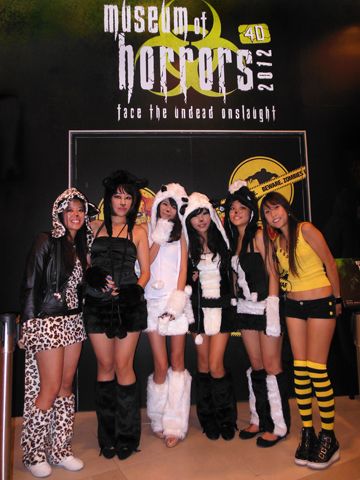 As usual, at this time of the year, Movie Mania will be engaged or invited for costumes appearances by a number of clubs to liven up their Halloween party. This year, it was Helipad at Central @Clarke Quay & Avalon @Marina Bay Sands.
Zombies @Clake Quay & Marina Bay Sand on Halloween.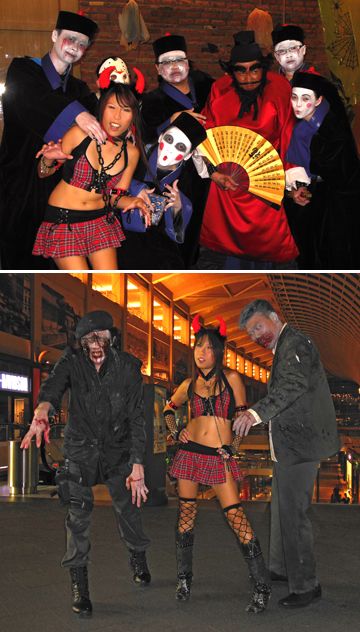 SheDevil Wears Chanel
Demonia Preferred Ferrari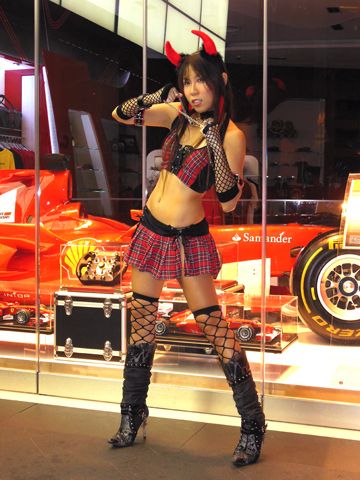 Labels: Event, Movie Mania