My Lonely Soft Toys
Being not really a typical girl, I've never like soft toys.
Even in my younger days, I prefer to play with boy toys.
Still, I accumulated a few soft toys in my life. None bought by me.
All given to me by my parents, relatives or friends who deem that a girl must like them.
Whenever I received one, I will carefully keep it away cover with plastic.
Remember queuing at McDonald's for Hello Kitty toys?
Among my girl friends, I'm the only one whom didn't went crazy over them.
What I have were bought by my mom or friends who crazily queued over night.
All of my soft toys are still in storage, like lonely souls in the closet.
Poor soft toys. No one play with them or loving them.
Anyone wanna buy them off me? Adopt them into a loving home?
Lelong! Lelong! Soft toys for sale! Cheap, cheap only! Heeheehee...
Penguin! Penguin! Penguin!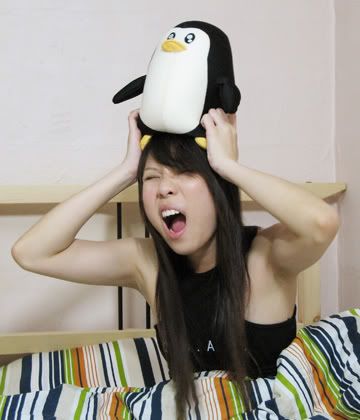 The only soft toy that I keep around me is this penguin.
It came with the mini water dispenser that I bought recently.
I'm quite taken by it's cute tubby look with it's black, white & yellow colors.
Love to squash it out of shape. Took a few pix of it when it's squashed to made this cute little animated gif for my handphone wallpaper.
My dancing Penguin!