Polar Hamster@Kallang Ice World
4th Oct. 2008 ~ Ice-skating is a hobby which held my interest the longest, 10+ years. I even have my own ice-hockey boots which I bought so long ago & still in good condition. With busy working schedules, I can't indulge in this hobby as often as in my school days. However, once in a while, the Polar Hamster flies across ice! Yes! The Polar Hamster is @ Kallang Ice World again! Squeak, Squeak, Squeak! Hahaha...
Can you spot Polar Hamster me? =P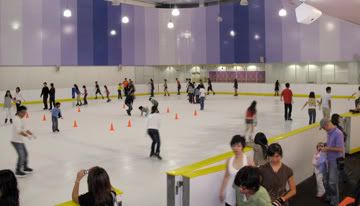 This occasion, I went with 2 groups of friends.
Nath
, her classmates,
Josh
& the other group are some of my ex-primary classmates whom I'm quite surprise & delighted that we didn't lose contact after so long.
Nath, her classmates & Josh

Ex-primary classmates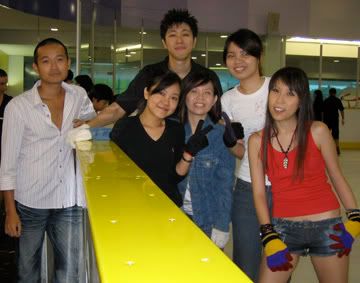 We had a great time on the ice, going round & round in circles... just like hamsters running an ice wheel. xD
Friends on ice
Inevitably, same old question gonna be ask of me... "Don't you feel cold dressing so little in an ice rink?" Me: "Nope, I am a Polar Hamster & love the cold!" LOL! I did brought along a jersey, but didn't even need it. xD
Among our group, many are first timers on ice including Nath which had an painful bum encounter with the ice. She was gliding along & oops, went unbalance, arms flailing, disobeying legs slipped out under her & her butt kissed the ice, hard. No Nath, I wasn't laughing at you. Unfortunately or fortunately for you, Mouse was too far away to get a shot of you butt skating on ice with legs thrashing the air. And that would be a great pic to blog about! Okok, I'm sorry... don't kill me! I'm not laughing, serious! Josh is the one laughing away when you fell. Look... I have proof! =P
Josh laughing at Nath after her fall & comforting friends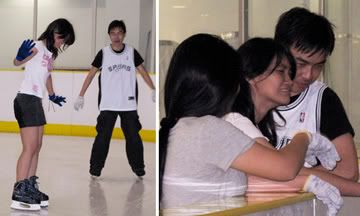 Well... Nath being a brave, sporting girl, was up & going right after her fall without distress, except for this memory of a foto. xD
Nath, the expert butt-skater =P
Had a really wonderful time, especially with so many friends! Many thanks to all who joined me! Love you guys! Hope to meet up with all of you again! Till next time when the Polar Hamster flies on ice again! xD