Singapore Toy & Comic Convention 2008
29th June, Sunday ~ For the first time, Toy & Comic Convention come to Singapore. Event was held at SunTec City on 28th & 29th of June. Was too busy on Saturday to attend, so I went on Sunday.
Big event for otaku? =P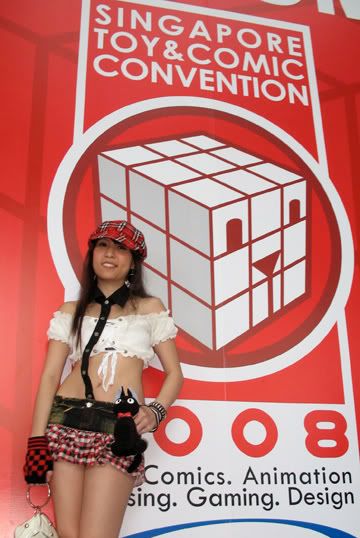 Was told by a friend outside the hall that it's very crowded. Oh well... it's expected anyway. So I went crowd busting. xD
Very very crowded outside the event hall!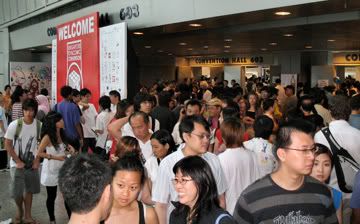 Inside crowd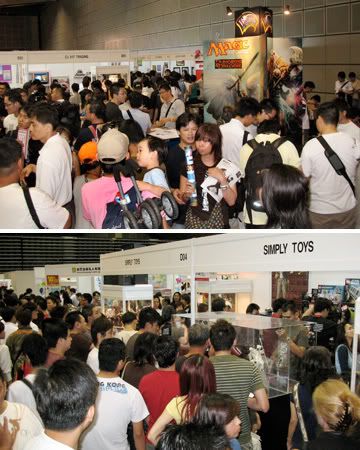 Most of the crowd were consisted of adults rather than kids. Toys/comics are for kids, right? In the world of today, that's no longer true. Many adults, mostly guys, are toy or comic collector. Toy companies & comic publishers are all targeting adults & making big bucks out of this craze. Branded, collector items, limited editions, special issues are words used to entice collectors. Fanatic collectors will never give a second thought of queuing overnight for days just to get those or they will forever live in remorse & regret! Just look at the excitement generated by those hardcore collectors upon seeing items on display. They literally drooled! Seem to be better than sex. It's the era of otaku & at the convention, it's otaku's heaven! xD
I do admire certain toys as arts. Some of them are really very well done artistically. I also collect some toys & I love my collection. However I don't go crazy or attach much emotions over them. Geez... some of those toys are so freaking expensive for such a small amount of plastic! Will only buy if I strike TOTO 1st prize. LOL!
Ok... back to those heavenly booths offering toys, games & comics. Display cases all heavily marked with fingerprints & saliva. =P
Otaku's Heaven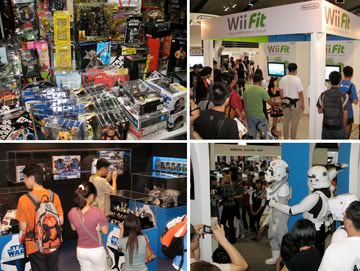 Otaku's Dream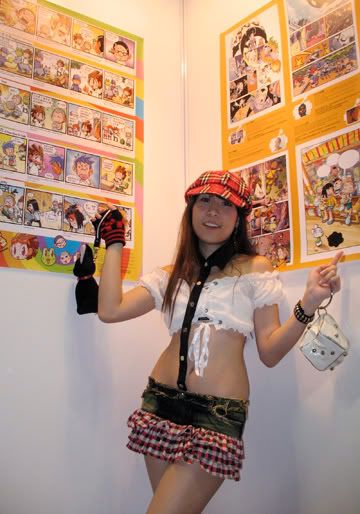 Eh?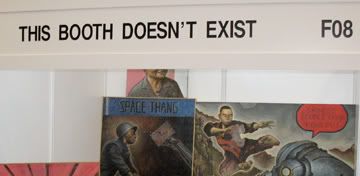 Took some pics of toys on display while shoving through the crowd. Some of the displays are permanently surrounded by drooling fans & it's a pain trying to get a pic. Don't ask me what toys those are as I can't identify many of them or tell me I missed that super doper limited edition of whatever. I'm not an otaku. I just shoot what I like. =P
I can only ID Jack Sparrow & Mickey Mouse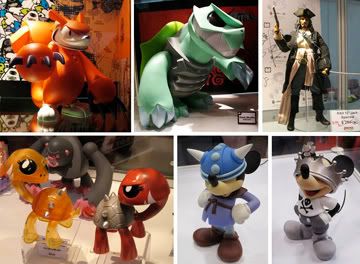 Ball-jointed dolls, Spiderman, Doramon & Ape Elvis?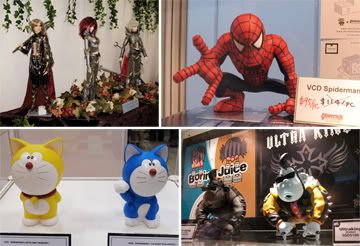 Barbie dolls, big-eyes dolls, big head dolls, whatever...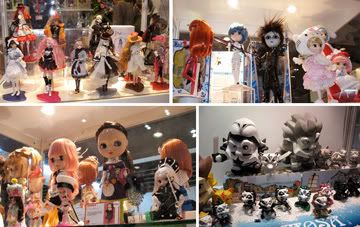 These I know... Mostly Gundams & some EVA robots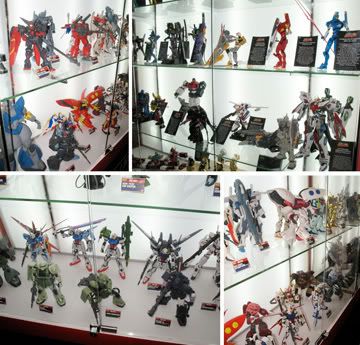 Despite the crowd, I also managed to pose with some of those cool toys.
Star Trek, rubber breads, Astro Boy & many more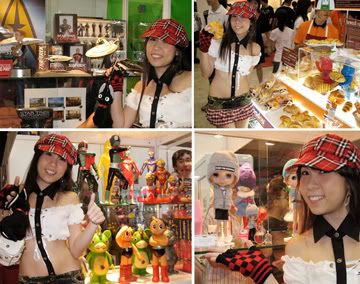 Horny robot & Threatening Yoda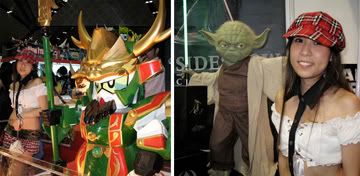 There's a booth by Hasbro that exhibited their renowned Star Wars figures. The queue for entry was a long dragon. Since I'm not a hardcore fan of Star Wars, bypass that & took some pics from outside.
Star Wars exhibit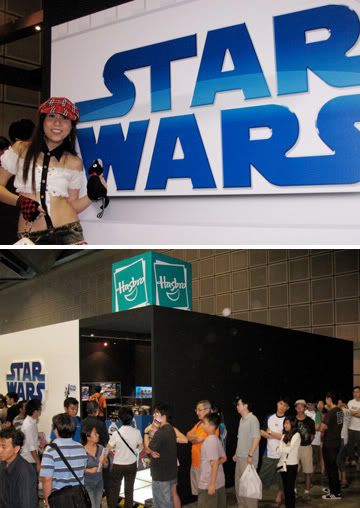 Star Wars toys on display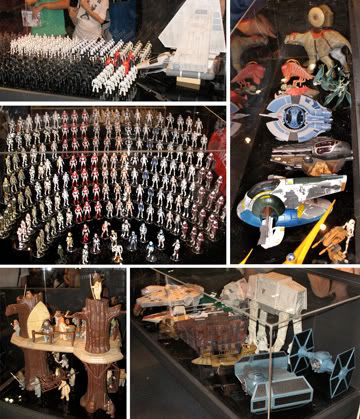 Coscon was also held at the convention. Didn't manage to see much & didn't meet much cos-players cos of the stifling crowd.
Cos-players on stage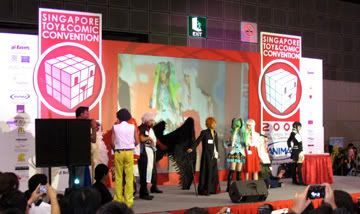 However, I captured two...
Hatsune Miku(初音ミク) & StormTrooper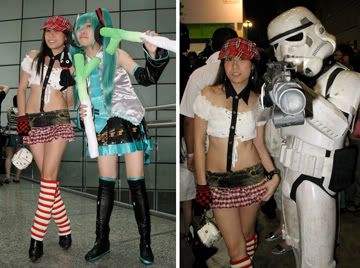 Then again, I've more fun posing with dress-up characters from booths. Joined the jolly pirates, seduced by Trekkie, protected by Rios, Army of Two & partner with a predator. xD
Colorful Characters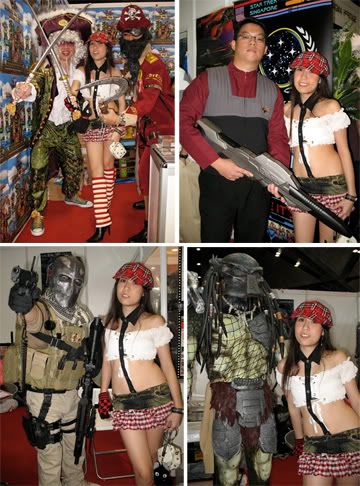 And playing with cardboard people...
Tough chick, Cutie boy, Growl bear & Awesome mask

Black & white characters from the comic, 'Lao Fu Zi' tries to pick me up in their broken down car. I choose a retro dude instead. xD
Black & White Guys, Colorful Me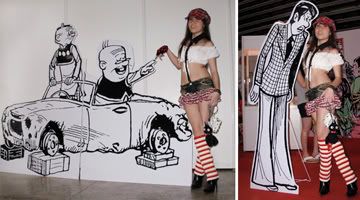 Earlier, upon entering the event hall, very first thing I encountered is a guy asking whether am I a cos-player, what character I'm portraying & from which comic or anime? Nonono... I'm not cos-playing. I'm just in my normal going out clothes. Came across the same guy again later. He still have this puzzled look on his face when he saw me. Still trying to figure which character I'm playing?!? Happened every time I went to cos-play events. Even in doubt, they will still ask me to pose for or with them. For whatever reason, if anyone ask decently, I will pose for/with them. By now, after attending so many cos-play events, I'm used to it. =P
I became a display item... xD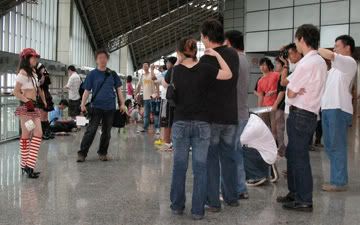 All in all, I had a great time at the Singapore Toy & Comic convention. By the look of it, seem the convention was pretty successful too, attested by the gesture of this uncle manning a booth at the show...
Thumbs Up!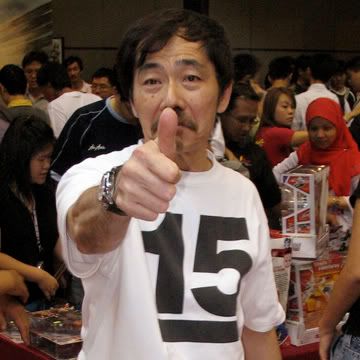 On a side note:
I realized some participants at cos-play events felt offended, complained about me posing for the cameras & claimed I stole the limelight away from cos-players. Hey! I don't have that kinda intention. Can't help it if people mistook me as cos-playing! It's not my fault if unintentionally, I outshine certain cos-play participants. Take a look at my album. I did not purposely dress to outshine anyone at cos-play events. What I wore is my normal going out style, event or no event. I'm just being myself, that's all.
Lets be frank about this. Participants of cos-play events are there to show off themselves, their costumes or styles, all trying to catch the public's attention & be admired. No? If not, why participate in cos-play events? Might as well stay at home & pose privately in front of your mirror. At events, if anyone who is not participating outshine you, better start questioning yourself, your styles or outfits instead of blaming them. You should change instead of demanding others to adhere to your standards. If you are unable to change or refuse to, don't complain or flame those who outshine you. If you lose out to those whom are not in this hobby, you sux & that's the simple truth.
If you feel inferior, then you should consider dropping this hobby as you're unfit for it. It's just a hobby. Get a life or just give your best to your hobby & be happy with whatever results you achieve. Quit being a sour grape.
If you had read my blog, you'll notice that I sorta of promoted cos-play events. Even put up events' pics in many forums & defended cos-players whenever people flamed them. I know many cos-players are not worry of me stealing their limelight. Why? Coz they are good & I really admire them! Love taking pics with them coz it show I'm there, in awe of them. Can never outshine those.
So, am I required to change my fashion style to suit narrow/shallow minded people or put on a placard stating I'm not a cos-player when I attend future cos-play events? Hahaha... =P



Addition add-ons:


First off, I like give my heartfelt thanks to those who put in kind comments in this entry.
Secondly, I also like to clarify certain matters.
At cos-play events, predominantly there're 2 categories of participants, the cos-players & fashion dressers. Some are into both.
Cos-players are people who portray or play characters from anime or movies. Many of these hobbyists sew or tailored-made their costumes or props. I can admire the skills & devotion they put into their hobby. Personally, I prefer to think of cos-playing as a form of art, handicraft of costumes/props & performing art when they play their favorite characters in public. Am quite impressed by many cos-players.
Then there are the fashion dressers who mostly purchase their costumes/props from speciality shops. They follow a little known, off-the-main-stream fashion from Japan called Lolita fashion. It was popularized by a Jpop group & inspired by Victorian era's children clothes. I dunno why 'Lolita' was chose as a name for this fashion. It's such a notorious name, link to that famous book which is about pedophile. Perhaps some Japanese warped minds thought it's a cute idea to implement Victorian children fashion to pedophile.

The Lolita fashion dressers are the ones whom dislike me the most. They criticized/flamed my fashion styles, my posing with cos-players for pics & in general, me appearing at cos-play events. From my dressing styles, they labeled me as a freak. Huh? Who are more freaky? Me who bought all my clothes from main stream fashion stores or them who bought only from speciality shops & dress up like children of a few hundred years ago, a dead bygone period?
So, who's dressings are more weird? In conclusion, all their nasty comments are more like based on pure envyness!

I'm a non-conformist & dislike to follow many current fashion. Just love to buy off the shelves to mix & match. I have a policy regarding fashion, something to bear in mind when choosing a fashion. Dress what suits you, not follow blindly. If you do not have the look, size/shape or carriage, you will awfully disgrace the fashion instead of complimenting it.