Mascot Parade 2011
Saturday, 2nd July, 2011 ~ It's been quite a while since I dress-up in costume. Most probably it was due to the fact that I was busy chasing Mother Nature, running around at nature parks & walks. My weird characters most times lead me to do things very spontaneously. My random thoughts jumping here & there, doing 1 thing & suddenly switch my attention to another subject which have no connection with the previous one. Just look at my entries here or my FaceBook wall & you will know what I mean. Heeheehee... =P
I'd given Cosfest 2011 a miss, but decided to participate in
Mascot Parade 2011
as a member of
Movie Mania
organization.
Dressed up as a Neko-chan(KittyCat Girl), I met up with my good friend, Tasha @The Cathay. We were there in support for the "
Save The World's Saddest Dolphins
" campaign roadshow. After that, we went to Scape Mall to meet up with members of Movie Mania before the start of the parade.
Neko-chan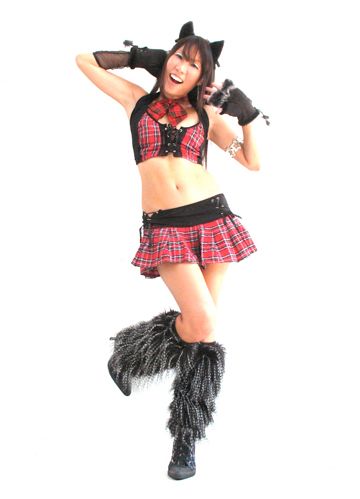 At outside Scape Mall, we were intercepted by staffs of
DBS @Shine Youth Festival
& persuaded to pose for photos at their promotional booth.
Posing for DBS @Shine Youth Festival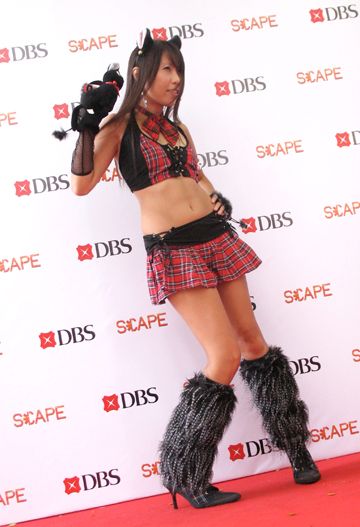 Met up with Movie Mania members & took some pics with some of them in their fabulous costumes. Love the Bumblebee! And incidentally, I'm going to watch the movie later in that evening. Transformers 3 ROX! xD
Posing with Costumers of Movie Mania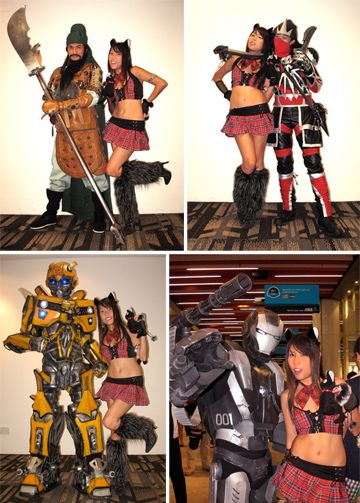 Even Tasha got into the act. She told me that it was fun & might want to join me at cos-playing in the next event.
BumbleBee Ladies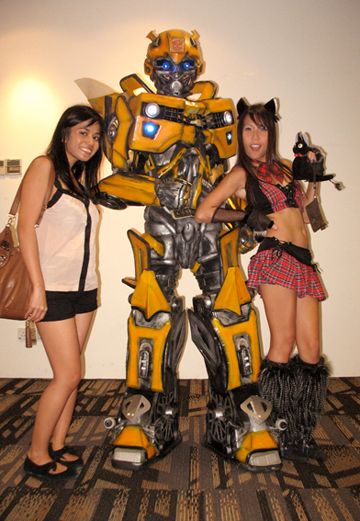 I borrowed a few props/replicas for my own pics...
Fully Armed KittyCat! xD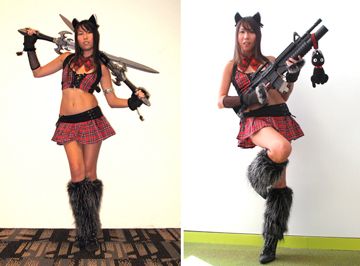 We walked to Orchard Central where the event starting point was. At about 5.30pm, the parade was flagged off by
Mr. Yam Ah Mee
, guest of honor of
Shine Youth Festival
.
Mr. Yam(center) at the parade starting point.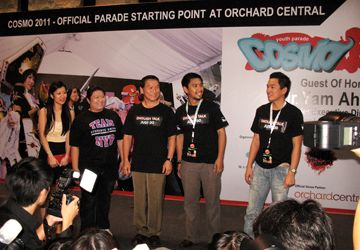 From Orchard Central, we paraded along Orchard Road, in a semi-circular route back to Scape Mall.
Mascot Parade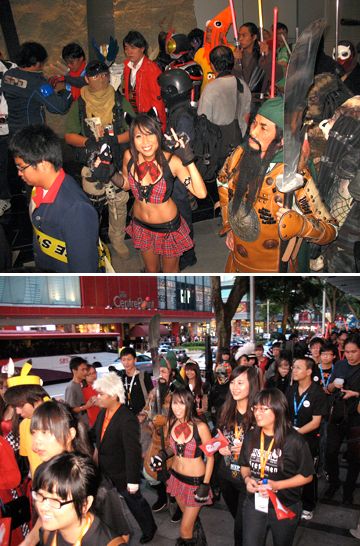 Watch the parade/event in the official video below of which I appeared at 0:42 & 1:40 =P
And at the end of the parade route, I chanced upon
Mr. Yam Ah Mee
& quickly went up to have a pic taken with him. The reason why he wasn't facing my camera is because there were lots of official media photographers asking him to face theirs. Nonetheless, I'm very happy that I got a pic with him. Haha... xD
KittyCat Me with Mr. Yam Ah Mee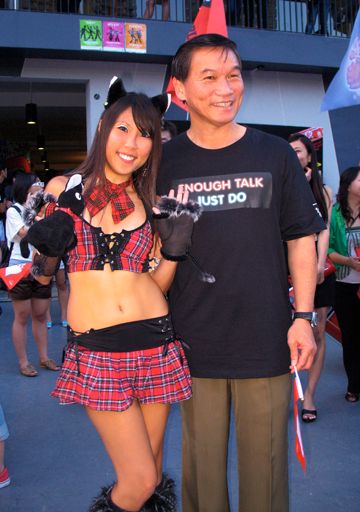 Note: Mr. Yam Ah Mee, as the Returning Officer for the Singapore Parliamentary General Elections 2011, shot to fame overnight, becoming an instant celebrity in quite an unexpected way. More details about him in the links above.
Greatly enjoyed Mascot Parade 2011 & hope Tasha will be able to join me at the next cos-play event. Cya!
Labels: Event, Movie Mania