A Walk @Changi Point
Saturday, 19th Feb, 2011 ~ When you mention Changi Point to many locals, usually their immediate thought is food or the transvestites hangout around the carparks. What they are thinking of is actually Changi Village where some stalls at the hawker center is famous for their food, as proclaimed by the local media. As for the transvestites, I don't think they are around anymore. I'd heard stories of people driving there just to gawk at them. The silly things some people do...
Changi Point at the Eastern end of Singapore, was a Malay fishing kampong(village) in bygone era & today, is still somewhat a laidback place. To some, Changi Beach is an ideal place where families can gather over the weekends for picnics, swimming, barbecues or overnight camping.
I have not been to Changi Point for sometime now although it's not far from where I am staying. I like beaches, but not the
local dirty beaches
full of rubbish & oily water. However, on that Saturday when my appointment was cancelled, on an impulse, I told my partner, "Lets go to Changi Point." So there I was.
Welcome to Changi Point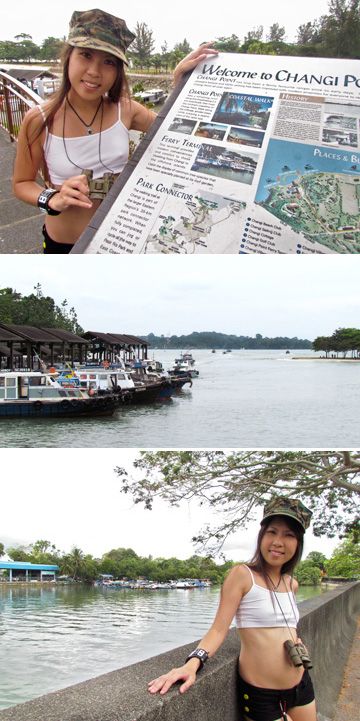 A short walk from the hawker center is Changi Creek. Near the river mouth, Changi Point Ferry Terminal is teeming with small passenger ferries prying between mainland Singapore to the north-eastern islands & to some destinations in Johor, Malaysia.
Changi Point Ferry Terminal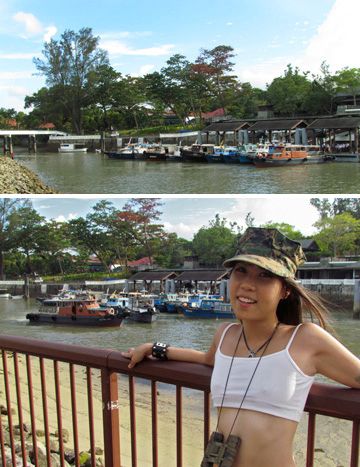 Small Ferries @Changi Creek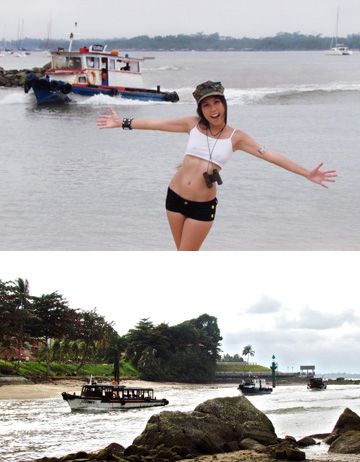 Just a little further inland, except for a few small boats, the creek is more serene, calm & quiet like a world apart.
Serenity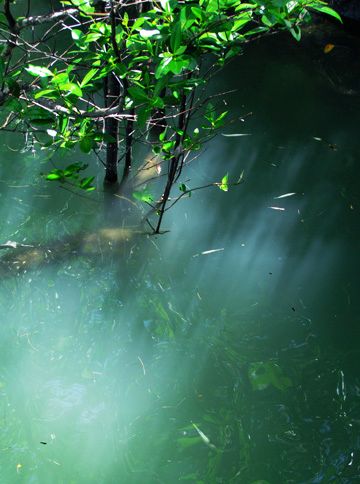 Changi Creek at high & low tide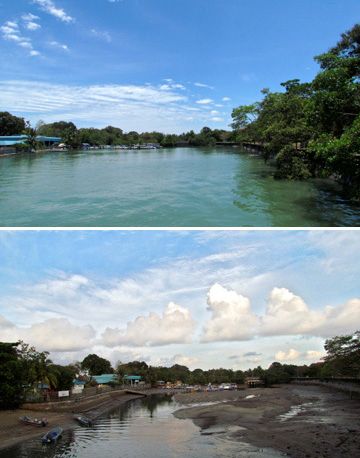 Activities @Changi Creek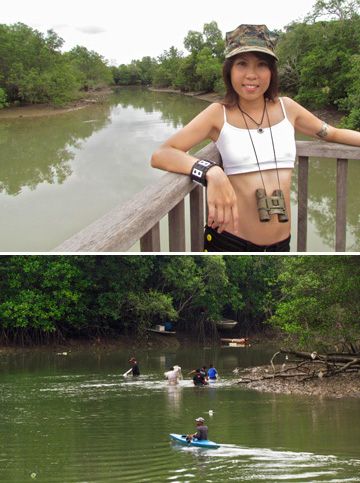 If the prospect of being bitten by bugs in the wild at Changi Creek does not appeal to you, try the coastal walk or cross over the small pedestrian bridge from Changi Village to Changi Beach.
Coastal Walk or Changi Beach?
Changi Boardwalk aka Changi Point Coastal Walk, starting from the ferry terminal, is a 2.6 km path following the coastline with some distance of the path elevated on stilts.
Changi Point Coastal Walk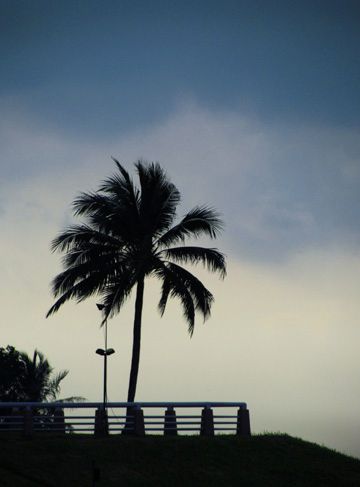 On weekends, Changi Beach is full of pitched tents, crowded BBQ pits, kites flying & children swimming. I won't swim there. Numerous passing ships & boats contributed to an oily beach, not to mention rubbish & dead catch left behind by inconsiderate people.
Ships & Boats @Changi Point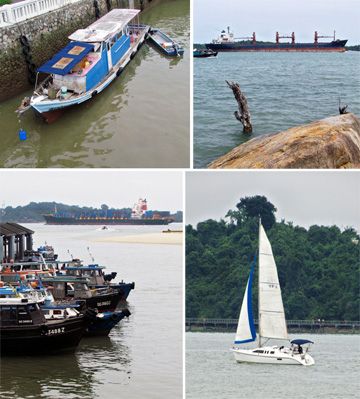 A rotting catfish, bonus for a crab & smelly discarded catch.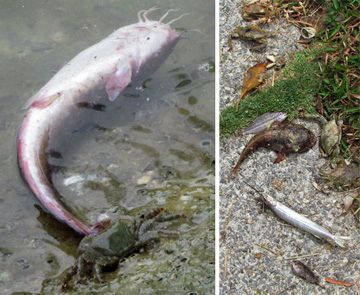 Dirty beach not withstanding, Changi Point Park is still a nice place to relax. Enjoy the sea breeze, watching the world or ships goes by & hoping for a free coconut to fall from the swaying palm.
Kite-eating tree & beached boat @Changi Beach.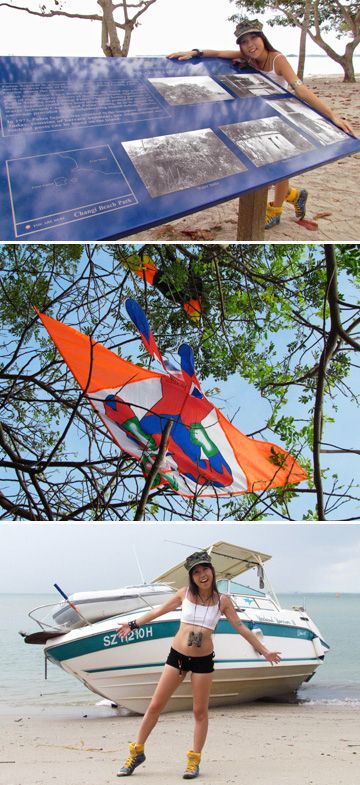 Coconuts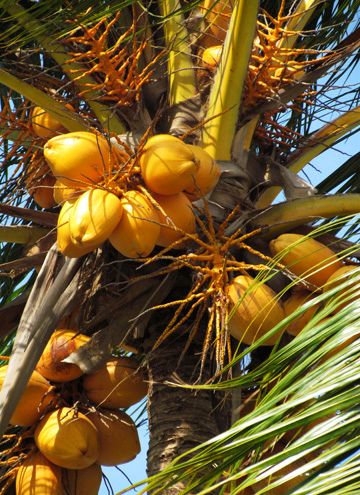 Rest, Relax & Cool Down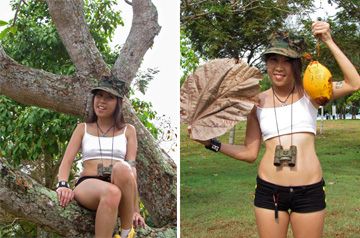 If you are lucky, you will get to see spectacular sunrise or sunset.
Sunrise & Sunset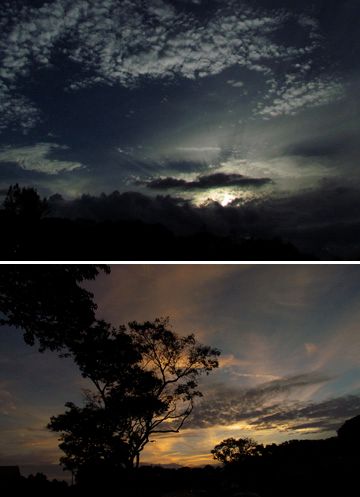 And the 2nd best thing(I'm saving the best for later) I saw at Changi Point is a rarely seen Sun Halo! The sun had ring of rainbow around it! Wow! What an awesome sight it was!
Sun Halo!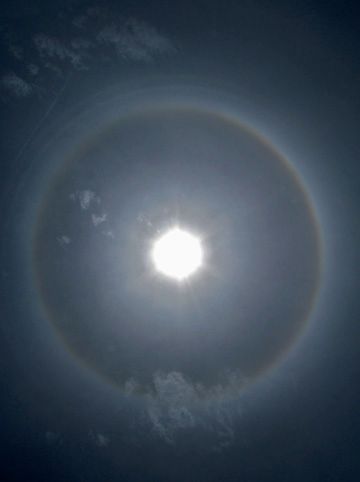 Actually, my main purpose at Changi Point is nature photography, specifically avian photography which I couldn't do properly with my previous camera. If you had being following my blog, my previous 2 entries are about visiting nature parks, predominately with bird photography in mind. Ever since I got my new camera, a Canon SX30, I'd embarked on a bird shooting spree. And guys, please spare me of those dirty jokes. I'm not interested in your little birdie! =P
Hamster Spotting For Birdies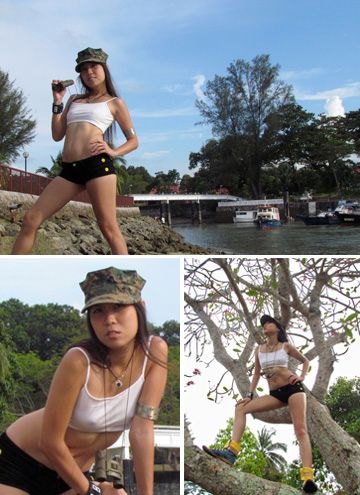 Nature is never too far away at Changi Point, the 1 thing I like about that place & second, it's not too far from my home.
Fishes in the creek.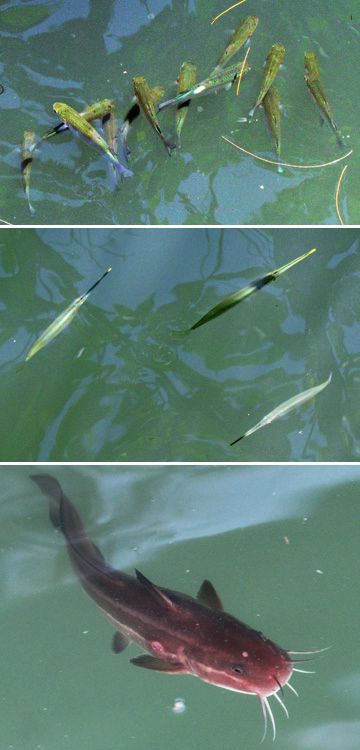 Center image in the above pic are
Striped-nose Halfbeak
& a catfish at the bottom. A note about that catfish: When I 1st spotted it, it was swimming in a funny way near the surface, slow & appeared weak. According to what I know, catfish are bottom dwellers & seldom swim near the surface. Upon examining the photo later in my comp, I noticed a large circular wound on the side of its body & there might be a smaller similar wound near its gills. No wonder it was behaving weirdly. Poor catfish was injured. What could have caused those wounds? Parasites or some sort of marine worm with a circular mouth/bite?
Well, back to nature...
Blooming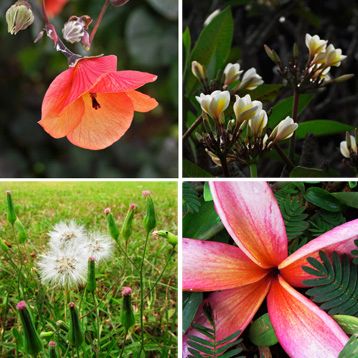 Natural Beauty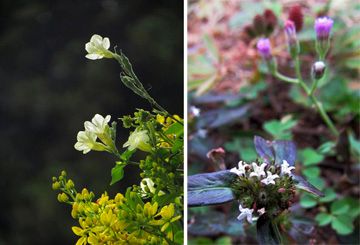 Wasp, Bee & Butterflies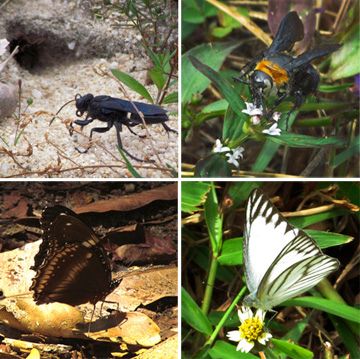 Note about the wasp in the top left image of the above pic: I believe it's some sorta Spider Wasp or Digger Wasp. Encountered them when I was crossing a vacant piece of land with soft sandy patches. Got a fright when a large insect flew in circle around me, buzzing loudly all the time. I backed away quickly & noticed it landed near a burrow on a small patch of sandy ground. I crept forward, softy as possible. Saw it kicking & carrying out sand from the hole. I guess it was building a nest. Looking carefully around me & saw a number of the same specie of wasps doing the same thing all over the place. Could anyone tell me exactly what species of wasp are they?
Another thing that puzzled me are in my pic below. What glued those leaves together to form some sort like a nest?
What made these nests?
And what's that on the tree? OMG! Naughty tree-climbing kitty cats! I wondered how much damage had stray cats & dogs caused to our fragile ecosystem.
Tree Cats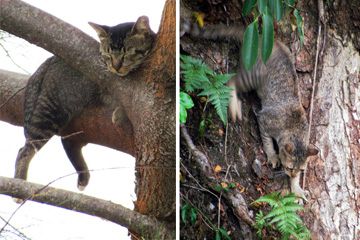 With those cats around, I fear for my little birdies friends, but they seem to be coping well. I spotted many species of birds, common ones & not-so-common ones.
A pair of Pacific Swallows & a juvenile Barn Swallow.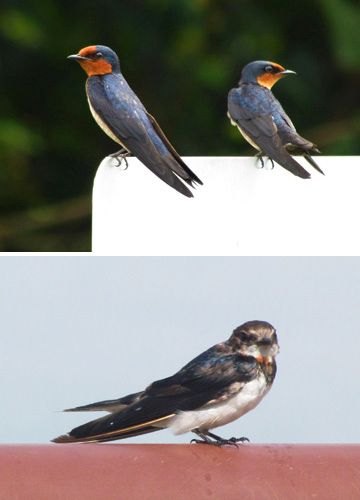 Grey Heron & Spotted Dove.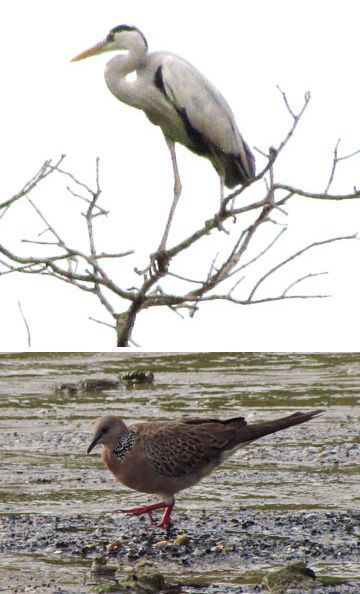 Changi Point seems to be a favorite spot for parrots. You can hear their screeching everywhere, but getting good pics of them wasn't as easy as it seemed at first. Fortunately, some of those colorful feathery friends were cooperative & I got a few good pics.
Red-breasted Parakeet looking at me suspiciously, a Long-tailed Parakeet searching for tidbits & Tanimbar Cockatoo couple
.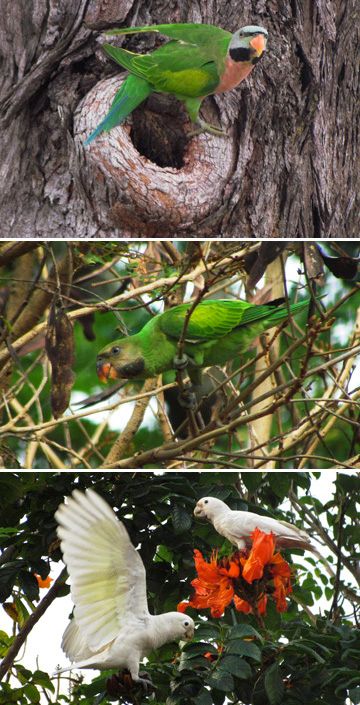 @Changi Point, I was very happy, getting pics of many species of birds which are new to me, including some of these below.
From left to right, top to bottom: Male Pink-necked Green Pigeon, Oriental Dollarbird, female Asian Koel & Coppersmith Barbet.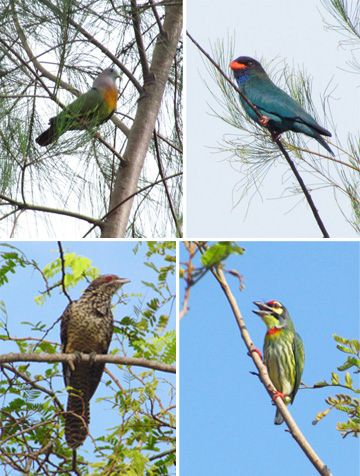 From left to right, top to bottom: Pied Triller, a pair of Scaly-breasted Munia, Ashy Tailorbird & a cute little Asian Brown Flycatcher.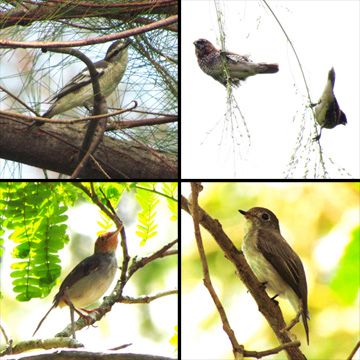 I love Kingfishers, but they are fast & very cautious which make them very difficult to approach. It's a challenge getting good photos of them & I love a challenge! Got some rewarding pics by stalking a cute little fellow for nearly an hour at Changi Point.
White-Throated Kingfisher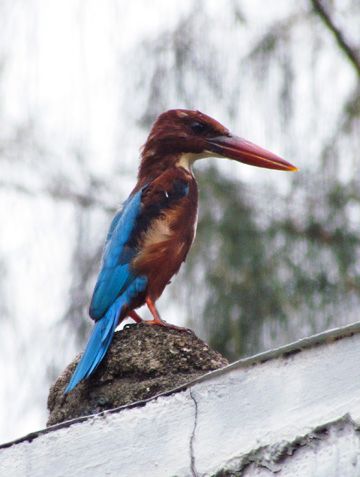 Here comes the best part. The best thing I saw at Changi Point was while I was walking near a line of trees near the beach. Suddenly, as if out of nowhere, a huge bird flew by & landed on 1 of the trees. Holy Macaroni! I recognized that species, but at that moment, my little Hamster brain went south. My startled mind tried to remember that bird's name & in excitement, I sputtered, "Bill, Bill... Billhorn!"
Very fortunately, the camera wasn't in my hand at that particular moment. If it was, I won't have any pic of that bird. In my amazement, I froze. My partner who was holding the cam, sprang into action before the bird even landed. He went passed me, calmly told me it's a Hornbill, not Billhorn... right on, Bimbo Hamster Moment! =P
Oriental Pied Hornbill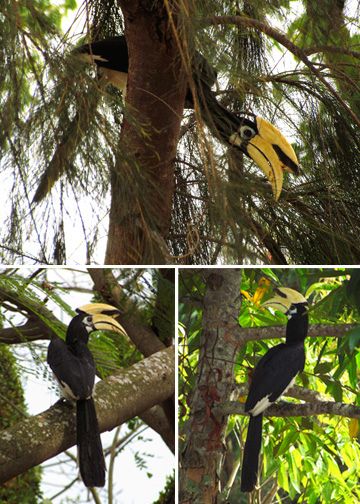 An
Oriental Pied Hornbill
, a very rare bird on mainland Singapore & what an incredible photo opportunity! The Hornbill was hopping around, flying from tree to tree hunting for food. My partner took many shots of it, including some pics which prey could be seen in the Hornbill's oversized beak. Insects, lizard & something that looks like a nestling, all chomped down by the Hornbill. It feasted for about 15 minute before flying off.
Hornbill caught what looks like a big locust.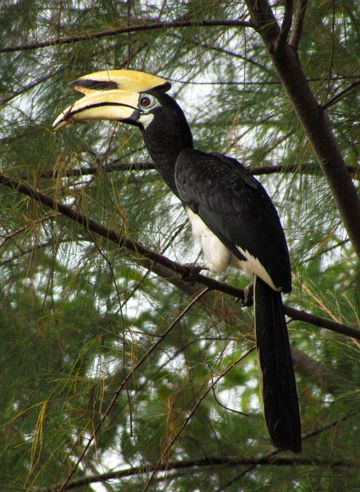 What a thrill it was. The Oriental Pied Hornbill is such a handsome, magnificent bird & I couldn't get over the fact of sighting a wild one near a popular beach instead of in a scary jungle. Was overjoyed that Mother Nature presented me with such a rare treat. Thank You!
Credit: I would like to thanks
Ivan
for helping in identifying some of the birds in my pics above.
Updates:
My sincere thanks to
Ivan
for answering my questions, correcting my error in misidentifying a species of fish & adding more info. Here are the answers supplied by Ivan: The shoal of fishes is probably
Squaretail Mullets
. The fishes which I'd mistakenly identified as Needlefishes are most probably
Striped-nose Halfbeak
, info which I'd updated above. The injured catfish is a
Striped Eeltail Catfish
. The large black wasp is a Digger Wasp, currently unidentified. The bundles of glued-together dried leaves are abandoned nests of
Weaver Ants
.
Click on 'Comment' in this entry to view Ivan's original texts regarding the additional info.
Labels: Nature