Dinner @Amici Italian Restaurant
Friday evening, 29th April, 2011 ~ Jorge, my guy & me were invited by Nath to dine at Amici, a popular Italian restaurant in Holland Village. The Amici Italian Restaurant is touted as an award winning authentic Italian restaurant with a quiet and cozy ambience where you can enjoy an exciting meal. Now, I'm not a gourmet & know nuts about Italian cuisine. In fact, I know very little about cuisine. I eat whatever I desire. Ambience? Who cares... I don't mind if it's at a hawker center if the food is good. I'm a simple Hamster. LOL! =P
Thus, this is not a review, but just a record of outing with friends. While at Holland Village, we were continually making fun of Samantha, a troll who caused quite a stir among locals when she called up a local radio station recently to complain how heartlanders are spoiling the image of upscale Holland V by going there inappropriately dressed, in shorts, t-shirt & slippers(flip flop). She was also offended by vulgar words spouted by heartlanders, people like us actually. Almost all my friends & me are heartlanders, staying in HDB flats. What 'hi-class' Samantha proposed is that heartlanders should stay in their HDB estates, keep away from Holland V & don't intrude into areas where 'cultured elite' like her belongs. Yet, what she didn't know or refused to admit the fact that Holland V is 1 of the heartland area, surrounded by HDB flats. I seldom use vulgarity in public, but 'cultured' Samantha should hear what my guy thought of her while he was at Holland V. Using precise, culturally correct pronounced vulgarity in Hokkien mixed with Mandarin & broken English to express his sarcastic remarks! Guaranteed authentic heartland style! LOL! =P
And yet, he can instantly switch to proper & grammatically correct English. Also, he has enough knowledge & experiences to discuss almost any subjects under the sun using the correct terminology. Cultured? I bet my guy can speak better English & has more culture under the sole of his foot than that bimbo Samantha! LOL! =P
Now, that's over & done with, back to Italian dinner. Yes, we were dressed appropriately enough. xD
Amici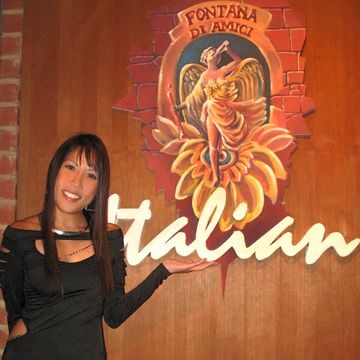 Nath, using her membership card, got us a free bottle of red wine while we browsed the menu.
Red Wine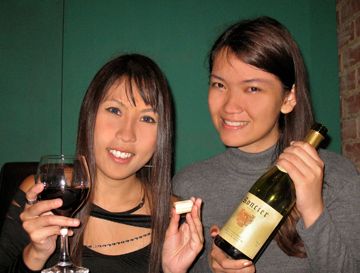 Menu Amici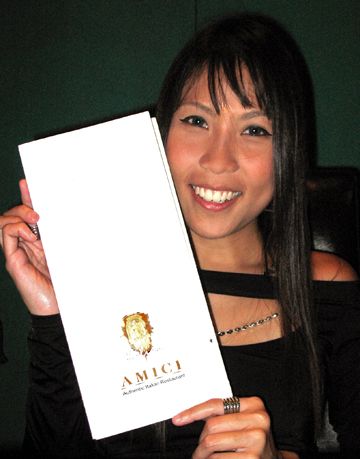 Saute Vongole, Prosciutto E Melone, Antipasto Misto, Fegato D'oca Mele, Fresco D'ostriche, Pollo Alla Diavola, Grigliata di Manzo, Tagliata Firenze, Ossobuco, Lombata D'Agnello Alla Griglia.
Huh?!? Got a little dizzy while looking through their menu. Seriously way too cultured for me. =P
For starters, Fresco D'ostriche! Which means...
Fresh Yummy Oysters! =P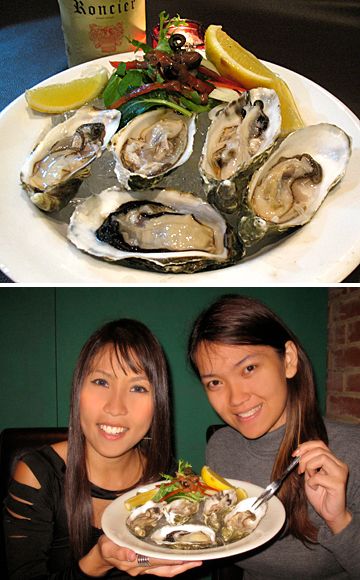 And the entrées are: Grilled Beef Tenderloin (200 gm) for me & Merluzzo Al Forno Con Burro Alle Erbe for Nath.
Steak & Baked Cod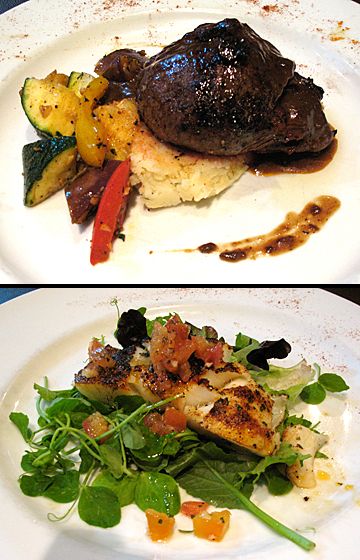 My guy ordered Tagliata Firenze & Jorge tried the Lombata D'Agnello Alla Griglia. And all these fanciful words, simply put:
Sliced Beef & Fried Lamb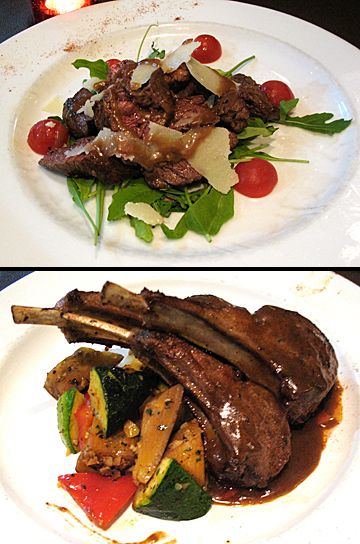 Ok, here's a little pic of me cutting into a piece of some highly cultured thingie known as Grigliata di Manzo or is it Filetto di Manzo? Couldn't care less, except it's really delicious. =P
I know it simply as Steak! =P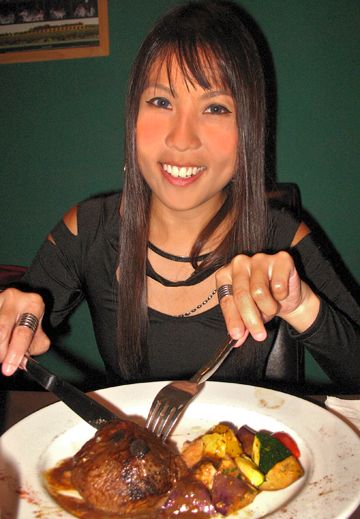 For dessert, we wanna try their 'award-winning' Tiramisu, but it was sold out. Sigh... so we ordered... erm, I'd forgotten to take note of their fancy Italian names, so I will have to make do with simple words: Chocolate ice-cream with walnuts & layered cake with ice-cream topping or something like that... xD
Mouthwatering Desserts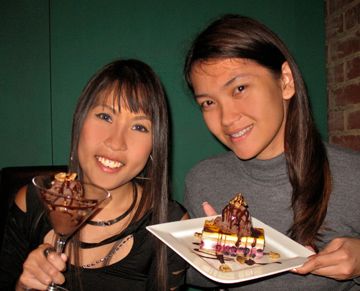 In closing, I would like to thanks Nath for the sumptuous meal. In my humble opinion, the food is delicious. The Amici Italian Restaurant is at 275, Holland Avenue, Holland Village.
*A very cultured message from me to that bimbo Samantha in Holland Village:

Mangiare merda!