World Runway Premiere/Fashionquake Aid 2011
Sunday, 18th Sept, 2011 ~ Touted as the fashion event of the year & not to be missed, World Runway premiered on 18th September at the Singapore Indoor Stadium. 8 teams from countries around the world battled it out on the runway. Aspiring fashion stars from Brazil, France, Italy, Japan, Russia, Singapore, UK & USA took part in the challenge, creating street fashion with pieces bought from local shops within a period of just 2 days. Each participating county's team will consist of 3 members, the fashion director, make-up artist & hair stylist. Their aim is to share with Singaporean ladies, street-fashion that is practical and affordable. There were 2 rounds in the contest. Furthermore, a portion of the profits from the event will be donated as Fashionquake Aid to natural disaster relief activities around the world.
Being a non-conformist, I don't indulge in current fashion. Had not bought or read any fashion magazine. Ask me anything regarding fashion & I will give you a blank stare. Drop some names of famous fashion brands & I might know just a very few, but I don't know where their outlet(s) are. Not that I'm uninterested in fashion. In my opinion, local fashion is disappointing & big fashion names are, to me, just names, nothing special. What I wanted is uniqueness or to express my individualism, not blindly follow what everyone is wearing.
So when a friend asked me whether I wanna be a cheerleader for the World Runway fashion show, I took the opportunity to see what international concept of street fashion can be, especially with items bought at local shops.
Before entering the venue, mini flags were distributed to us by the organizers.
Flag-waving CheerHamster =P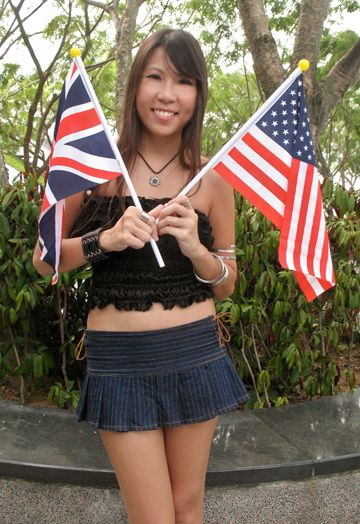 We went in early & were told to wave our flags & cheer as loud as possible whenever something happened on the runway. The event was supposed to start at 5pm, but was delayed. The audience was only allowed in at about 5.30pm.
Audience @World Runway Premiere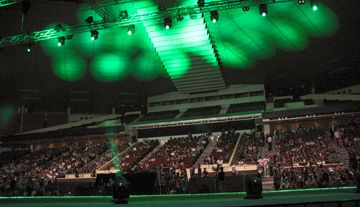 A male singer came out, sang a song in a language which I don't recognized & went back in. It was as if the singer was randomly selected from some backstage staff/crew/helpers & thrown out to entertain the crowd because of the delay. For about an hour after the singer disappeared, nothing happened except the video playing repeatedly on the big screen. It was quite badly organized. We were bored by the waiting. The only consolation is, we were there for free & seated just beside the runway whereas the nearest of those who bought ticket were at least 20 meters away.
Beside the runway @World Runway Premiere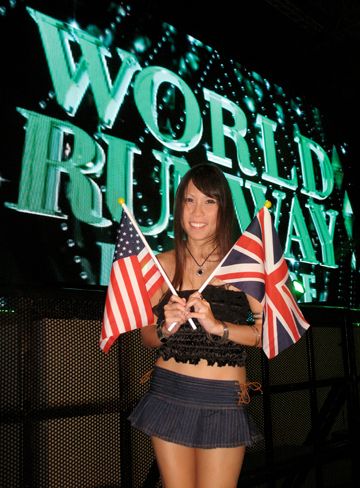 It was not until 6.30pm that the show started off the 1st round with the presentation of the team from France.
French Vogue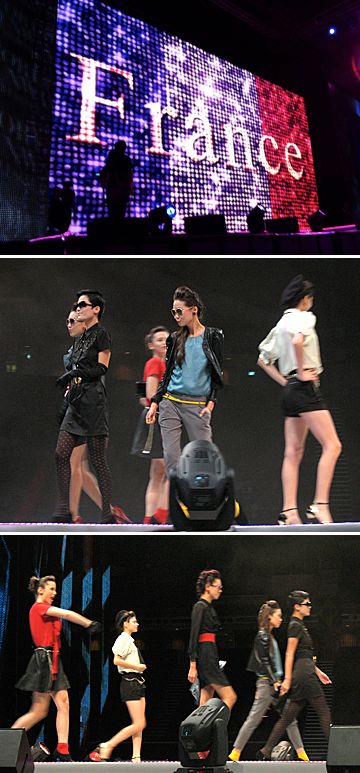 Next on the runway is the team from Italy followed by the rest.
Italian Fashion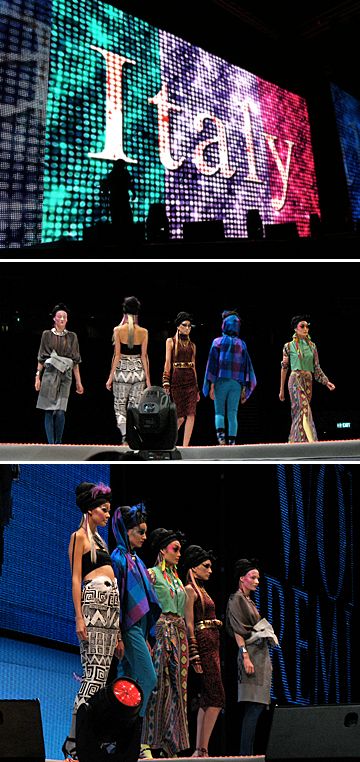 American Fad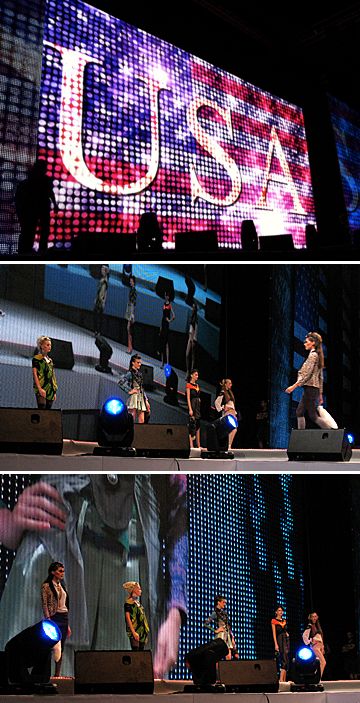 Japanese Style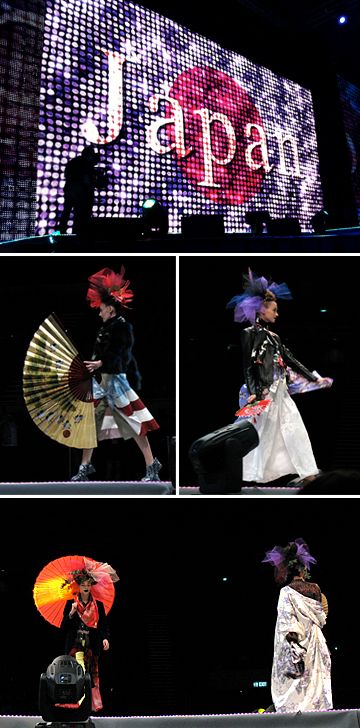 British Craze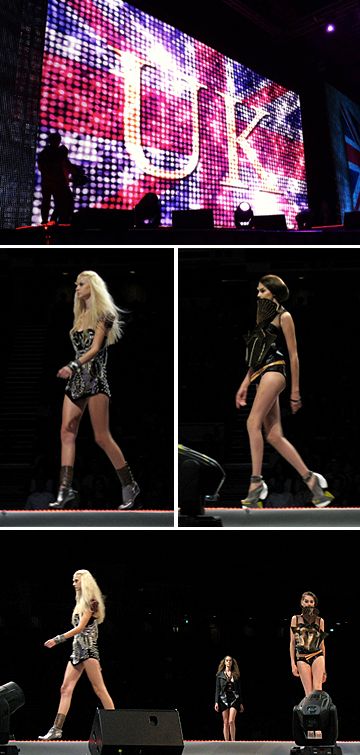 When the British team presented their creations, I noticed almost every local around me & in the audience were in state of shock. There was a moment of silence & camera flash stopped popping. I believed I know the reason. To many conservative locals, my fashion was deemed as outrageous or shameless, scandalous. I'd been often told that I'm too daring. Their narrow mind couldn't accept anything beyond their shallow world. I believed many like-minds were in that audience. They were stunned by the UK team's concept of street fashion! Me, I love their creations! xD
Russian Design
Outrageous? To me, the Russian are that. I was at lost of what to think of their fashion sense when presented at World Runway. Even I don't dare walk out wearing bra
outside
my clothes! LOL! =P
Brazilian Look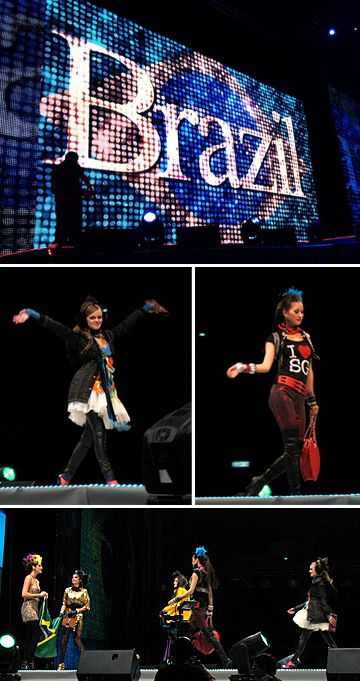 Singaporean Trend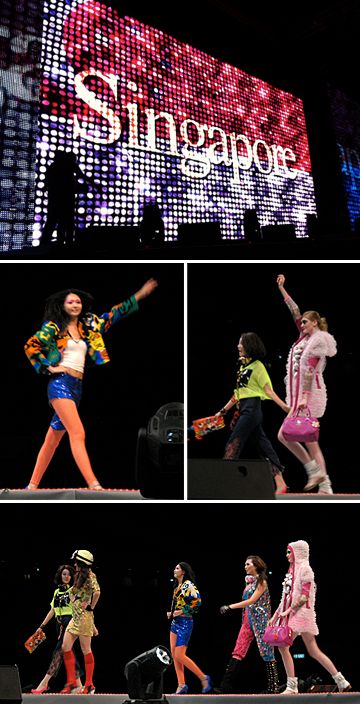 After all the teams had showcased their creations in the 1st round, 4 teams were selected as qualifying for the final round.
Going for final round

The qualifying teams were: France, Japan, Singapore & UK. I strongly suspected that since Singapore is the hosting country for the event, the Singapore team qualification was based on political necessity. Their designs were unremarkable. In my opinion, they are horrible! What's with those thick black-rimmed spectacles? And that silly looking Hello Kitty necklace? Get real! Are the Singapore team still in school or what?!? Should be ashamed of having only student standards when competing against international professionals! The Singapore team was completely outclassed!
I am strongly against this sort of bullshit because it deprived a better team of their rightful place in the final. The Singapore team gets my vow for the worst creative team in the event! They are a disgrace to the fashion world & to their country!
Round 2 kicked off with the uncreative Singapore team. Another display of dull. Fortunately, the other teams make up for it.
Singapore Bland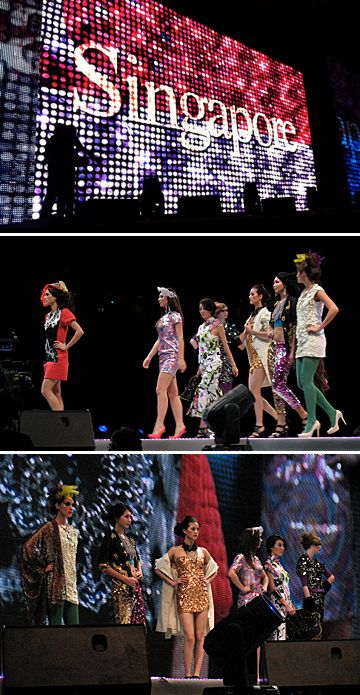 Japan Imagination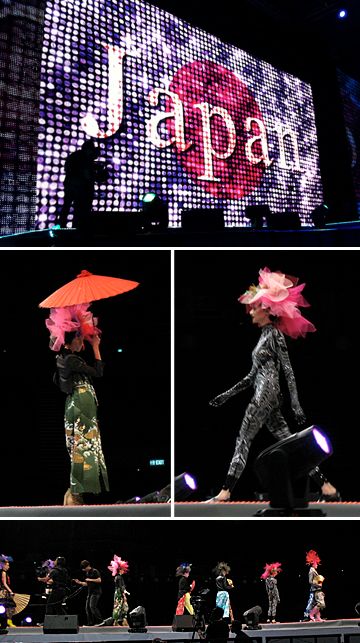 France Vision
British Creativity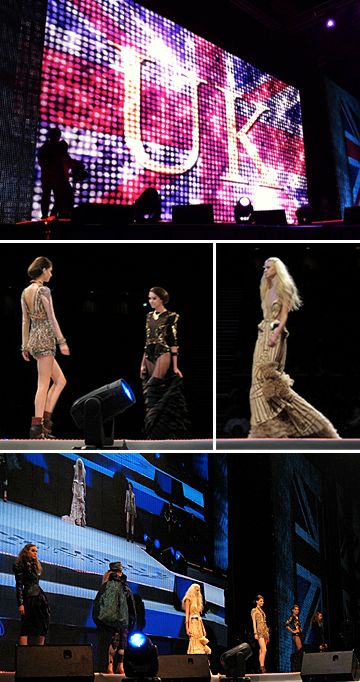 And now for the grand finale with all the models & everyone involved waiting for the final result.
The Gathering of Models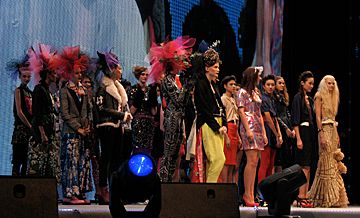 Judges, organizers & participants waiting for the result.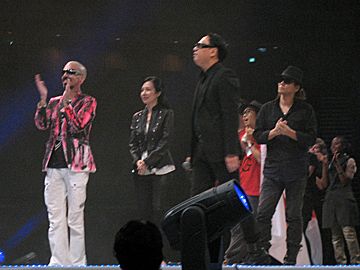 When the result was announced, as I'd expected, the UK team won! Hooray! For their effort in creativity, they really deserve to win! Congratulations!
The UK team members are as follows:
• Simon Setter, Stylist ~
Team Leader
• Mike Adler, Stylist
• Begona Alegria, Hair & Makeup Artist
Congratulations to the UK team!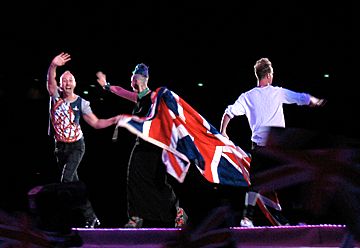 Final Result & Closing Ceremony
Watching World Runway had being quite an interesting experience. At the very least, it has shown that my fashion is not as outrageous as many locals had thought. LOL! =P
Labels: Event