Maldives ~ My Vacation In Tropical Paradise
Backdate all the way back to 27th April - 1st May 2015 ~ We (my guy & me) went for a vacation in Maldives. Yes, The Maldives where the weather is a dream, always sunny. Atolls with pristine white sandy beaches & amazing underwater world. A tropical paradise.
About Maldives:
http://wikitravel.org/en/Maldives
After a 3 hours flight…
Above the Indian Ocean.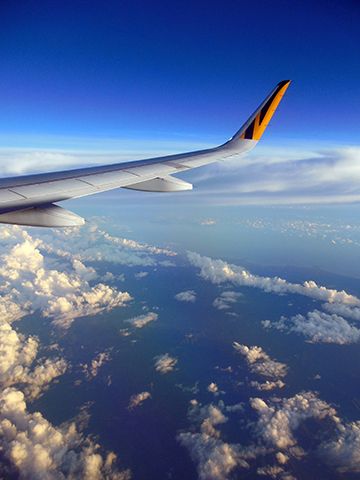 where we passed over a small tropical storm…
Lightning Flash!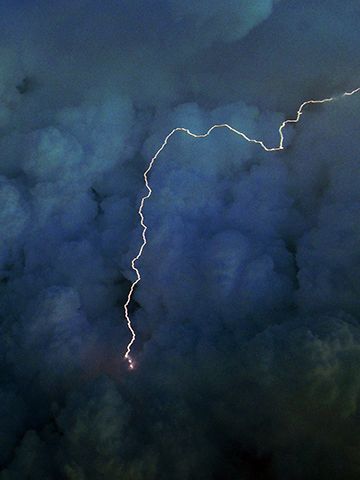 we touched down at Male, the capital of Maldives.
Arrival.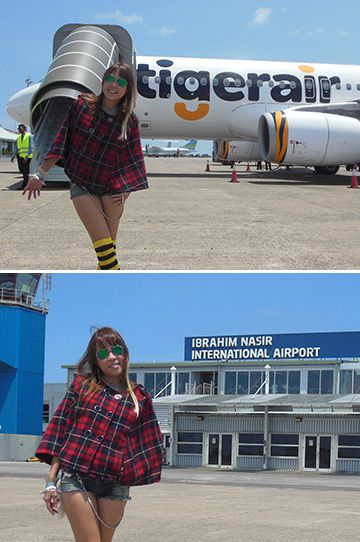 Airport concourse, Male & the jetties.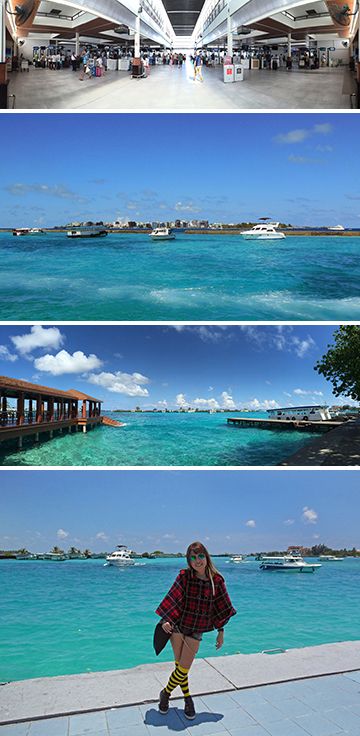 From Male, we took a transfer flight to Maamigili Island for a speed boat ride to Nalaguraidhoo Island where Sun Island Resort is located.
Transfer flight to speed boat.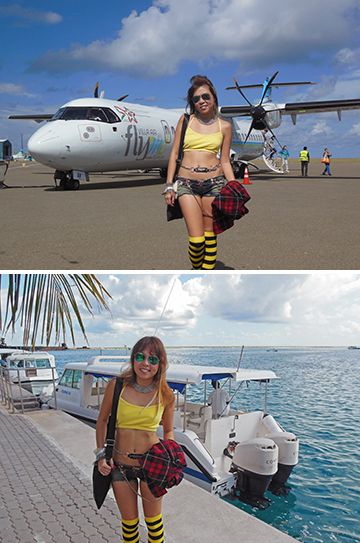 Flight to Paradise.
On the transfer flight, we saw many islands which some are residential & some are resorts.
Residential Islands.
Resort Islands.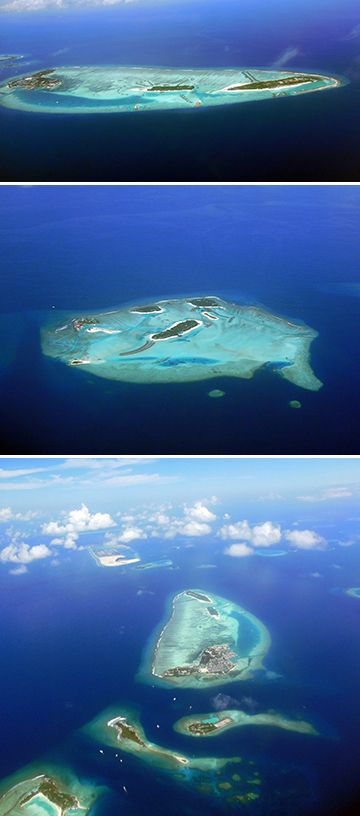 And finally, we arrived at Sun Island, the resort where we were staying.
Aerial view of Sun Island Resort.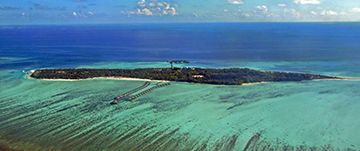 Welcome to Sun Island Resort.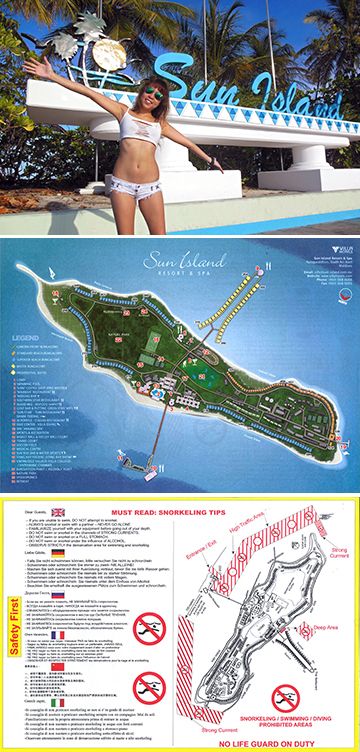 Beautiful islands, sky & the sea.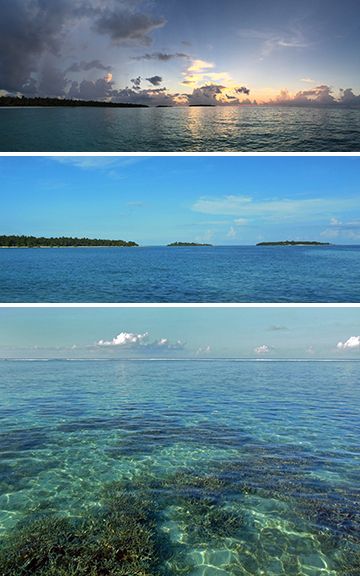 Sun Island's overwater bungalows & swimming pool.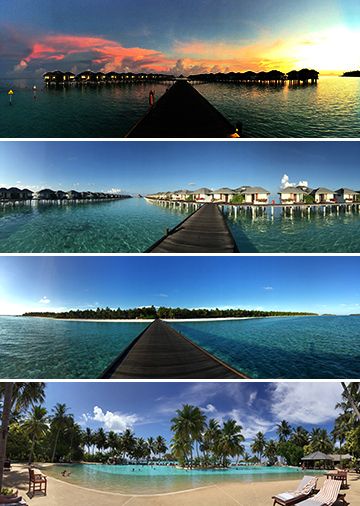 As our transfer flight were delayed for nearly 2 hours, upon arrival, after assigning us our room, we were immediately rushed to a late lunch.
First meal at Sun Island Resort.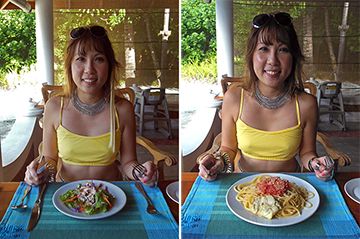 We were supposed to have a room at the beach, but due to overbooking, we were given a garden view room instead. We were suppose to stay there for the first 2 days & move to a beach room. In compensation, the management gave us a fruit basket with a bottle of champagne.
However, after staying for a day & comparing to beach rooms, we decided to stay put. Our room is newer & bigger. I love the enclosed compound which have an outdoor bath tub & shower.
Our Garden View room.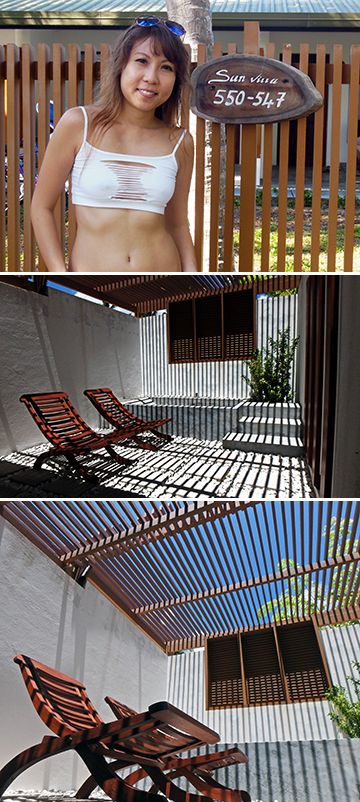 Lovely Art of Sun Island Resort.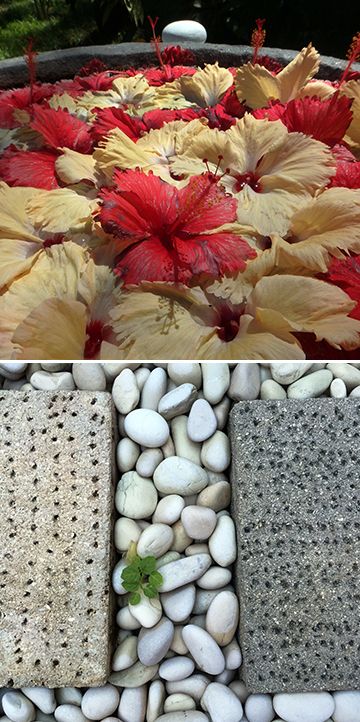 On the first day, it was late after settling down, so we went for dinner. All meals (buffet style) are served at the main restaurant. Each couple or group is assigned a table. The same table will be used for every meal.
Meals at Sun Island Resort.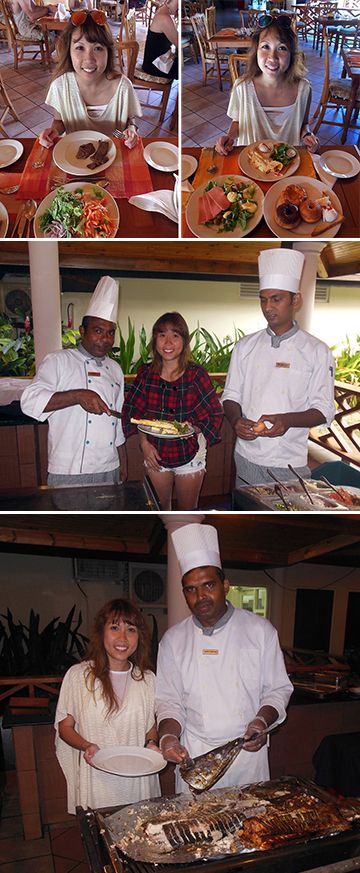 Every evening, at about 6.30pm, there is Stingray feeding at the jetty near the Faculty of Marine Studies on the Western end of the island. There, you could also watch the beautiful sunset.
Stingray feeding location.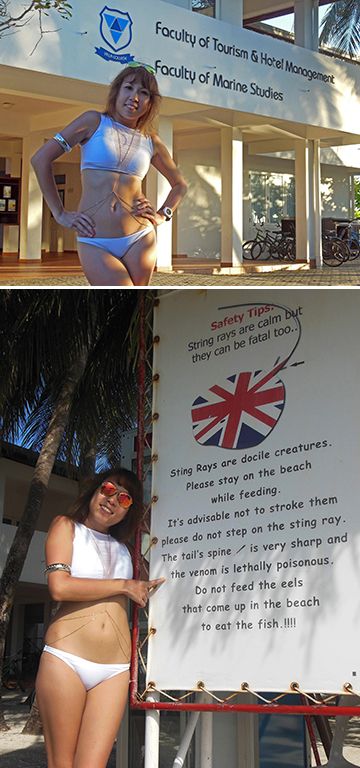 Beautiful Sunset.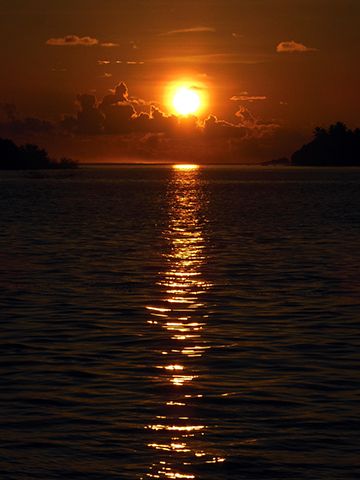 Breathtaking!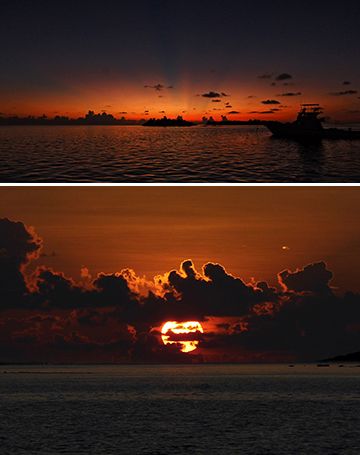 Feeding Stingrays.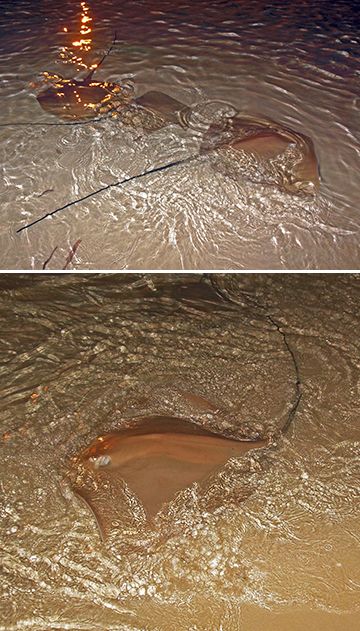 Rushing for food.
At the same time, over at the Thai Restaurant, there will be Shark feeding. Some Stingrays will be there as well. The Shark species are mostly of 2 kinds. The plentiful small Black Tip Reef Shark & the much lesser, but bigger Nurse Shark.
Shark feeding at the Thai Restaurant.

Feeding Frenzy!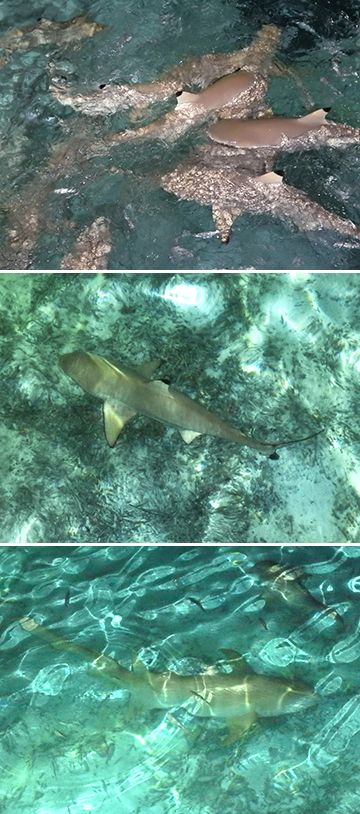 The next morning, we went for a snorkelling trip.
Leaving Sun Island Resort behind.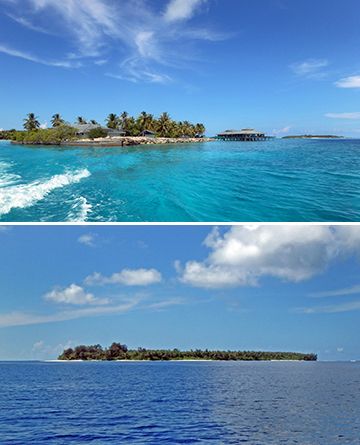 Passing some other resort islands.

We recently bought a newly designed snorkelling mask (EasyBreath) which allows the user to breathe with the nose. After trying it out, we realised the design is awesome! Anyone interested in snorkelling should get one.
Note: The new Easybreath Mask is for snorkelling only, not for diving.
Me with my EasyBreath Mask.

I Love My EasyBreath Mask!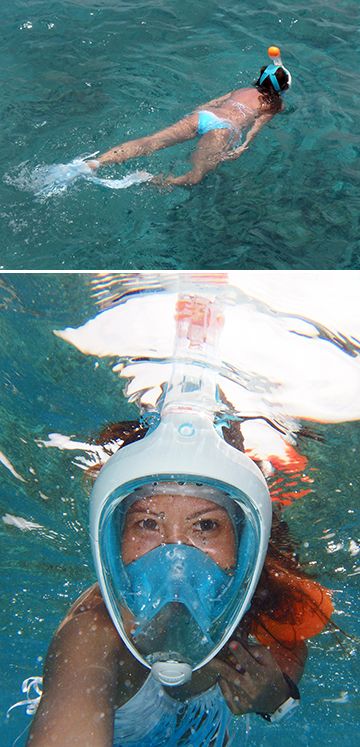 At the snorkelling destination, the corals are only so-so. Nothing spectacular.
Corals at the snorkelling destination.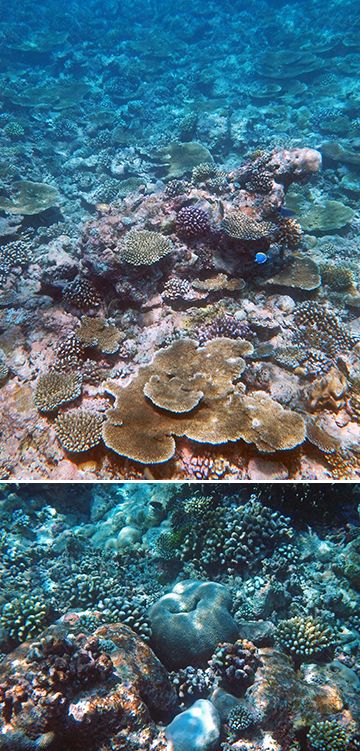 Underwater Garden.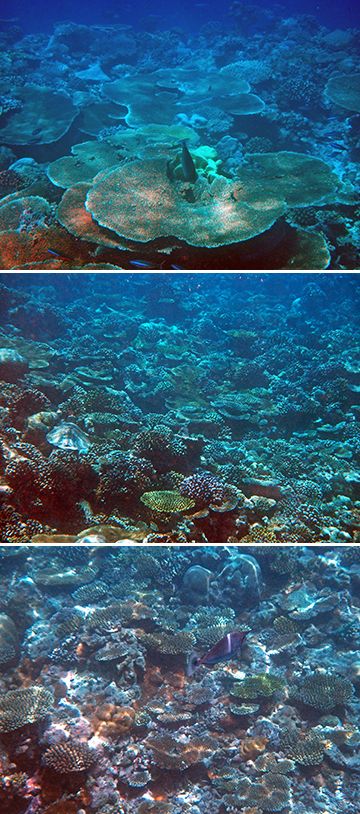 Fishes among the corals.

Different species of corals.

The best part during the snorkelling trip is when we spotted a Hawksbill Sea Turtle. The Hawksbill Sea Turtle is listed as an endangered species. This is the second time we spotted Turtles in the wild.
Hawksbill Sea Turtle.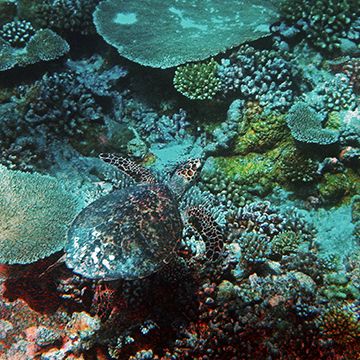 Endangered Turtle.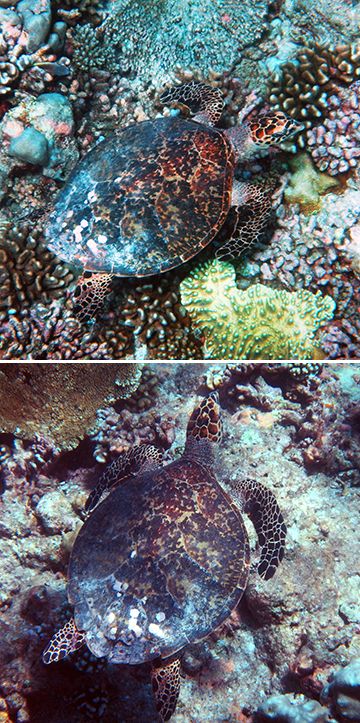 Took a few pics of fishes & spotted a Giant Clam.
Bullethead Parrotfish & 2 other species of Parrotfish.

Common Blue Stripe Snapper & Moorish Idols.

An angry looking fish & a Giant Clam.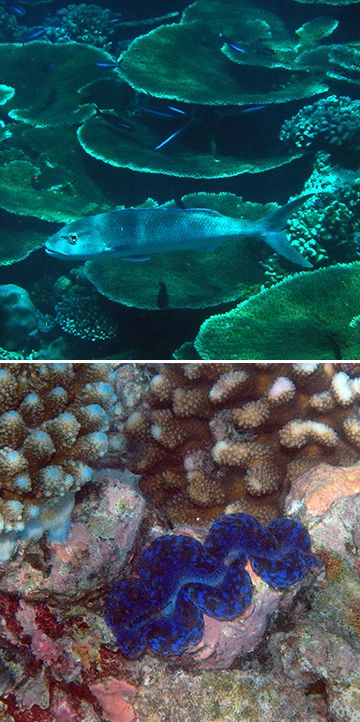 On the morning of our third day there, we went for a Whale Shark spotting trip.
The guide showing us the do's & don'ts around a Whale Shark.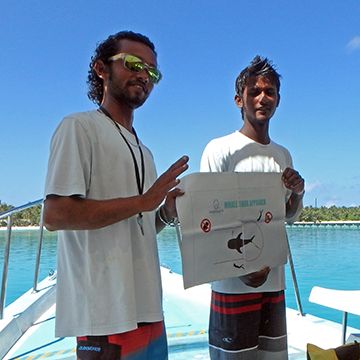 Many boats from other resorts were also searching for Whale Sharks, but alas, all to no avail on that day.
The Maldivian Dhonis, the traditional Maldives boats.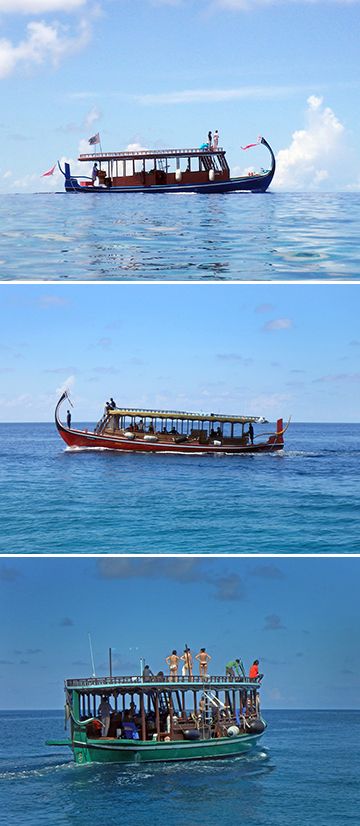 However, as if knowing our disappointment, a pod of playful Spinner Dolphins show up. They rode the boat's bow wave & jumped out of water doing spins. This is my first time seeing wild Dolphins & I was so excited. I love Dolphins cos they make me so happy!
Playful Spinner Dolphins.

I Love Dolphins!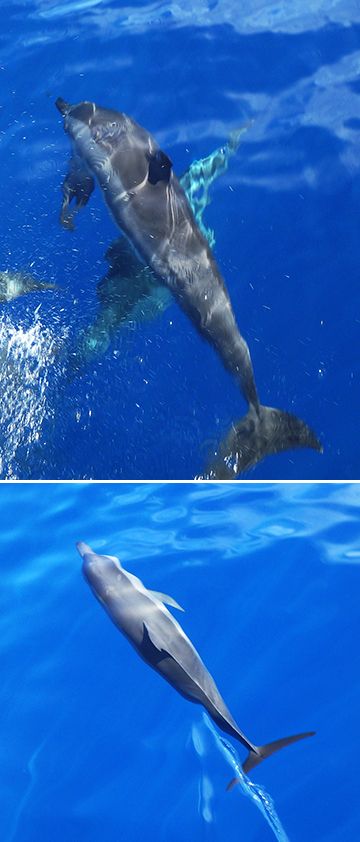 Spinner Dolphins in Maldives.
Back on Sun Island Resort, we roamed around taking lots of pics.
At the overwater walkway leading to the Italian Restaurant.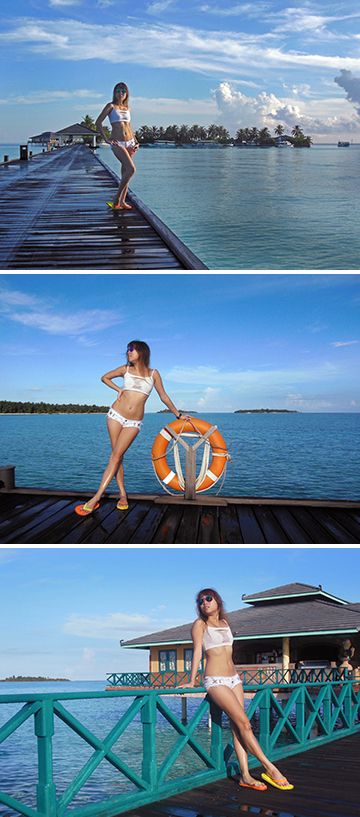 I Love Sun Island Resort!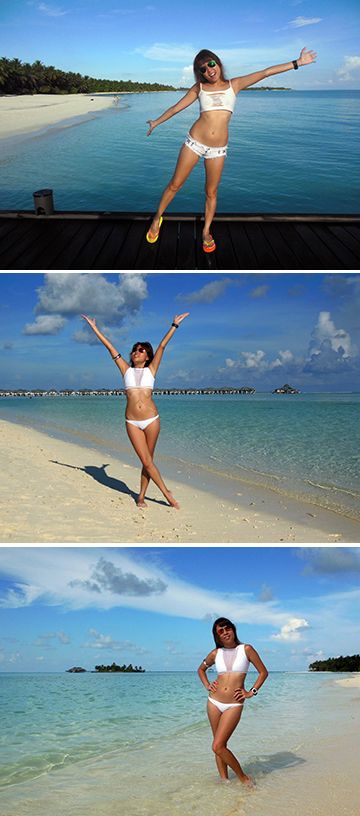 Lovely Days.

Playful Me!

Posing Me!

At Sun Island Resort, they have a Hawksbill Sea Turtle conservation program. Hatching the eggs, protecting the young's till they are big enough for a better chance of surviving in the wild. There are a number of baby Hawksbill Sea Turtles at the small pool in front of the reception counter. They are so cute & a joy to watch!
Cute Baby Hawksbill Sea Turtles.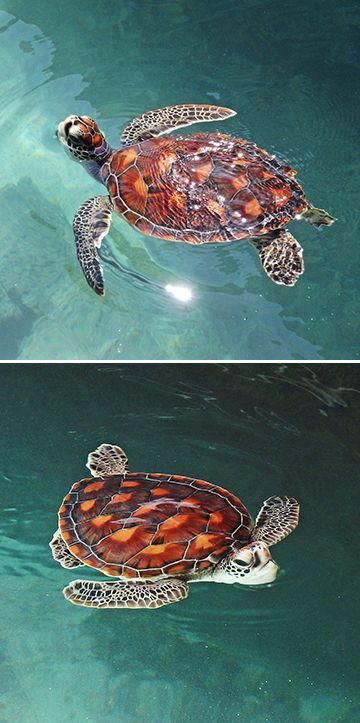 This is how they rest.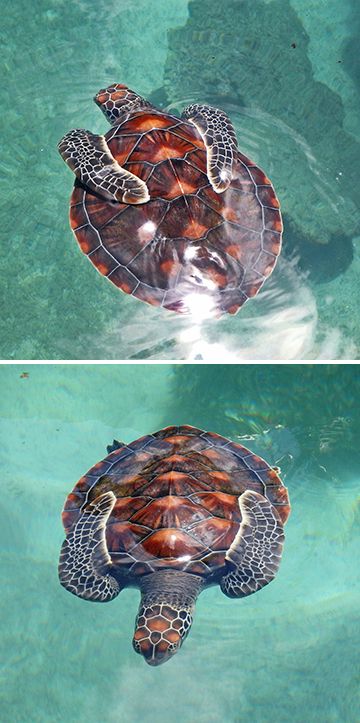 We love wildlife & have a habit of spotting them wherever we go.
Crabs on the shore.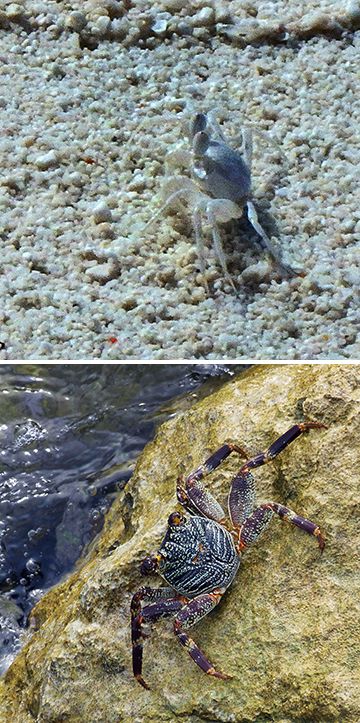 Cute Little Hermit Crabs.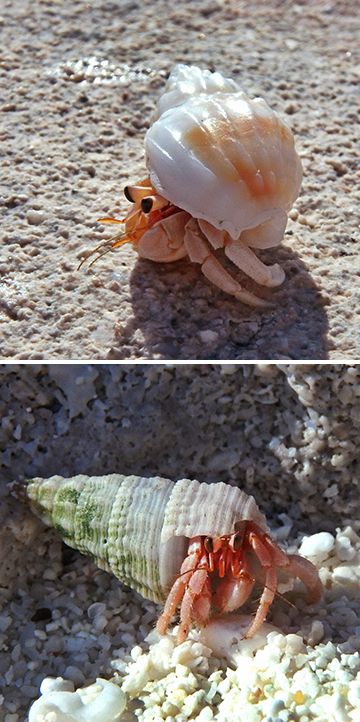 A Gecko & a Rat on a tree.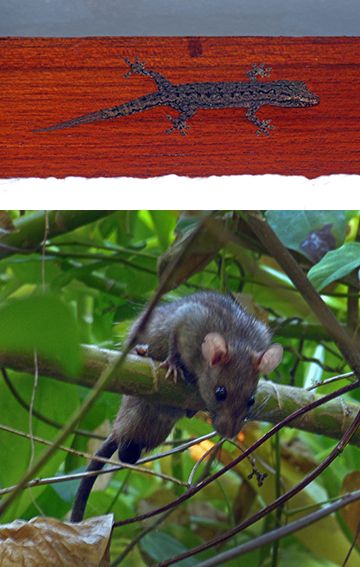 Fruit Bats.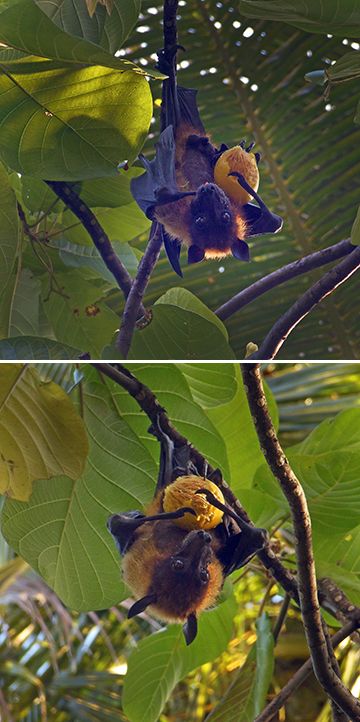 Asian Koel (female & male) & a Grey Heron.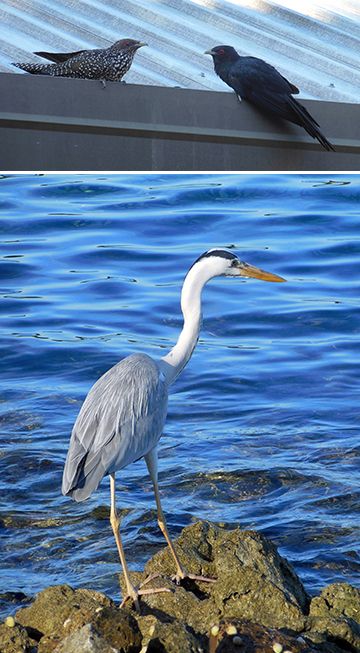 The omnipresent Grey Heron.
One day when we were walking near the Western end of the island, we heard a strange bird call which we did not recognise. A staff noticed our curiosity & led us to a baby Brown Booby. It was looked after by some of the staff. He told us that its mother will return to feed it in the evening. The guy said that these are wild birds, not pets of anyone. These people love nature & help looking after them. When these birds are grown, they will fly away, perhaps to return again to nest. We saw another young Brown Booby. This one is a juvenile & according to the staff, this older bird will bully & try to chase away the younger one. That's why one of the staff will always be on station to protect the baby bird.
I love that baby Brown Booby! It's so soft & fluffy. And it's so tame.
Juvenile Brown Booby, baby Brown Booby & me.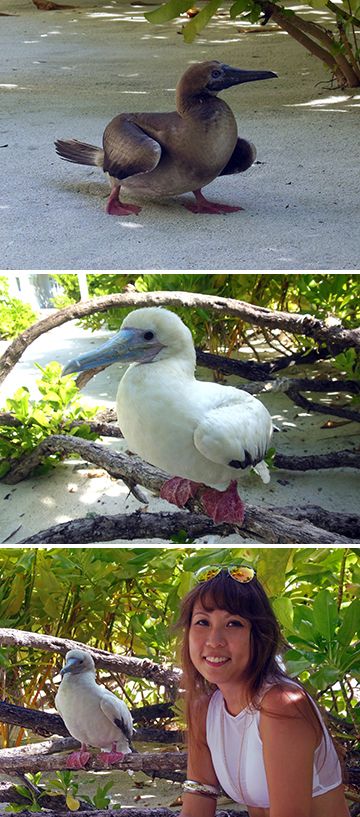 We continued our exploration of the island...
@the overwater bungalows.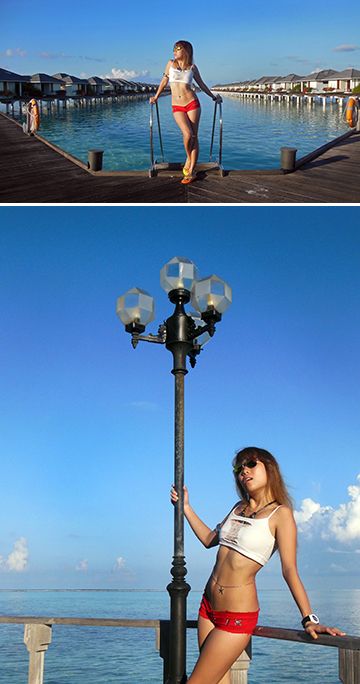 Lovely sea view.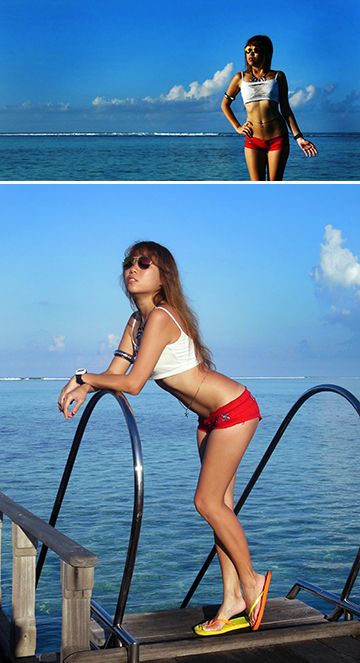 Flag Pose.

Boat & Beach.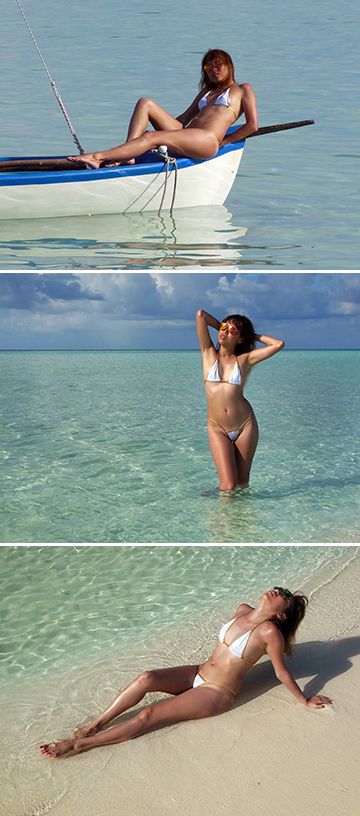 My favorite activity on the island is snorkelling. There are 2 areas with some decent corals & plenty of marine life. One area is at the Italian Restaurant & the other is at the Thai Restaurant. Swimming in these areas, with an abundance of fishes, is like swimming in an aquarium. With water so clear, the fishes so friendly & with my new EasyBreath mask which allows me to breathe using my nose, snorkelling has never been more enjoyable.
Me snorkelling & taking pics of marine creatures.

Lots of Stag Horn Corals.

Colorful sponges & Corals on pillar.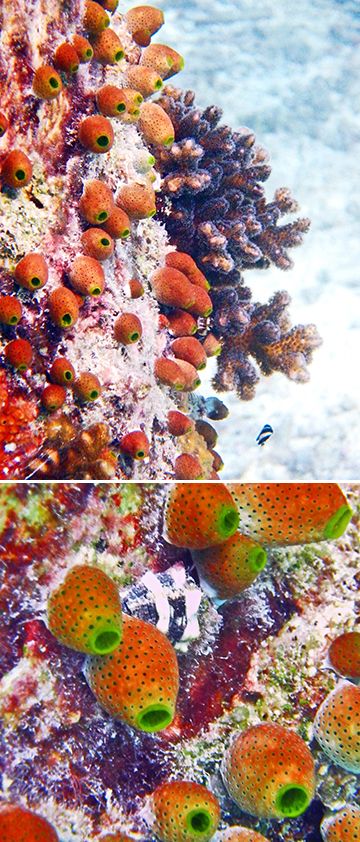 Like swimming in an aquarium.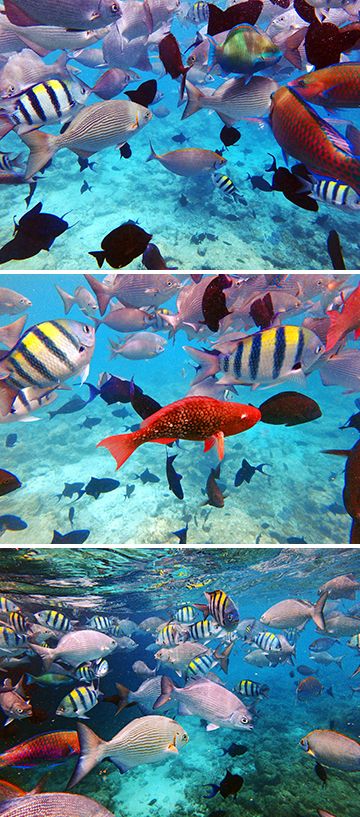 Abundance of fishes.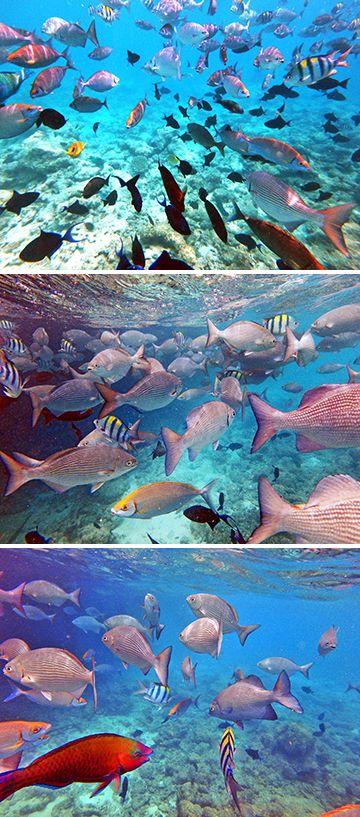 Swarm of little fishes & Clarinet Fish (bottom).

Fishy Paradise.

Black Tip Reef Sharks are everywhere.

Crocodile Needlefish & Clarinet Fish.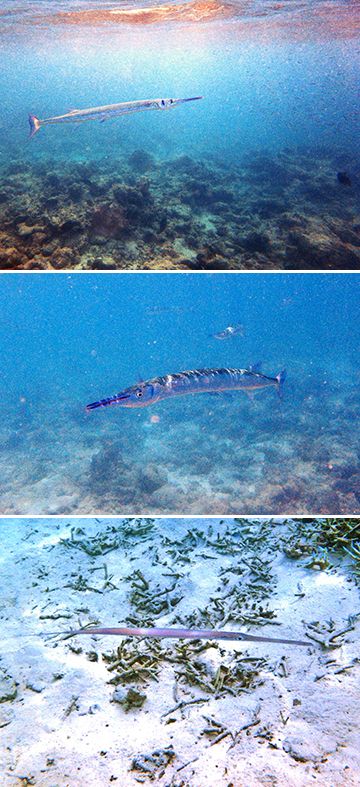 Titan Triggerfish, Picasso Triggerfish & Orange-lined Triggerfish.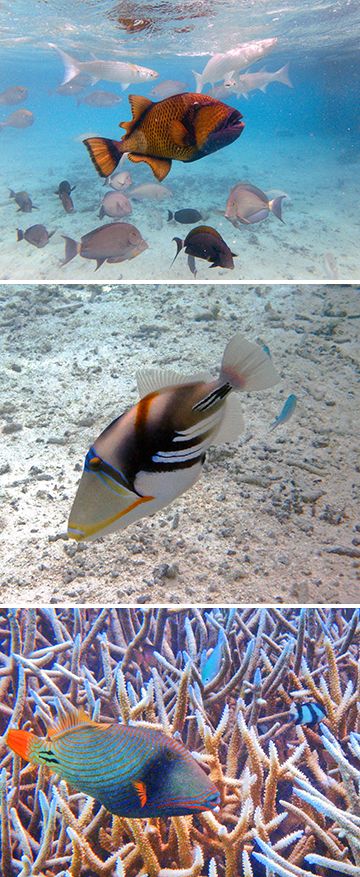 3 species of Parrotfish.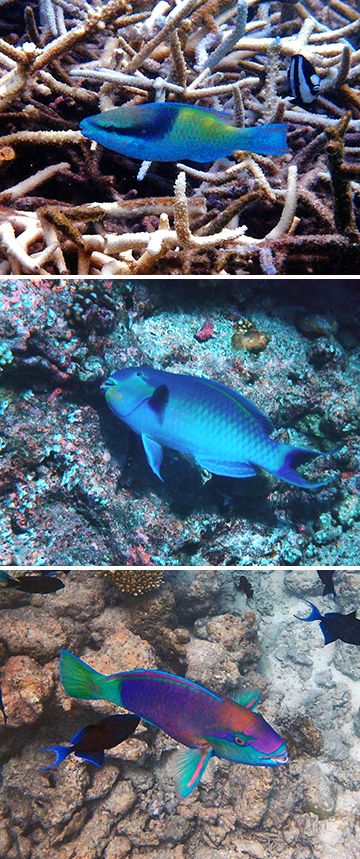 Rabbitfish, Unicorn Fish & Dash-and-dot Goatfish.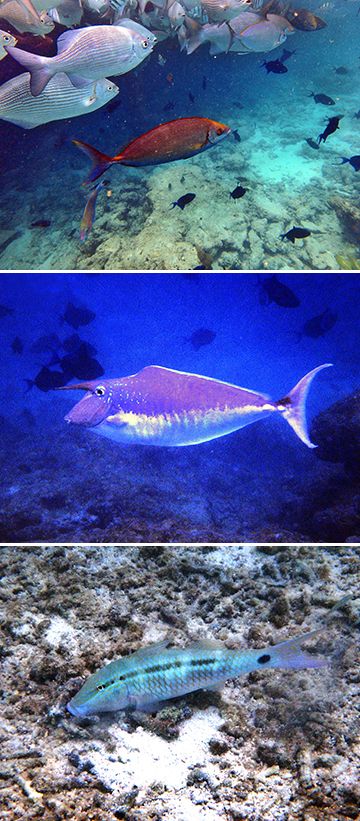 Racoon Butterflyfish, Lionfish & Triple-tail Maori Wrasse.

Goby, Map/Scribbled Pufferfish & Devil Scorpion Fish.

Christmas Tree Worm, Giant Clam & an empty shell of a Spider Conch.

Two species of Starfish & a Pin-Cushion Star.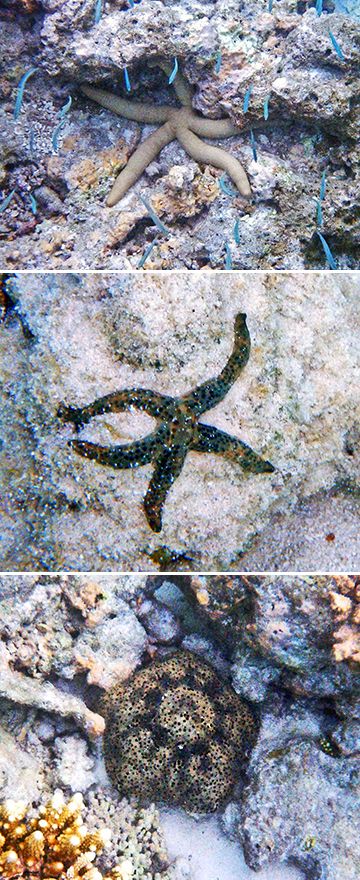 While snorkelling near the Italian Restaurant, I spotted a Day Octopus. A number of fishes were circling it warily & the Octopus was trying to hide among the rocks. It was unsuccessful & fled the scene.
A Day Octopus surrounded by fishes.

Snorkelling at Sun Island Resort, Maldives.
One evening, when we were having some drinks at the Italian Restaurant with some new friends, a couple of Manta Rays showed up & gave a fantastic performance. We suspected they were doing countship dancing, impressing each other with numerous underwater somersaults. Their human audience was very impressed, with everybody going
"Ooooh…" & "Ahhhh…"
.
Dance of the Manta Rays.
On the last day of our stay, when we were going back, a Cowtail Stingray came to bid us farewell at the overwater walkway.
Cowtail Stingray.
It was a very enjoyable trip & we make some new international friends. A Korean, an Italian & 2 Germans.
From left to right: My guy & me, Songi (Korean) & Giulio (Italian), Ralph & Helen (both German).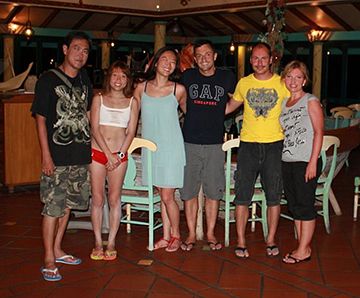 Maldives is a very mesmerising place, a paradise on Earth. The blue sky, the emerald sea & the white soft sand. I love Maldives & miss it so much. However, Maldives is very expensive & I could only wish I could spend my vacation there again.
I Love Maldives!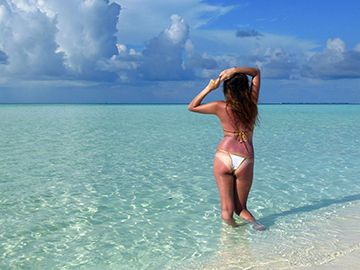 Labels: Beach Holiday, Beach Resort, Corals, DiveOceanus, Maldives, Marine, Marine Animals, Marine Creatures, Nature, Paradise, Snorkel, Snorkeling, Sun Island Resort, Wildlife Photography