Tioman
Set like a glittering jewel amidst the South China Sea, Tioman Island(locally known as Pulau Tioman), is a small volcanic island covered by rainforest situated 56 km off the east coast of Peninsular(West) Malaysia. Endowed with miles & miles of secluded sandy beaches, surrounded by numerous iridescent coral reefs in crystal clear azure seas, it is considered as one of the world's ten most beautiful islands. A sense of excitement and mystery pervades the island and the nature lovers will be enchanted by the picturesque beauty of this tropical paradise.
Map of Tioman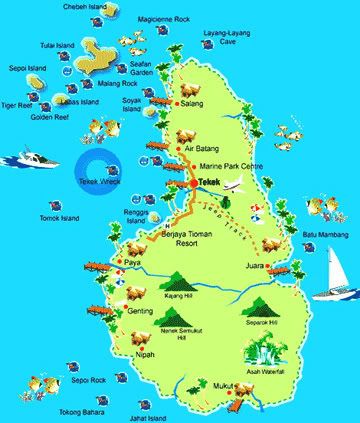 19th Oct to 23rd Oct ~ I am one of those lucky ones who had the opportunity to visit this fabulous island. Me is a city girl, love watching documentaries about nature, but when face with real stuff, somewhat alittle afraid of it. The last time I went for a 'nature' vacation was a holiday camp in Taman Negara(Malaysia National Park) during my school days when I'm so very boyish & brave. As an adult, back to being a girl, I grow more timid. Most of my holidays are to other cities. My soul companion cum 'bodyguard' cum personal photographer, a seasoned world traveller who loves nature, decided it will be a good time for me to visit Mother Nature again & Tioman is our destination. I was torn between excitement & some apprehension. =P
The journey begin
The bus trip from Singapore to Mersing Ferry Terminal, with a rest stop & across the sea by ferry to Tioman took about 4 hrs. I won't bored you with the miles & miles of jungle or oil palm plantations along the way.
Chinese temple, roadside fruit store & a dirty river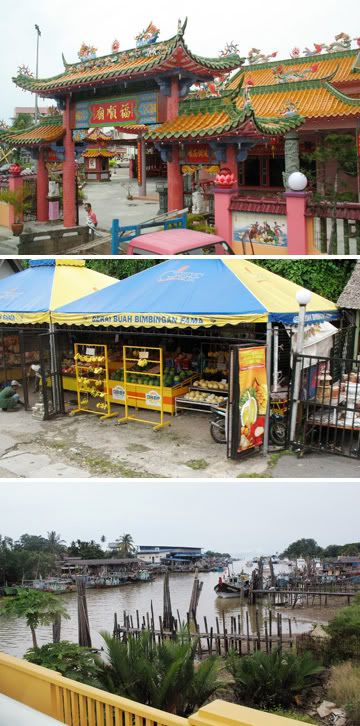 At 10.30 am, we arrived at the ferry terminal. The daily ferry to Tioman sail at 12 noon. A boring time wasting of 1½ hour. Walked around outside the Terminal. Nothing interesting.

Ferry Terminal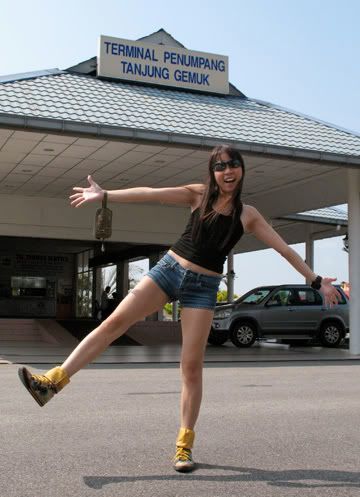 To Tioman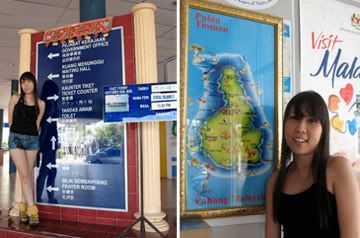 On the road to Mersing, there were only 4 of us on the bus not including the guide & driver. On the ferry, it was crowded with school children on a field camp holiday to Tioman. They crowd the small open deck behind the ferry denying me a chance of taking any pic of my sea trip.

A small island along the way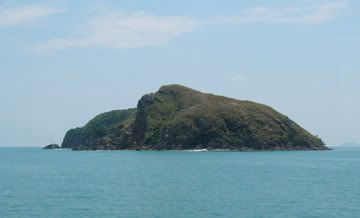 Arrival
At last, after 2 hrs at sea, we reach Tioman! Thankfully, the ferry's first stop at Tioman is Paya Village where we booked our stay at Paya Beach Resort & we were the only ones alighted at the jetty.

Paya Village Jetty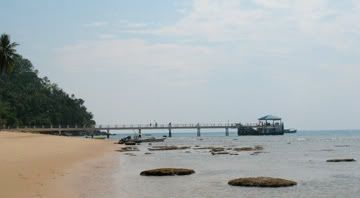 Paya Beach Resort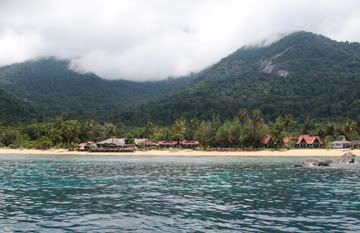 Welcome to Tioman!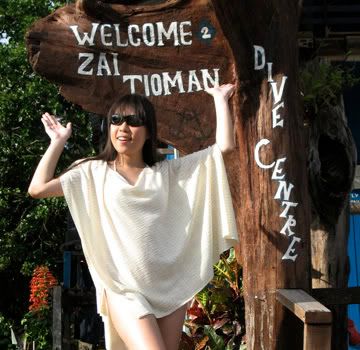 Paya Beach Resort
Nice air-con chalets are the accommodations at the resort. Behind Paya Beach Resort, there's another resort, the Paya Tioman Resort which chalets looks rundown & old. Back at Paya Beach Resort, we were given a chalet by the fish pond with a view of the mountain behind us. With only three other chalets occupied around the pond, it's nice & quiet. Really quiet... with a 'little surprise' thrown in. Tell you about the 'little' surprise later.

Paya Beach Resort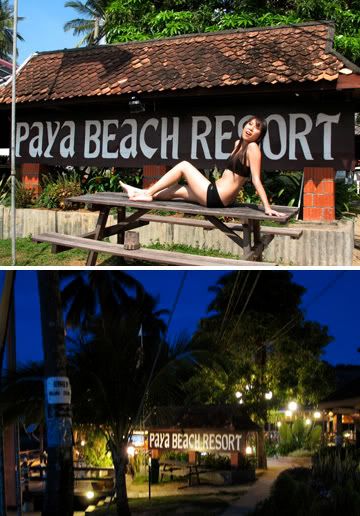 Signage at Tioman Paya Resort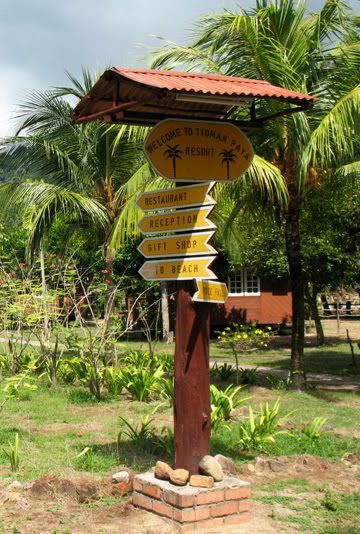 Reception counter of Paya Beach Resort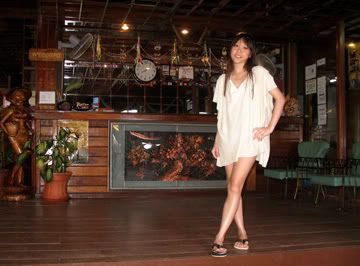 Chalets at the Fish Pond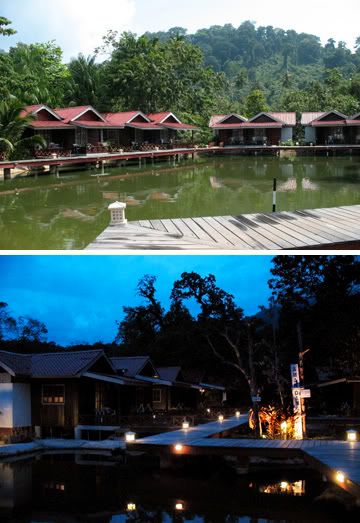 Our Chalet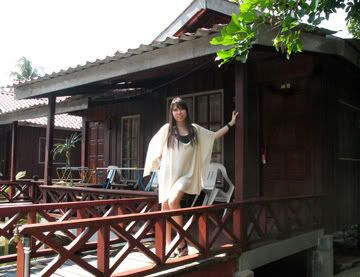 The resort is equipped with a spa, restaurant, duty-free shop, activity center, beach bar & sauna beside a smallish swimming pool.

Relaxing Spa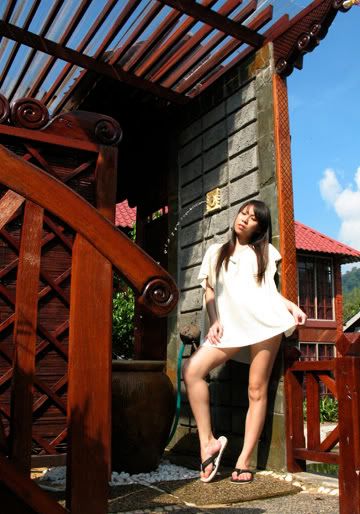 Signage & a sawfish beak displayed near reception counter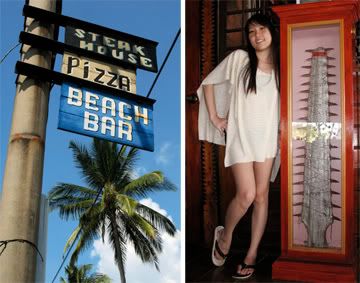 Restaurant by the sea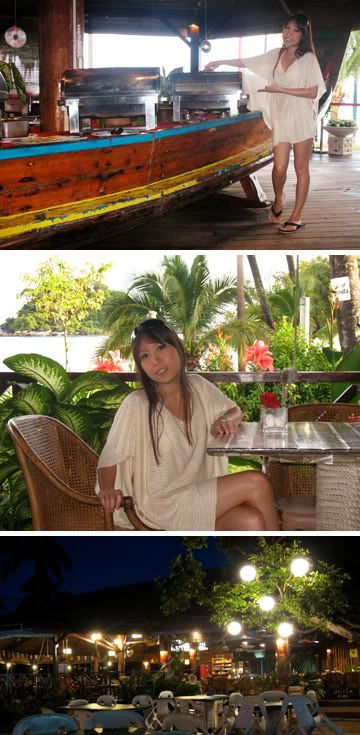 Swimming Pool with Sauna & Beach Bar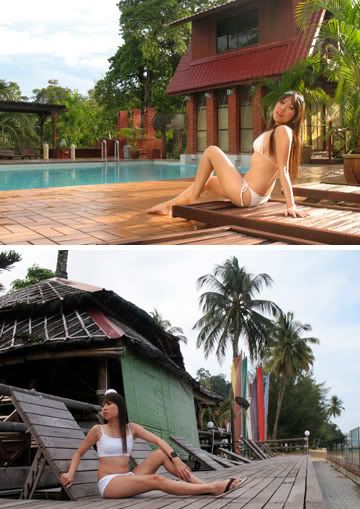 Day & Night Beach Bar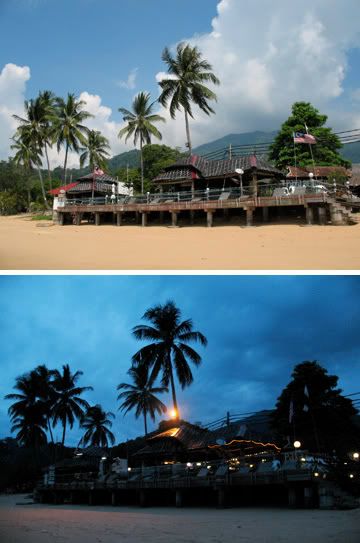 Okay... now, what did I miss describing...? Oops... Oh yeah! The Beach! The Sea! That's what we come here for isn't it?!? The promised fine sandy beach & crystal clear azure seas! xD
When we arrived at the jetty, I'd noticed the water at the beach is very clear. I've never seen any sea so clear before. Wow! You can see the bottom & it's so clean! Look! You can see the corals & zillion of fishes! It's so amazing! Okok, laugh at me, but I live all my life in a island city where the sea is mucky, dirty & most beaches are artificially build with coarse sand, loaded with tons of garbage! Coral or fish is non-existing! Call me a prune, but I will never swim at those disgusting beaches. At Tioman, the sand is so soft, so fine, a delight to walk on & the water looks so wonderfully inviting!

Paya Beach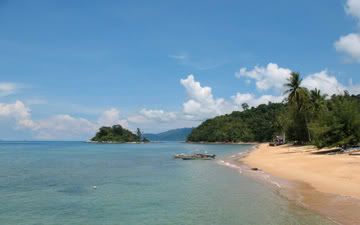 Yeah! Finally I'm at Tioman!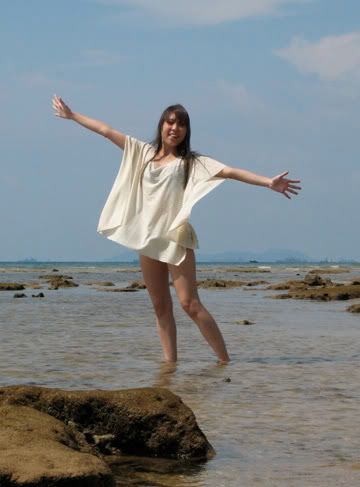 Paya Beach is about 300 meter long. A clear little stream running down to the sea at the North with a tiny island connected by a narrow strip of sandbank which is under shallow water at high tide. Near that island, there are many beautiful sun-drenched boulders & you can find corals right by the edge of the water. Berjaya Resort can be seen from there. Rustic Paya Village sit at the Southern end of the beach. Overlooking it all is a forest covered mountain. The place is so very BEAUTIFUL!

Lovely Beach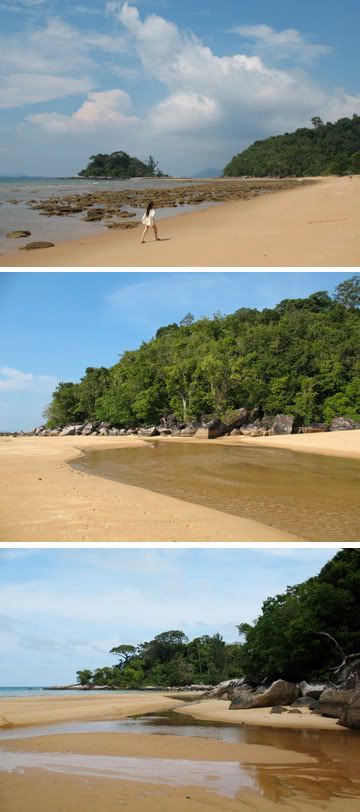 Rainy Beach, Sea at Paya & Beach Ball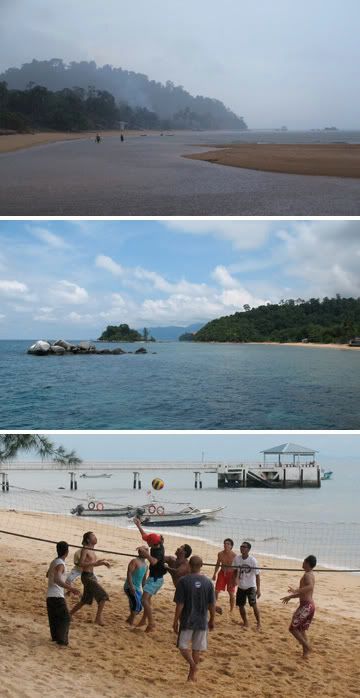 Stream, Mountain & Cloud Shrouded Granite Outcrop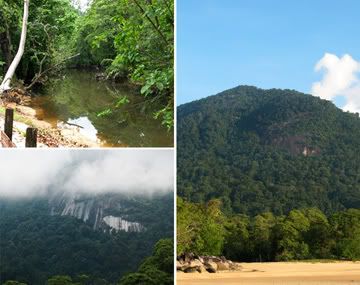 Another beach bar & at the jetty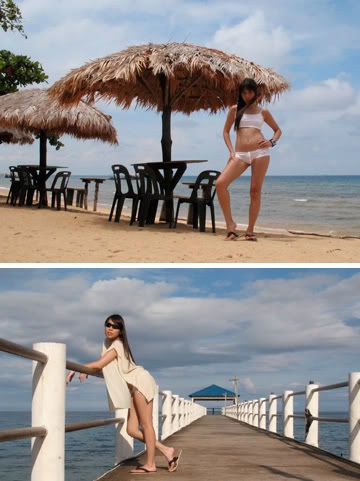 Pavilion near the jetty & a Malaysia flag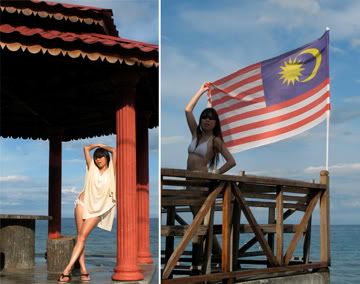 New boats at sea, old boats rotting in the river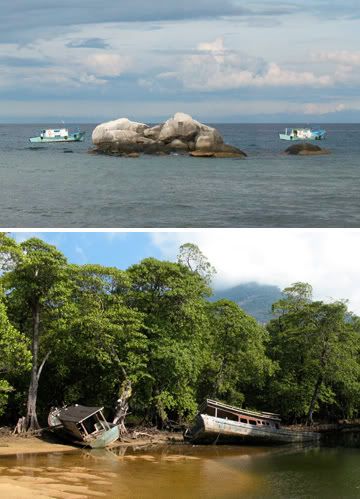 Looking at Berjaya Resort, Beach Rocks & Dusky Beach

More Rocks & a Clam Shell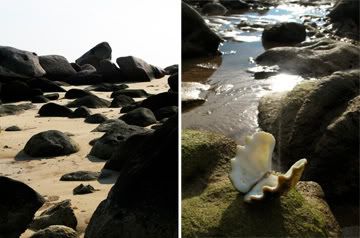 The only disappointing sight is a vandalized rock...

Pointlessly done on 8th Jun. 2002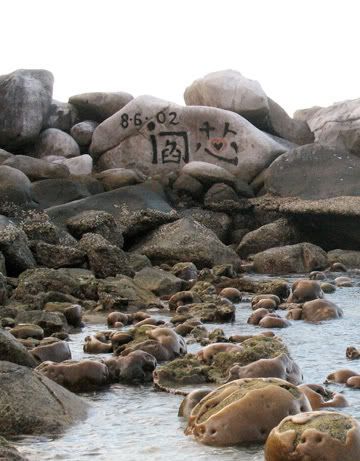 Night Sky
Even thought I dunno many of their names or constellations, I simply love star gazing. In the city, not much can be seen. My dear companion promised me the stars at Tioman. On the first night, we walk away from all the lights & down to a pitch dark beach. I'm afraid of the dark... never been to a place so dark. I couldn't see my outstretched hands! Cling to my bodyguard all the way, head down desperately trying to see the ground. Born & raise in a no electricity kampong, jungle trained, my fearless soldier have no problem with the dark. My fear instantly vanished when he told me to look up at the night sky... What a spectacular sight! Speechlessly Stunning! MegaZillion of bright stars hang above me... like bright sparkling of dust. Planets, Stars, Constellations... Look! A shooting star! Jupiter, Mars, Venus, Rigel, Orion, Sirius, Pegasus, Andromeda, eh... is that the Southern Cross? And at Tioman, for the first time in my life, I saw a gorgeous silver river in the sky, the majestic Milky Way. Mind boggling to think of the zillions & zillions of stars in our galaxy. It's a little intimidating & above all, it's beautiful. It's MAGNIFICENT!
Snorkeling
After looking upward at the sky, I'm going looking downward into the sea... ahuh... going snorkeling & I have a little problem. Open water phobia! Little girly hamster me have way too many fears! I can swim pretty well & was not afraid of water till my late teen. Certain incidents happened & I acquired this little phobia... not exactly a phobia, but am alittle afraid of big stretch of open water, a big pond, a lake or the sea.

Preparing for snorkeling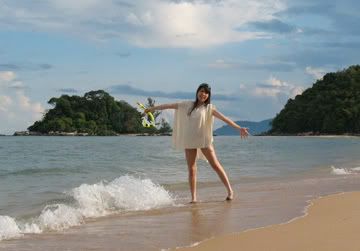 Nervously Onboard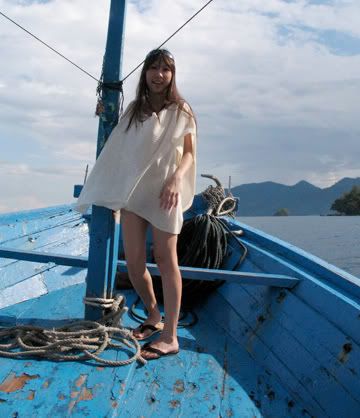 Reached the snorkeling spot... it's time. My mind went empty... BLANK! I can't even recalled entering the water. One minute I was safely on the boat, the next I was in the BIG frightening sea! PANIC! HELP! SHARKS! I AM DROWNING!
My companion soothed me, told me I won't drown as I have a life jacket on. No worry, no sharks. Look... look down. Timidly, I peep... woah! Another first! I am looking at real live corals... bewitching sight. Fan corals, Stag-horn corals, Brain corals... sponges so vibrant colorful. Brightly colored fishes swimming among them. What are those black spiky balls? Sea Urchins! Slowly, my fear receded, pushed away by the wonderful scene below me.

Renggis Island, Snorkeling Spot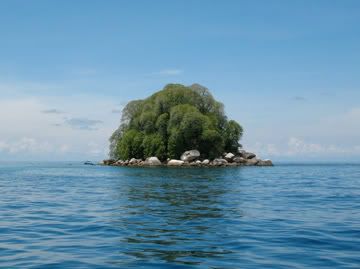 Sea Hamster! xD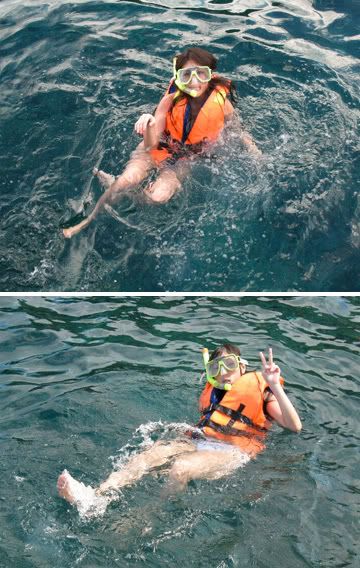 Coral Sightseeing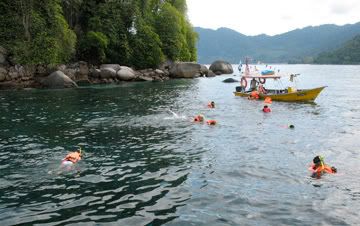 After snorkeling at Renggis Island, the boat took us to Marine Park. What are we suppose to do there?

Tioman Marine Park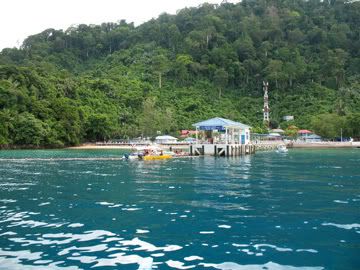 To be fish food, of course! LOL! There are thousands of big fishes in there & you feed them with bread... ya, Fish Charity Service. =P

Doing fishy service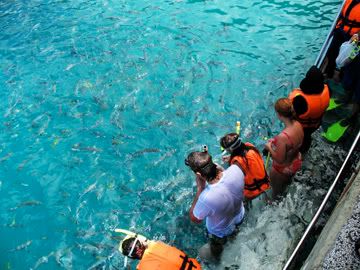 Don't eat me! I come in peace!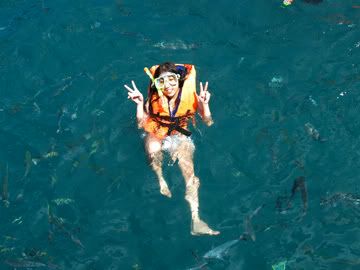 Here you go little fishies...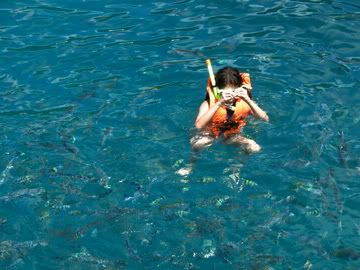 Damn! I'm outta bread!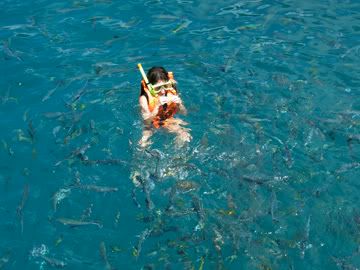 Hey! That's my toes, not bread!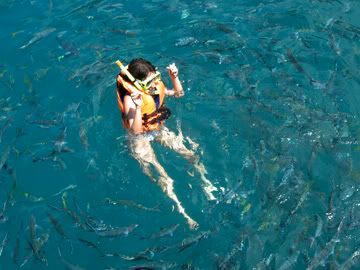 I'm exhilarated!
I come to snorkel in Tioman
I see corals, fishes, & sea urchins
I conquered my fear of open water
Love snorkeling! Gonna get my own gears next time! No more life jacket. I'm a Sea Hamster! xD

Jubilated Sea Hamster! xD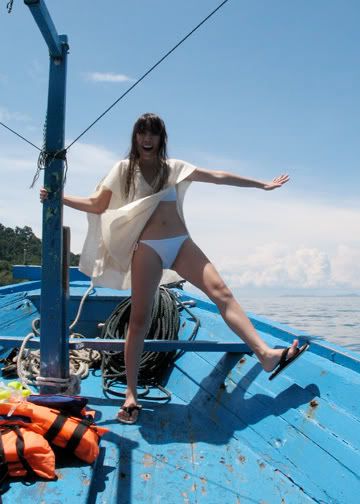 Wildlife
Tioman is teeming with wildlife. Birds in the air, fishes in the sea, corals on sand, animal in the jungle. Aside from the numerous birds, fishes & corals, I'm rewarded with a sighting of a sea turtle(which dived too fast for me to capture pic). Confronted live top shell, sea cucumber, sea urchins, crabs, toads, monkeys, giant beetle, hornet, flying ants... heard an owl hooting, but can't see it among the trees & dinosaurs!

Birdies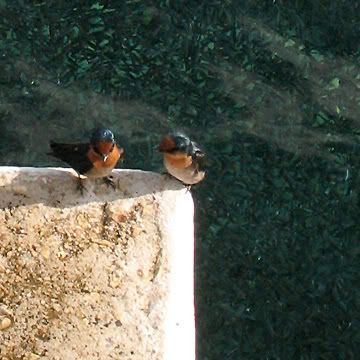 Millions of Fishes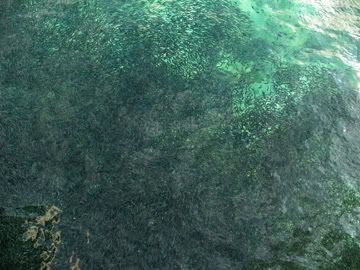 Swarms of fishes feeding on beard which I threw from jetty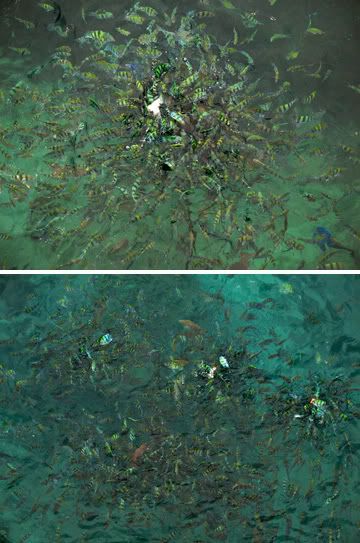 Small fishes jump when big fish attack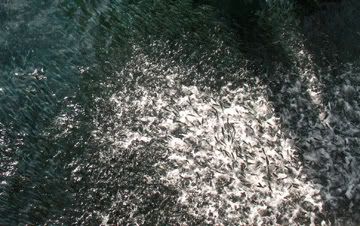 Corals at the jetty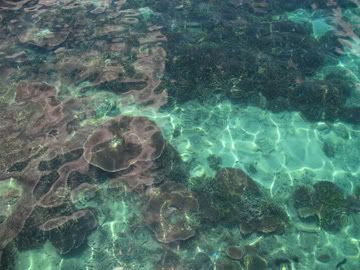 Corals near the beach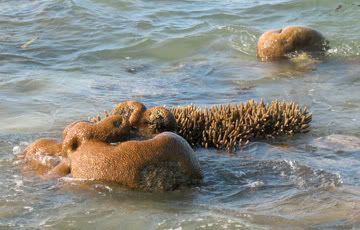 Coral Discovery! (We didn't touch nor damage them)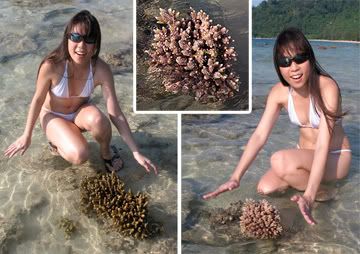 Sea Cucumbers & a Sea Star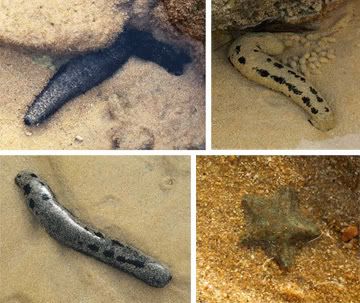 Hermit crabs & a dead land snail

Crab, live & dead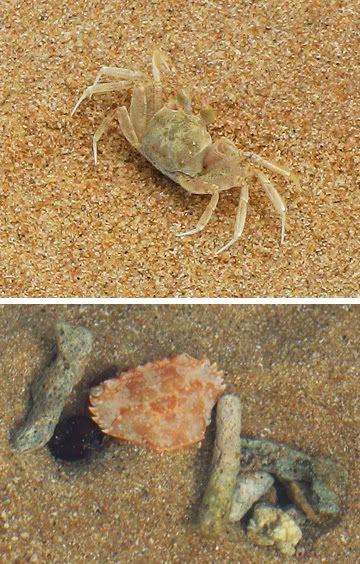 Sea Shit? xD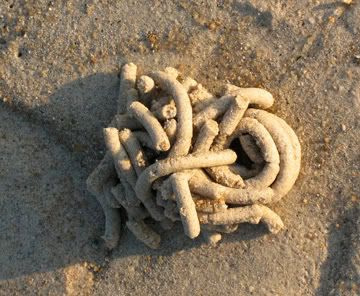 Sea... WTF?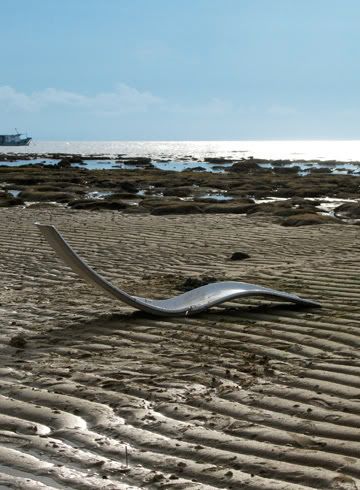 Sea Eggs?!?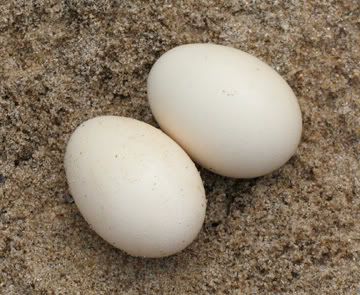 Oh... some village hen anyhow laid eggs which rolled down to the beach.

Village Fowls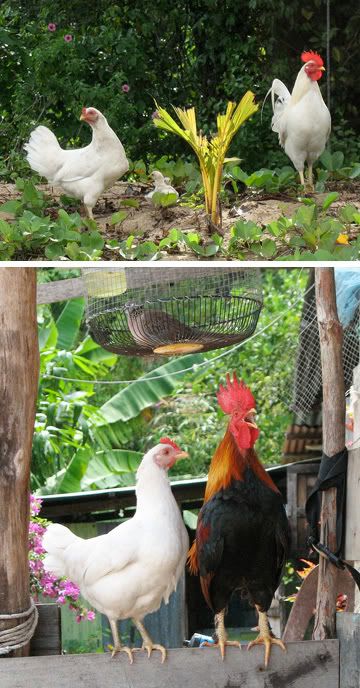 Hornet Nest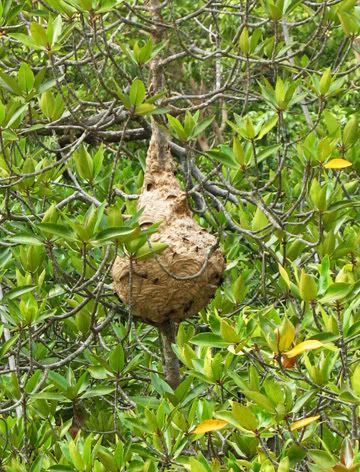 Mangrove & Coconuts Thief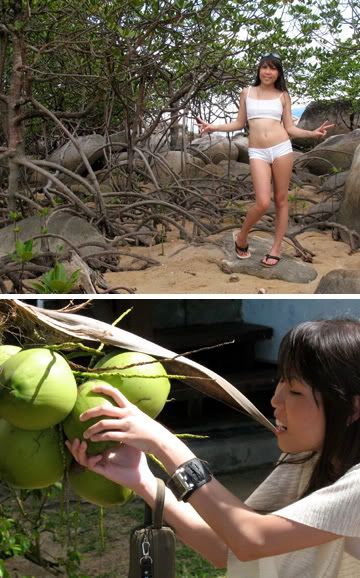 Morning Glory at the beach & what's this fruit?

A not-so-wild Tioman cat =P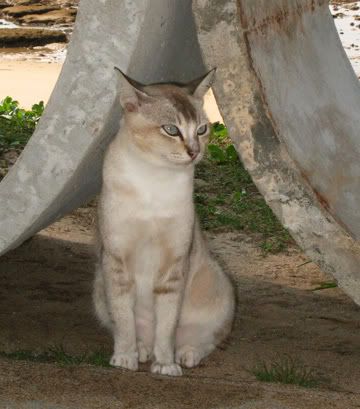 Toad with earthworms & toad in the restaurant

And the most adorable things on the beach?

Cute Little Girl & a Mermaid xD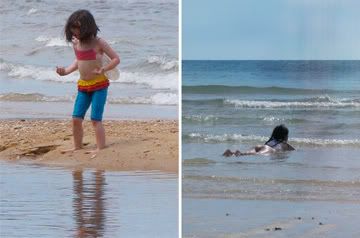 Close Encounters
At low tide, found a big(about 12 cm in diameter) Top Shell sitting on dry sand. Thought it was dead. Pick it up...

Top Shell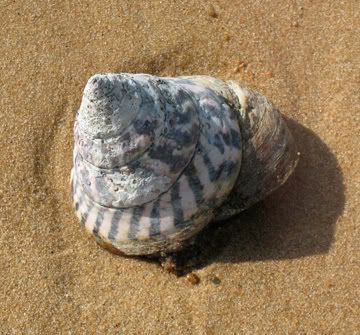 It's Alive!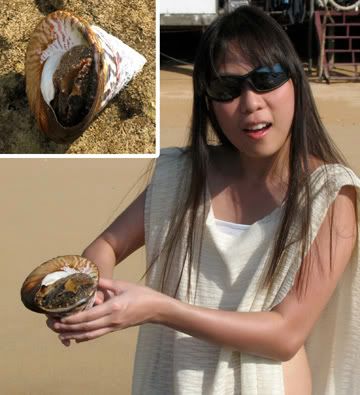 Set It Free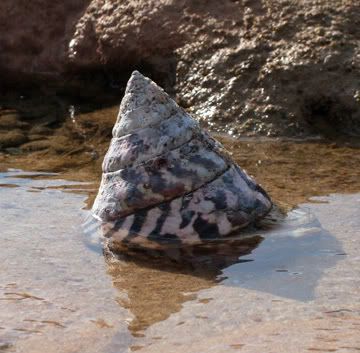 While walking on a sandbar, saw a fancy colored crab climbed out from under a rock & crabbed obliquely across my path into the open... why did it do that for? Not afraid of predator? Too brave for it's own good? Come to challenge me for territorial rights? Ok, challenge accepted! xD

Brave Little Crab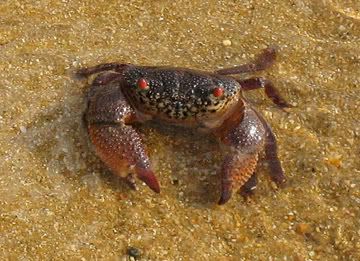 Challengers engaging each other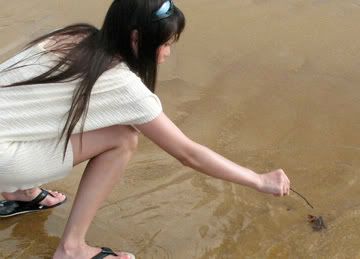 Gleeful dual with a crab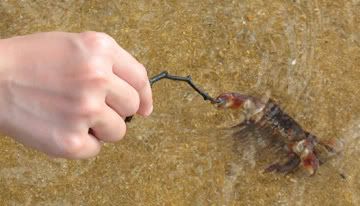 Little crab is too tough for me & I'm too wily for it. We called it a draw, bid farewell & went our separate ways. =P
In a late afternoon, we followed a couple of village boys digging clams for their dinner.

Clam hunting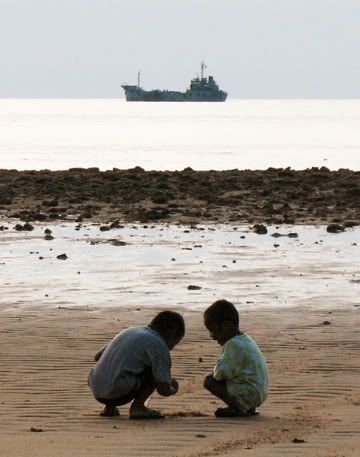 Suddenly, I spotted a big fish in only 1 inch of water laying on the sandy bottom. Thinking it was a dead fish washed up by the tide, I approached it. Then I noticed it's mouth is gaping. It's still alive & it's big, about 40 cm in length! It must have been stranded by the receding tide or chased it's prey into shallow water & got stuck. Forget about the clams, boys! Here's a big fat fish for dinner!

Fishy Dinner!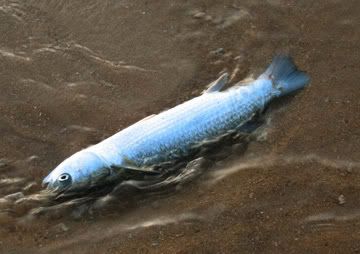 It's too big & too strong for the boys. They can't get a grip on that struggling fish. Two fighting for their dinner & the other fighting for it's life.

Little Novice Fishermen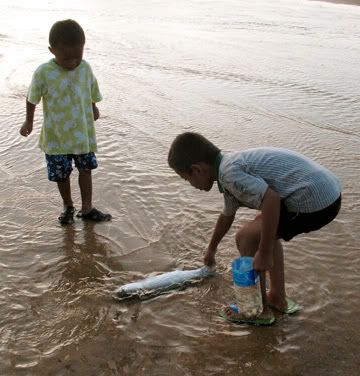 Alone came a couple of tourists, a father & son. The father helped captured the fish & took it to the boys' home. Happy happy! Went for small small clams, came back with big big fish! xD

Tips on how to catch a fish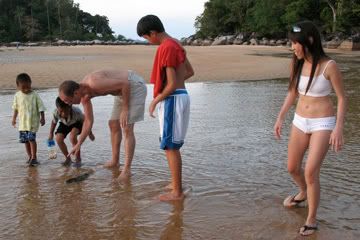 Another fish was an easy catch...

It was definitely dead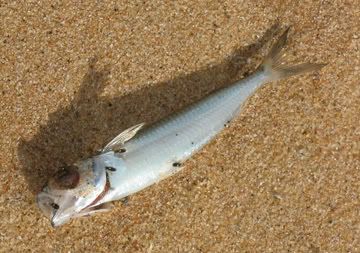 And was pounced by the village cat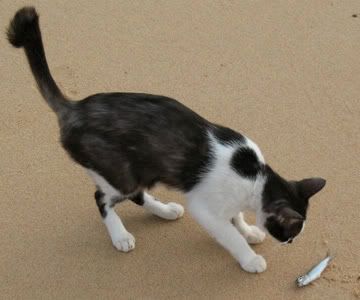 Which devoured it from tail to head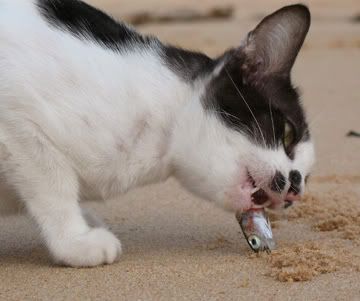 Creepy Crawlies anyone? Manz... the insects are giants on the island! Sound like some fantasy/sci-fi lost world movie eh? When we checked into our chalet, there were huge mosquitoes inside. Big bloody 2 cm flying commandoes! Before we bought a can of spray, we used our palms, decorating the walls with flatten mossie. LOL! =P
One evening while having dinner at the resort restaurant, we were assaulted by gigantic flying ants. My gallant protector smashed a few.

Big as a 50¢ coin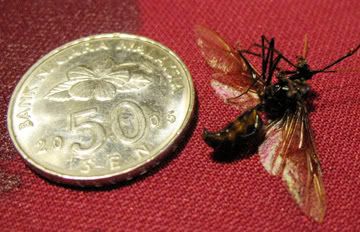 Another evening, also in the restaurant, I was startled by a loud terarararaaa sound coming from behind & above me. Turned around & saw this huge, I mean HUGE black flying thingie. Panic Station! Scream beginning to build in my throat. Was saved from embarrassment by 2 village kittens which always hang around in the restaurant looking for treats. One kitten jumped onto a table, sprang & swapped the intruder down from mid-air. Wow! IMPRESSIVE! Cats in my city are fat, lazy & pampered. The action of those cute village kittens reminded me that cats are actually ferocious predators. Agile, swift & lethal. Domestic cats brought by colonists & run wild had destroyed many ego systems in places without predator. Thankfully, that didn't seem to happened in Tioman Island.
A resort staff chased the kittens away from the downed flying thing & retrieved the P.O.W(Prisoner of War). OMG! It's a enormous female Rhino Beetle! This is the biggest insect I ever saw in my life! Ya, I'm chalking up lots of 'firsts' at the island. That beetle is about 8~10 cm in length & have sharp hocks at the ends of all 6 legs! Call me a sissy, but I'm not going anywhere remotely near that MONSTER! That guy who handled the beetle had trouble removing it from his hand. If THAT landed on me, I will freak out...

Beetle hocked onto hand of resort staff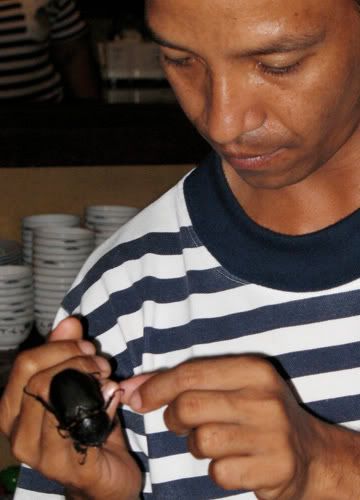 Giant Female Rhino Beetle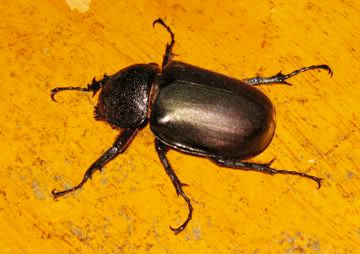 Monkeys! A whole troop, some 20 of them including babies clinging to their mother's belly or back, appeared one fine afternoon at the rocky end of the beach, looking for seafood I guess. Monkey watching with my little binocular. They were a little too far for my cam to get good shots.

Seafood-loving Monkeys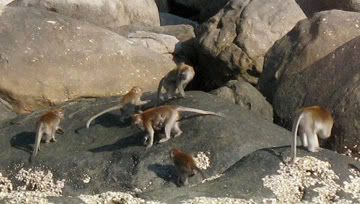 We went to the same spot again the next day. My companion handed me the bino, but I commented... "No need, no monkey" Right after saying that, I had a strange feeling that someone is behind me. I turned & there was this MONKEY sitting atop a rock staring at me! One moment it wasn't there & the next, it was. Magic! xD
It is a male & had caught a crab. It was cracking the crab carapace apart by smashing it on the rock.

How to eat a crab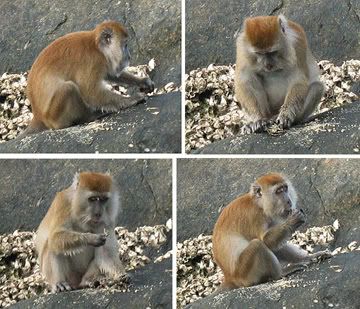 Murder Evidences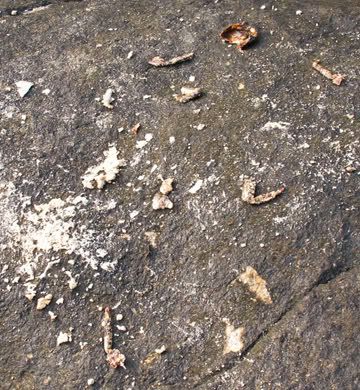 Guess that lone monkey which made the tiny island it's home, is an exile from the troop we saw earlier. It ain't afraid of human. You can get within 2 meter before it feels threaten & move away. We saw it again another day when we noticed a commotion among the rocks at the tiny island. A group of British tourists claimed that the monkey was trying to pinch their stuff left on the beach while they went swimming. Naughty, naughty!

Exhibitionist Monkey


Stone Monkey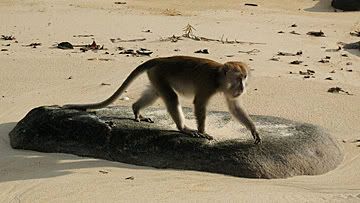 Lonely Monkey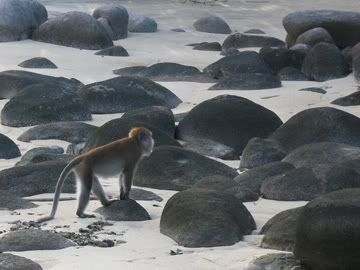 Abundance of Lizards. They were everywhere! What do you expect? It's a jungle out there, girl...

A pretty tree lizard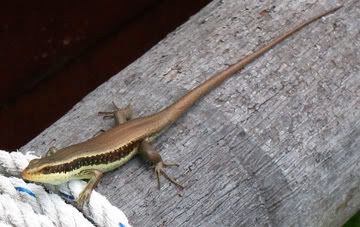 What I didn't expect was the 'little' surprise I wrote about earlier. Remember our chalet by the fish pond? It was situated next to a stream running behind the resort. The opposite bank of the stream is jungle leading all the way up the mountain. On the first day, we were returning in late afternoon & right beside our chalet were 2 dinosaurs! I froze. VERY GIGANTIC DINOSAURS! My fearless companion sprang into battle station. He grabbed the camera from the bag. The dinosaurs saw us & scrambled. My friend chased them till they splashed into a pond, swam to the other side, crawled out & disappeared from view into the jungle. They were damn fast! Slithering away like some ancient reptiles, which in fact they are. Remnants of bygone era, from the age of the dinosaurs, hundreds of million of years ago. They are Giant Monitor Lizards. Water Monitor actually. Over 2 meter long, from head to tail. Good eating, taste like chicken. LOL! I'm kidding.
We suspected that these 2 giant monitor lizards' home burrow is at the river bank directly opposite our chalet. Their daily patrol route passes our chalet everyday, leaving tail drag marks on the sand. We saw them a few more times, but they were very alert with fast reactions. Not easy for my photo hunting friend to get a good shots.

Dinosaur

Blue Tongue Giant Monitor Lizard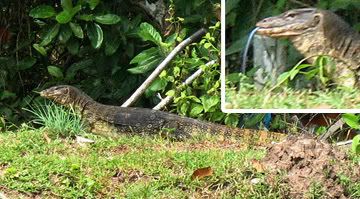 There are many of those Giant Monitor Lizards near the resort. Saw 2 smaller ones swimming at the river mouth & one morning, saw another small one swimming in the fish pond at the chalets. Fishing for breakfast? =P

Baby Monitor Lizard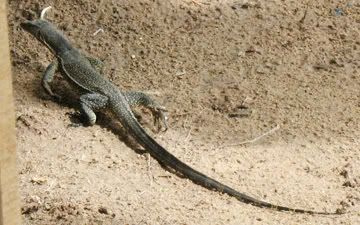 In such a short period of time, I've never encountered so many types of wild animals before & I didn't even go into the jungle. Sheltered city girl me is almost always in a constant state of astonishment at the island. Seems like Tioman put on a fine display of her kingdom to welcome me. =P
My Activities
Apart from ogling at animals or plants, spend most of my time exploring tidal pools, lazing, sun-tanning & swimming at the beach.

Beach Animal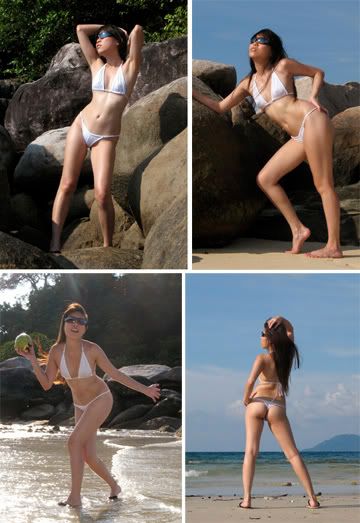 From Rock Climbing to Sunbathing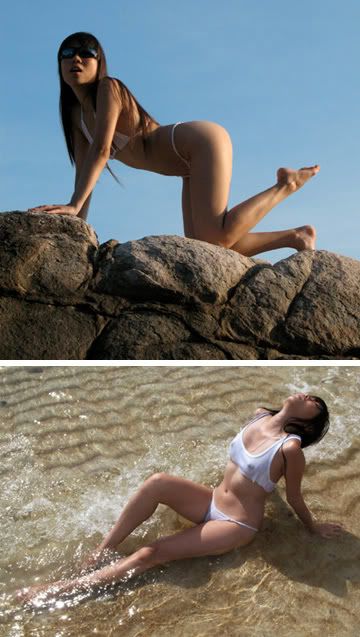 And got stung by some sea animal...

Itchy!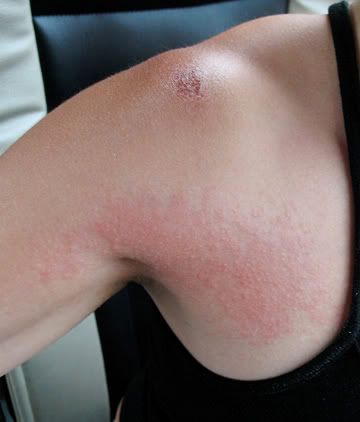 Dunno what stung me when I was playing in the shallow water. It caused a rash to appear at the upper part of my armpit. Abrasion on shoulder was caused by life jacket on the snorkeling trip. Nevertheless, I really enjoyed my stay at the magical island.

My name on sand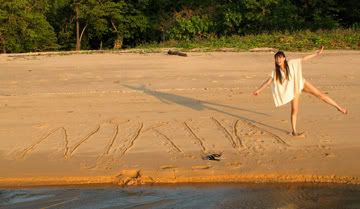 I Love Tioman!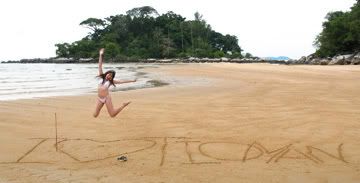 It's a sad day when I have to go back to a stressful working life in a noisy, overcrowded, dirty city. However, I brought back many pleasant memories from an enchanting place. Memories to stiffen my sanity, reminding me that there's more to it than a zombie lifestyle. Memories I will cherish & remember forever.
Wonderful Tioman(click on image to see bigger pic)

Farewell to a Magical Island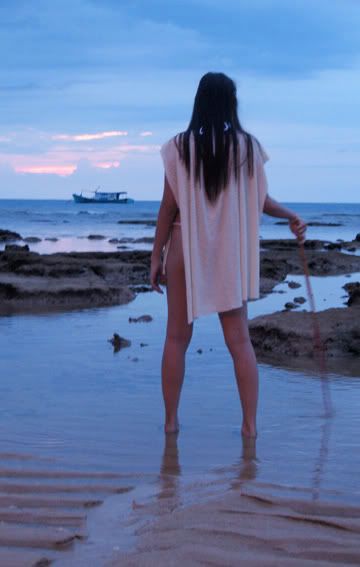 According to legend, Tioman Island is the resting place of a beautiful dragon princess. Whilst flying from China to visit her prince in Singapore, this beautiful maiden stopped to seek solace in the crystal-clear waters of the South China Sea. Enraptured by the charms of the place, she decided to discontinue her journey. By taking the form of an island, she pledged to offer shelter and comfort to passing travelers.
I miss Tioman. Think I am addicted to that fabulous island. Sure is going back again. Might even make it a yearly pilgrimage. Till we meet again, I will be missing you, Dragon Princess!
Note: More & larger pics can be viewed in my album.
Labels: Beach Holiday, Beach Resort, Malaysia, Nature, Vacation