"24 Seven Heartland Beats" Photography Competition
26th Feb, 2010 ~ Late last year, for the first time in my life, I joined a photo competition & it was a nation-wide one. The
"24 Seven Heartland Beats" Photography Competition
was organized by HDB(Housing & Development Board) of Singapore with Nikon as the sponsor. I indulged in photography, but isn't much of a hobbyist photographer, just an opportunist one. Took pics if & when passing by only, lazy in going after any particular subject in earnest. Worse is, didn't own & dislike carrying a bulky DSLR. When I learned about this contest, I was quite hesitated in taking part coz I knew in such major event, 99% of the entries will be shot using DSLR & many contestants will be pro, semi-pro or devoted hobbyists. Me with my silly point & shoot camera won't stand much of a chance. It would be a very very tough challenge going against those odds. However, the prizes are very attractive, camera & cash. I plucked up my courage, took faith in my skill/talent & submitted 10 photos for the Open Category. The closing date was 31st Oct, 2009. Nov, Dec & New Year of 2010 passed without news. Actually I had forgotten about the whole thing until...
Imagine my utter surprise & joy when in mid-January this year, I got a call from the organizer saying that I won a prize! OMG! WOW! I was EXHILARATED! There were over 8000 entries for the open category. Imagine pitting my small camera against all those pro, semi-pro or devoted hobbyists with their big powerful DSLRs & I won! Among the selected 63 winning photos in the open category, I believe mine is the only 1 shot by a point & shoot camera. WOOT! xD
So, on Friday, 26th Feb 2010, I went to the prize presentation ceremony cum official opening of photography exhibition at the HDB Hub Mall, Toa Payoh Central. The winners wasn't told what prize we had won till our arrival at the venue. I discovered I had won a Merit Award. To tell the truth, I couldn't care less what prize I'd won. I mean, this is the very first time I'd taken part in a photo contest, an open category nation-wide one at that & I couldn't believe that I had won something using my little camera! Can't blame me if I am a little proud of my achievement, can you? Power to the Hamsterish Photographer! xD
Prize presentation cum photo exhibition @HDB Hub Mall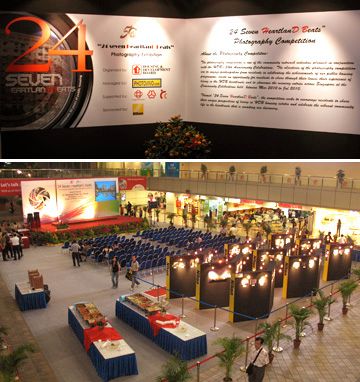 Proud Hamster Photographer! =P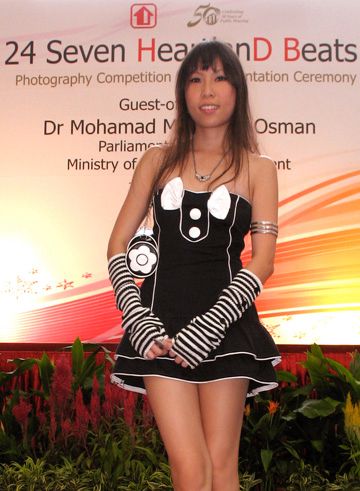 The event started off with some stage performances after the arrival of the guest-of-honor, Dr Mohamad Maliki Bin Osman, Parliamentary Secretary, Ministry of National Development.
Stage performance watched by VIPs, contestants & guests.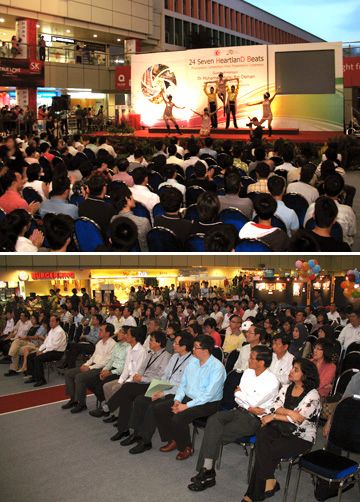 Hamster patiently waiting in the audience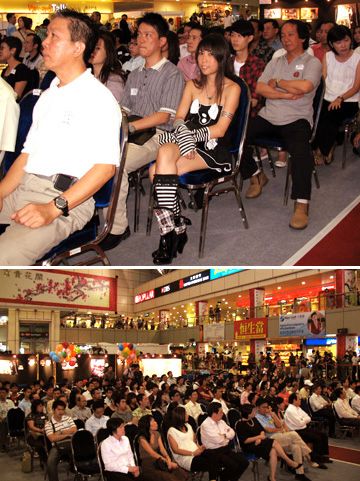 The performance was followed by an opening address by Dr Mohamad Maliki who is also presenting the prizes to the winners.
Opening address by guest-of-honor, Dr Mohamad Maliki
Prize presentation time came & oh boy... I was so excited & at the same time, scare! I had stage fright, mouth dry! Luckily nothing unduly happened & I got through the presentation smoothly. xD
Dr Mohamad Maliki giving me my prize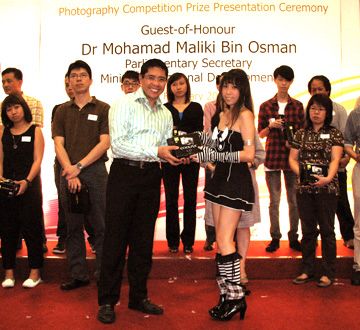 Merit Award winners with Dr Mohamad Maliki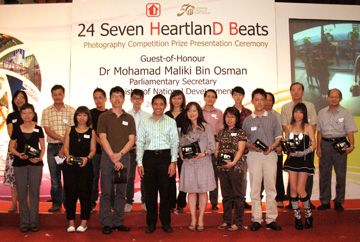 After the prize presentation, comes the opening of the photo exhibition by the guest-of-honor, CEO of HDB & Nikon representative.
Official opening of photo exhibition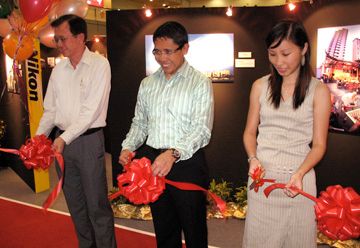 It was also the start of the buffet dinner & it had sushi, my favorite food! Yummy! =P
Buffet Dinner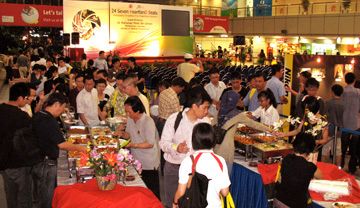 All the winning entries were displayed at the photo exhibition. I took pics of the 1st, 2nd & 3rd prize winner of the open category, but I forgotten to take the photographers name. My apologies if I did not credit the winning photos below.
1st, 2nd & 3rd prize winner of the open category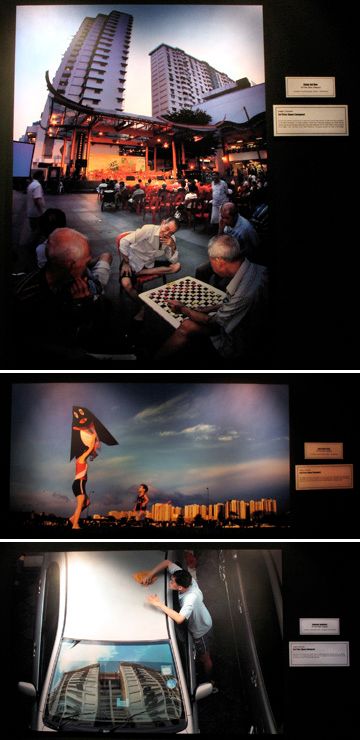 And of course, most importantly, to me at least, is my Merit Award photo displayed at the exhibition. To see the original photo in my album, please click on the below pic.
My winning photo with admirers taking pic of it. xD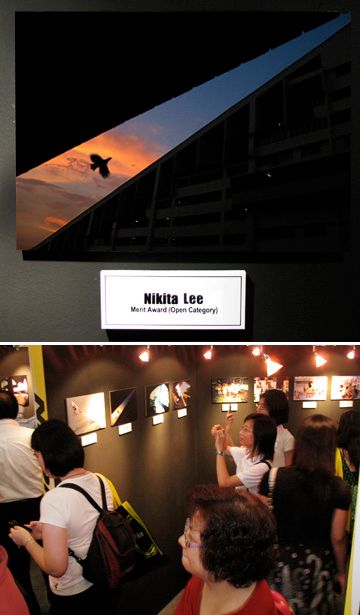 What did I won? Beside the glory, S$100 cash(cheque), a Nikon CoolPix L21, a certificate & a 5R photo of my entry.
Merit Award Hamster Photographer! xD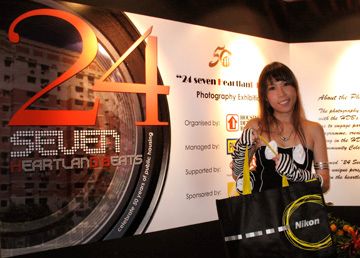 Am proud to say, with just my small, but faithful point & shoot Canon A630, I Did It My Way! YEAH! =D
Me with my trusty Canon A630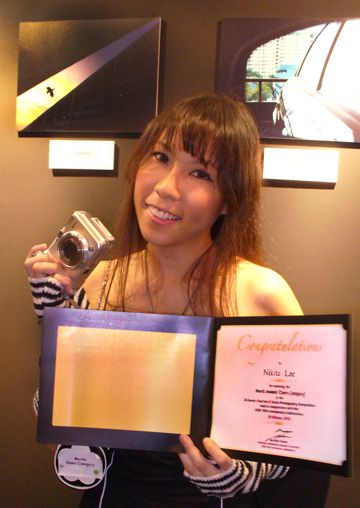 Now, I'm a fully certified photographer... with point & shoot camera only! Heeheehee... LOL! xD