Sundown Festival Seoul'd Out 2009
12th Dec, 2009 ~
Annyong Hasaeyo! Saranghaeyo!
Haha... that's 'Hello' & 'I love you' in Korean.
Hengbok
, my online nick, is 'Happiness' in Korean. It all started coz I used to love Kpop, that's Korean pop songs for those not in the loop. Beside, many mistook me for a Korean. Certain people had mistaken certain pics of me for Lee Hyori, a Korean singer. Even my dad, when saw a pic of BoA, thought it was me! xD
Anyway, my Kpop era was of the 90s' & my favorite group was H.O.T. Favorite singer is BoA. I used be fanatic over them, collecting all their albums, MTV & concerts. However, my interest in Korean music had waned as I don't quite like the new changes in Kpop.
Then out of the blue, Jan, one of my FaceBook friend, a German guy working for a company based here, contacted me, asking would I like to attend the
Sundown Festival Seoul'd Out 2009
at Fort Canning? I knew about the event from the news, but had no plan for attending as there's an entrance fee. Furthermore, as mentioned, I've not much interest in the current Kpop. But Jan told me he knows the event's main organizer & can get me in for free, as VIP. So I thought, why not? =P
Sundown Festival Seoul'd Out 2009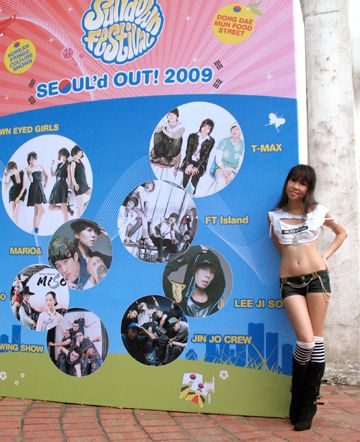 Met up with Jan whom, beside me, brought along 2 other girls, Jae & Sha. Together, we went up Canning Hill & upon nearing the event venue... Oh my! The queue was nearly a kilometer long from the entrance! No problem, as Jan assured us that we will get in long before them. We went all the way to the front of the queue & waited for Jan's organizer friend at the entrance. Jan's friend brought us to the VIP tent nearby in which we were each given a paper wrist band & thankfully for that, we sort of 'jumped' the queue. Envied by those in the long queue we were! Heehee... =P
VIPs by default xD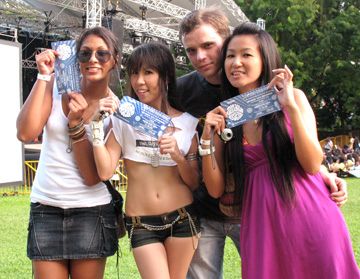 Hamster celebrity @Seoul'd Out 2009 =P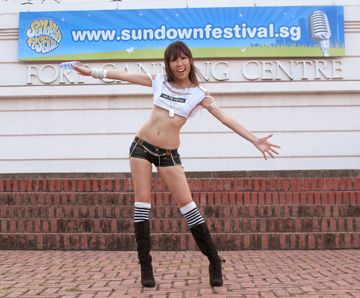 I was quite surprise by the huge turnout of thousands of mostly teenage fans. Back then in my time, Kpop had only a tiny following locally compared to the more popular Jpop(Japanese pops). I had much difficulties in getting my favorite Korean music albums. Had to specially ordered from the few specialize Korean product shops. Glad to see that things had changed.
Stage Front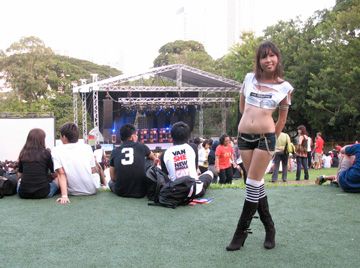 Kpop Fans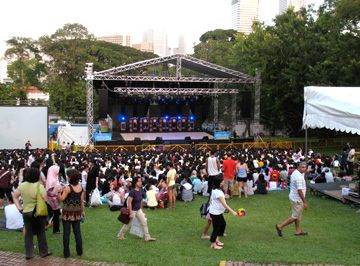 We settled down far from the stage, away from the crowd. Why? Because we are not exactly fans & do not want to mess with the tightly packed crowd & chiefly, Sha wanna be near the liquor tent where she intended to get drunk! LOL! =P
Preparation for drunkenness! xD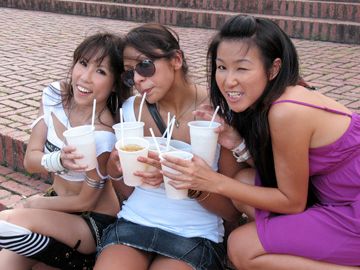 We were joined briefly by Jayce, an online friend of mine who saw me while she was queuing.
From left to right: Jayce, me, Jan, Jae with Sha in the front.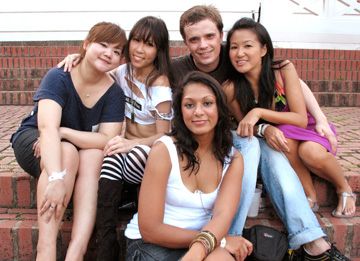 With some drinks in her, Sha was eager to learn some Korean words & I taught her a few. Only problem is, she kept forgetting. So she wrote the words on her fingers & you know what? Whenever someone who looks vaguely like a Korean passed nearby us, she would takes a quick glance at her written fingers, approach the unfortunate victim & with heavy accented or worse, complete mispronunciations, shouted "Annyong Hasaeyo!" or "Saranghaeyo!" at him/her! You should see the looks of some of those who are Korean! They dunno whether to be angry, puzzle or laugh! LOL! =P
A couple of those who Sha tried her abused Korean language on were 2 little Korean kids. They mistook us for performers of the show & not to disappoint or shatter their illusion, we took a pic with them. =P
Fan's service for Korean kids xD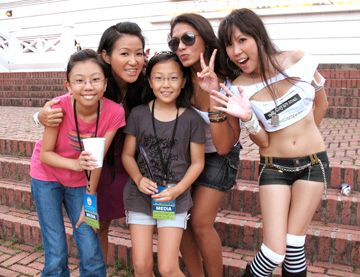 Sha is such a funny fun-loving gal! She told us her survive kit consist of a toothbrush which she promptly took it out of her handbag & started brushing her teeth on the spot... with vodka! We always knew which cup is hers. The 1 with the toothbrush in it! LOL! xD
She is very mischievous too. Earlier, while waiting for Jan's friend at the entrance, we saw a fan who is holding a big placard with a cellphone number on it. Upon seeing that, Sha immediately called that number & when it was answered, she said "Hello sir, your Indian curry is ready. Please collect it." & "You ordered Indian curry, right?" OMG! We had a good laugh over that! =P
Jan was also having a fun time, drinking & making cheeky passes at a lady. So much so that the poor lady had to bring her boyfriend to show Jan that she is not available & after she caught Jan kissing Jae, game over! I guess all is fair at love & war. Back off, loverboy! xD
Truth to be told, it was all in good clean fun. Jan was just being playful & wasn't serious in making any unruly advance towards that lady.
Us with Jan's target, her boyfriend at present. =P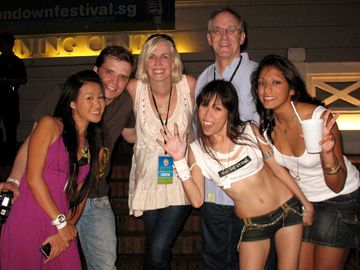 Later, a friend of Sha, Philip came & have a few drinks with us. He's a Serb working at a local Italian restaurant. Told us he was lured to this country by a local girl. They had broke up & he was now stuck here. Anyway, we formed quite an international group with a quiet Hamster, a spunky Indian, a cheerful Chinese, a heart-broken Serb & a rowdy German. With us gathering at a Kpop concert which almost all of us do not understand the language, making us quite the crazy bunch! xD
*If the people mentioned above were reading this entry, a personal message from me: It's a pleasure meeting you! You guys ROX!
Victory to the Crazy International Bunch! =P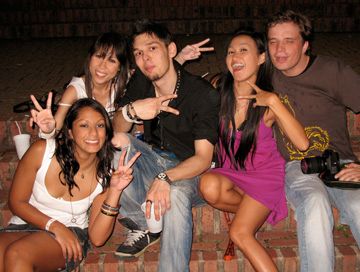 And now, let the real show begin! The concert started off with some Korean cultural performances.
Korean Culture Show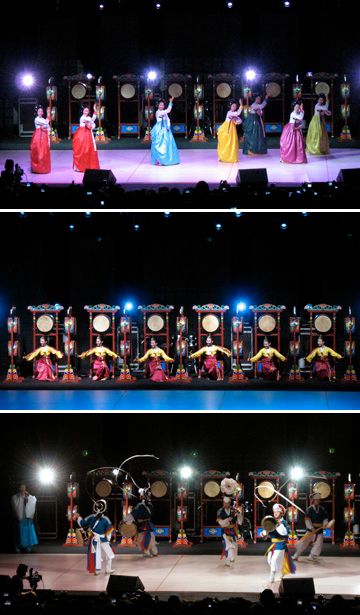 Followed by a musical art performance which artists do amazing paintings in conjunction with high energy music.
The Drawing Show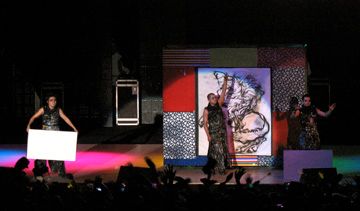 Next on the list is the acclaimed JinJo Crew - B*Boy Dancers doing their highly intricate style of dancing.
Complex & gravity defying performance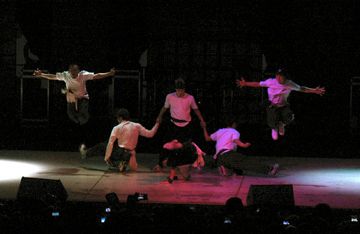 After which, came on Mario& singing duet with Park Si Nae.
Singing Duo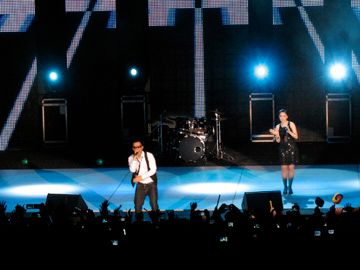 More Kpop hits followed, sang by T-Max, an all-male trio. Guess they are very popular by the calls of encore which they obliged.
Maxing to the T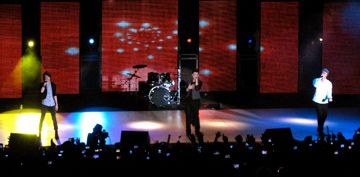 And it's the turn of the band known as F.T Island to belt it out.
Korean Rock & Roll?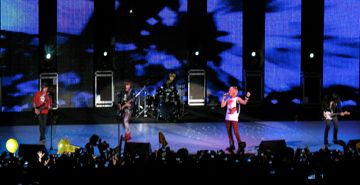 Finally came what I'd been waiting for! A group which I have a little idea about regarding the current Korean pop music scene, the immensely popular Brown Eyed Girls! They consist of a quartet of pretty girls singing hybrid Hip-Hop music. Even though I might not have much interest in the current Kpop, I definitely loves seeing pretty girls performing on stage! =P
The Brown Eyed Girls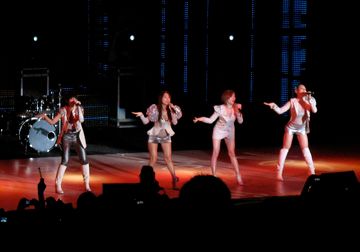 Seoul'd Out? Judging by the crowd, the concert was a sold out. It was quite an refreshing experience for me as well, a nostalgic link to my early teen years when Kpop rulz! xD
Fort Canning sang to the sound of Kpop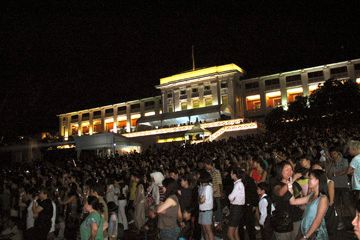 I didn't stay for the ending of the concert. Jan, Jae & Sha had left before the last performance. And I do not want to rush out with the crowd, so I left after watching some part of the Brown Eyed Girls' performance.
Before that evening, I'd planned to meet up with Nath at the SupperClub which is quite near to Fort Canning. We took a stroll as the night was cool & the X'mas street displays is nice to look at too.
X'mas Lights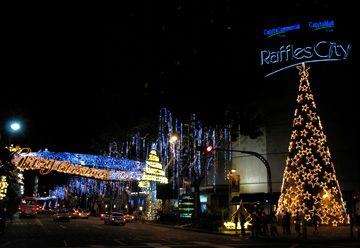 Turned out that Nath had went to a friend's birthday party & will only be back after midnight. To my disappointment, SupperClub is smallish, with a tiny dance floor & very smoky. Only thing of interest was an amateurish fire bottles juggling performance at the bar counter with some beginner jugglers burning their hands when catching the bottles at the wrong fiery end. Ouch... =P
Playing with Fire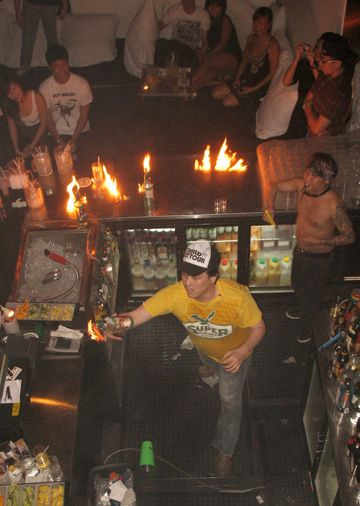 Went outside to wait for Nath & she showed up after 1am with some friends. Together we went back inside Supper Club, this time into VIP rooms Not much happening, not my kind of music. We split soon after. What an anti-climax to the earlier sexcitement of the evening.
High & Low Cuts xD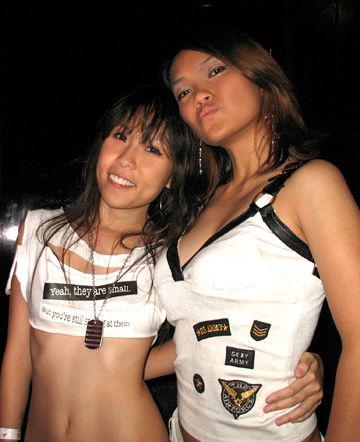 Labels: Event