Leonid Meteor Shower
18th November ~ 3am on a cold Wednesday night, I eagerly went down to a park nearby. The park was quite brightly lighted & I wished for a darker place, but it will have to do. On the other hand, the sky was quite clear of clouds. Am I crazy or what? No, there was a reason for my crazy behaviors. First off, I'd a bodyguard with me & secondly, I'm sexcited with anticipation. I'm watching for the Leonid Meteor Shower.
Info about Leonid Meteor Shower:
Link 1
,
Link 2
.
Since young, I have a fascination of watching the sky, especially at night. I love star gazing! When in primary school, most children opts for Zoology Club as an ECA(Extra Curriculum Activity). Me & a very few others joined the Astronomy Club. This interest of sky gazing have stay with me till today. However, I am no hobbyist astronomer. I can name a few stars, planets & constellations. That's all to my knowledge of the sky. Anything with too much scientific or technological details, my mind will freeze & eyes graze over. I'd seen the Milky Way at Tioman & that magnificent sight overwhelmed me so much so that I am scare of it even! Without much profound knowledge, I'm just a little hamster who love to watch the sky. =P
In a bright city, it's not easy to see shooting star, but I'd managed to see a few colorful ones. My first encounter with meteor shower was also the Leonid Meteor Shower. It was in 1999, a little young schoolgirl with a few friends went to East Coast Park to watch the night show. That night, I counted 13 hairline streaks. When I saw on the news a few days ago that Leonid Meteor Shower will be visiting Earth again, I was pretty sexcited about it. That's why I was up on a cold morning at 3am, in a park clanking my head looking up at the night sky. In spite of being in a place much brighter than my first encounter with Leonid Meteor Shower, it was actually a more spectacular experience.
I counted 7, much less than my first time, BUT they were fantastic! From my first experience, I expected only hairline streaks. This time, what I saw wasn't anything I'm expecting! At 3.30am, when I sighted the first one, it was like a thick long blueish-green laser beam flashing across the sky! I wasn't expecting that! OMG! It was so UNBELIEVABLE! I was so shocked that I screamed so loud I might had frighten all the frogs, toads & crickets in the field! LOL! xD
My little point-and-shoot camera is not up to the task of photographing shooting star, hence the following image used was taken by Alan Holmes of
Santa Barbara Instrument Group
.
Leonid Meteor Shower Fire in the sky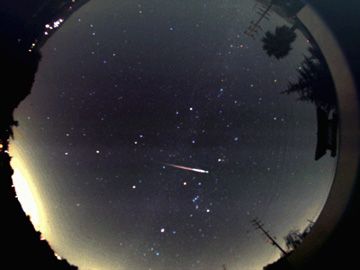 What an awesome experience it was, watching the display given by Leonid Meteor Shower. I love shooting star & hope to see more of them. Oh... I always make a wish whenever I saw one & hope all my wishes come true. =P
Here for the record, shooting stars I had sighted so far:
1999 ~ Leonid Meteor Shower @East Coast Park. Counted 13 hairline streaks.
2004 ~ Green shooting star sighted at Pasir Ris Park traveling towards the North.
2006 ~ Slow moving orange fireball sighted at Bedok North Ave. 4, Blk. 85 hawker centre.
2008 ~ Blue shooting star sighted at Circuit Road hawker centre.
2009, 18 Nov ~ Leonid Meteor Shower @brightly lighted park near MacPherson. Counted 7 big bright ones.