Chinese Opera & Resort World Sentosa (RWS)
7th, 19th & 20th March, 2010 ~ You won't believe what I had been doing or been through the past few weeks. First, it happened when a manager of a Chinese opera troupe was short of a few people for an important upcoming performance. He approached a friend of mine for help & I was hastily roped in to cast in a supporting role. Me performing in a Chinese opera? You got to be kidding! Never in my wildest dream did I dreamt of that! LOL! xD
After just doing a 2 hours training cum rehearse sessions twice, I was pushed off to perform at Kaki Bukit Town Day 2010.
Kaki Bukit Town Day 2010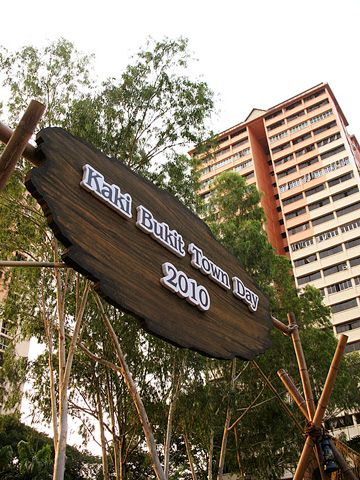 The event was a day of fun & games for the town residents, attended by the town MP(Minister of Parliament), Associate Professor Muhammad Faishal Ibrahim & to top it off, the guest-of-honor was none other than Senior Minister Goh Chok Tong.
Town MP(in black top in 1st pic) & Senior Minister(tallest guy in white top amidst a flag waving crowd in 2nd pic).
What if this little timid hamster had a flutter of nervousness, panic & do it all wrong in front of the VIPs! Geez... I Was Stressed Out! =P
Luckily, nothing went wrong. I just pretended it was just another training session & it got me through. xD
Guess which is me in the below pics? =P
Hamster in Chinese Opera! xD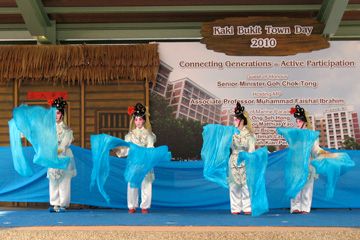 Doing the Waves

The finale featuring the cast of Choy's Brothers Opera Troupe
Just after about 2 weeks after my opera performance, came another public appearance for the Hamster! This time, it was at a much classy place,
RWS(Resort World Sentosa)
with newly opened casino & Universal Studios theme park.
Universal Studio & Casino @RWS
This time, I wasn't in a supporting cast anymore, but the main feature. A Queen of Heart no less! What a rapid promotion! Now, can I scream "Off with their heads!"? LOL! xD
Queen & King of Heart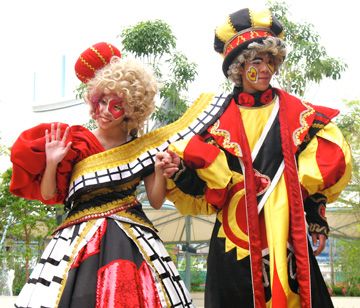 And that's not all. Behold! The Queen & King of Heart on stilts! xD
Towering, Colorful Queen & King of Heart @RWS
How did I do that? During the following week after the Chinese opera, I went for stilt-walking lessons, 2 hours nightly. Yep, you heard right. I'm a Hamster on stilts! Well, I'm always so short when in a crowd & now is my chance to topped everyone, looking down from majestic height! I love walking on stilts! Heeheehee... =P
And it happened that just after a week of stilt-walking practice, on Friday, 19th March, I was called to RWS as a temporary replacement for the female stilt-walker who had fallen sick. As there are so very very few local female stilt-walkers, a chance came for me to be a stilt-walking Queen of Heart, parading @RWS. xD
Parading through the crowd @RWS
With only a week of practice, I was quite nervous & a little unstable, unused to the heavy costume at the beginning of my first parade. After the first few anxious minutes, I was into my stride with no problem at all & on with the show! We were accompanied by a team of percussionists wherever we paraded. It was so fun & I was happily greeting, waving & taking picture with the visitors. Basking in glory? More like baking in that heavy costume! xD
As it was, I went back on the following day for a second performance cos the other female stilt-walker had not fully recovered from her sickness. Not that I wish her ill, but I found that I enjoyed being an entertainer very much. It was fun & the pay is not bad at all. I might not be able to sing nor dance or speak very well, but there are other acts I believe I can do. I simply love to make people happy & see them smile. Wish I could do more of that! xD
And also, I'm a lime light snatching Hamster, remember? LOL! =P
Photo taking with visitors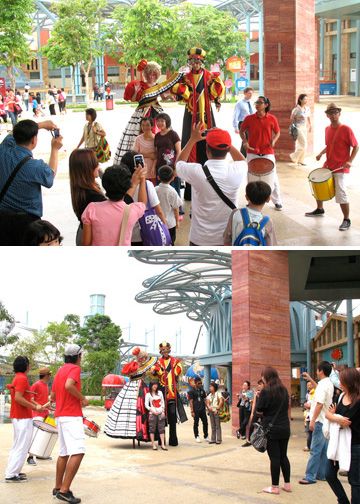 Anyone wanna learn stilt-walking with me? Preferably young females as there is a real shortage of such. =P
Labels: Event