Chingay Parade 2011
11th & 12th Feb, 2011 ~ What's Lunar New Year without
Chingay
& this year is no different, except that this is the first time I participated in a Chingay parade. For the 2 days of
Chingay Parade 2011
, I was engaged as a model for body painting. The Hamster evolved into a little Lucky Red Bunny. Why Bunny? Because this is the year of the Rabbit as according to the Chinese zodiac. Lucky? Well, I guess so coz I was filmed hopping around by a TV crew & was featured prominently on Channel News Asia the very next morning. xD
Lucky Red Bunny Me, Day 1 & 2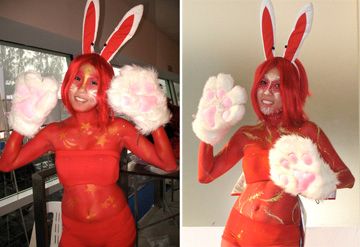 I know, I know... those ain't bunny paws. The organizer didn't have bunny paws & we had to make do with cat paws. Just called it artistic license, alright? =P
There were 7 models in all, 5 girls & 2 guys. It took slightly over 3 hours for 2 painters to do us up & the results were...
Painted Ladies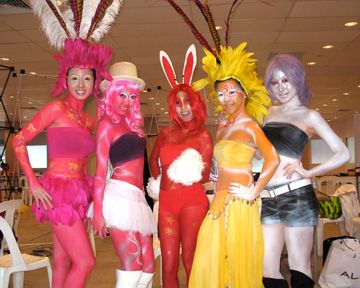 Colored Team On Day 1 & 2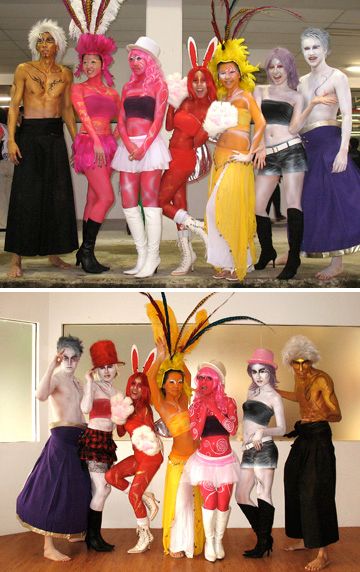 Note:

The painting patterns/designs & some of our costumes varied on the 2 days of Chingay Parade 2011.
We were part of the welcoming reception for the crowd coming to view the parade. Of course we were also photo opportunity for them. With the endless camera clicks & flashes, we smiled till our cheeks numbed! LOL! =P
Arriving Audience

Colorful Welcome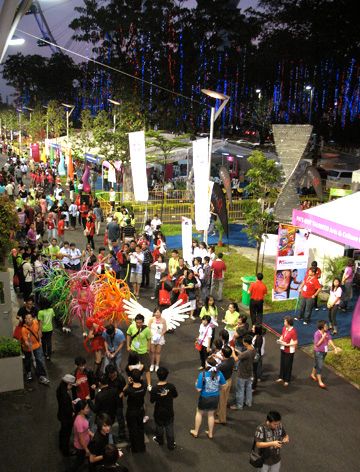 Photo Opportunity
The best part was on day 2 when Senior Minister,
Mr. Goh Chok Tong
accompanied by his wife, arrived for the parade. Followed by various VIPs, Mr. & Mrs. Goh tried their best at spending time chatting & taking pics with as many teams of the welcoming reception as possible. A very tall, nice, friendly & considerate person is our Senior Minister, always asking if he is blocking anyone when taking pic, making sure everyone involved are included in the photo.
Mr. & Mrs. Goh Chok Tong chatting & taking pic with painted us.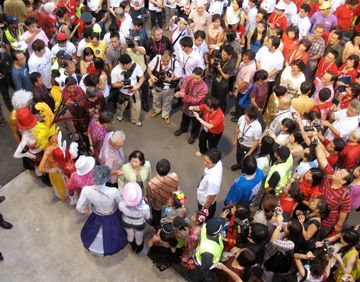 Quite an satisfying assignment it was & a very vivid 1 too.
Our vibrant wigs & head gears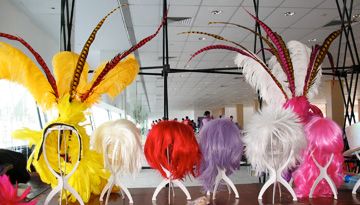 Labels: Event