Another Forum Outing
Went for another forum outing just after I came back from Guangzhou. Actually, I'm more of an unexpected guest to the gathering. Initially, I was to meet-up with my friend at Sunshine Plaza to shop for some Pinky Dolls. She is starting a collection & I recommended her to Sunshine Plaza. Some of her friends also came to meet us there. My friend bought 3 Pinky Dolls & I bought a Ghost in The Shell (SAC) Tachikoma keychain. When having lunch after shopping, my friend suggested we go to the forum gathering.
My Cutey Tachikoma!
Lunch group

My friend called the organizer & he joined us at our lunching place. Then we proceeded to Marina South MRT station, the gathering's meet-up destination. When everyone arrived, we went to Chin Huat Live Seafood for their steamboat buffet. Woah... the place is so crowded! Some of our guys went looking for unoccupied tables. A guy friend pointed to 3 empty tables, but was told by the staff that those were reserved. Meanwhile, I was walking among the diners looking for my friends. Was approached by a staff who asked, "Miss? You need a table for how many people?" & was directed to some tables... the same tables my guy friend had inquired about!
Eh? Reserved for pretty girls only? Just coz we had pretty girls in our group, we are allowed to occupied 2 tables which were supposedly 'reserved'?!?
Girls Power! Haha... =P
Getting started
Good Food, Merry People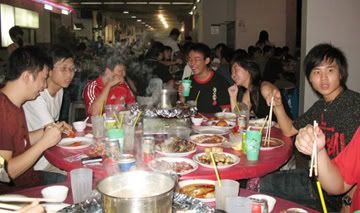 Pretty girl at our table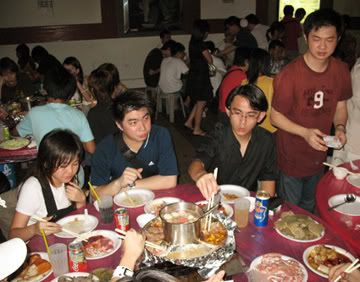 Happy DIY cooking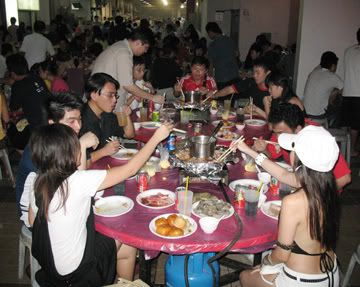 There're so many varieties of food to choose from. We had beef, chicken, pork, scallops, live prawns, crabs & the list goes on. Steamboat is fun!
After dinner group photo

After dinner, we went to Esplanade for a talk cock, sing song session. We had such fun engaging in topics which range from psychology, philosophy, online gaming, forumers' mentality, life in general, Murphy's Law, Sun Tze Arts of War... well, I don't do much talking, only laughing & laughing at funny moments. It's was a fun filled, happy laughter day for me. Really enjoyed meeting new friends, especially a very pretty girl who is the same height as me, also love to make-up & wear high(3") heels when going out... =P
Me with a very cute & pretty girl. =P