Boy's Toys
Many guys finds my preferences & hobbies a little bizarre.
Dolls & soft toys, most girls love them, but not for crazy & abnormal me!
Been playing with guns & robots since young. Even though I don't know much about military history or weapons, I've a fascination towards anything military or weaponry.
Most girl love romance movies. I rather watch war or action movies.
In cinema, I'm always frightened by the gunfire & bomb explosions, but eyes will be glued to the big screen, fascinated by the battle.
Knew I can never be a soldier & won't want to be one.
Wars are destructive & in reality, I never like war or want any to start, but still, I like weapons.
Why? What's wrong? Don't look so surprise, guys. Can't a girl like guns?
I love tanks, warplanes, battleships, missiles & guns!
No cutie dolls or soft toys! I will blast them apart with my army!
Keep your opinion to yourself! Bleah! =P
My Arsenal!

Can't own real guns here, so I go for the alternative.
I collected miniature weapons, small scale replica of the real thing. The advantage are, they're small enough to fit into the limited space I have & cheap enough for me to buy many of them.
By now, already lost count of how many I own. Displayed some in plastic cases on my shelves.
Most of them are in storage waiting for the day when I can display them all in their fearsome glory.
Other than weapons, I love DRAGONS!
And some robots or Mecha as they're called in Japanese anime. Told you I'm weird & have strange hobbies for a girl, didn't I?
Already collected a few sets of those McFarlane's Dragons.
They come completed & painted. Beautiful, awesome, ferocious roaring dragons! Just right for a fiery girl like me! =P
My Dragons & Knights!
My failed plastic modeling project. =(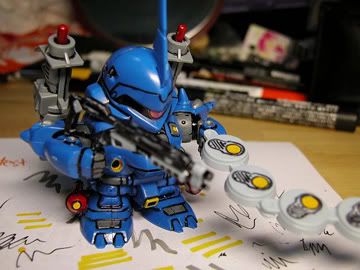 Saw those scale models displayed at some shops. Thought it will be cool to try my hands at this hobby since there're some cute robot kits available.
Bought some Bandai's simple SD (Super Deformed) robots, tools & paint markers. Simple? NOT!!! Damnit! I sux at this! (-___-)"
Wasted quite a few hours crying, swearing & pleading at it don't work!
Grrrrrrr.....!!! You better refrain from making bad comments about my work or I will sandpaper your face!
(Switch personality)
*Looking with soft puppy blinking eyes*
I do have a soft girly side of me too, you know?
Other than guns & dragons, I collect figurines of girls... sexy girls. =P
Small figures are called Gashapon or Trading Figures. Bigger scale ones are known as Completed or Display Figures. They are mainly characters from Japanese anime, manga or games.
Mostly, these are collected by guys. Don't believe? Go ChinaSquare Central where the Flea Market is held every Sunday or certain shops in Sunshine Plaza. These 2 locations & Far East Plaza are where a number of shops/stalls selling these figures can be found. You will notice many guys buying these, very few girls.
Been collecting these figures for a few years now & most time, I'm the only girl around that buy them.
Love Rei Ayanami from EVA. Also love the Murata range & Mecha Musume.
Some 'trading figures' are nudes... my favourites! Hey, I'm not a pervert! I treat them as Works of Art!
What? You mean a girl can't appreciate nudes?
Drool, drool, drool...... Haahahahaaa!!!
You should see shop or stall owner's face whenever I buy them. Heehee!
Gashapon & Trading Figures.

My Sexy Completed Figures.
I have peculiar hobbies for a girl.
Not easy to understand me entirely.
Most time it's quite unsettling for guys when they get to know more about me. Never one to care much about other's opinions anyway.
Accept me as what I am or not at all. :)