The Gathering of Keyboard Warriors
Went to a forum outing last weekend. This made it my 2nd outing with members of this forum. The 1st time was last month.
As with many forum outings, we went to some place to have dinner.
This time is fish head steam boat at a coffee shop. We met, chatted & tried to get to know one another. Be real instead of a virtual entity. The usual stuff people do at many forum outings I'd attended, but what surprise me is, many guys from this particular forum are very reluctant to have their photo taken.
At other forum outings, everyone (girls & guys) will happily let me take their photo & even let me post those pix on forum where all can be viewed publicly.
My outings with these people were totally different. Many of these guys refused to let me snap pics of them! If they are girls, I may understand their shyness. I was pleasantly pleased that the 2 other girls there didn't object, but guys shy of camera?!? Felt quite stunned when asked whether I can take pix of them & the answer that came back was a forceful "NO!"
Been to many places in the world & no guy ever turn me down whenever I asked to take their pics. What's there to be afraid of, when a girl take your photo? And there I was, quite embarrassed, taking pix of many guys whom cover their face!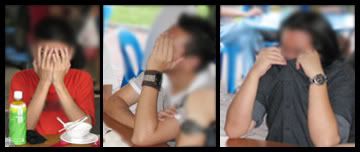 See No Evil. Hear No Evil. Speak No Evil.
Oh my... what happen to guys in Singapore? Turn girlish? Scare to have photo taken? Why the fear? It's not scandalous pix or what. These guys offended too many people on the internet?
Do no evil & you have nothing to fear, guys. You guys behaved like those superstitious jungle natives whom believe photo taken of them took away their soul! What can you do to a photo? Make black magic or voodoo? Draw some funny marks on the face? Make into dart board? C'mon... big fat zero effect in real life! It's not as if I'm going to paste their pix all over the place.
Chey! Me a girl, private & shy, don't even mind people taking my photo. If anyone wanna take pic of me or with me, they just have to ask politely. No need to sneak shots at me, you know?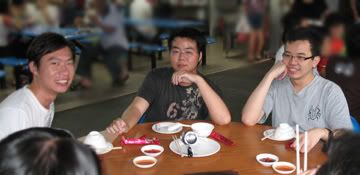 Three courageous keyboard warriors who posed for me. =P
Was quite disappointed there isn't any post-dinner activities coz the organizer disappeared right after dinner! Without coordination, some wanna roam a shopping mall while others wanna do something else. The group split. I was too disheartened by the photo taking incident to join any of them. Went to Sunshine Plaza instead. Got some gashapons for my collections & to brighten up my day.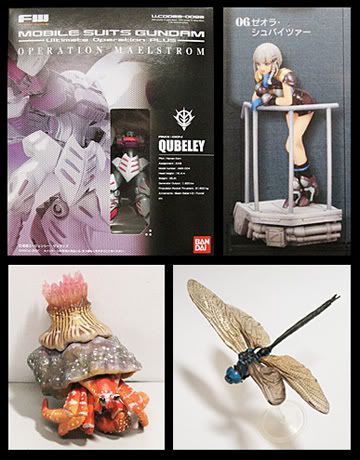 Some addition for my collection.
At least these little figurines let me take their pix happily, without objection & make me smile. Don't know whether to go out with those forumers again. Maybe 3rd time lucky? =P