Saturday Night Fever
Went clubbing on Saturday with a bunch of friends & my Thai colleague. During the previous weekend, as an unofficial tour guide, I brought my Thai colleague to some scenic spots & later celebrated his birthday at Boat Quay. That's when he expressed his wish to go dancing. Promised to take him next weekend.
As I'm not into clubbing, I asked a few of my friends for suggestions & we settled on Momo or Mdm Wong 2.
Never been to either of them, I got lost looking for the place. Fault also due to my friend's misdirection!
My Thai colleague teased me about not being a Singaporean... Bleah!
Wandered around Clark Quay & got distracted by a group flying sort of RC kites with neon lights. So cool to watch them gliding around in the darken sky.
Went to the agreed meeting spot much later after my friends gave proper direction.
Wanna go to Mdm Wong, but found out that it was only for private party.
Ok, Mdm Wong II then. Not much people around. Live soccer match was on big screen which held no interest to me. Asked a waiter whether can we take our drinks over to Momo.
Friendly guy told us that most of the action will be over at Momo & the live band at Mdm Wong II will be on only after 11 pm.
So we skipped over to Momo. Don't quite like the music there. Played a little pool, danced some.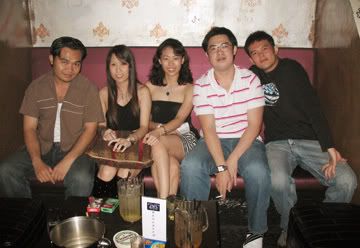 The night is still young, innocent & decent.
Later, another of my friend joined us. She was with a group who were not sociable. They stuck to themselves & she went with them. Can't blame her as she just met a guy whom she like. Awww... nevermind.
Since we didn't like the music at Momo, we skipped back to Mdm Wing II where the live band had started playing. Woooo, Retro! Just my type of music!
This is when I came alive. Swing, swing like a drunken monkey! Heehee...Hic!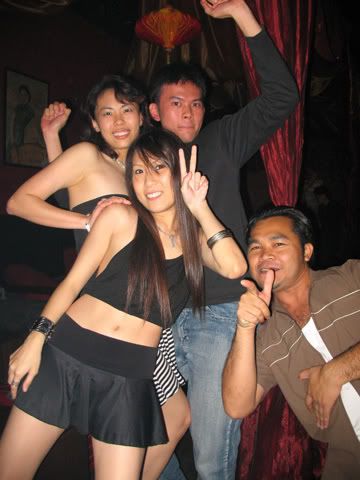 Fantastic Four Monkeys? =P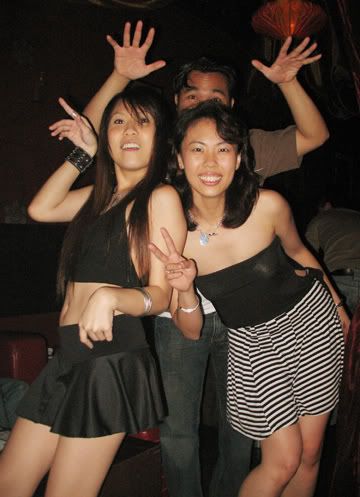 Buaya!!!
Our guys went at one another with funny gayish moves. Hahahaaa... their kissing, hugging & grabbing at one another had me in stitches!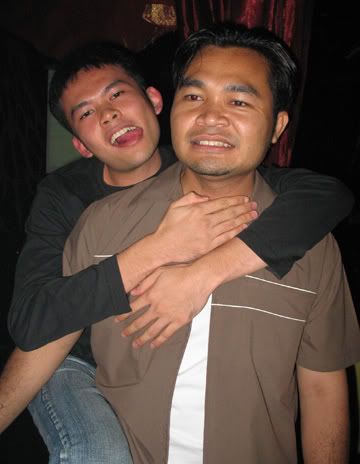 Slurp... Eeeek!
Love your boobies! =P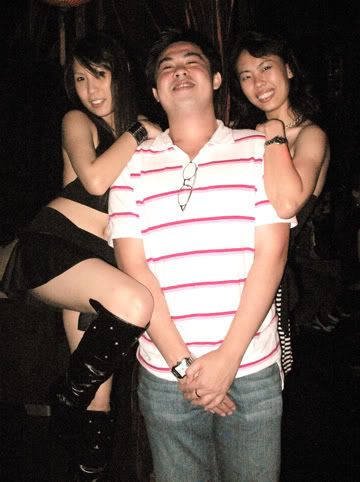 A 'gay' unfazed by our sexiness. Haha... Look what his hands are covering.

Think we are the most crazy group in Mdm Wong II. Had quite a blast. Came back damn tired & slept till 3 pm on Sunday.
Next outting will be at St. James Power House... Yeah!