Guangzhou Part 1 ~ Arrival
I'm back from my Guangzhou trip (7th ~ 15th May). 9 days of fabulous fun!
Time really blurred by when you are enjoying yourself. Kinda sad when I return. Miss Gz so much already! Wish I can stay longer! =(
Anyway, this is the second time I'd been to Guangzhou. Was there 2 years ago on a business trip. This time, it was another working trip for my friend to finalize a project. Not much actual working hours involve coz it's just to overseer a China company completing the final leg of the project. Since it's an all expenses paid trip by my friend's client in Singapore, so I just have to buy my own air ticket... =P
I am flying... I am flying... A little flying hamster. xD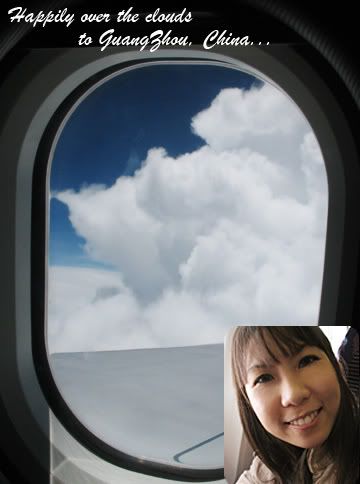 Our timing is bad... flying to China at this time of the year. It's the end of a week long May holiday for China's people. Many flights are fully booked as Chinese on holiday flooded back to China. We managed to get 2 seats on Thai Airway which mean a longer traveling time as there's a stopover at Bangkok.
At Bangkok new airport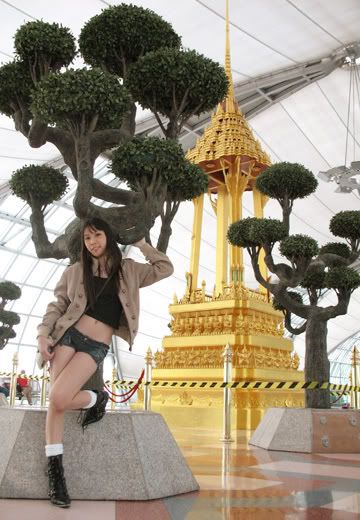 On 7th May 2007, Monday 3.45 pm, we finally arrived at Guangzhou's new airport, Bai Yun (White Cloud) Airport. Two years ago when I was there, their old airport is near the city. Now it's 20+ km out from the city. It's like traveling from north to south of Singapore just to get to the airport from Guangzhou central! Luckily, we have our own transport. The China company's driver was there to fetch us.
Giant China flag greeted us in Guangzhou new airport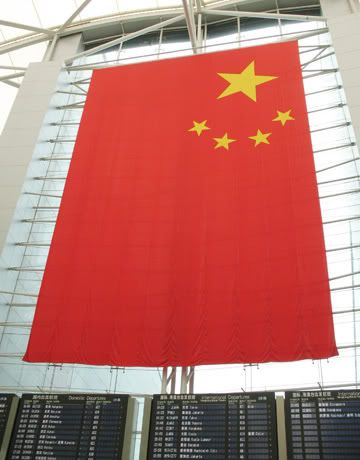 Guangzhou's Bai Yun Airport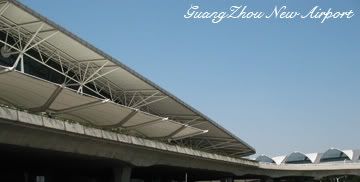 After handing over the project's files & instructions, our host, the China company boss himself invited us to dinner. After that, he drove us to the hotel, The Majestic Hotel at Tian He Road, in the central district of Guangzhou.
The Majestic Hotel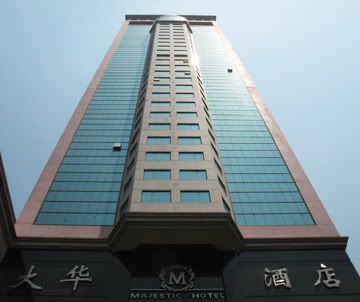 Hotel Entrance & Room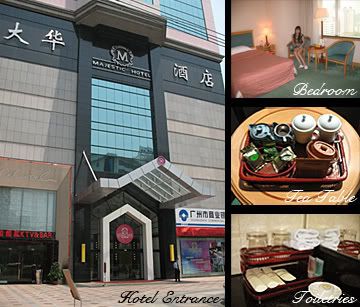 Our room was at 25th floor, room 2513. Buy 4D! Haha! Nice 4-stars hotel, friendly service, good facilities ~ spa, gym, KTV, cafe, restaurant, but no swimming pool. Normal room rate is about S$200, but our's costed only S$52 as our host is a friend of the hotel's owner. Last when I was there, our 3-stars hotel room cost S$48. Anyway, it's all paid for by the company. Hee...
Me posing at the hotel's fountain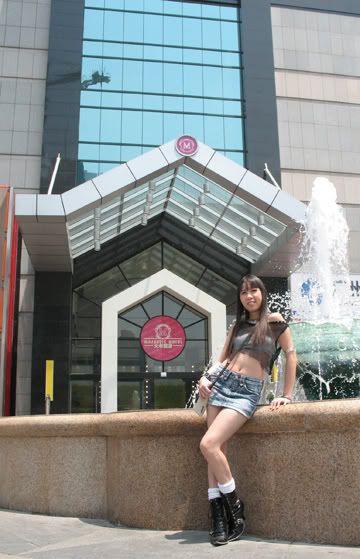 At lobby & lift lobby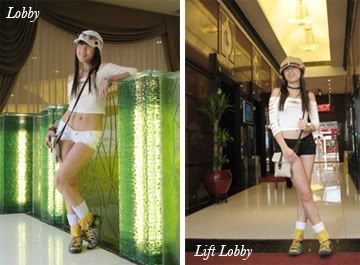 It was quite late when we check-in, about 9 pm. Went for a stroll near the hotel. A few shops is still open as Guangzhou is trying to imitate Hong Kong, a 24 hours city. Tired, went back hotel to sleep... my first day in Guangzhou. On to the second wonderful day...
Red Sunrise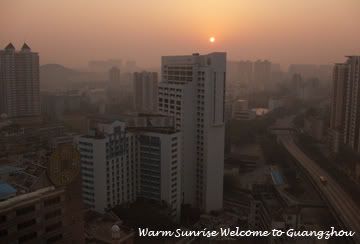 *Note: Many people clamored for my Guangzhou pic to be view online. I took 1500 hi-res pic when I'm there. Total files size is about 3 Gb! Need time to arrange, color correct, collate & resize pix to fit into my blog/album. This is not a job, but just for fun. Don't want unnecessary stress or dateline. So, please be patient, guys. I will try to put up the rest of my pic soonest. Thanks for the kind understanding... Bleah!
=P