Kallang Ice World
It's near X'mas, right? That conjure up images of winter, snow & frozen rivers & lakes. Ice skating time! No winter, frozen river or lake in hot & humid Singapore? No problem! Go to the new Kallang Ice World! So on Saturday(22nd Dec), I went to ice-skate with a couple of friends at Kallang Ice World. This is the new ice rink located at Leisure Park Kallang. Leisure Park Kallang was formerly known as Kallang Leisure Dome which was torn down & rebuild. The old place had an ice rink where I used to skate alot in my secondary school days. That's when I took up this cool icy hobby. After Kallang Leisure Dome was torn down, there's no place near where I could ice-skate, except Jurong which is very far out-of-the-way for me. When the new ice rink open, I was so excited about it. Finally, somewhere near where I can go ice-skating again! Happy happy so happy! xD
Leisure Park Kallang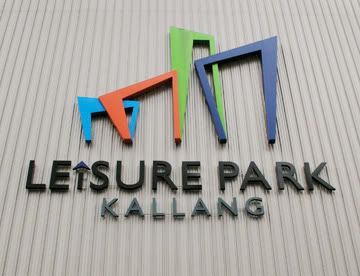 Kallang Ice World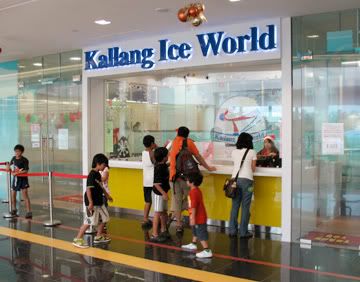 Entry fees are as follows:
*Pls click on image to enlarge
For me, I just have to pay for the entry fee as I have my own skate & gloves. If you just wanna go in with your friends & view only, it's S$3.00. The new rink is bigger than the old one with better seats for viewers. Ice-skating doesn't seem to be a popular activity here. Was surprised that it was quite crowded. Maybe due to the fact that the place is new. Lots of people were skating, more like gingerly threading on ice or falling down or butts skating, but they seem to be enjoying themselves despite embarrass looks after comical falls.

The ice rink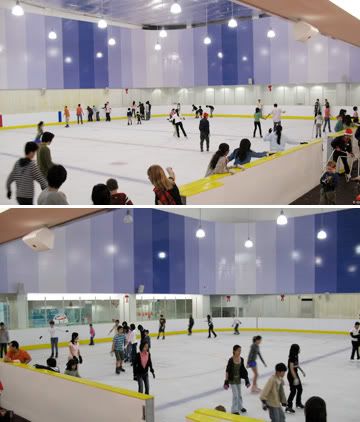 Skates on & in we went for some ice-butt-skating. Among all those cold weather clothing which nearly everyone worn, I look out-of-place with my skimpy tropical wear. I love the cold! Hate hot & humid as I tend to perspire alot easily! I'm a cutie polar bear... eh... polar hamster? =P
Polar Hamster!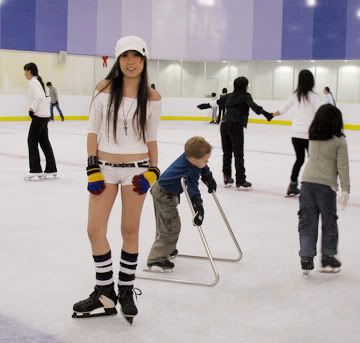 Helping friends on ice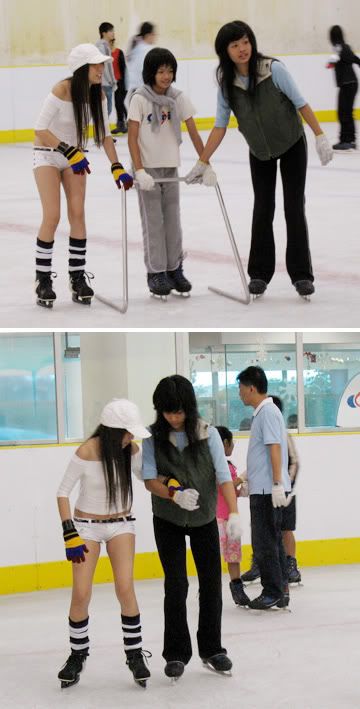 Always had difficulties in finding friends to go ice-skating with me. Most are not interested or simply afraid of embarrassing themselves. Many people always say words like, "Live life to the max!" or "Try everything!", but seem that almost all just can't do it when it comes to putting words into action. Thankfully this time round, there're a few new friends who dare to try ice-skating & I'm grateful for their company. =)
With some cool friends on ice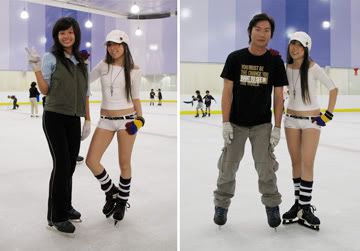 Simply love to ice-skate! Will be going back for more! Since my favorite gashapon/anime shop, Latendo, had moved to the same building, I can enjoy my 2 favorite hobbies, ice-skating & browsing for gashapon/figures at the same location. Anyone wanna join me in the future? xD
RevolTech Rei bought from Latendo @ Leisure Park Kallang