Restart!
Miracles do happen & love does wonder. Lets restart the fire! Firstly, I like to apologize to my readers for not updating my blog. Been through a period of personal crisis. A very sad & stressful time for me. Thankfully, my love ones & friends had stand by me all this while. I'm very grateful to them for their support, compassion & toleration. Love conquer all!
My Birthday - Friday, 5th Oct.
Had pasta dinner at Sketches with my love, Melly & a girlfriend, Cjy. Got to know Cjy from a forum & I like her. A pretty, sexcitable & very chatty sociable girl. Hope she don't mind I describe her that way. Heehee... Melly said she like Cjy too. Cute girl. =P
The Terrible Trio(as titled by PBCB, a dear friend of ours) =P
A ridiculous incident happened that night after dinner. A guy from the same forum where Cjy & me are members, called & began scolding me w/o giving any reason. He was very vulgar & used lots of profanity. So I handed my phone to our boyfriend as he's more adept to handle such stuff. Yep, our boyfriend cos Melly & me share one guy as boyfriend, our bodyguard. Anyway, back to that incident. After much harsh words & a few phones calls later, that caller came up with a silly excuse. Claimed it was all a mistake. That idiot said that he called the wrong number & those rude words was not meant for me, but for another girl. The flaw with his excuse/claim was he knew from the start who I am. He also knew our b/f who took over the call. Struck many matches to start fire & claim he accidentally struck all those matches after fire went out of control? Think we're ignorant little kids, easy to deceive? That idiot apologized to me, but I don't really care as our b/f had taken over & will deal with this nuisance as he deemed fit. Melly said the whole incident was the most hilarious thing that ever happened in her life. She stated that the caller was the most ridiculous person she ever met. Didn't know that a grown up(that guy is not a youngster) person is so childish & immature. =P
Note:
We had met that fellow several times at forum outings. We have no issue with him nor he with us. Till now, don't even know what I'd done that made him so angry with me that night. Something regarding Cjy?
Movie - Sunday, 7th Oct.
Went to watch 'Resident Evil ~ Extinction' with my darlings. Nice show with lots of actions. I love war or action movies. Like sci-fi or fantasy movies too. Dislike life/love or horror/ghost story. Don't really go for comedy either. It's the crash of gunfire or swords that make me feel sexcited. Hahaha... Took a pic with the movie poster. The heroine is so stunning, so yummy! Wish I can be like her... with twin Uzis! =P
All Action Girls!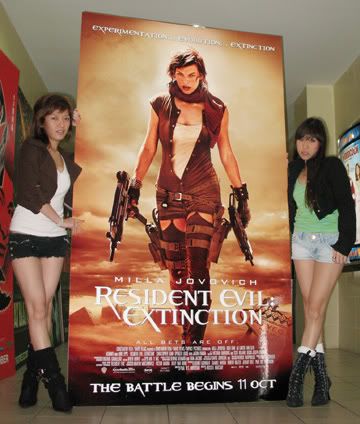 Sentosa - Sunday, 14th Oct.
Long time didn't go Sentosa! May had been 10 yrs ago I last visited. My lovely yummy Melly suggested we go there for a swim. Woowoooo... sun, sand, palm tree swaying in the breeze & the sea... it's bikini time! =P
Sentosa called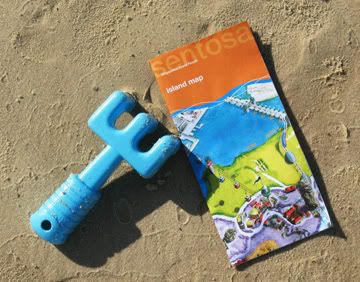 Took the Sentosa train from Vivo City, alighted at Beach Station & walked to Siloso Beach. Arrived at about 4 pm. Changes that I noticed are, no more clock tower(I miss that clock tower) & lots of ahneh(Indians) foreign workers everywhere! They're like flies! Swarming all over the beach, ogling at every girl. Each paid $3 entrance fee to go babes watching? A treat to them, but it's kinda spoiling the fun for us... put off by those ahneh leering stares where ever we go. Melly & me are not really scare coz we had our monster bodyguard b/f with us. We ain't giving up our fun!
Siloso Beach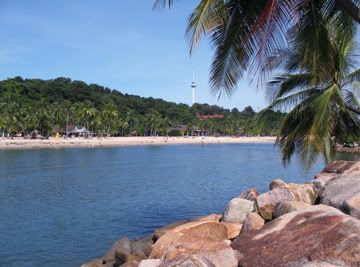 Siloso Babes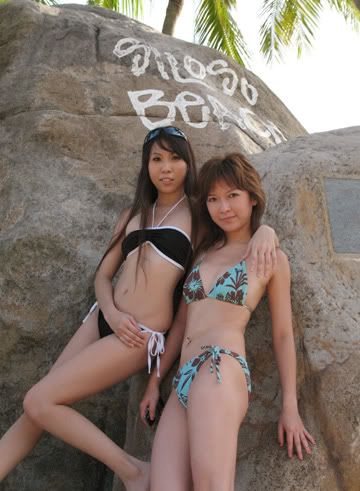 How do we look in bikini? I know my Melly look so yummy! =P
Yummy Melly & me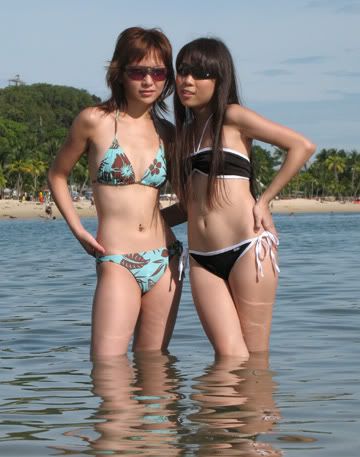 Splash of Love! =P
We disturbed a baby sea turtle hidden under the sand & it swam away very fast. Saw a jellyfish & catch it for fun. Later we released it unharmed. Can it be eaten? Does Jellyfish fart? If it does, will it fart jelly? =P
Look what we caught!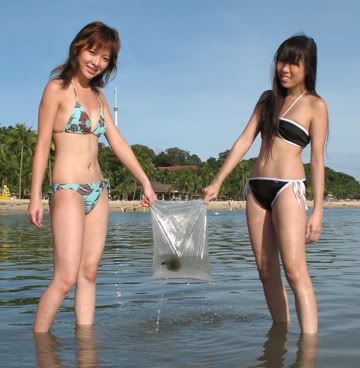 Cutie Jellyfish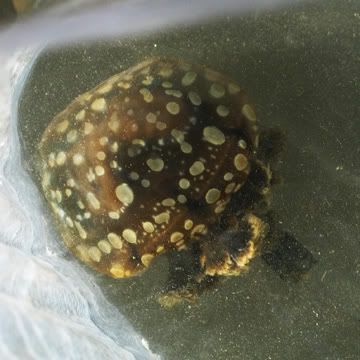 Can't eat that Jellyfish, feeling hungry, we took to the shore for food.
Arrr... my make-up is ruin! We're so vain! =P
What can you do with a hotdog & a donut? =P
Getting passion with our food =P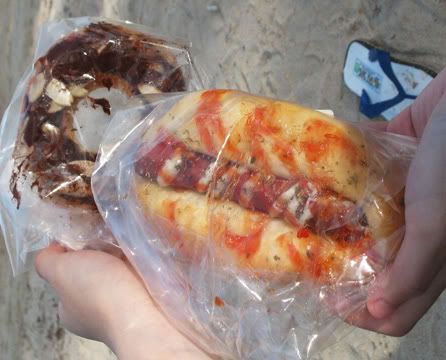 We're a pair of naughty girls at the beach. Love a lot, lust is hot!
Through the Eye of Love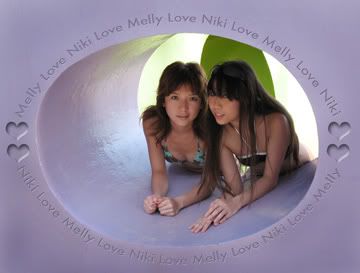 Improvised equipment of love? =P
Passional inseparable, horny always! =P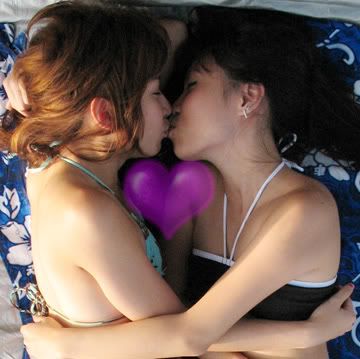 Everything is so satisfying when my yummy Melly is with me.
Relaxing Suntan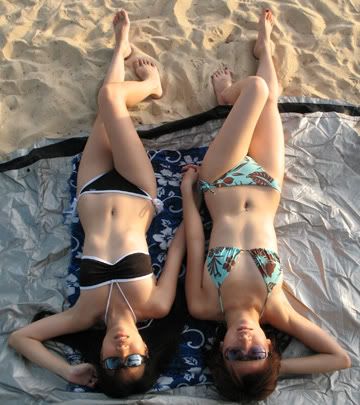 A classmate of Melly joined us later & we are hungry again...
Grrrrr... Feed me!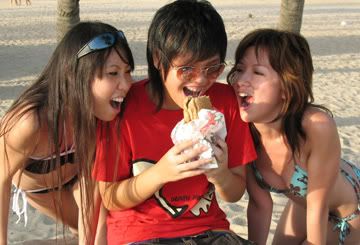 Not enough food, so we look out for sharks... shark fin soup! =P
Babe Watch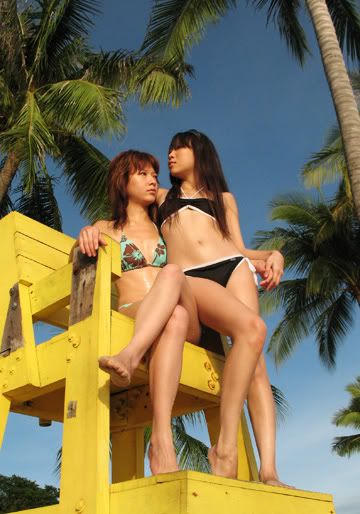 The day is ending & we're golden.
Golden Sun Girls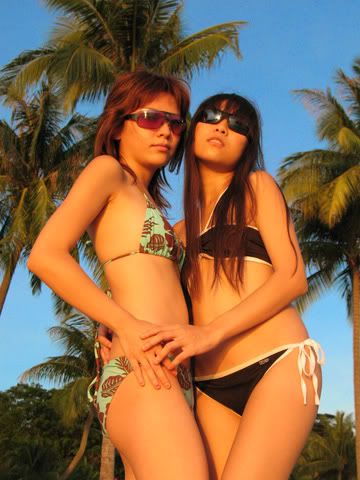 The day may end, but horniness don't. =P
2 mermaids rise from the sea...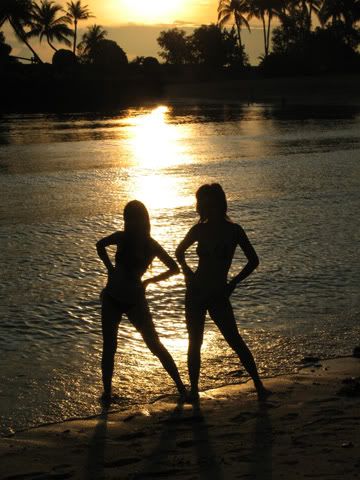 & turn into Siamese Twins! =P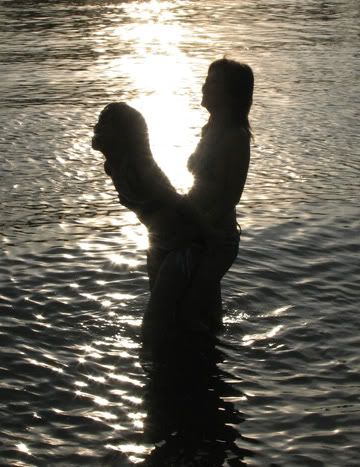 It's a super great day. Really enjoyable when I spent it with Melly & our b/f. Would love to go back to Sentosa again, with my darlings of course.
Sunset @ Siloso Beach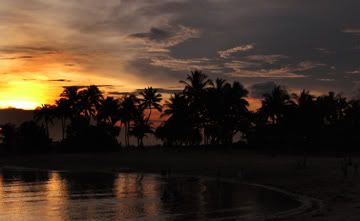 The sun may be setting for now, but tomorrow will be a better day. As long as we love each other truly, the Sun will forever shine compassionately for us. The future will always be bright & dreams will come true.