CosCon/WCG, Photo Shoot & Buskers
Saturday:
Went to WCG(World Cyber Game) at Suntec City after work. Me gaming? Noooo... I was there for CosCon which was held in conjunction with WCG. Reached there about 2+ pm. Went into the gaming area to take a brief look around. Really a quick look as not much to interest me there.

WCG 2007


Where the cyber actions take place

Onlookers can see who is pwning who on screens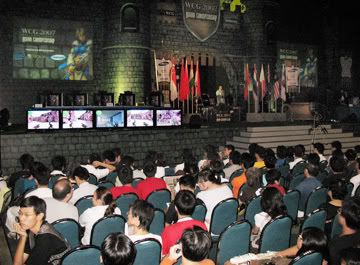 Gamers trying out new games or devices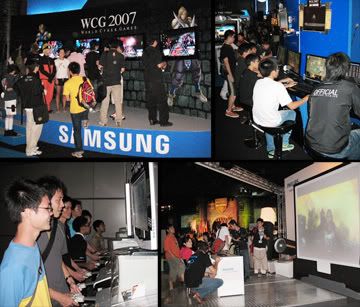 I'm not much of a gamer. The only few games I play online are TacOps, Battlefield 1942, Battlefield 2 & Battleships(a Warcraft mod). Other than these, I don't have much interest in computer games or know much about them. The only thing that interest me at WCG is this cool armor suit.
Where can I get one of this for myself? =P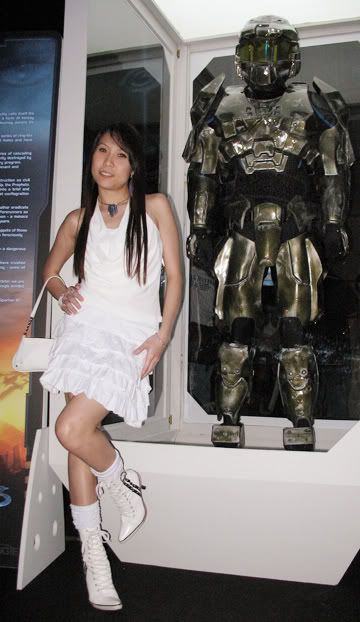 With that done with virtual gaming, let's go where the real action is, CosCon!
Register here! And many cos-players came...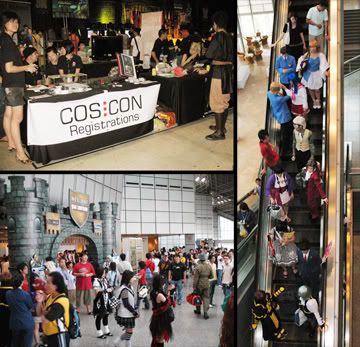 They came in all sorts of anime/movie characters, wonderful & colorful. And again, I went crazily posing with them... =P
Beautiful & bountiful maiden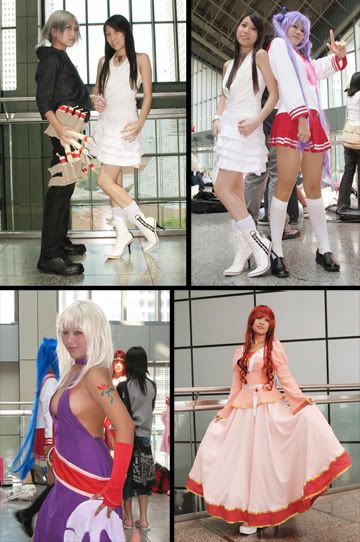 Cutie pies, tough SWAT lady & mysterious weapon dealer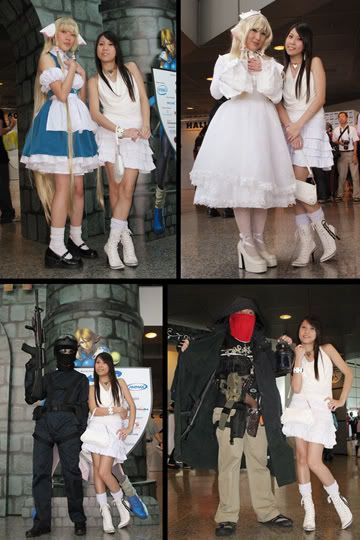 Crazy TVman, a lovely queen, common soldier aiming for a sexy fighter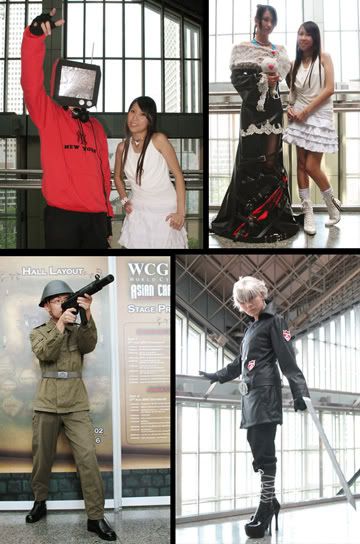 Killing you with love, sword, guns, dynamites & erm... record disk & mushroom?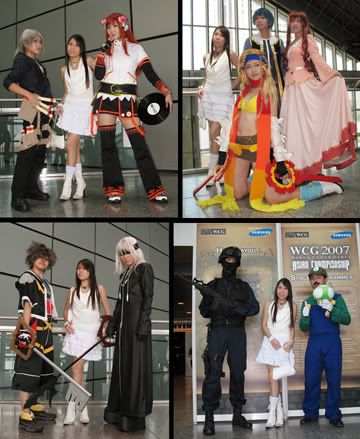 Peace to the world... but keep a handy tennis racket or sword around in case a lustful TVman comes around. =P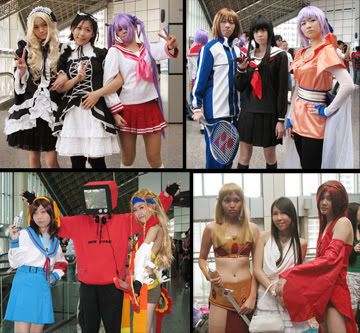 Cos-players screaming for attention & that includes me too! =P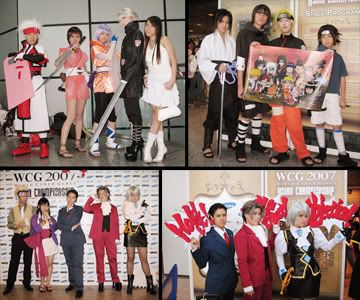 Dancing & Photography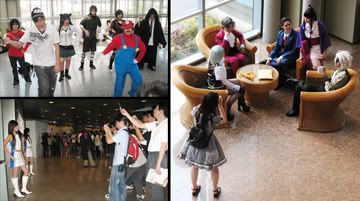 Everyone there had fun doing what they love most. Me? I had an adventure & the story goes like this...
On a dark & stormy night(isn't that what they always use to begin a horror story?), I was abducted & sexually assault by aliens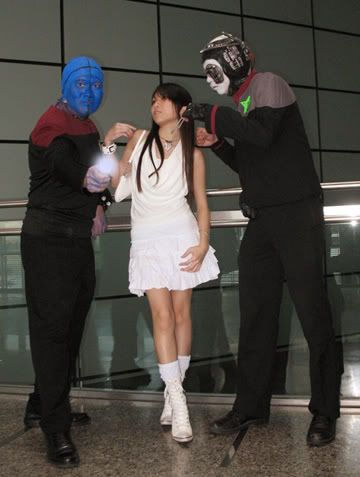 Later, forced into slavery as a show girl, a fate worse than death coz have to entertain lechers who come around asking stupid questions & posing for their camera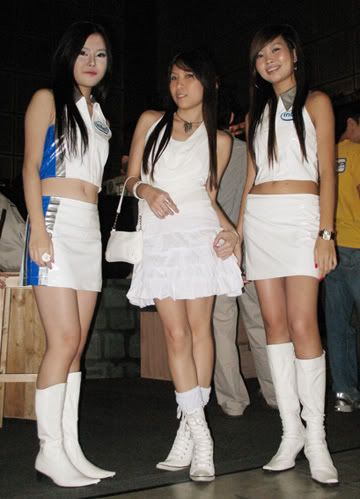 Till 2 handsome Jedi Knights rescued me thinking I'm Princess Leia or Padmé Amidala & later, one of them fall in love with me(Didn't you notice his hand round my waist?)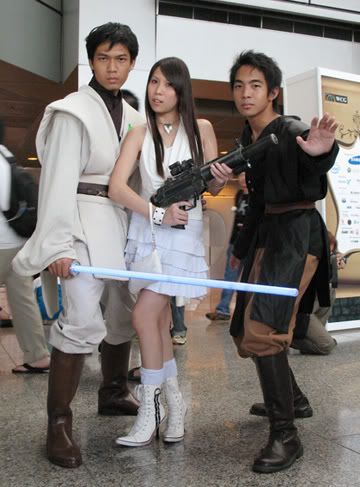 With Jedi training, I help uncovered a terrorist plot to bomb a cos-play event & with the help of a SWAT team, shot dead the suicide bomber before he can complete his mission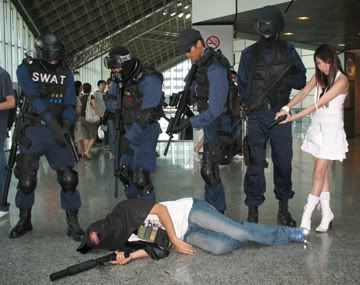 End of tale. You may or may not believe my story, but I'm sure those aliens done something to my mind making it go haywire. =P
Seem to me my blog had became a cos-playing blog. Hahaha... Think I have a sorta new hobby... watching cos-play event. After seeing a number of good cos-players, I think I'm in love with them... oh well... a fan at least. This coming Saturday, 11th of Aug, there will be another cos-play event going on at Cineleisure & Yay! I'll be going! Cya there! =P
Note:

Heartfelt thanks go out to those wonderful cos-players who posed with or for me. You all are great!
Sunday:
Oh... I didn't said I'm a part time model, did I? Well... model only for photography, but not runway coz I'm too short. Anyway, went for a 2 hours outdoor photo shoot. Was a hot day & I sweat like a pig! Brought 3 outfits, but ending up using only 2 coz ran out of time. Normally, the rights of photos belong to the photographer since they paid for it, but usually, they give me a few good ones. Every time, when pics arrived, I'd this silly phobia about looking at them. I'm afraid I will fail at my assignment. I always asked a professional friend to look at them first & comment. Seems my fear is baseless, as it turns out so many times, this photographer is great. Very skillful with nice composition. I love his pics of me!
Photo session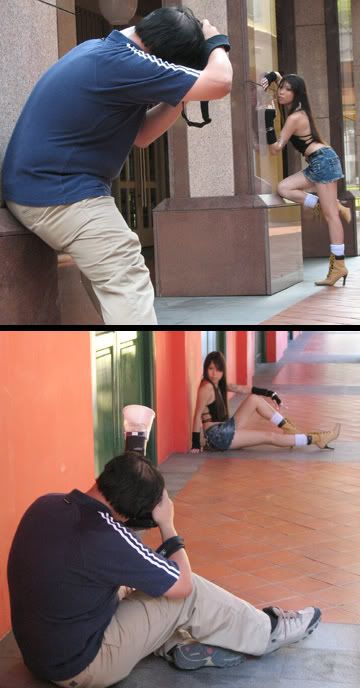 I'm a saucy school girl! =P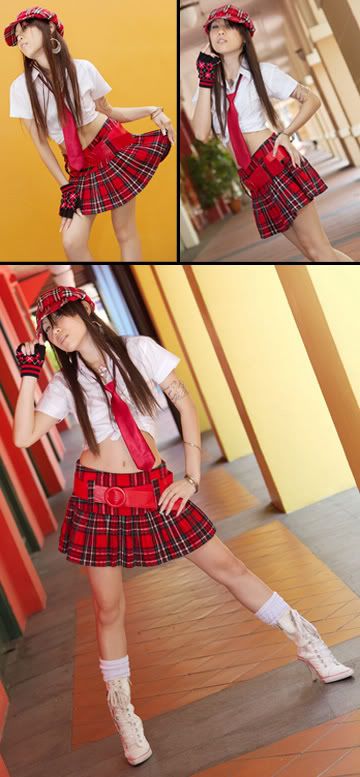 Don't cha wish your girlfriend is hot like me?" =P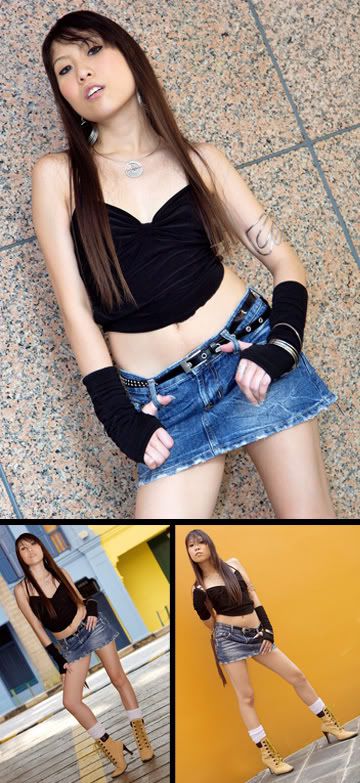 Note:

All pics are by Mr. Chew of ImagineStudio.
Higher resolution pics are in my album thanks to Mr. Chew.
After the photo shoot, walked to The Central where two buskers were performing on unicycle. Turned out to be a father & daughter team.
Buskers entertaining the crowd.
Playing music, balls juggling/throwing with me joining in the fun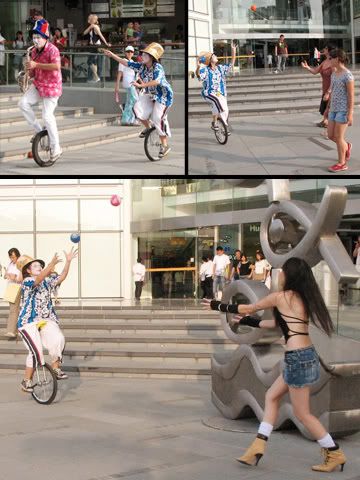 Has a chat with the daughter. She's 15 & a mix. Her busking father is a Caucasian & mother, a Malay. Father does busking for fun & loving it. He plays the saxophone & does a trick by playing recorder with his nose! And OMG! His full-time job is a lecturer! These people really know how to make full use of their enjoyment & life by earning some extra cash. My respect goes to them.
Father & daughter busking team with me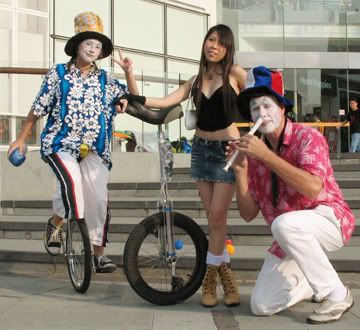 What a busy & wonderful weekend. My only complain is my legs still hurt from all those exercise! =P