Lunar New Year at Chinatown
This year, the Chinese New Year falls on the 7th of Feb. Chinatown is the place to go if you wanna get all those new year goodies. You can get them very cheaply if you're able to wait till the 30th night or after midnight when every stalls will drop their price drastically. You have to be willing to face the crowd too. As usual, Chinatown is 'dress up' to welcome the new year.

Main road of Chinatown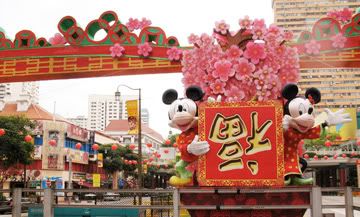 Traditional displays

I dunno what's with all those Disney's characters doing as displays for Lunar New Year. It seems to me that for many years, Disney's cartoon characters has been in use for displays as Chinese New Year characters. More original ideas please? Mickey Mouse... well ok, this is the year of the Mouse or rather Rat anyway, but what's with Donald Duck, Goofy & Pooh Bear?

Modern Chinese New Year displays?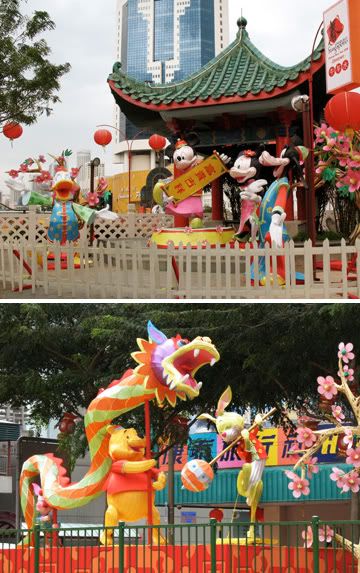 Chinatown, image of mostly traditional Chinese art & craft stalls, old folks who stay there all their life, drinking Chinese tea while playing Chinese chess or enjoying wayang(Chinese opera), normally a place for tourists to soak in the traditional Chinese atmosphere.

Images of Chinatown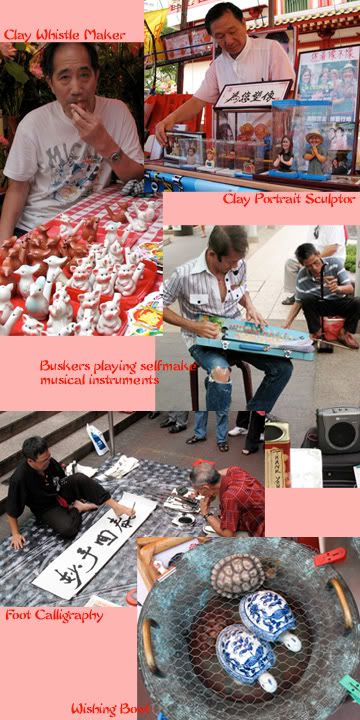 When Chinese New Year draws near, the place receives a sudden spurt of brilliant red & gold decorations. More stalls lines the roads. Many streets are closed to traffic. Then the invasion begin! Local Chinese swamp the area, like salmons returning to their birth place or lemmings migration cycle.

Red Lanterns hanging in the air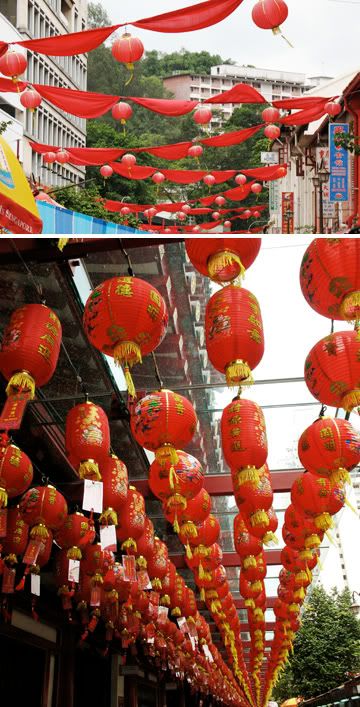 Streets closed, crowded everywhere

Almost every stalls sell Chinese New Year goodies. Red for Prosperity!

Lucky deco to bring fortune

It's the year of the Mouse... eh... Rat!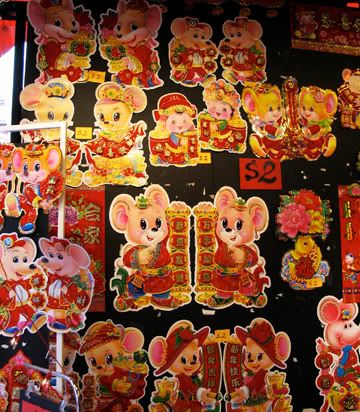 What's Chinese New Year without firecrackers?!? Oh well... they're banned long ago, so substituted with...

Sparklers!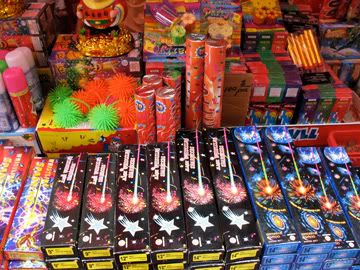 Flowers for Lunar New Year? Bright red, pink or golden ones! =P

Artificial flowers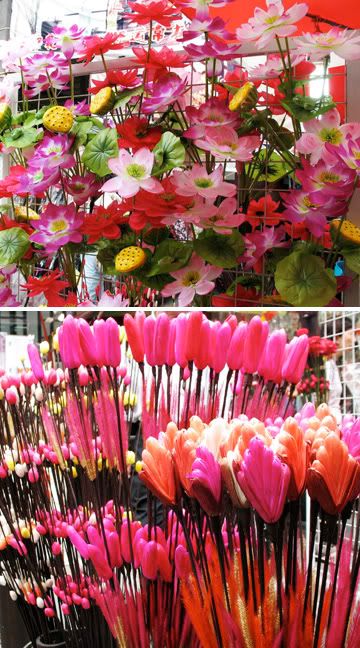 Natural flowers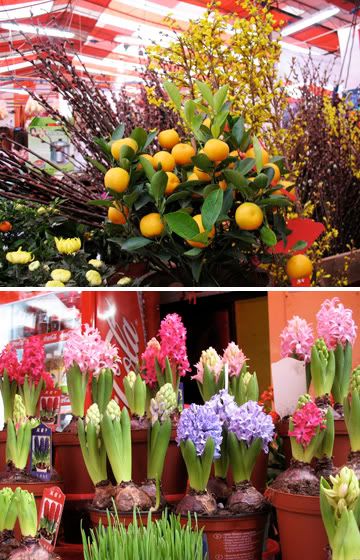 If you're a true blue... erm, golden Chinese, fruits of luck & prosperity in your home for Chinese New Year is a must!

Kumquats, Mandarin Oranges, Pink Pomelos, Golden Pumpkins...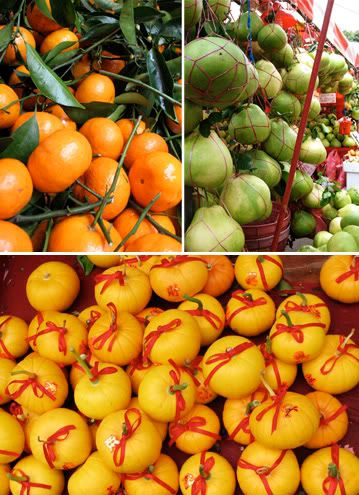 Cakes, sweets & cookies? Yummy! xD

New Year Cakes, Cookies & Sweets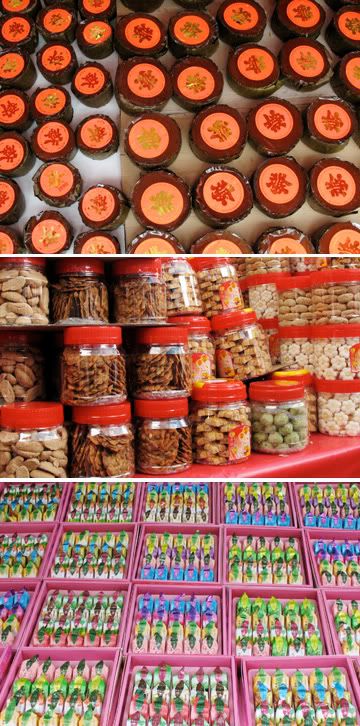 Traditional Chinese tidbits & takeaway Yu Shang(raw fish)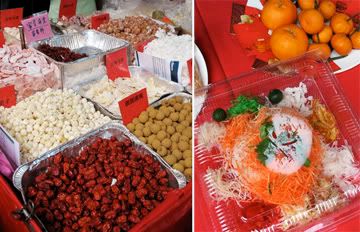 There will be a frenzy of choosing, bargaining, buying & squeezing through the thicken-by-the-minute crowd all the time.

Buy, buy, buy!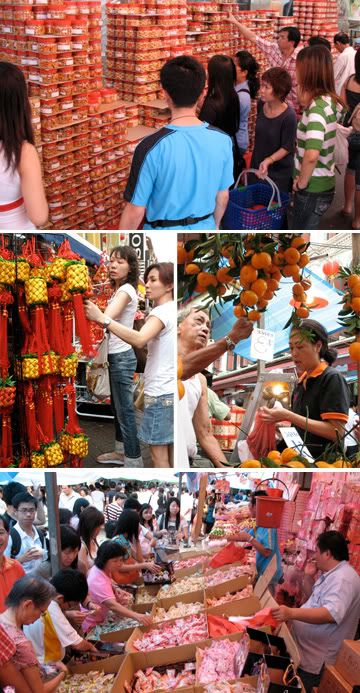 And come the 'traditional' long dragon-head-cannot-see-dragon-tail sorta queue at your favorite Bak Kuah(BBQ sweet meat) stall. Sweated at the thought of queuing for so long even though I love to eat Bak Kuah. Asked my mom go queue the dragon! Heehee... xD

Queuing for Bak Kuah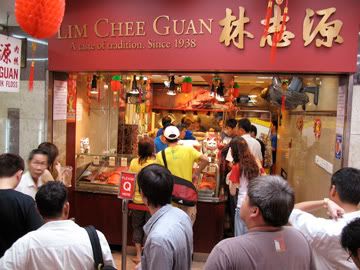 Nightfall at 30th night. Displays are lighted up all over Chinatown. Stages are set up, preparing to welcome the new year.

Lighted displays at Chinatown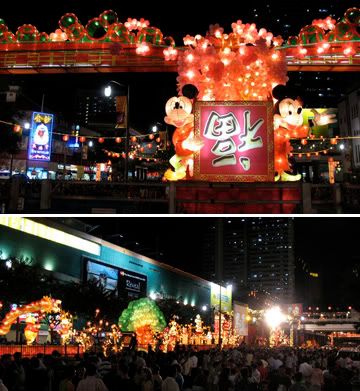 Bright lanterns lines the streets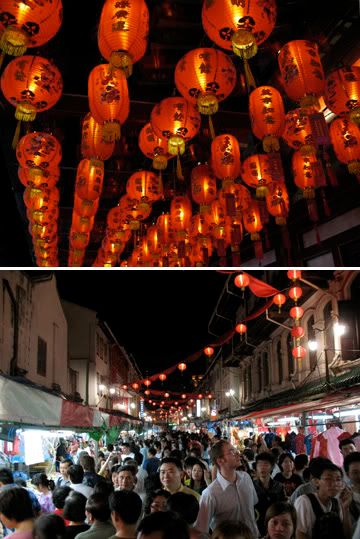 And the buying frenzy got even frenzier, prices are dropping by the hour. The crowd got thicker, louder, crazier! Luckily I didn't get crushed much as my big bad pet monster is good at bashing through crowd. =P But The Noise was unbelievable & how many armpits I smelled?!? I'm drowning in a sea of smelly armpits! Need to grow taller or get higher heels! xD

Price dropped, buy more!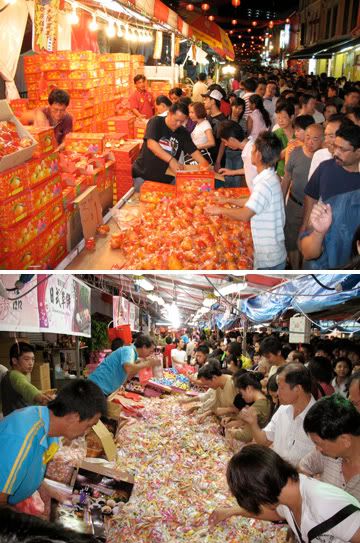 Yellow Wig sing-song his sale pitch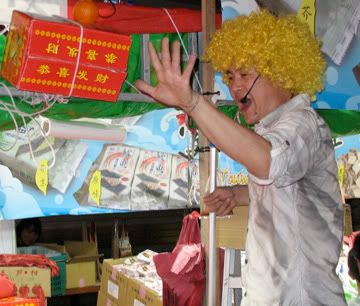 'God-of-Fortune' manning his lucky charm stall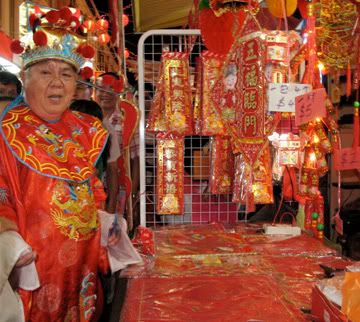 Somehow, managed to get pics of myself with some of the displays & stalls. Think it's easy being a poser cam-whore in that crowd? =P

Bright Red for Prosperity!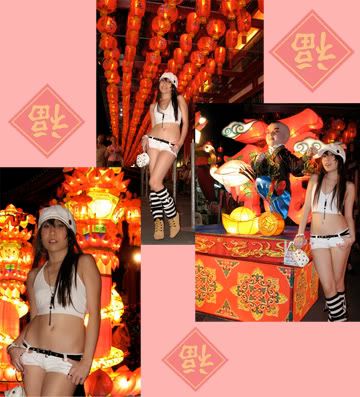 Laughing Buddha, Fortune Kumquat & Lucky Lion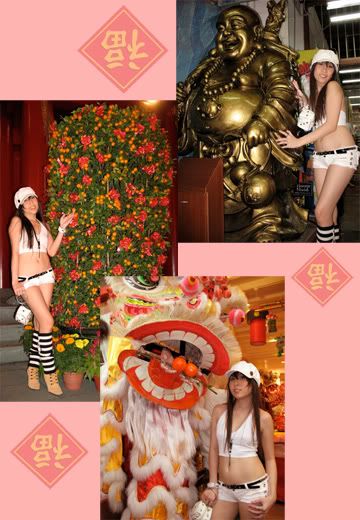 Painted Hu Lu(Bottle Gourd/Calabash), Kumquat & Candy!

Lunar New Year Lucky Deco

Squeezing through crowd made me hungry...

German Hotdog & Turkish Ice-Cream... Yummy!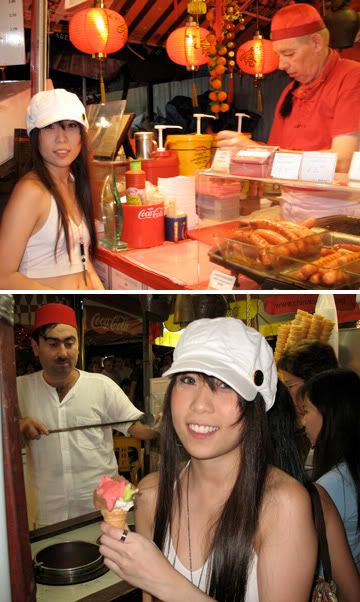 Saw a God of Fortune giving away Hong Bao(Lucky Red Packet).

Benevolent God of Fortune giving Hao Pao

Couldn't get within distance to grab one. I'm too short! Little hamster with short hamster hands! Can't fight the jam of people trying to get those Hong Bao! My big bad pet monster who is not short, in fact taller than most people in the crowd, reached in, grabbed a Hong Bao & grabbed me out of the crowd too! Wheee... Got my Hong Bao! My first Hong Bao of the new year & from the God of Fortune! Lucky, lucky me! xD

Hong Bao from the God of Fortune!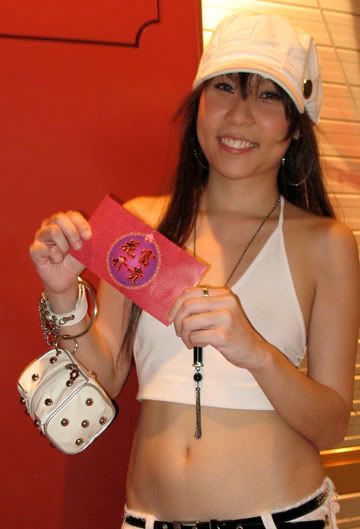 What a night! For many years, I don't dare go to Chinatown on Chinese New Year's eve coz of the crowd. Even though I survived this year's mad-crowd Chinatown, we didn't stay for the countdown as roads were closed off to traffic. MRT was super crowded. Bus services were diverted. So we left at 11 pm. Got away before the crowd disperse after midnight. Don't want to repeat the nightmarish transportation ordeal which happened to me on this year's New Year's countdown at Esplanade's waterfront.
Note: More pics of Lunar New Year at Chinatown in my album.