X'mas Gathering
Wed 24th Dec. 2008 ~ It's X'mas eve, but it's not a very big occasion here especially among non-Christians. I'm a free-thinker as many of my friends are too. Even though we may not have the tradition of celebrating X'mas, that does not prevent some of us from having a little fun. So we gathered at a friend's place to chit-chat over food & drinks. It's one of the very few occasions that many of us can find the time to do this, away from our hectic working life. This year, it's a pity many couldn't turn up due to the continual rain which had been pouring since the night before.
Friends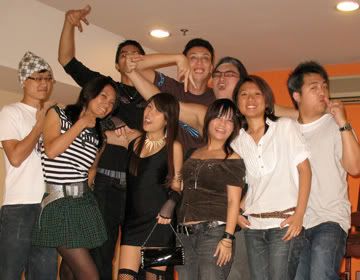 As the evening wears on, a number of them got into a card game. The loser get smacked with powder on their face from the rest of the players. Well... they got their wish for a White X'mas... no snow, powder... LOL! xD
Powdered! =P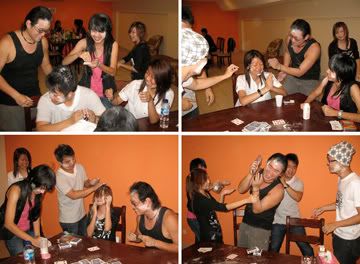 Around midnight, after the rain stopped, we went to a nearby park to set off firework! Eh... no firework allowed & it's illegal. So we used sparklers & poppers as a poor substitute. =P

Sparkling Time!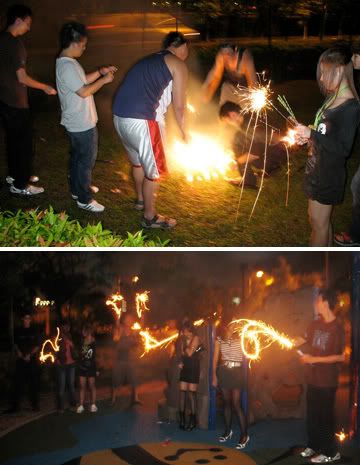 pic 4* Special display from Nath & me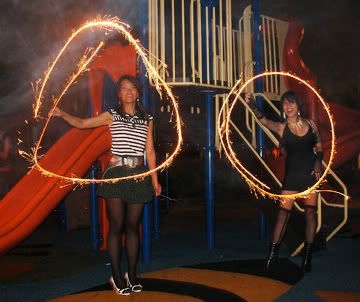 And for the grand finale, a 21 guns salute! Erm... half that... =P

Ready, Aim, FIRE!!!
☆MERRY CHRISTMAS!!!
☆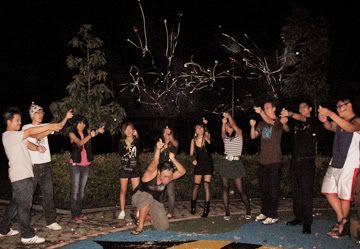 Although many do not celebrate X'mas here in the actual sense, some of us still buy presents for each other & I received...

12 gifts for the 12 days of X'mas! xD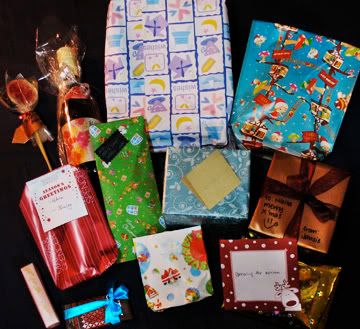 Hope many of you enjoyed X'mas & Happy Holidays to All!