Mascot Parade
Saturday, 27th June 2009 ~ Went down to Ngee Ann City, a big shopping mall to view the Mascot Parade which was organized by
SHINE
. Reached the venue by 3 in the hot afternoon.
Me is Hengbok Mascot! xD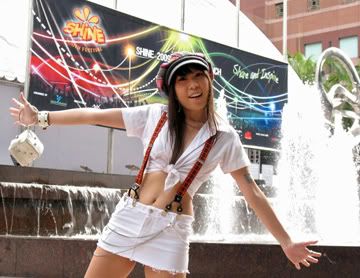 I dunno how you define mascot, but I guess anything & everything goes. Characters from many types of shows ~ anime, cartoons, old Japanese monster movies, sci-fi movies, children shows & so on.
Posing Mascots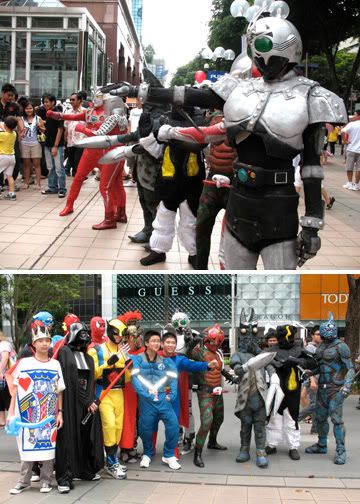 With so many colorful, prominent & fascinating characters around, so many photo opportunities! xD
Japanese Hero & Monsters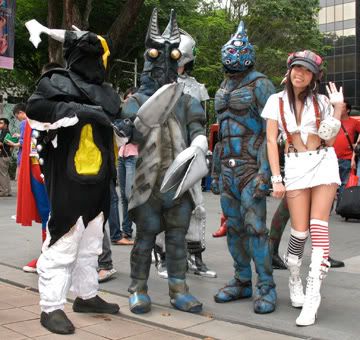 More Japanese Monsters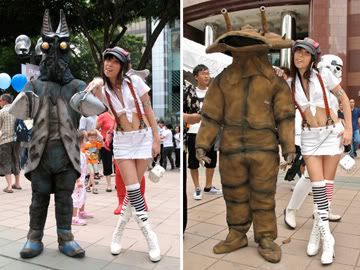 And jumping from old Japanese movies to futuristic Star Wars!

May The Force Be With You!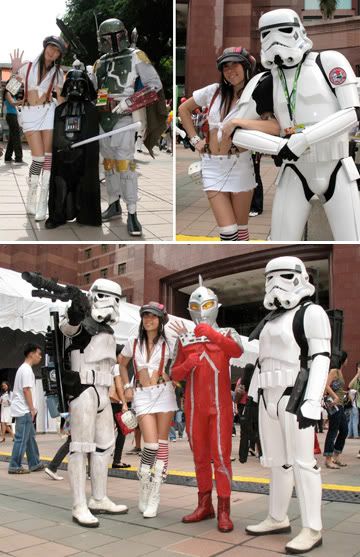 Ain't that little Darth Vader cute? xD
And I dunno how that Ultraman was captured by StormTroopers. Guess he was no match for the evil empire. LOL! xD
There's a stage which featured some dance, fashion shows & demonstrations, but I wasn't paying much attention to them as there were too many distractions offstage.
Happenings on stage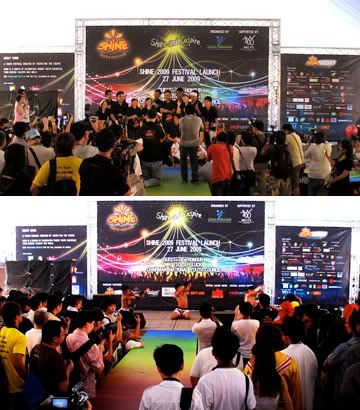 I believe the bottom pic in my above foto is of a Muay Thai demonstration, a form of boxing, Thai style. Anyway, the characters offstage are much more interesting. xD

Greenie & Mousie with a little hamster me! xD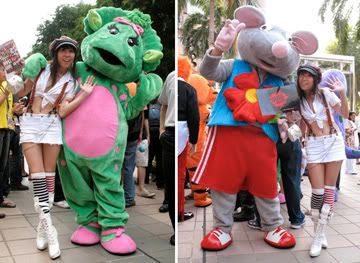 Orange Hair, Purple Dinosaur & Tiger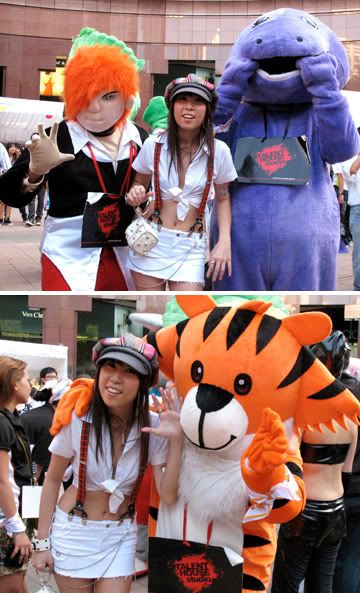 While I wasn't paying attention, I was kidnapped & tortured by Joker. Requested help from Ironman & Batman, but to no avail. I suspect they all belong to the same gang... waiting for their turn to abuse me! xD
The Marvel Gang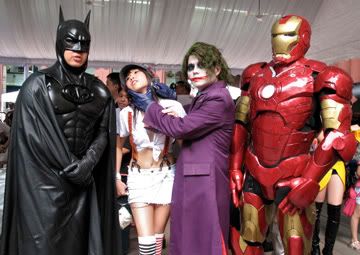 Luckily, sexy Cat Woman was around & rescued me. xD
Hamster Girl & Cat Woman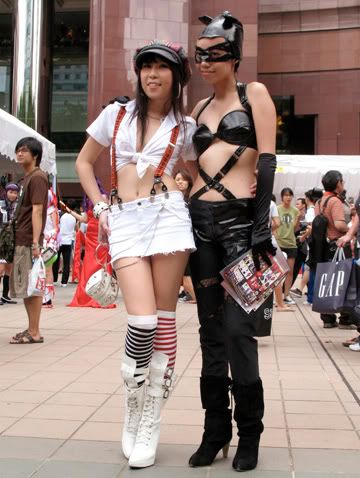 At the event, I was asked many times to pose for picture by many people. Do I look like a mascot to you? Hengbok Mascot? LOL! =P
Was posing for a pretty girl when King Kong chased her off & tried to grab a piece of me! HELP!!!
The Beauty & The Beast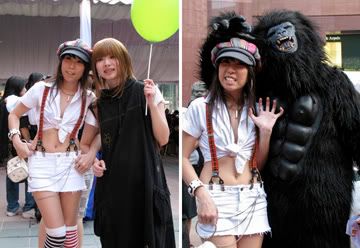 Was again rescued, this time by 2 gorgeous Transformer Girls.
Transformers never look so good! xD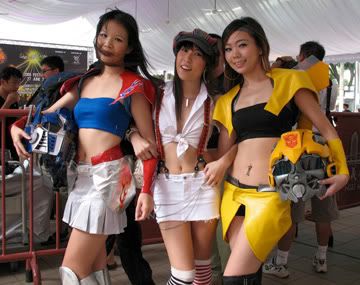 So dangerous was the situation that I'd to engaged bodyguards.
My SWAT Team! xD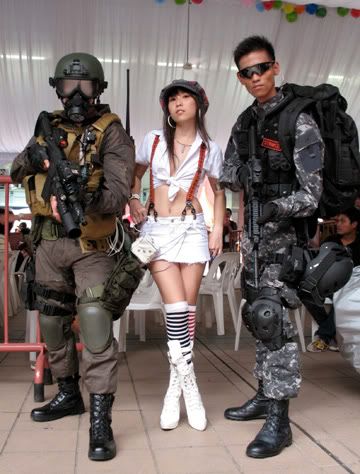 It was well that I'd bodyguards coz as the afternoon was hot & temper flared easily. Saw a passer-by being assaulted by a gang of normally nice & cute mascot. Guess he must had gone too far, poking fun at the mascots in their heavy, hot & steaming costumes. xD
Mascot Rampage!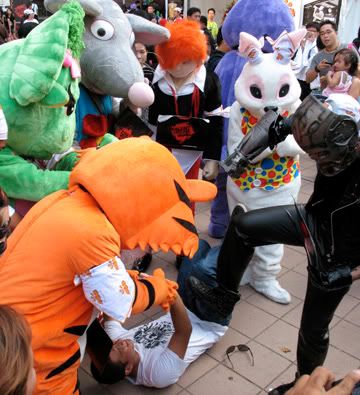 Alright, the above is just a joke. The real story is, this guy was going around fanatically trying to take pics with every mascot around. Most of the poses he asked from them were to abuse him. Don't ask me why he did that for. For all I know, he might like S&M. LOL! =P
In such events, there's another kind of rampage. The Otaku photographer horde. Their locust-like swarming are always triggered by the present of pretty girls, especially onstage. There would inevitable be an onslaught of every kind of cameras, all pointing their lens toward the target. Cellphone, iPhone, point & shoot, DSLR with long super telephoto lens. I just couldn't understand the need of a 300mm lens when the subject is less than 3m away. Maybe they want pics of her nostril hair?!? LOL! xD
Pretty girls & the Otaku Swarm =P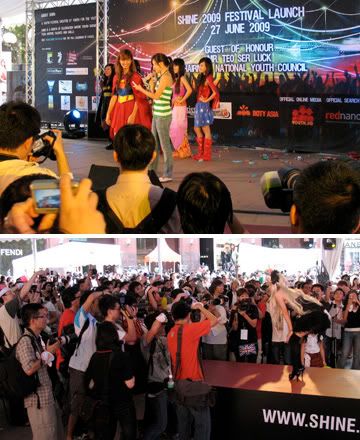 Actually I don't mind the photographers swarm. Well, as my soulmate, a former pro-photographer, used to said, it's sort of a compliment to pretty girls, no? At such events, after putting so much effort into your costume, dressing up with all the works, if only your friends want to take your picture, but no one else want to, won't that be an entire waste of effort & doesn't it indicate one thing? How many times or how many photographers want a girl's pic is the indication of how pretty a girl is. And that's the fact of life!
2 pretty & very popular mascots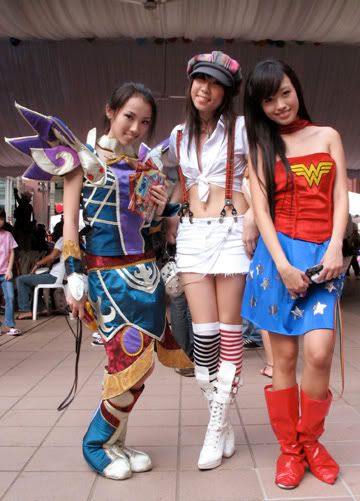 Note:
More & bigger pics can be view in my album.
Labels: Event