The Gathering@Asia
7th June 2009 ~ Was invited to an event, The Gathering@Asia, organized by a friend who had just opened a new shop at Central. It's a shop dealing mostly with anime cosplaying merchandises, costumes, props & such. If you are into cosplaying or wanna make it a hobby, I recommend you to go take a look at his shop: Cos'tasia, #02-05, Central.
Event Posters
So on Sunday, I went down to Central to show support. It was a smallish event with a mixture of Jpop, hair-styling demo, video gaming & a game characters cos-play competition organized by VGL.
Event Stage & audience
There are some booths there too. One of those that interest me is display of miniature figures sculpted by students of
Egg Story Digital Arts School
. If you fantasized yourself as an anime, fantasy or sci-fi character, but can't do it in real, sign up for their course & soon you will be conquering the universe! Make your dreams come true, only in 3D animation or miniature models, of course! xD
Sexy Warrior Girls!
Another display that piqued my curiosity is a booth which had a table display of miniature trees. No, not Bonsai, but handcrafted, painted mini trees made from metal wires, plastic, clay or dried foliage. They are mainly used in architectural model building, but also can be used for making a diorama for your dolls or mini figurines. According to my soulmate who had done these sort of things in hobby & commercially, those cute little trees are very well made. The man behind those artistic mini trees called himself 'Tree Wizard'. If you need miniature trees, here's your man ~ Contact: 9474 3005.
Mini trees which won't die on you. xD
While I was browsing the booths, there is a duo from a rock band known as Helven storming away on their electric guitars.
Rock & Roll from white plastic chairs. xD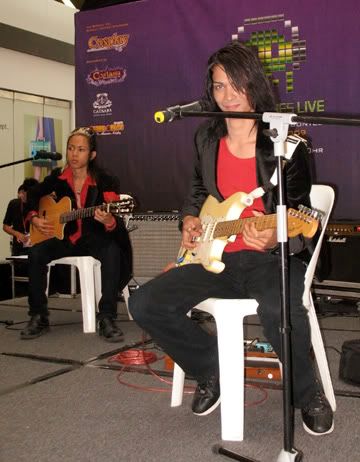 After the band exited, come on the hair-styling demo which is more gear towards anime cos-playing hairdos.
Hairy Plays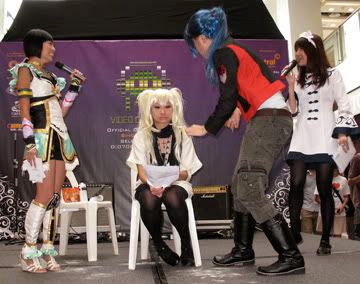 Next in line for the limelight is the game character cos-play competition. I managed to have a pic taken with a participant. In my opinion, she's the best among the contestants... just my opinion, of course. xD
Elven Princess
The stage is set, the cameras are rolling & the judges are ready...
Contest Judges
Drum rolls... presenting some of the contestants... erm, I dunno what the characters were, so please pardon me... xD
'Cloud' on stage

EyeBall-ing the MCs. xD

I left the event before the closing, but before that, I managed to grabbed a pic with the 2 gorgeous MCs whom I knew from a previous event, also held at the same venue.
Beauties of the show, Calista, me & Reiko.
And also 2 pretty showgirls whom I recommended to the event organizers. One of them is my friend's sister & the other, her ex-classmate. Don't they look cute in their anime costumes? xD
ShowGirls Peggy, Michelle & me.

Labels: Event