Malacca!
28th Aug to 30th Aug ~ Went for a 2 days short holiday trip to historical Malacca with my whole family & friends. Wouldn't be featuring pic of them coz all are too shy. Therefore, only my pics will be in this entry. =P
When we speak of Malacca, usually we meant the ancient Malacca Town which is the centre of the state of Malacca in Malaysia. Malacca, spelled & pronounced as Melaka in Malay is a place steep in history & a mixing pot of cultures. Its rich historical background earned it a World Heritage Site in 2008.. Beside that, it is also the origin of the
Peranakan
culture.
More about Malacca:
http://en.wikipedia.org/wiki/Malacca
http://wikitravel.org/en/Malacca
Evening, Friday, 28th Aug.
Our group had booked a tour bus with a guide to take us to Malacca. We left Singapore in the evening at about 7.30pm. Crossed the second link which join Malaysia to Singapore & traveled northward, stopping at a small town for dinner before processing to Malacca. Overland journey from Singapore to Malacca usually takes about 3 hours. There are many tour agencies in Singapore which offer 1 day sightseeing tour to Malacca due to the short distance. Those kind of tour can be quite hectic, but we were in no hurry as we will be staying there for 2 days.
Arrived at Mahkota Hotel Melaka at midnight. By the time we checked into our rooms, all were tired. Sleep was the only desirable option. =P

Mahkota Hotel Melaka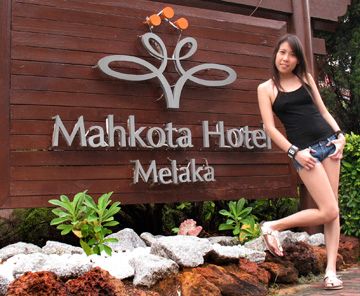 Day 1 ~ Saturday, 29th Aug.
It's a beautiful morning & the view from our room was great.
Morning in Malacca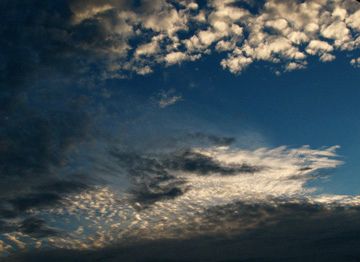 View from my hotel room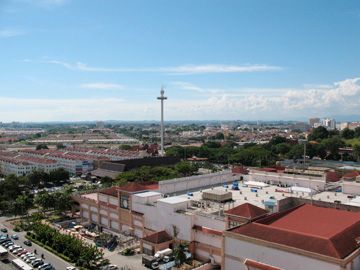 Facing the hotel is the Mahkota Parade, a huge new shopping mall & the slim tower on the pic's left is the Taming Sari Revolving Tower, highest structure in the town of Malacca. It's a viewing platform which travel up slowly, revolving all the time. No, I didn't try it coz our room's view gave me a good enough bird-eyes view of town. xD
Went for our free buffet breakfast which comes with the room rates. I was eager to explore, so after a hurried breakfast, went out of the hotel. There is a display trishaw at the front of the hotel, so I do my usual stuff. =P
Trishaw Girl! xD
Mahkota Hotel Melaka was situated beside the Malacca River & next to the hotel, there's this long pier out into the river, called The Jetty which was clamped full of night life establishments, pubs, cafes, internet shops & karaoke. In the morning, it was deserted, except for my me & my partner.
GoGo Girl? =P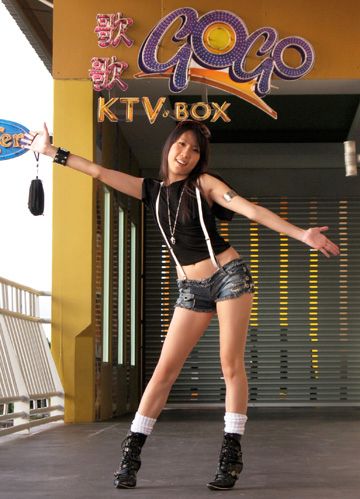 8.30am ~ The bus is here & we are going to explore Malacca!
My Bus! xD
First stop was at China Hill. There, we visited Sam Poh Kong Temple, a Chinese temple which is next to the famous Hang Li Poh Well aka King's Well. This well was dug by the order of Sultan Mansor Shah of Melaka specially for his Chinese wife, Princess Hang Li Poh, hence the name of the well. It supplied the daily needs of the princess & her household. It had never gone dry even in time of drought. Legend has it that if one were to drink from this well, he/she will surely return to Malacca. Today, the well is no longer in use & so polluted that if you drink from it, it's guaranteed you will definitely stay forever in Malacca! LOL! xD
Me @ Poh Kong Temple & Hang Li Poh Well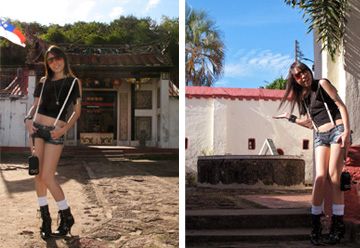 The next stop is the renowned Dutch Square, more commonly known as the Red Square of Malacca where all the buildings were painted in a dark red color. It is said that if you visited Malacca, but never been to Red Square, you never been to Malacca yet. The Red Square is the icon of Malacca.
The Red Square of Malacca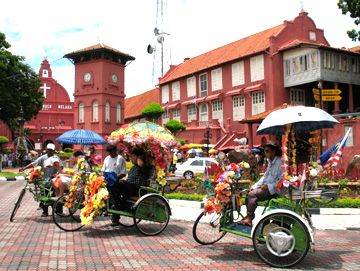 On the left of the above pic is Christ Church Melaka. At the center is the Tang Beng Swee Clock Tower & on the right is the Stadhuys, constructed in 1650 as the residence of the Dutch Governor and his deputy. Today, they are relics from Malacca's colorful past & the most popular tourist spot complete with colorful flower decked trishaws.
Red Square with Malaysia national flower, the hibiscus.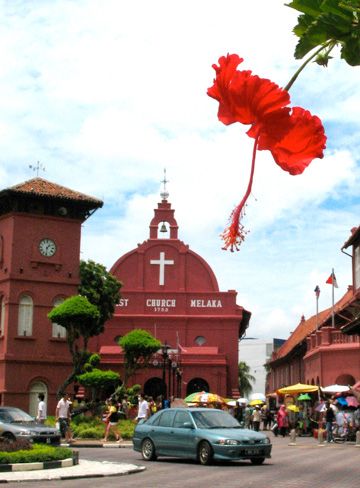 And who can say I've never been to Malacca?
Me @ Red Square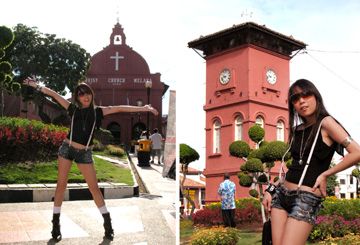 Everywhere around Red Square are these beautifully, artistically decorated trishaws bedecked with artificial flowers. The effort & time put into these must had been tremendous!
The Art of Trishaw Deco!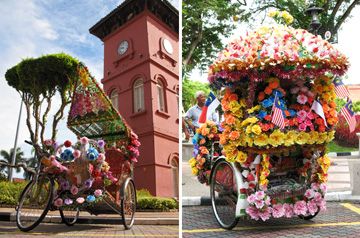 When I walked passed a roll of flower bedecked trishaws, a few trishaw riders called out 'Super model!' coz they had earlier noticed me posing for pics around Red Square. When I posed for a pic with that trishaw roll, some of the trishaw riders broke out into song, singing
Guantanamera
while a cheeky trishaw rider on my right behind me tries to imitate my poses. It was really hilarious! LOL! xD
Guantanamera Super Model! =P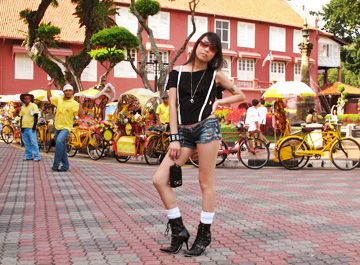 Typically as in all tourist spots, Red Square is crowded with souvenirs stalls.
Souvenirs stalls @ Red Square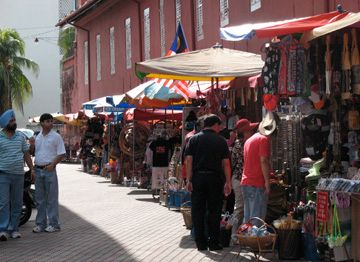 Samurai Hamster of Red Square! =P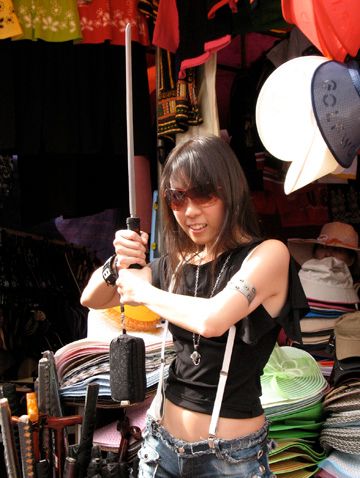 Just beside the Stadhuys is a stairway leading up to the top of St. Paul Hill where the ruins of St. Paul's Church is located. So up we go!
Resting near St. Paul's Church.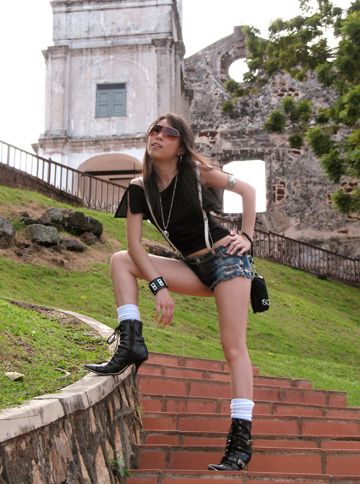 Interior of the ruins.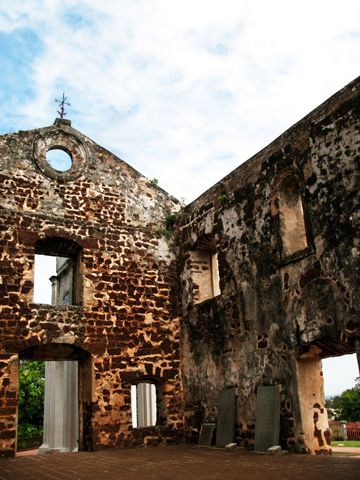 With the statue of St. Francis Xavier & walls of St. Paul's Church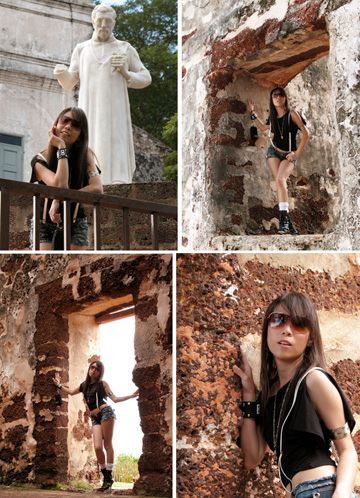 Making a wish! xD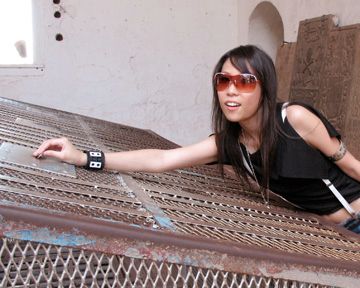 The 'wishing well' in the pic above was actually an open grave of St. Francis Xavier. Now, it's empty & turn into a wishing well covered by wire mesh. The body, still in fairly good condition despite the years(500 years old), is now displayed at the Basilica of Bom Jesus in Goa, India.
The views at the top of St. Paul Hill is spectacular. In the past, it was used by the colonial powers which occupied Malacca, as an observation post to watch for enemy ships. Now, it's a lighthouse with a lamp installed in the church tower. The sea was nearer to the hill a number of years ago till some part was reclaimed, thus making the distance from the hill to the sea much further as can be seen by the pic below. In the foreground is the
Taming Sari Revolving Tower
& the ferris wheel, 'Eye On Malacca' near the sea.
View from St. Paul Hill.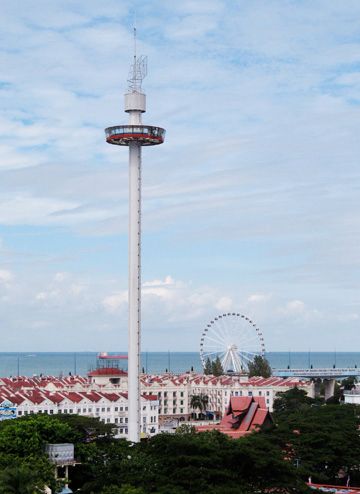 And what makes the platform of the Revolving Tower goes up?
A Giant Hamster of course! =P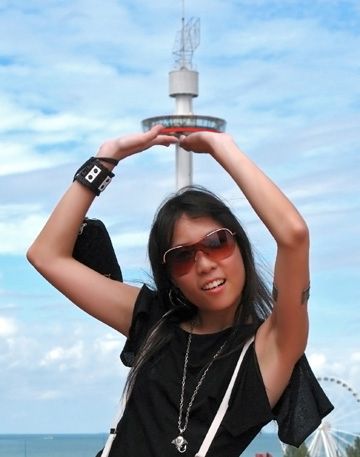 Down by the foot of St. Paul hill is Porta de Santiago, the remains of an old Portuguese fort.
Girl Cannoneer of Porta de Santiago =P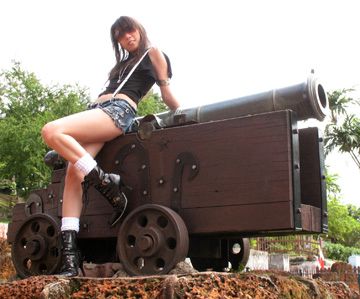 When I arrived at the fort, I saw some filming action going on.
Camera! Action! Cut!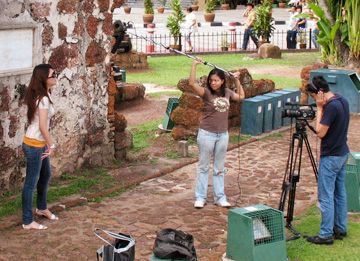 They are from Tourism Malaysia promoting Malacca. The commentator is a gorgeous girl & when they are done filming, I asked her for a pic with me. The film crew were in a rush & I didn't catch her name.
But I got her pic! =P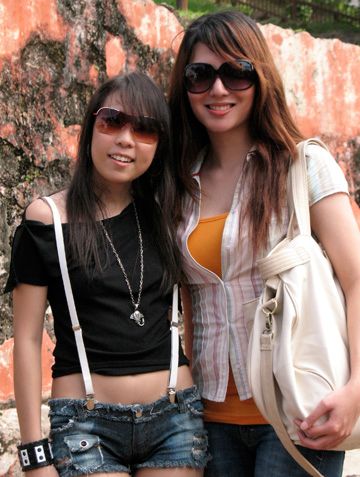 Since our tour bus hasn't arrive yet, I took a stroll around the area & discovered a pair of train carriages on display beside an old airplane.
Train & Plane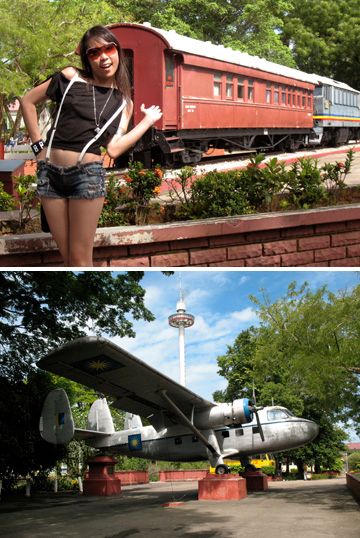 All Aboard The Hamster Express! xD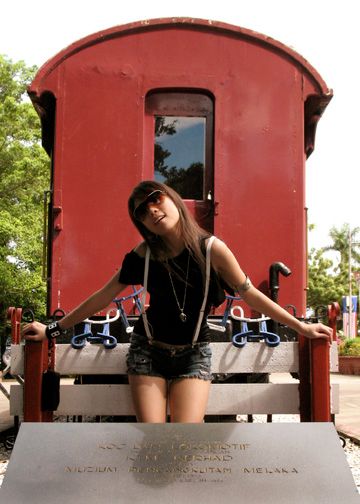 Our next destination is the Portuguese Square. Not much to see as they were repairing the streets there. Took only a few pics.
Me @Portuguese Square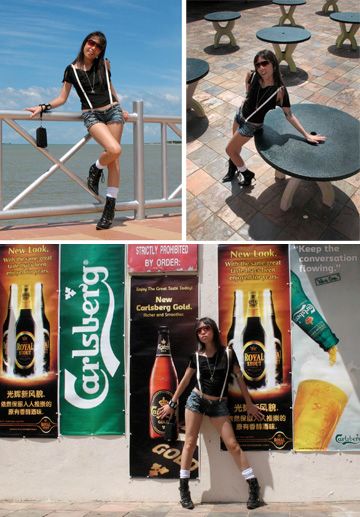 12pm ~ Lunchtime! Our guide took us to a Nyonya restaurant which claimed to serve
Peranakan cuisine
, but I doubted it's all authentic Baba-Nyonya food. However the dishes were delicious, so sumptuous that I forgotten to take pic of! =P
Restoran Nyonya Suan(Spelling in Malay)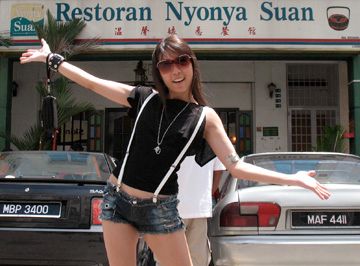 After lunch, it's free & easy before continuing the guided tour at 4.30pm. What to do between that time? Go shopping of course! Singaporeans 2 favorite hobbies. eating & shopping! LOL! =P
The bus dropped us off at a huge shopping mall, the Dataran Pahlawan Melaka Megamall which is within walking distance of our hotel.
Deco of Dataran Pahlawan Melaka Megamall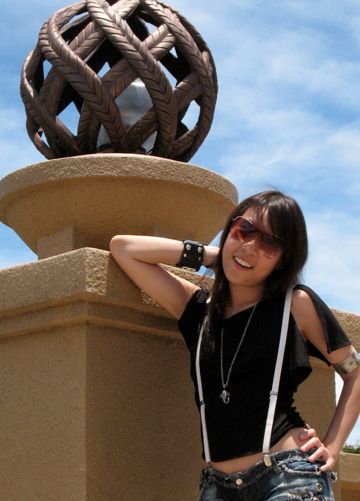 I'm not much into shopping or eating & it was a very hot afternoon. So I figured it is a better idea to take a dip in the swimming pool back at the hotel.
Cool Pool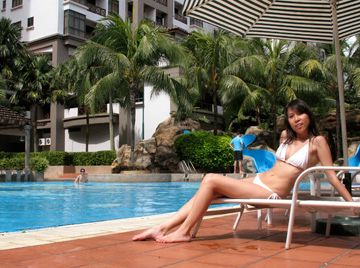 Water Sliding Hamster! xD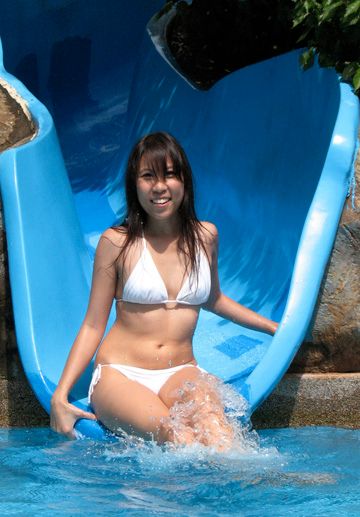 4.30pm ~ The bus punctually picked us up & when our guide asked us where do we wanna go... except for a very few of us, the whole gang voted for food! Arrrrrrrrr!!! I do not want to eat my way through Malacca like most Singaporeans do! Do you know how most Singaporeans travel? Sleep most of the trip & half the passengers won't budge from the air-con bus if it's a historical site or place of interest. The ONLY interests they have are FOOD & SHOPPING! If the bus stops at food outlet or shopping area, they will charge down like lemmings! WTF is wrong with you people?!? Eat, sleep & shopping? Might as well stay home! No wonder so many are fat & let me tell you a fact of life. FAT IS UGLY & UNHEALTHY despite what you might console yourself or among each other!
Sigh... on the way to sightseeing the food, we passed by the
Eye On Malacca
, a huge ferris wheel like the one we have here, the Singapore Flyer. How does it turn? Remind you of a hamster wheel? xD
Eye On Malacca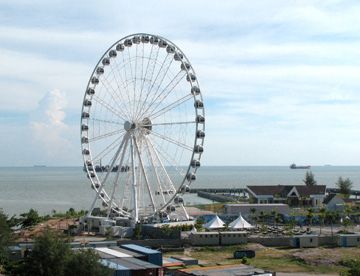 We reached our food destination & the sight of the place, prompted the charge of the fat cavalry! It's
satay celup
they wanted to conquered. This outlet is very well known to the locals & Singaporeans alike. I had never heard of it. LOL! xD
A very very popular outlet that when I Googled for it, up came many references, mostly by Malaysians & Singaporeans, denoting it's fame. Well, I was there to witnessed this craze myself. Top pic below was taken at about 5pm when we arrived. Bottom pic was taken about an hour later. We were there early due to this very reason. Slightly filled to full house with a queue within an hour! I do not want to imagine what happened at peak hours!
The Craze for Satay Celup!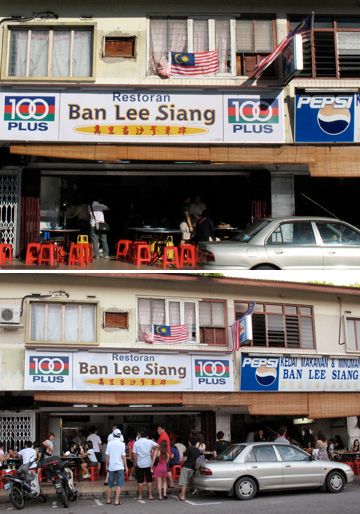 How do you eat satay celup? In a crazy burning hot & spicy way! For those who can't take spicy, prepare the fire hose! LOL! xD
1: Take the sticks of food from the fridge like in a buffet.
2: Load a mountain of food to the tray. I loaded a tray for 2 person. I didn't took much as I'm not too keen on spicy food & beside that, I was warned by my very experienced soulmate who think it's a crazy way to eat good food.
3: Dip into the very spicy soup to cook the sticks of food.
The Ways of Satay Celup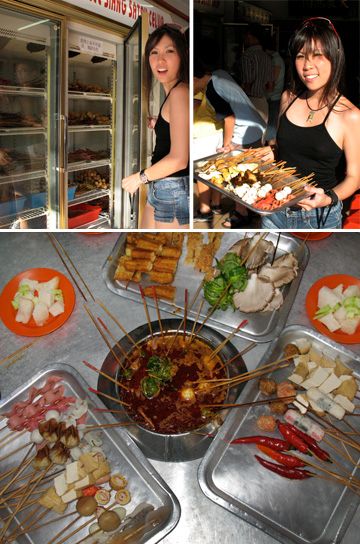 Let feast & the burning begin! Chomp!... HELP! WATER!!! Yep, you'll need plenty of stand-by water to cool yourself & I ain't joking. These people are mad, I tell you. MAD! And for the record, later in the evening, a number of our gang suffered stomach problems, food poisoning, diarrhea! It hit my mom & me too. Me who didn't even ate much of that stupid satay celup! Luckily, I suffered the least of them all due to my soulmate wide knowledge in this form of stupidity. He cured me fast, within less than half an hour after my stomach shown sign of rebellion. The rest suffered through the night & some still in pain the next morning. Eat lah! Obi Good! =P
After the early satay celup dinner & you know what? Eat again! OMG! However this time, I didn't mind so much as I did not stuffed myself at dinner & it's just small pieces of dessert anyway. The bus stopped again at another food stall.
Tutu Kueh
! In Malay, it's called kueh tutu which is originally, a traditional Singapore delicacy, but over the years, due to our high cost of living, the quality had dropped dramatically. Over in Malaysia, with the much lower cost of living, tutu still maintain it's original favors. This stall produced the best & of course, there's a queue. There's ALWAYS a queue at popular food stalls. Just by those queues it's fairly easy to tell which stall is good, but I WILL NOT TRY satay celup again!
The making of Tutu Kueh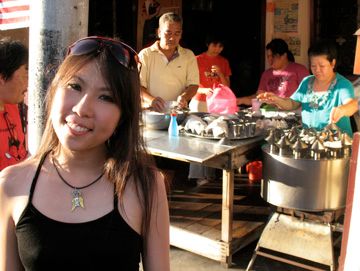 Forgotten to take pic of the tutu coz too eager to devour the little delicious kueh. Heeheehee... =P
After tutu kueh, on we went to the Jonker, Heeren Street area.
Cowgirl @Jonker Street xD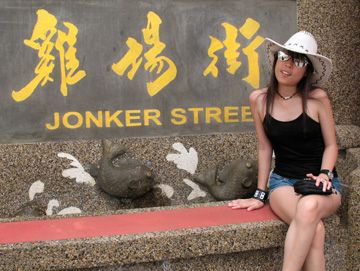 By day, this area is just like any other street of Malacca. Narrow streets chocked full of traffic, sightseeing tourists on flower trishaws, colorful little temple, small eateries & many shops wasn't open for business.
Jonker Street area by day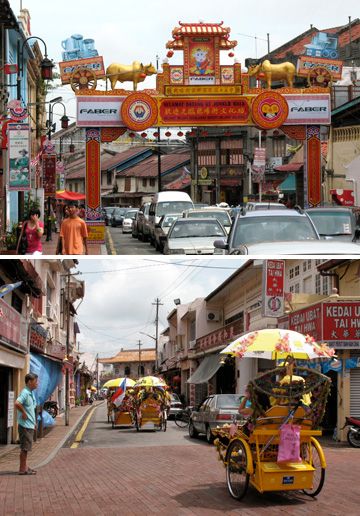 Pub & foot massage/reflexology parlor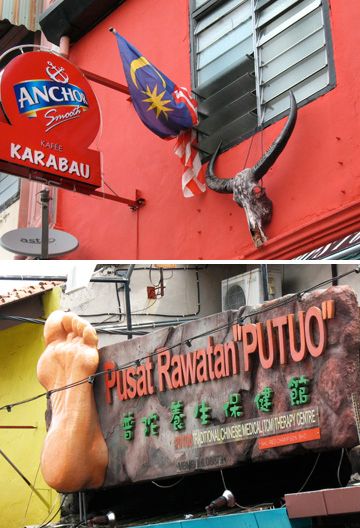 Temple, Hainanese association, restaurant & peanut seller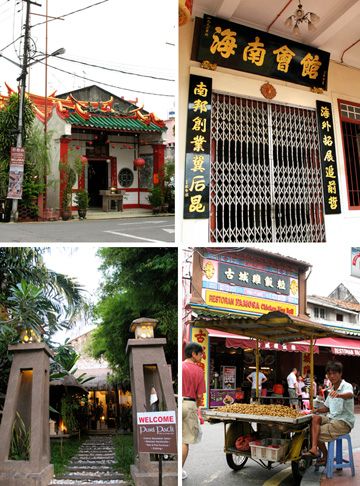 But when the sun set...
Evening Comes!
The whole area comes alive. It turns into a night market. The roads are closed to traffic & stalls are set up on the streets.
Jonker Street area by night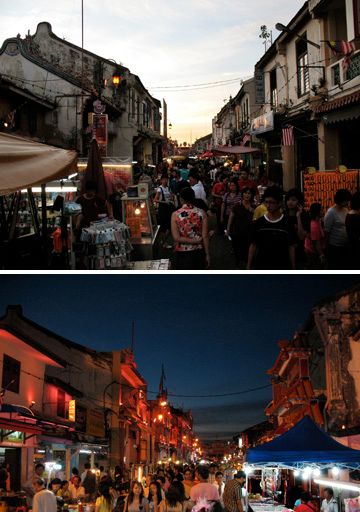 For sale are huge varieties of items, from toys, candy, clothes, bags, miniature clogs as keychains to wooden model sailing ships & handicrafts... too many to be listed, all kaleidoscopically & dazzling displayed. It's a favorite place to roam for the locals & tourists alike.
Stalls & items for sale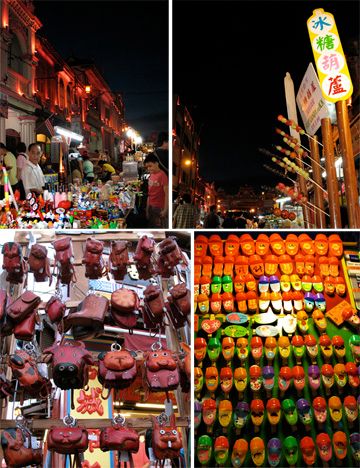 Wooden ships, souvenir shop & a spa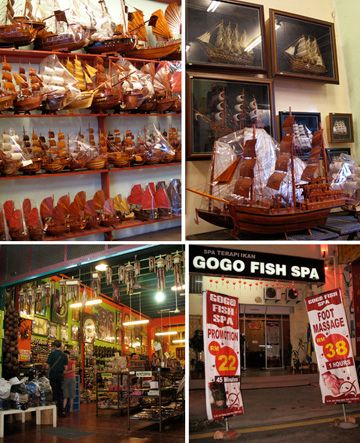 Plush toys & wire handicrafts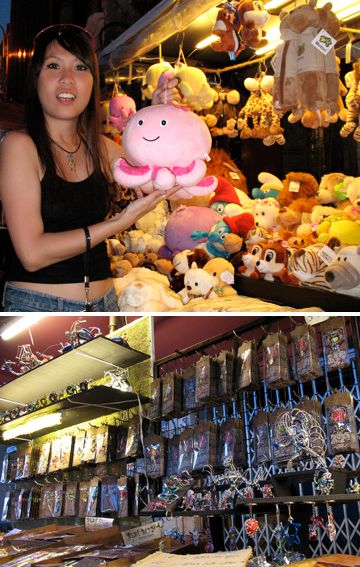 I bought a few small items & found this couple running a wire handicraft stall. They custom made, twisted your name from metal wire as either a keychain or cellphone ties. Of course I had to have one! xD
Wirecrafting couple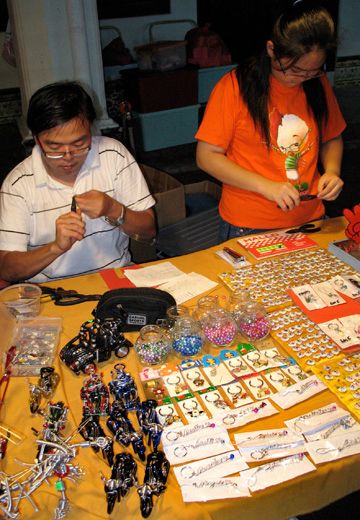 After returning to Singapore, I disassembled the keychain, added accessories to it & I have a pendant in my name! xD
My new handcrafted pendent!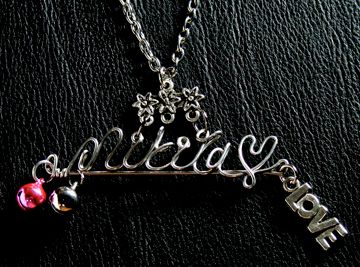 Back on Jonker Street! At a road junction, there's a dance performance by a dance association.
Road Dancing!
And did anyone say 'Food'?!? There are a wide of choices to choose from. For the timid, try the multitude of restaurants available. For the adventurous, test your luck with the roadside hawkers! =P
Restaurant or Hawker Tim Sum? xD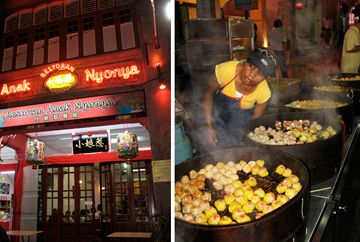 Hawker food stalls, fried or soup?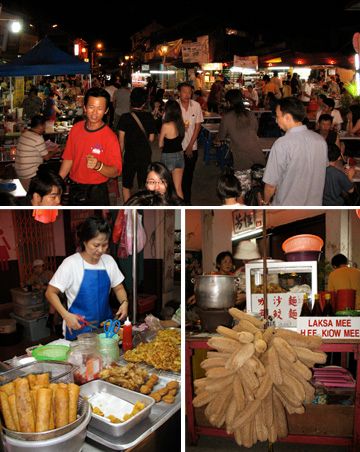 Fried carrot cakes or roadside Japanese eatery! =P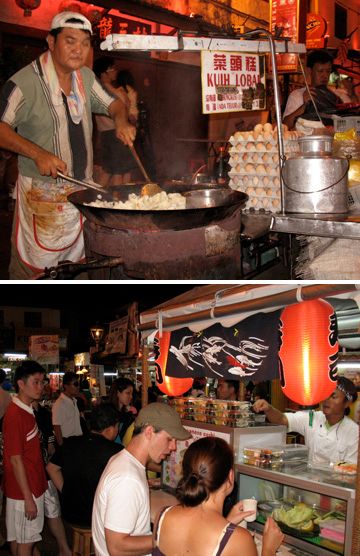 End of our day 1 in Malacca.
Day 2 ~ Sunday, 30th Aug.
After breakfast, at 10am, we checked out of the hotel, putting all our luggage on the bus. When our guide asked again where we wanna visit, me, my brother & my soulmate put our feet firmly down on food! No more food tour! Enough is enough! We wanna experience some things more meaningful! Veto the votes! Revolution! xD
The small, but mighty force of Rebels won & we get to visit the
Baba Nyonya
Museum. The museum is an original typical Peranakan dwelling, a beautifully preserved double-storey house. All visitors have to make an appointment & escorted in guided tour. Fee is RM8(USD 2.25) per person. No photography of any form is allowed! WHY? I don't get it! Why not? Don't they want free promotion from the public, especially bloggers or reviewers, which in turn will bring more visitors? What have you got to lose from people taking pics? Sigh... typical conservative mentality I suppose. However, my partner did managed to sneak some shot of the interior. =P
The Baba Nyonya Museum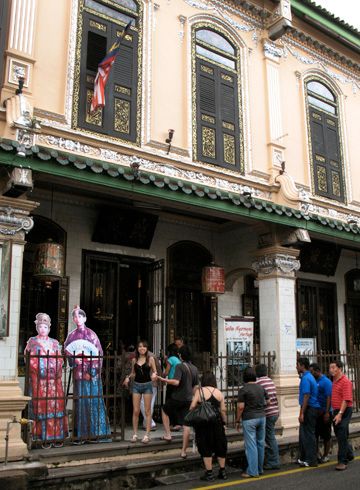 Inside the museum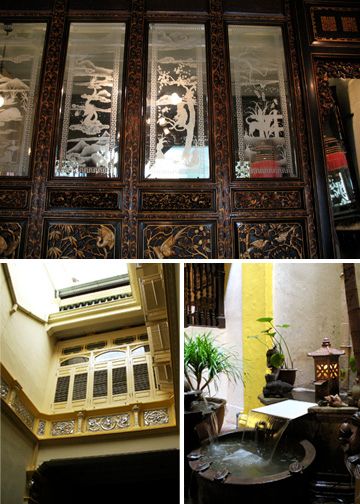 It was quite an unique experience, admiring the magnificent handicraft framed on the walls, beautiful exquisite furniture, many inlay with gorgeous mother-of-pearl, fascinating clothing, learning of how those early immigrants lived, their ways of life, codes of contact, society & culture, well the richer ones anyway. Still, it's interesting, better than facing food! =P
Next, we were taken to Harmony Street where once, long long ago in Malacca history, religious harmony was a common practice. At Harmony Street, you can see Chinese temple, Muslim mosque & Hindu temple nearly next to each other, all on the same narrow short stretch of street.
On the way there, we spotted a monitor lizard in a small drain. It's about a meter in length. What's it's doing in town? Tourist? xD
The Malacca natives are more of the live & let live kinda mentality. If that lizard were in Singapore, in same kind of environment, it would be arrested instantly! Another typical Singapore attitude. Everything call police! Complain! Felt the slightly tremor of a distance earthquake, call police! -_-"
Lizard Tourist =P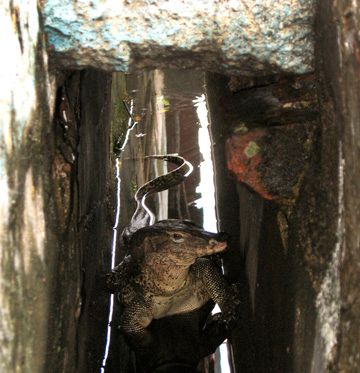 We arrived at Harmony Street after a short walk from the museum.
A typical Malacca house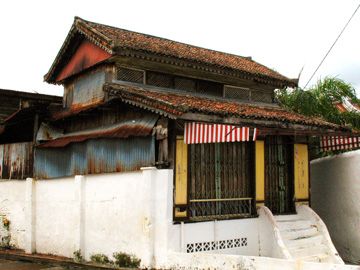 The Impressive Cheng Hoon Teng temple, built in 1645, is the oldest Chinese Temple in Malaysia.
Cheng Hoon Teng temple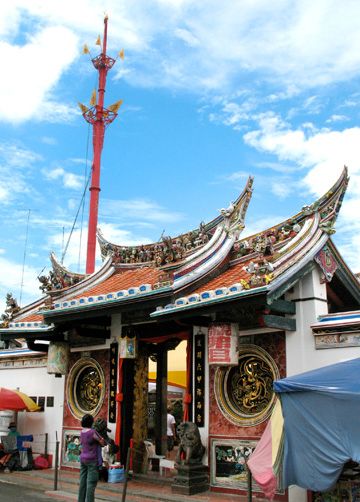 Temple courtyard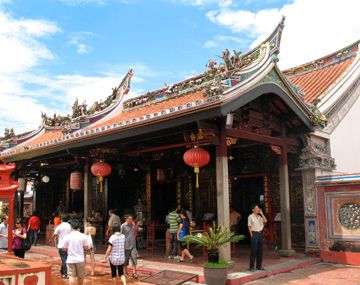 A short distance away is the imposing Kampung Keling Mosque which was completed in 1868. It have a rather unique structure for a mosque, one I'd never seen before. Instead of the typical round dome found in mosques nowadays, it's dome looks like a pyramid.
Kampung Keling Mosque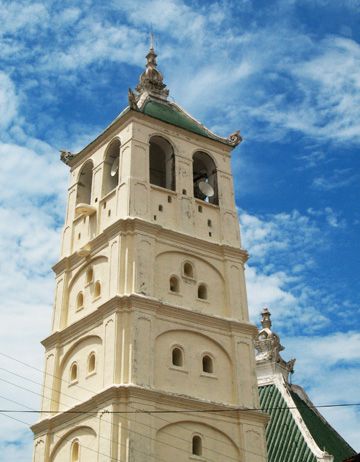 Entrance arch & pyramid dome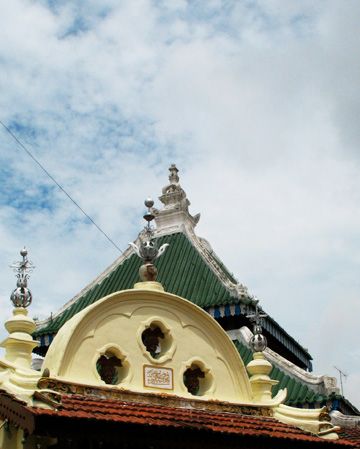 Next to the mosque is Sri Poyyatha Vinayagar Moorthi Temple. Built in the late 18th century & is the oldest Hindu temple in Malaysia.
Sri Poyyatha Vinayagar Moorthi Temple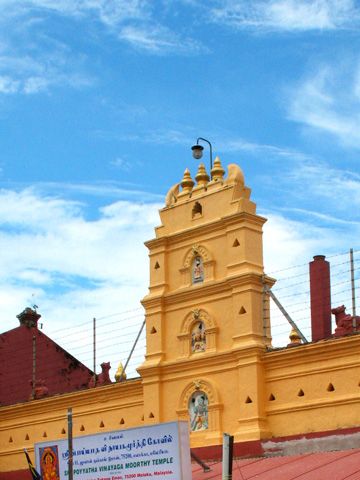 After Harmony Street, we headed towards Jonker Street which is nearby. Eating time again! Oh well, it's lunchtime anyway. Which other Malacca food attracts the attention of both locals and tourists alike as satay celup? Chicken rice ball of course! So try out this delicacy we must! xD
The original chicken rice ball stall is still in operation, for decades, at the same small dirty coffee shop in a corner of Jonker Street, but several imitation outlets had sprang up over the years.
The original chicken rice ball stall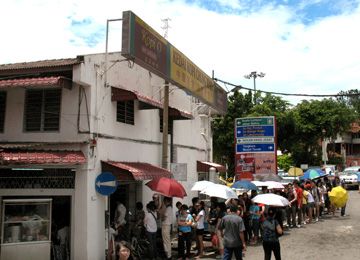 Copycat chicken rice ball restaurant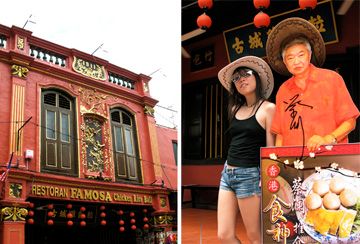 Every of those chicken rice ball shop, original or otherwise, had a long queue, so what the heck, we might as well choose a cleaner one.
We ate chicken rice ball here! xD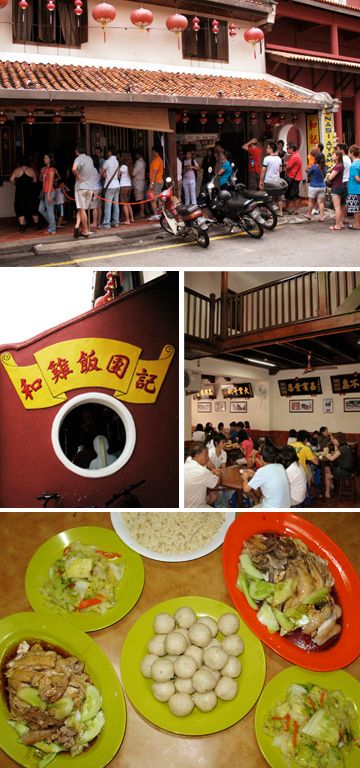 After tasting the chicken rice ball, I didn't find it any different from many Singapore chicken rice, except for the rice itself. The rice were moulded into a ball & that's the only different! What a disappointment!
Our bus will take us back to Singapore at 3pm, so there are still plenty of time to kill. We wandered around Jonker Street taking more pics.
Dragons' Blessings!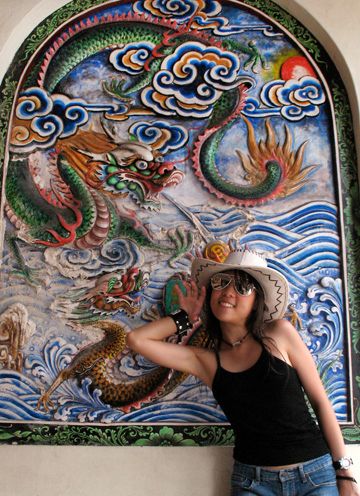 Nian, Chinese mythical beast & Cute Magical Hamster =P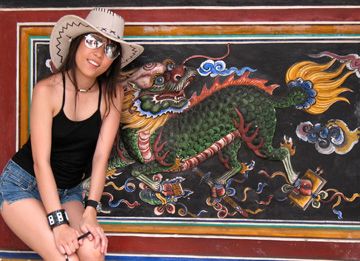 How's this for a greeting? LOL! =P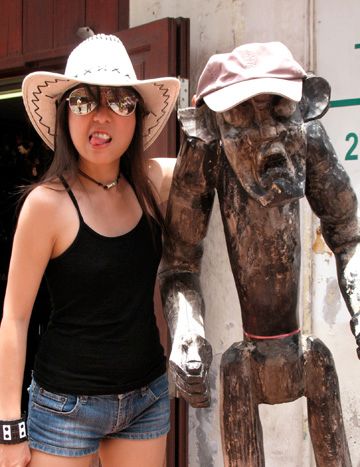 Came upon Malacca River during our walk & saw a strange tourist again, another monitor lizard taking a rest in the shades along the river bank. This specimen is much larger than the previous one, near 2m in length & similarly, it was left in peace. No one bothered to called the police. xD
Malacca River & it's strange tourist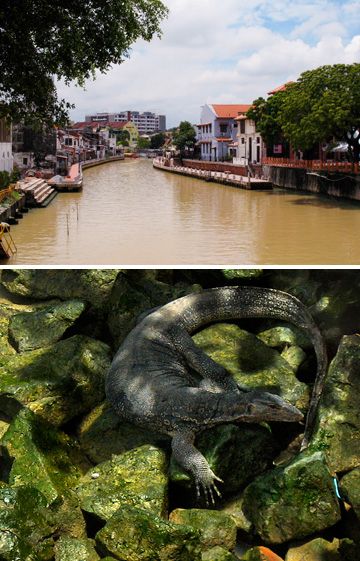 Across the Red Square, we spotted a replica fort armed with cannons, so we went to investigate. Cannons, Oh Yeah! xD
Who's your Momma now? =P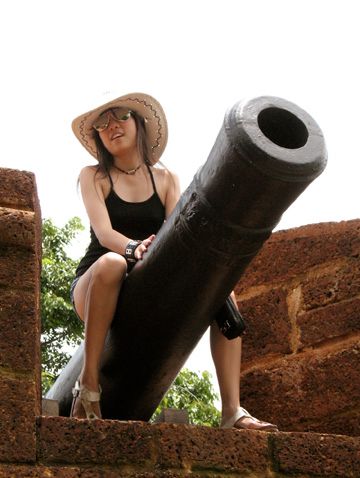 Capitán Nikita de los Cañones! xD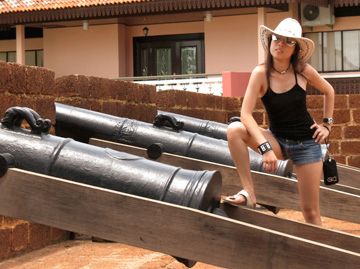 We bided farewell to Malacca at 3pm & reached Singapore about 6pm. It had been a very interesting & enjoyable trip for me. Wish I could travel the world as often as I like, but sigh... easier say that done.
Am in a country among these flags, been to 2. Where next?