Halloween 2009
31st Oct, Saturday ~ On the evening of Saturday, a She-devil whispered to my friend Felicia, "Lets be naughty. Go Halloween!" With cheeky eyes lighted up, she grabbed the She-devil & off we went to Halloween! xD
Felicia with She-devil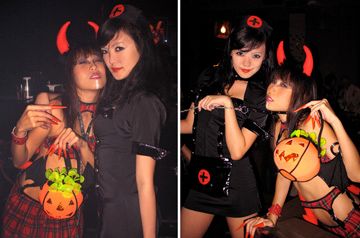 With some pretty companions, we went down to terrorize or spread sweet temptation at Clarke Quay, whichever works. xD
Halloween @Clarke Quay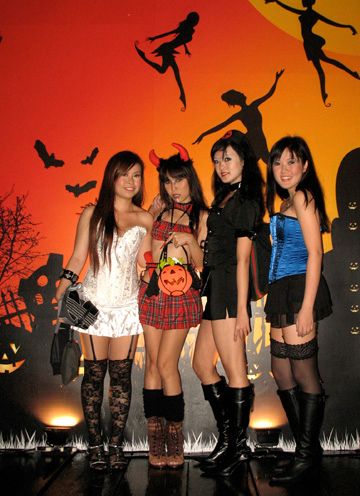 Before we can do any mischief, we were arrested by the Bacardi team. Oh well, the more girls, the merrier! =P
Halloween Bacardi Girls! xD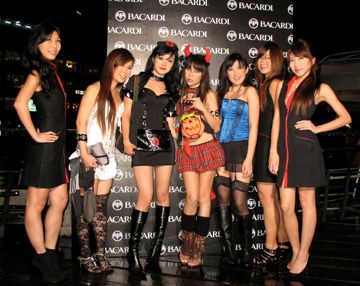 After our release, we hit right off with many horrors or fancies of the night. Moo moo cows, screaming box-man, hunk of Viking & Hercules, angels, devils, ghouls, zombie, witches, belly-dancers, pharaohs, pirates, cowboys, geishas, street-fighters & even Michael Jackson was sighted! The night came creepy alive with burning eyes, terrible fangs, evil laughters, dripping blood & banshee screams... Oh, de HORRORS! xD
Sweet Halloween Characters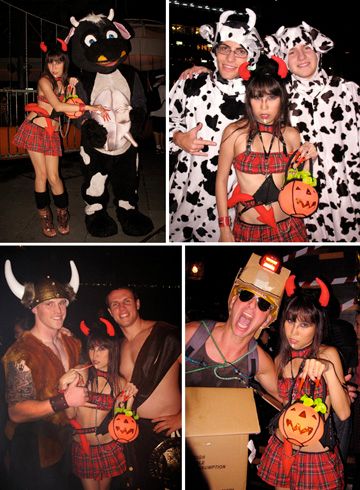 Fanciful Horrors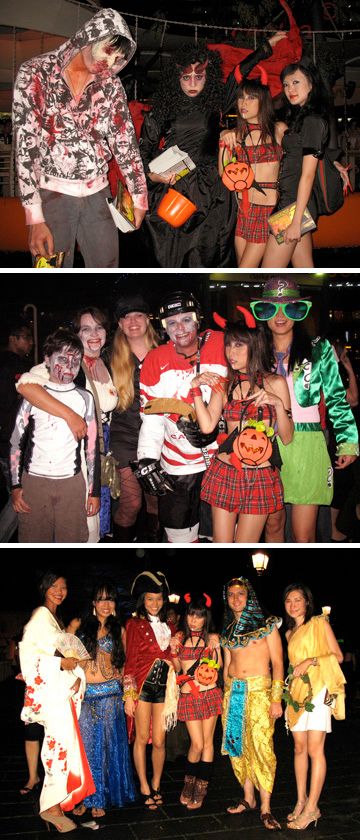 We hit the night spots, terrorizing Le Noir early in the evening.
Revelers @Le Noir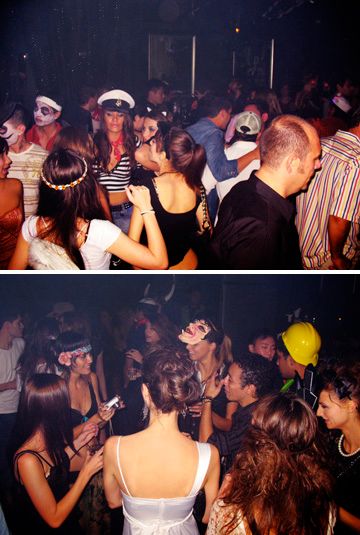 With Friends @Le Noir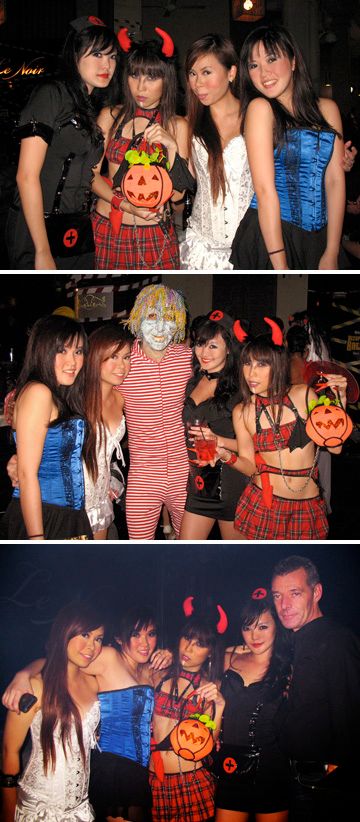 The Macabre of Le Noir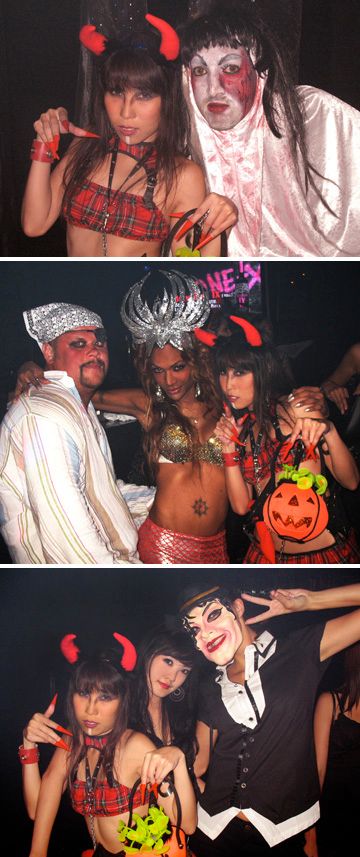 Later, we went over to Attica. It was super crowded. Even the VIP room which I managed to get in was no better. It was barely moveable inside with only standing space. Party like sardines! LOL! xD
Party Animals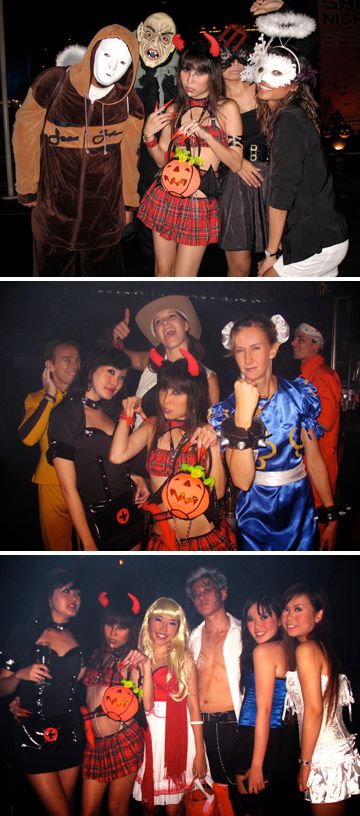 I left Attica after a while, escaped from Felicia & went to meet my former classmates at SOHO(Social House). =P
Gory former classmates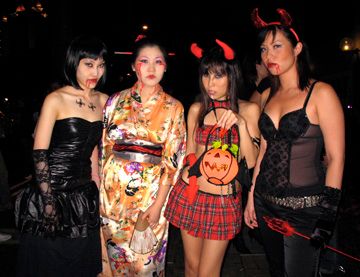 Less crowded at SOHO, but less costumes. Perhaps due to the much younger crowd there. They might not know what Halloween is anyway. xD
That thought crossed my mind coz earlier, we had a guy with us. He's near 30 of age, timid, never been to a club before & a complete virgin to Halloween. That night, he had sort of a culture shock. Wide-eyes bewilderedly staring at all those costumes around him, especially the girls! Apparently, after a while, he can't take it anymore, gave a lame excuse that he have to work the next day & left in a hurry. When I reached home after 4am, he's still on MSN, not asleep, giving doubt to his claim of needing to work in the morning. When I chatted with him online the next day, he put up an effort to covered up his lost of face/ego on the night of Halloween, acted pompous, trying to sound experience & knowledgeable, imposing his foolish ideals on me. I promptly shut him out of my life. What a wimpy pretentious geek he is! Good riddance to bad rubbish keyboard warrior!
Anyway, back to Halloween night...
Halloween Party @SOHO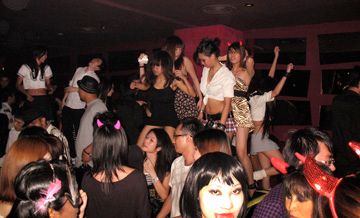 With friends @SOHO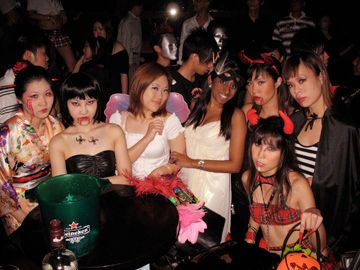 Nath came after finishing work & joined us @SOHO.
She-devil & Terror Schoolgirl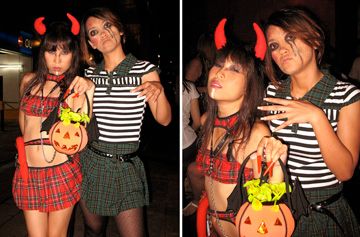 About 4 am, tired out, we called it a night. Enjoyed myself thoroughly & cya next Halloween! Btw, how do you like my costume? =P
Note:
More and bigger pics in my Flickr album.
Labels: Event