Guangzhou Part 2 ~ My Food Experience
Continuing tales of my stay in Guangzhou...
I'm not a food person. Mean I don't eat for the fun of eating & unadventurous in choice of food. My range of food don't varies much, always ending up eating the same thing in a row. When I'm in Guangzhou... ya, I know, I know... Cantonese people is well known worldwide for their culinary skill. To many food lover, it's feasting time whenever in Hong Kong or places where the majority of the population is Cantonese. Me? Reluctantly I succumbed to social pressure & forced to eat things that I don't normally would. Such circumstances were when our host ordered the food. I had to eat or at least politely taste every dish placed on the table out of courtesy. Not really as bad as it sounds. Many a time, people who knew of my eating habit, just won't tell me what's on the menu till I eaten. Ignorant is bliss. =P
In Guangzhou, you can find food everywhere. From high class restaurant to street hawkers. Food is cheap there in comparison to Singapore & you can get food any hour of the day. Many cafes & their version of kopi-shops are open 24 hours. Where & what did I ate?
A restaurant in Grandview Mall, the biggest mall in East Asia. Here is where we paid the highest price for a meal in Guangzhou... a princely sum of S$25 for 2 people! They serve a combination of western, Japanese cuisine & shabu shabu. Hey, I'm a faint-hearted little girl in a foreign land & our host is not with us. So I get to pick my own food. Don't push me over the edge, ok? =P
Front & interior of restaurant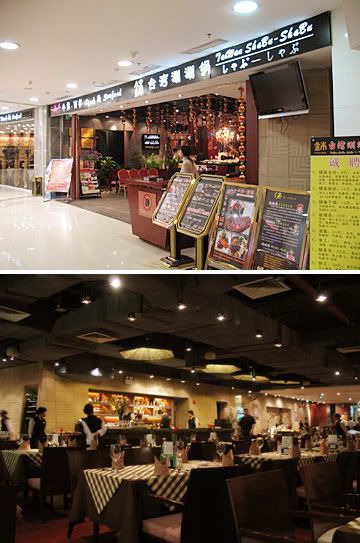 All these delicious food for S$25 only!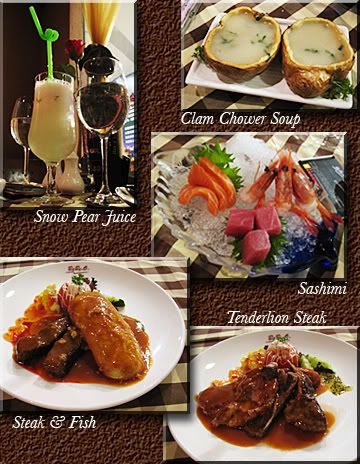 Another restaurant with western & Japanese cuisine on their menu. They have quite a classy interior deco. Was so distracted by hunger that I forgotten to take pic of their interior & the food we ordered... Aiya!
Anyway, we had salad, salmon sashimi, my main course of giant prawn with steak, friend's main course of Japanese beef curry with rice & 2 glasses of fruit juice. All for S$18... heehee...
Yummy, yummy!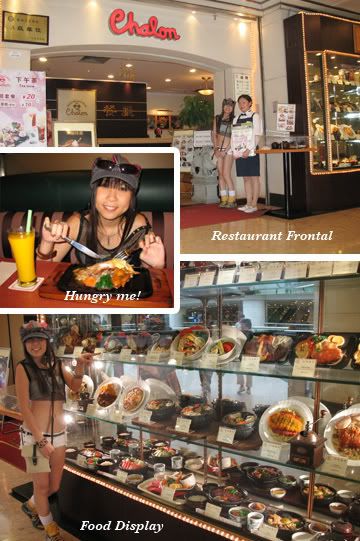 Where do Chinese go to when they wanna chit-chat? We have our kopi-shop, they have Teahouse! A poor host indeed if a Cantonese didn't bring his/her guests to a teahouse for Tim Sum at least once. Our host, being a company director, brought us to a high-class teahouse just next to our hotel. He told us the owner is a Hong Kong media tycoon whom he frequently play golf with. This place is always full of diners at any time of the day or night. Judging by the crowd, quite a number of business suits seen, apparently many businessmen dine & deal there for impression sake.
Red & Gold interior deco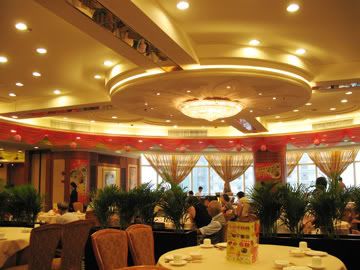 Some of the Tim Sum we had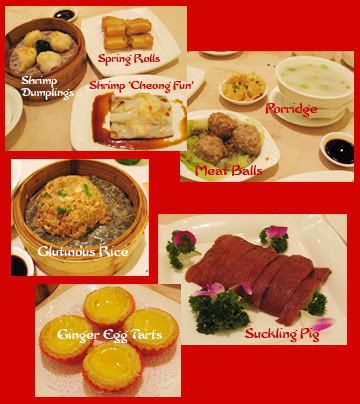 Another teahouse I visited is this place where you can eat all you want from 2 pm to 5 pm at a price of S$2 per person. They have hundreds of selections! Don't ask me what those are coz I have no idea. I just ate what's placed in front of me. Can only remember their tasty fried pumpkin dumplings. =P
Can I have one of each please? XD

Oh no! Eating all those rich food is causing me to put on weight! Arrrrrr!
A nasty surprise among dishes by a Cantonese restaurant =(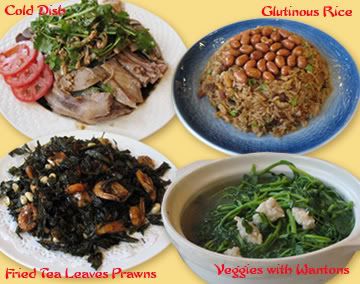 What I ate from that cold dish shown above? Very first time I tried any offal. Pig stomach... well, I'm still ok with that. Chicken offal... eh... fine. Then my friend tricked me. Passed me a piece of GOOSE LIVER! Put in mouth, took one bite... Uuurgh! Nearly spit it out! My friend was glancing at me with stern expression. Control, control! Our host is looking at me! Cannot show unglamorous face! Oh no! Host is giving me the inquisitive look! Swallow! Don't vomit! Swallow! Took me lots of effort to get it down! Slowly, so very slowly, hoping host didn't notice, reached for my drink to wash the horrible taste away. Terrible terrible gourmet experience. =(
Not all Chinese food I tried in Guangzhou are Cantonese cuisine. Our host introduced us to this authentic Teochew restaurant with live seafood. They just started operating just recently & our host wanna give them a try.
Grand entrance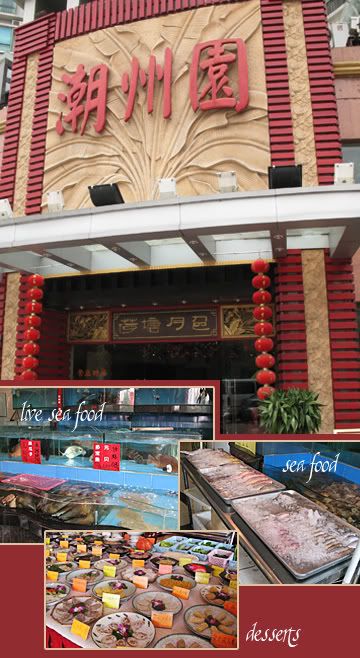 I didn't knew what our host ordered till these appeared...
Authentic Teochew Cuisine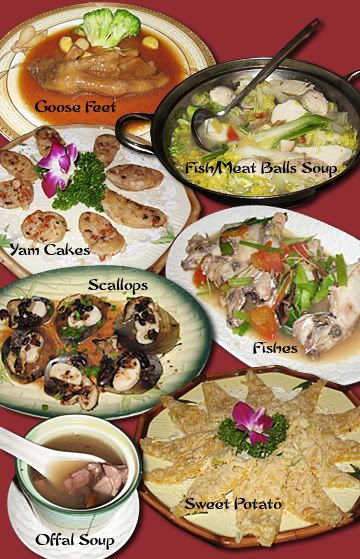 See the dish at the top left? Stewed Goose Feet! One for each of us. Gasp! After the appalling goose liver experience, I'm fearful of anything goosey! While our host & my friend were dismembering their goose feet happily, I am delaying the inevitable. Picking on the broccoli & the ginkgo nuts that come with the awful looking webbed thingie... till my host enquired to my friend "Is she leaving the best for last?" Sigh... no escape from my fate. Time to die. Brave smile. Slowly cut goose webbed feet. Gulp down! Eh? Hmmm... not bad at all! It's succulently good! Alright! Jump for joy! Finally something that look weird, but taste nice. No need for pretense! Yeah! Same as to the pig offal soup. Didn't know what it is till after finished drinking... after which my friend told me... Grrrr... oh well, never mind. It's palatable. I'll live. =P
With my timidness in food experimenting, what do I always eat in a foreign city where food are cheap? JAPANESE FOOD! My favorite kinda food! Hahaha! So very luckily for me that in Guangzhou, there're many Japanese food outlets & their price is so much cheaper then in Singapore. The best Japanese restaurant in Guangzhou I'd been to is one which our host brought us. After discovering my favorite food is Japanese, he's all out to impress me. Told us his son love Japanese food too. Reserved a table at his son's favorite Japanese restaurant, a very popular one. Wow! Not an ordinary table, but Teppanyaki by pretty girl chefs! Drool... Kekeke...
Tasty Food & Scrumptious Chefs =P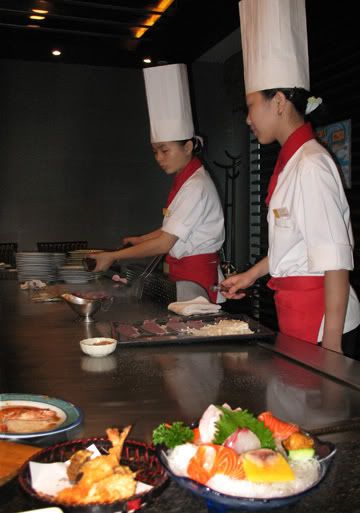 An eat-all-you-can for just S$26 per person! Love the straw mushroom wrap with sliced beef. Gulped down so much salmon sashimi I'm turning into a fish... no, a mermaid! Hahaha!
Whenever I ran out of idea what to eat, will go to a nice Japanese restaurant near our hotel. Sushi, sashimi & bento for 2 person. Cost: About S$20. They even have Mantis Shrimp Sushi. Smack into an unpleasant little surprise first time there. Their Wasabi is of very good grade which I didn't expect in China. Put same amount as I usually do, dipped sushi, eat sushi greedily... OMG!
Nose & eyes watered instantly. Open mouth, blew out air, coughing badly!
So unglam! Totally pwned! Nuked! What fun! =P
Me is Japanese after eating too much Japanese food =P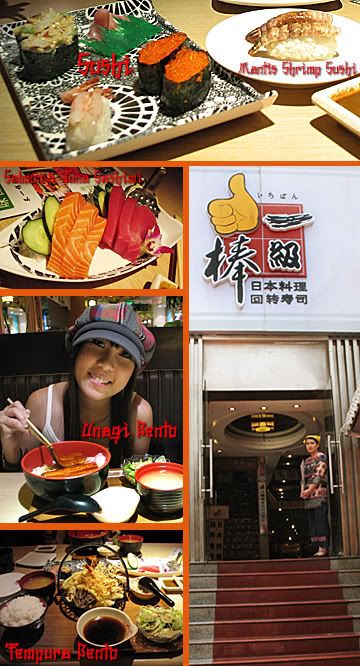 At another Japanese restaurant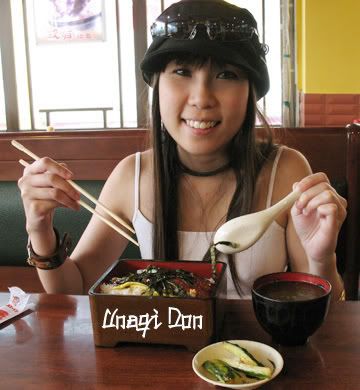 We don't always ate at restaurant. We also tried cheaper food at their air-con 'kopi-shop'. Many of them practice a system of order-pay-seat. Set meal cost about S$2 ~ S$3. I don't dare try the more shabby, non air-con ones.
Lunching at one of Guangzhou's 'kopi-tiam'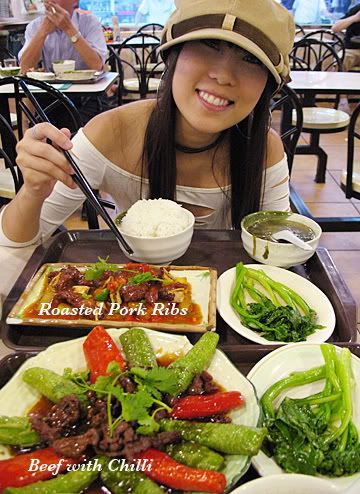 McChina!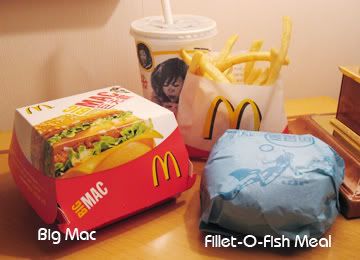 Eh, no. I'm not sick of Guangzhou's food. Bought these when hunger struck returning to hotel from cyber cafe at 4 am. Too lazy & sleepy to walk further. Nearest food alone the way is McDonald. Cheap total price of S$5 only.
Then there're those local fast food chain. Their food are quite tasty & cheaper than western fast food. About S$3 ~ S$4 for a set meal.
Counter color look pretty similar to McDonald's =P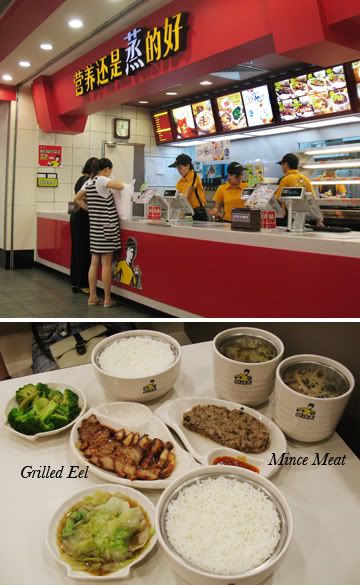 At busy or upscale districts like fashionable Peking Road area, you will see many snack stalls alone main roads & walkway. Their staffs have a peculiar sale tactic of clapping hands & singsong shouting to attract attention.
Clapping to sticks of snack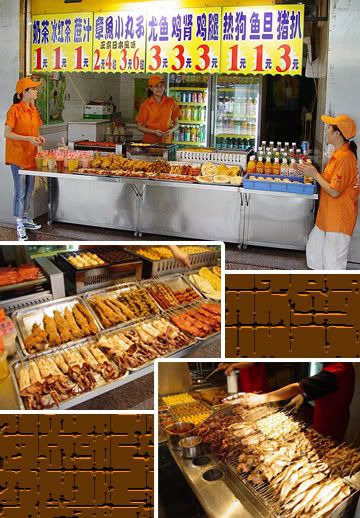 Away from high-rental city central or in back lane, snack stalls are less elaborated. Now, don't ask me what food they are selling coz I'm scare to try anything from this sentence downward. I don't want to die, you know? =P
Plain uniform, plain food?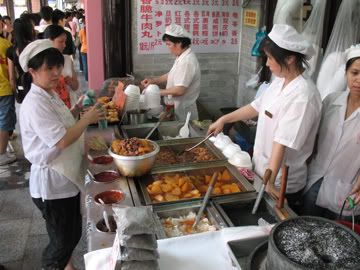 One of the back lane kopi-shop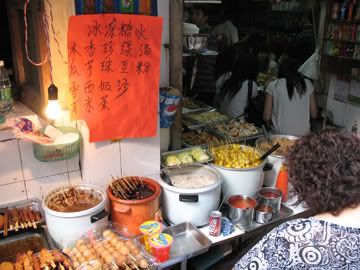 Food stall in front of a house in a narrow alley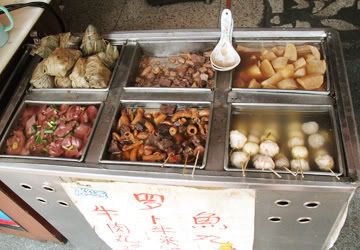 Ready for a culinary thrill? Try their street hawkers. Most of them operate away from busy city central or in back lane, constantly on the move trying to avoid law enforcement officers.
Sausage, Pancakes & Whatnot?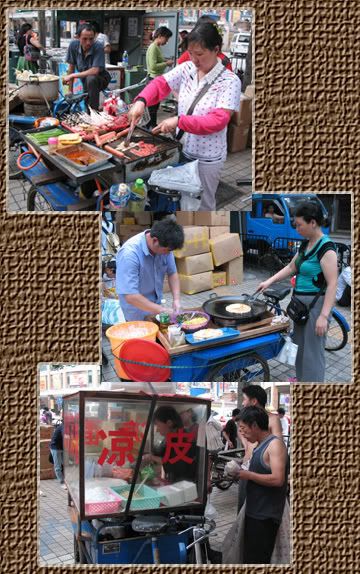 Smelly Tofu, Steam Corn or Crunchy Peanuts, anyone?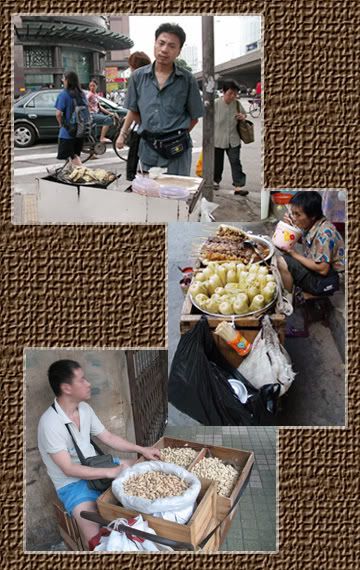 Wanna try your culinary skill? Get your DIY stuff from wet markets.
Fresh Veggie, Cooked Meat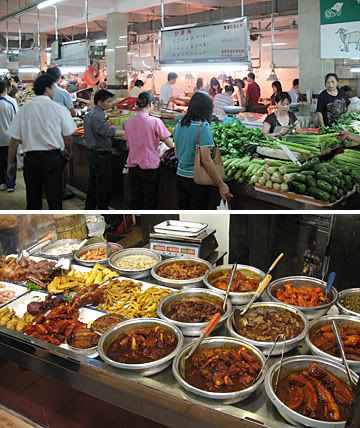 Durian in China!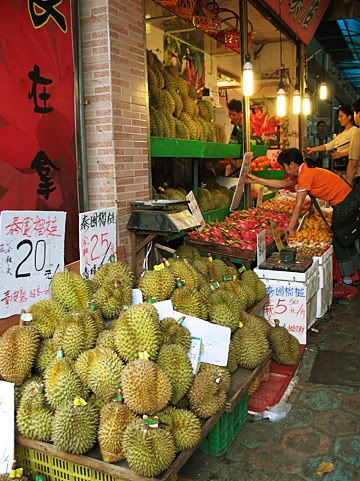 After all those fabulous mouthwatering & scrumptious cuisine, how about some good old plain airline food? Heeheehee...
Fine Dining in the Sky =P