Gifts of Friendship
10th Jan 2009 ~ Saturday morning, sleeping cozily in bed & was woken by loud insistent knocking on the front door. My soulmate answered it & came back with a parcel, telling me "Hey, the parcel from USA arrived."
Yippeee!!! We had been expecting that package. It was sent by our dear friend & his wonderful family from America. My soulmate got to know him when they are members in an hobby forum based in USA. They have never met in real, but developed a firm & warm friendship on the net sharing a common interest in their hobby & many other things. I got to know him when my soulmate introduced him to me. At my first look of his pic, I nicknamed him PBCB - 'Pirate Baron Cutie Bear' LOL! xD
Pirate coz of his bushy beard, Baron is his rank in a medieval reenactment group which he's a respected member of, Cutie Bear... he is really cute & build like a bear! A kindhearted gentleman, he accepted the nickname gracefully in good humor. I believe he even likes it... hahaha... =P
We had received gifts from him in the past, but this time, it's different. He remarried recently & is happily integrated into his new family. We are very very happy for him as he really deserves a happy life! His wife is a gorgeous woman with a lovely teenage daughter. Very nice people, a wonderful family! And this is the first time they sent us presents as a family & that's what made these gifts so special!
I was very sexcited & in the rush to open the package, I completely forgotten to take pic first! Stupid little hamster me! Inside were not 2 gifts as I expected, but WOW! Imagine my astonishment... I can't believe my eyes! NINE fabulous gift-wrapped presents & 2 loose items. The 2 loose items are for my soulmate, an amazing spaceship model & it's Merit Award won at a model competition in America. It was a jointed build by PBCB & my soulmate through email. I have no idea why PBCB sent these as most of the work done were by him. My soulmate only gave a little suggestions. In my opinion, the award should rightfully belong to PBCB. If you are reading this, PBCB, that is my personal opinion & no argument over this please! Heeheehee... =P
Pirate Bear Spaceship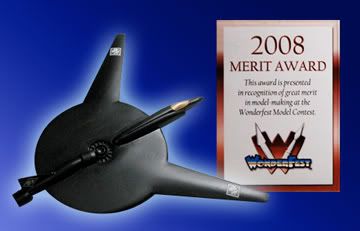 And you know what? I cried when I saw all those lovely gifts. Call me silly if you wish, but looking at all those beautifully wrapped presents, I can feel that they were sent with lots of love & care. Recalling that special moment, I am at a lost of words now. I dunno how to describe the exact sensation, except it's pure happiness, overjoyed that these friends really treasure our friendship. Opening those gifts were like in a fantastic magical dream, wonderful surprise after wonderful surprise.
Later in the afternoon, we went out for a photo shoot bringing with us all those wonderful lovely presents. Took everything along, except the paint cups(for model building) which my soulmate loves, the spaceship & it's award as they are too fragile. We do not want to take the risk of damaging them after reaching us in such good shape! There's one more gift which we did not bring along. It's a 2Gb thumbdrive which PBCB sent & is choke full of beautiful music/songs which I'm still playing/looping them over & over in my iTune. Delightful choices, PBCB! I love all of them! Thank you!
Thumbdrive of Unchained Melody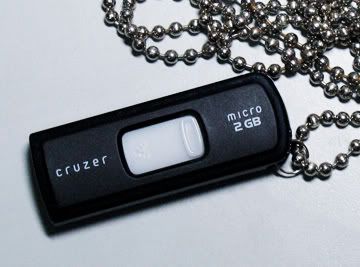 And now let me present the rest of their gifts of friendship...
First is an elegant long red wooly scarf. I love to do a better photo session with this when I have the opportunity! =P
Elegantly in Red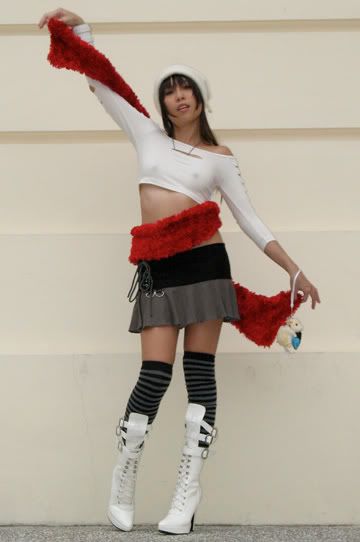 Next comes a camo face netting for sniper. Awesome! Very appealing to me as I love military stuffs! I'm going to use it to compliment one of my military costume! Terrific! xD
Camo Me Please!
Followed by a authentic US military cap which will be fabulous with another of my military outfit! Perfect! xD
A Salute to Our Everlasting Friendship!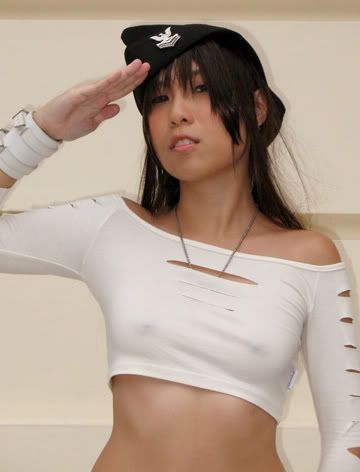 Then I found a cute little furry hamster with a remarkable pouch hanging from it's neck. What so remarkable about the pouch? Read on...
Don't I look like a hamster too? LOL! =P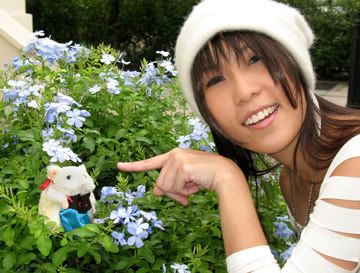 The cute hamster was wishing for a star, for someone to takes it home. So I made it my pet of happiness & it's my favorite among all those gifts! xD
Take me home, please? xD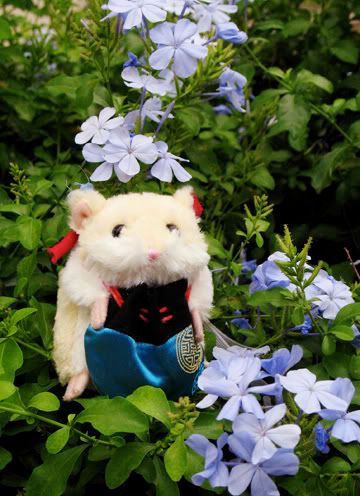 My Happiness Hamster kissed me & said, "You look so lovely with that cool goggle & exquisite necklace!" To which I replied, "The goggle belongs to my soulmate, but he is letting me wear them & both items are gifts from our wonderful American friends!"
Hamster of Happiness admiring friendship gifts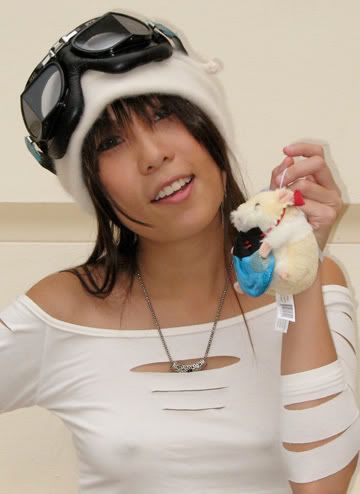 When I found Happiness Hamster, hanging from it's neck is a coin pouch, or so I presumed at first. Much later, when I was playing with that pouch, I felt something inside. Took it out & to my utter surprise, it was a charming silver Lucky Star necklace! Oh... I nearly cry again... that really makes my day. My happiness is complete! Many thanks to you, my friends!
Happiness Hamster with Pouch of Lucky Star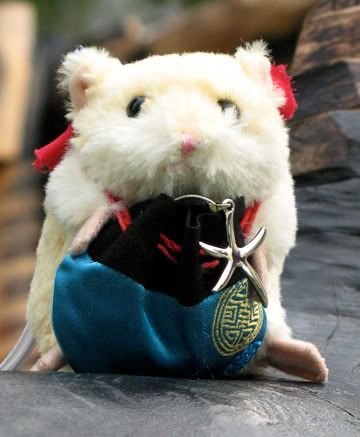 Note:
The above story of the soft toy hamster with the pouch round it's neck is a make-up story, for entertainment purposes only. What really happened was, I put the pouch on the hamster's neck without knowing there's something inside. I presumed that it was a coin purse. On the way to the photoshoot, I was adjusting the pouch to fit better on the hamster when I felt something inside. That's how I discovered the Lucky Star necklace... many hours after I opened all those presents! What a silly hamster I was! =P
For the rest of my life, that unforgettable memorable day will be remembered as one of the happiest day of my life! My soulmate & me would like to express our heartfelt gratitude to our dear friends across the ocean, half the world away. Wishing you guys a great year ahead with many more to come! May all of you be happy, healthy & wealthy!
And also, we hope PCBC's design of a dome shaped house will be realized in the near future. That design is very intriguing to us & we believe that it will make an excellent home for the whole family! Hope that we will meet up some day soon & that will be another day to remember!
In appreciation to the love & support shown by our friends, I would like to dedicated this particular entry to PBCB & his wonderful family in USA!
Sincere thanks from the bottom of our heart!