Sounds@*Scape - Media Fiesta 2010
Saturday, 27th March ~ Was invited by the people at
Movie Mania
to make an appearance at Scape Mall (a newly opened shopping mall located near Orchard Road) for the mall's soft launch event.
Media Fiesta 2010 - Sounds @ *Scape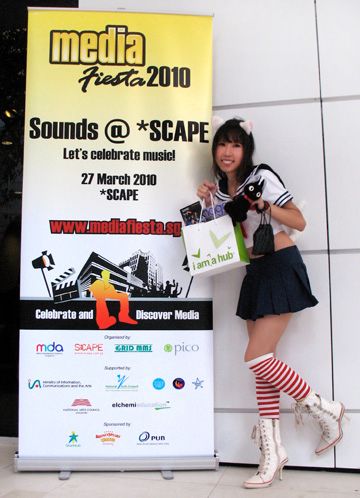 All of us will be in costume to welcome & usher in the guest-of-honor of the occasion, Mr. Sam Tan, Parliamentary Secretary, Ministry of Information, Communications & the Arts.
Costumers Line-up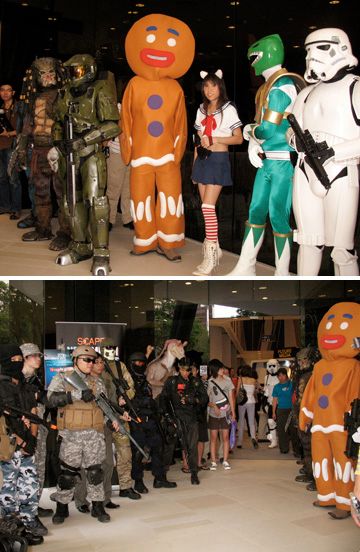 I went as a Kitty Cat Schoolgirl, Japanese version. xD
While waiting for the guest-of-honor, I went around taking some pics with the costumed volunteers of Movie Mania.
Kitty Cat Schoolgirl with Cos-players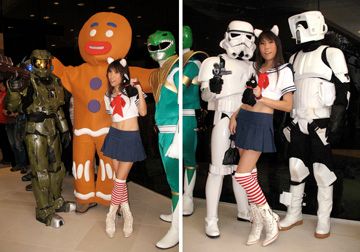 The guest-of-honor made a timely appearance. With a team of Capoeira dancers paving the way & us cos-players lining the aisle, he made a grand entrance.
Grand Welcome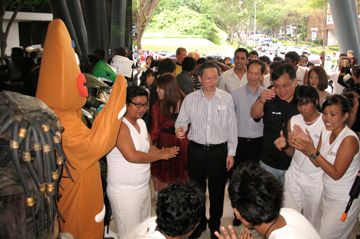 We processed to the auditorium where the guest-of-honor made his opening speech for the official launch of Media Fiesta 2010.
Cos-players & audience in the auditorium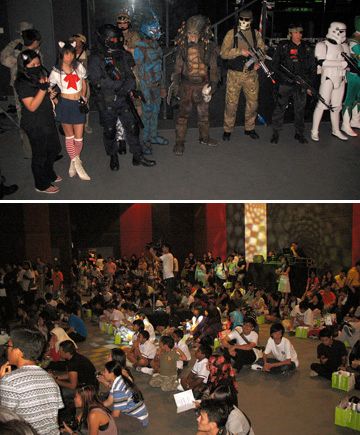 We filed out after the speech & went off-duty. I took the opportunity to take some pics with Movie Mania's fabulous displays at the foyer.
Live Predator & Stiff Darth Vader =P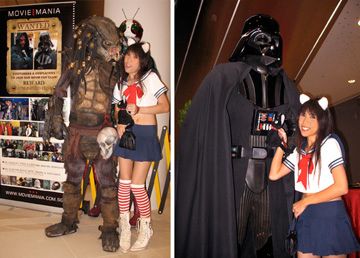 Kitty Cat stars in Star Trek & Star Wars xD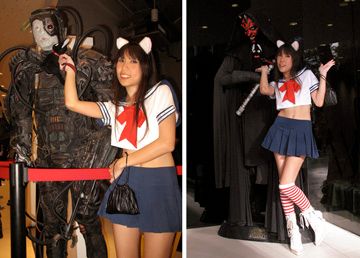 After some rest & refreshments, we went for a walkabout around the mall attracting the attention of curious shoppers & passerby, all caroming to take pic of & with us. Reno, founder of Movie Mania, in a cute Gingerbread Man suit was of course the most in demand, especially by girls! That should boosted his ego alot! LOL! xD
Posing for the public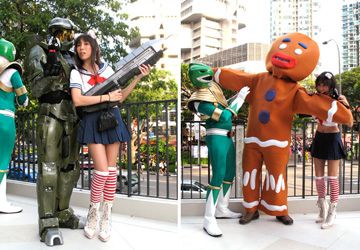 We were also invited to be film for a promotion video for the mall with Reno making some sort of a public relation speech. The mic was handed to me too, but I was too shy to speak. =P
All in all, it had being quite a fun time, with free food & drinks... buffer dinner & oh, yeah... lots of delicious hot dogs which someone couldn't help wanting more, making him even fatter! LOL! =P
Me with the team from Movie Mania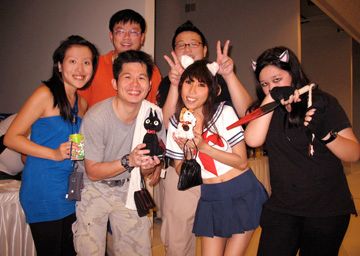 People in the above pic are, from left to right, back row: Reno with Edwin making 'V' signs above me! Front row: Sharon, Tim, Kitty Cat Meow Me & a good-nature cos-player from a local cos-play forum.
Note:

Movie Mania (founded by Reno) is a local organization, more like a club which gathered people who love to dress up or cos-play as their favorite movie/game/comic characters. They had co-organized or had participated in a number of events and exhibitions including oversea ones. Those events are mostly related to online gaming, comics, toys or movies. Members of MovieMania had also participated in local parades or at movie launches.
Labels: Event