Licence 2 Play
Yes, I know I haven't update my blog for way too long, about a month to date. My life had been way too hectic lately. Packing, getting rid of unwanted stuffs & moving home. Unpacking, tidy up & systematizing my room. I couldn't imagine how much stuffs I'd accumulated over the years. Threw away about 50 big trash bags of nonsense. I'm a junk collector! LOL! =P
At the same time, I got a new job with different tasks to learn. And in-between all that, was engaged for events, participated in training & rehearses for upcoming events. Here's one of those events...
29th/30th May, 2010 ~ For 2 days, with fellow costumers, I was with
Movie Mania
which had a booth at the Licence 2 Play(L2P) exhibition which was held at Singapore Expo. The exhibition was mainly meant for games & toys, but half of the booths were of electronic companies selling computer stuffs.
Me@L2P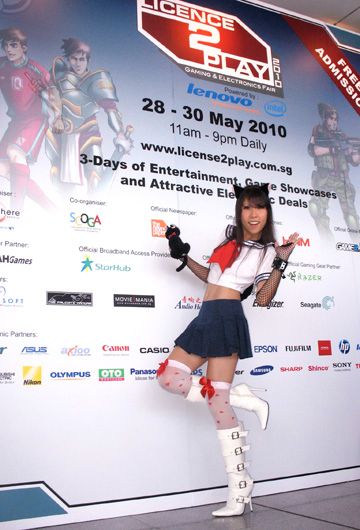 As usual, online gaming & computer thingies always draws crowd or it might be due to the immensely popular Food Fair which was held at the same time just a few halls away. Nation of geeks/nerds & food lovers we had become. xD
Crowd @L2P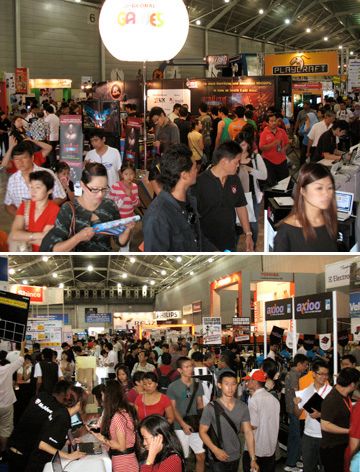 Toys, Games & Gaming Competition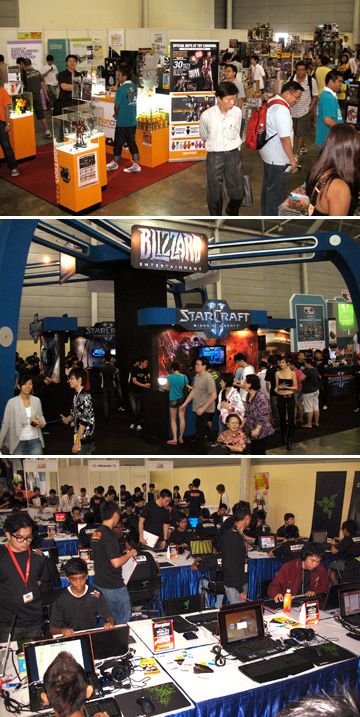 At Movie Mania booth, we had more than our fair share of attention from the crowd whose cameras were clicking non-stop & also when we took a walkabout. Weirdoes always draw attention & weirdoes in fancy costume are top in anyone awareness. Crave for some attention? Join Movie Mania, wear a fancy costume & you got it! LOL! =P
Non-stop cameras clicking @Movie Mania
And you will definitely gets more exposure when you goes on-stage like what some of the Movie Mania members did @L2P.
Theme Terminator by Movie Mania ~ Saturday, 29th May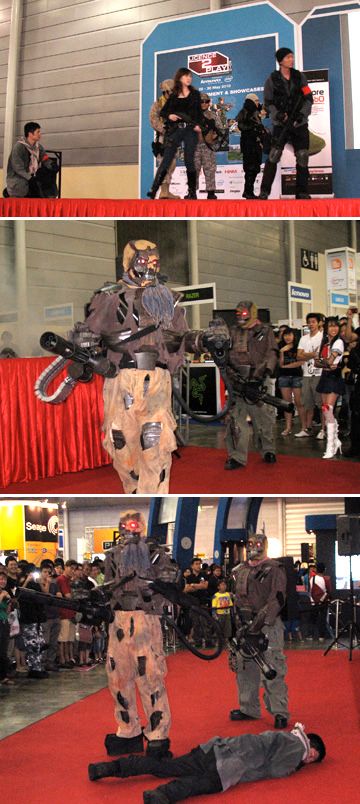 Street Fighters staged by Movie Mania ~ Sunday, 30th May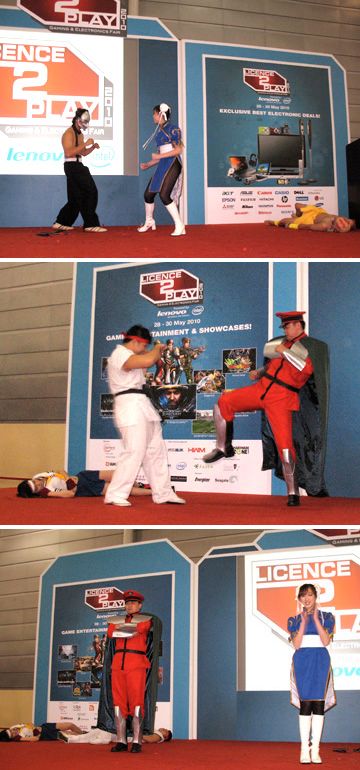 As the theory goes, camhogs like me are always attracted to the center of attention or perhaps it's the other way around that I'm a magnet which attract cameras making them goes auto non-stop clicking? That can be say of many members of Movie Mania too. LOL! =P
Below are proofs of me camhogging with fellow costumers... xD
From left to right, top to bottom:

T-600(Reno), T-600(Patrick), Clone Trooper, Wolverine(Rocky)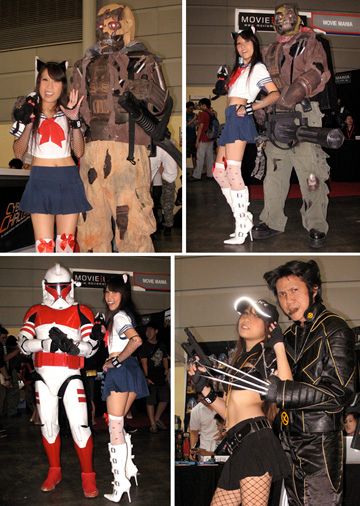 From left to right, top to bottom:

1st pic ~ Resistance Fighter(Howie), T-600(Patrick), Red Army(Rocky). 2nd pic ~ HALO warriors Edwin & Tim. 3rd pic ~ A Family of Bats. 4th pic ~ Chinese General(Rocky)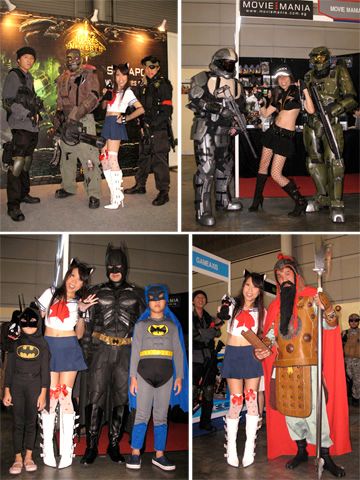 From top to bottom:

Wolverine(Rocky) & Freddy Krueger(Howie). An Army of 2(Tim & Roy). Warcraft & Predators.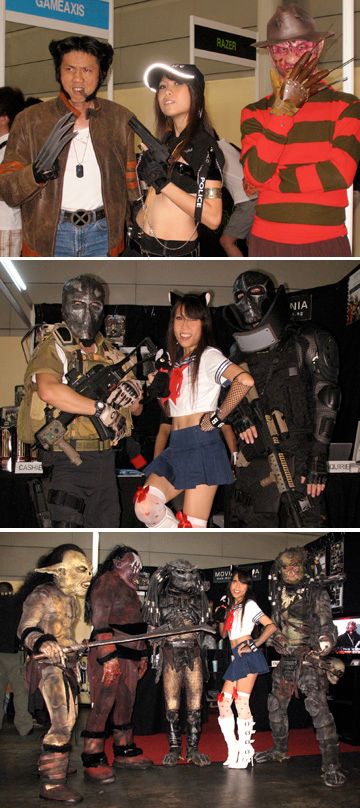 And the Femme Fatales of Movie Mania...
From left to right:

Sue(Resistance Fighter & Chun Li) & Janice(Sakura)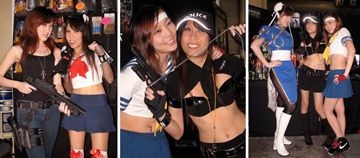 Beside the camhogging, we have our hilarious moments too. We should have done an epic movie, a parody. xD
Mania Epic Movies ~ Freddy Krueger Goes to College. Guns & Claws. Kitty Vendetta. Spiderman vs Terminator. Sex Laws of HALO.
Went camhogging with other vendors as well. Showgirls & mascots are definitely camhoggers or they won't be in this line of work! xD
Angel Bear, Roller Blade Angel, Starcraft Girls & Darth Vader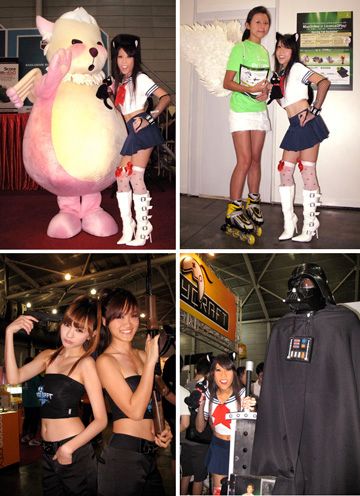 I had a funny moment with Elaine Yuki, a Starcraft promo girl from Blizzard. When we first saw each other, we had the same thought. We walked towards one another, point at & simultaneously saying exactly the same words to each other... "Can I take a photo with you?" We both paused & replied the same reply: "I asked you first!" And we had a little friendly argument of who asked who first & laughed at ourselves for speaking like bimbo clones. xD
Elaine(left), Me & another Starcraft promo girl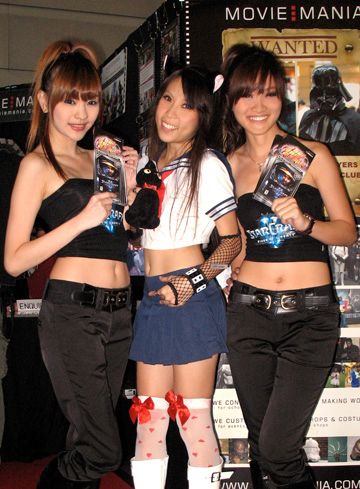 She's so cute & pretty ain't she? Well, they all are, but in my opinion, Elaine is the cutest & prettiest among them. Those Starcraft promo girls at the Blizzard booth were very popular with the crowd, especially with guys. All hoping for a pic with them to show off to their fellow geeks/nerds at the first opportunity & no doubt, loves the envious looks from their peers. LOL! xD
And Movie Mania members were not immune to the charm of those Starcraft promo girls too.
Starcraft Movie Mania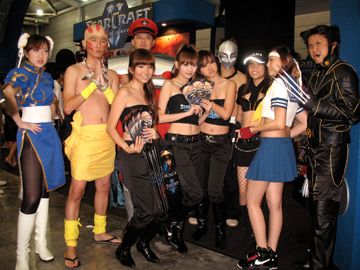 (OMG! That reminded me of something! I'm supposed to email those pics to Elaine & a month had past already! ARRRH! She's gonna kill me! I hope she's not mad at me for being so late in giving her the pics...)
Anyway, we had lots of fun at the event. In closing, 2 group pics of the cast of Movie Mania @L2P.
Movie Mania@L2P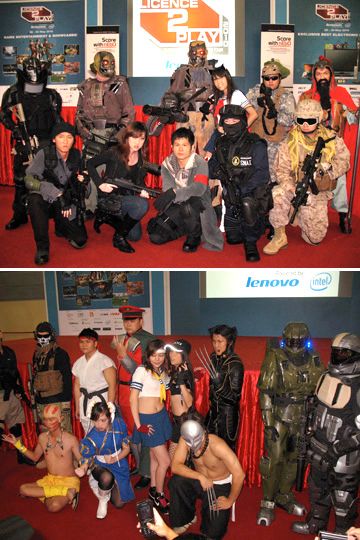 Labels: Event