Helix Bridge & Youth Olympic Park Opening Ceremony
24th April, 2010 ~ The 280m long Helix Bridge, the world's 1st curved double helix pedestrian bridge was open to the public on the evening of 24th April. Located at Marina Bay, the pedestrian bridge connects Marina Centre to the Bayfront area. The bridge also leads to the Marina Bay Sands Integrated Resort. The Youth Olympic Park located at the entrance of the bridge was also opened on the same day. According to Urban Redevelopment Authority, the opening of the bridge & the Youth Olympic Park is an important milestone event for Marina Bay.
Day/night scene of Helix Bridge & Marina Bay Sands Integrated Resort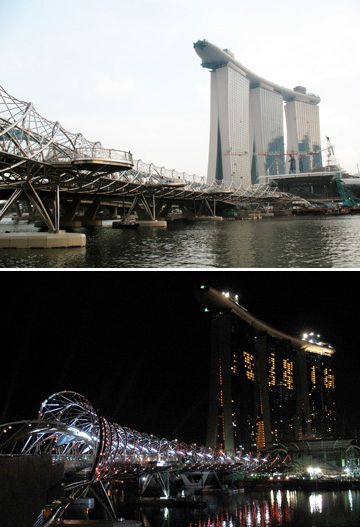 To mark the completion of the Helix Bridge & the opening of the Youth Olympic Park, a special 2 minute pyrotechnic show was held, set against the backdrop of the pedestrian bridge. At 8 pm, the Helix was officially named and declared open by National Development Minister Mah Bow Tan. The opening celebrations also featured a series of music, dance, drum & gongfu performances choreographed by Aaron Khek, chief choreographer for the Singapore 2010 Youth Olympic Games.
And I was part of the performance as a stilt-walker & the only female stilt-walker there! Well, I was told that I'm 1 of the only 2 active professional female stilt-walker in Singapore. xD
The day before the opening ceremony, a rehearsal was held. Our costumes were not ready & it rained! Fortunately, the rain stopped in the late evening & we got on with the rehearse.
Rehearsing Hamster =P
The actual day came & we were at the place as early as 4.30 pm. Preparations took us nearly 2 hours with minor amendments to our costumes which turned out to be way too long! Last came on the face paints & we were ready!
Painted-face Hamster! =P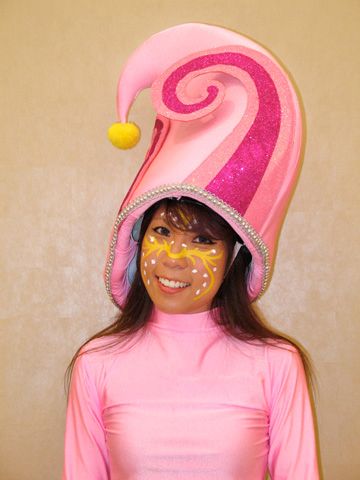 Costumed Hamster on Stilt! xD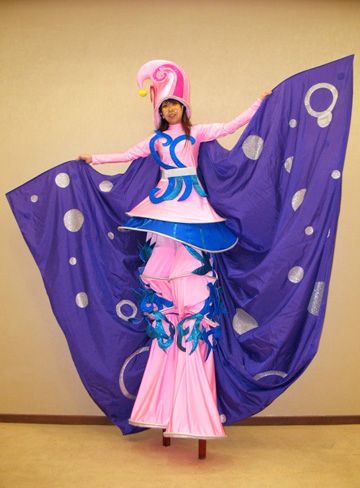 The Stilt-walker Team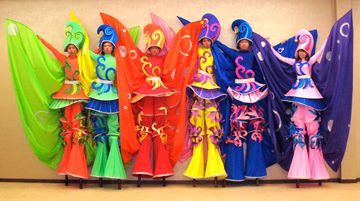 At the appointed time, we went up the Helix Bridge & took our assigned positions. Our task is to welcome Minister Mah Bow Tan, the VIPs & the invited guests onto the bridge. Many of them were rather surprised to see a female stilt-walker & took lots of photos with me. xD
Stilt-walking Hamster in position! xD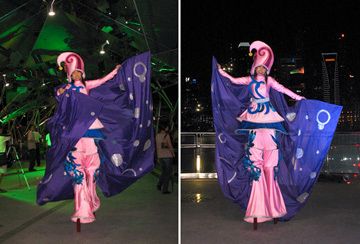 Merging & photo-shooting with the crowd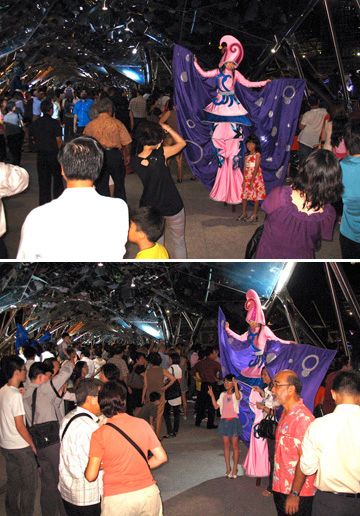 After the whole crowd passed by, we went down to the Youth Olympic Park to entertained the people with more photos taking. We paraded around at the park till about 10.15 pm, end of the show.
Hengbok, the Stilt-walking Entertainer! xD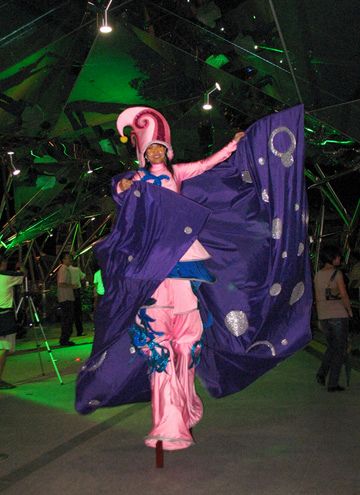 I really love this sort of thingie! Wearing costumes, performing & entertaining people. And of course getting paid for doing what I love is the best part! Hope to do more! Who wanna engage a stilt-walking Hamster for their events? xD
Labels: Event