Guangzhou Part 7 ~ Animal Farm
At the outskirts of Guangzhou city, there's this huge wholesale & retail center for plants & animals. The area is called Feng Cun. If you take the metro, alight at Huadiwan station. The building is right in front of the exit. Went there coz my dad asked me to buy a few aquarium pumps. The place is huge! Quite an enjoyable experience roaming there the whole day.
Yue He Plants & Animal World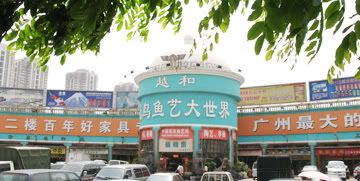 The wholesale center is divided up into a few sections. After coming out from the underground exit, on the right facing you, are wholesalers of Chinese furniture, wood handiwork & home deco stuffs.
Hardwood, Soft Girl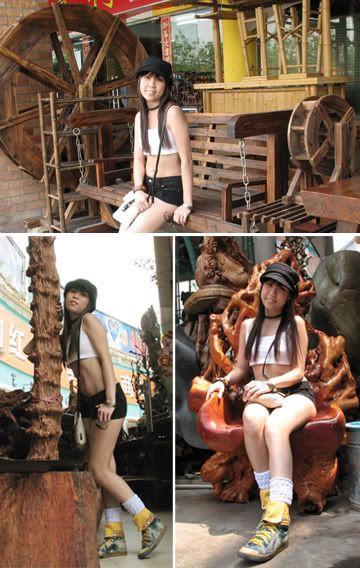 To the left of that, is the aquarium section. Lots of aquarium, deco accessories & fishes. Not much of interest to me, but there was where I got the pumps.
Fishie Hobby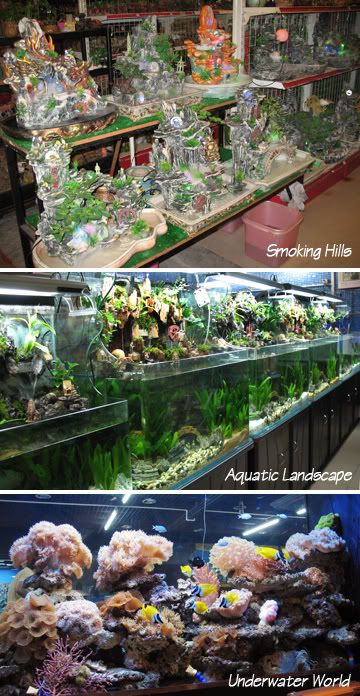 Realm of seashells, corals & painted hermit crabs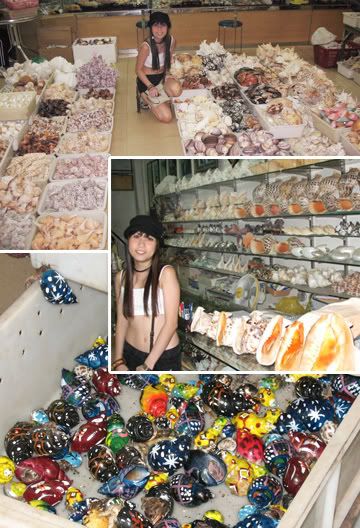 Continue on is the older section of the market where smaller shops are located. On the side, vendors display their wares on the floor like wet market, selling fishes & water plants.
Real & Fake Water Lilies
Fishie Business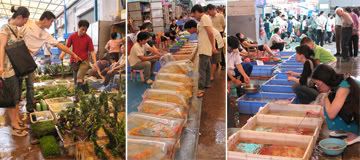 Numerous small shops selling aquarium fishes & other aquatic novelties like crabs, lobsters, frogs & salamanders.
Little cute fishies =P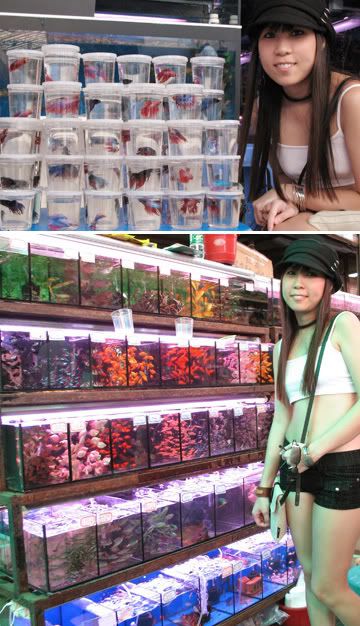 Aquatic Cuties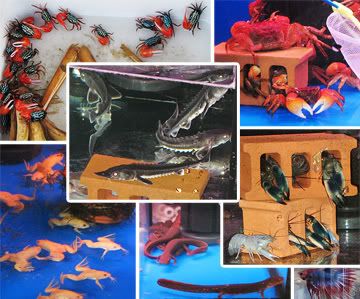 Meow! So many fishes & so little time!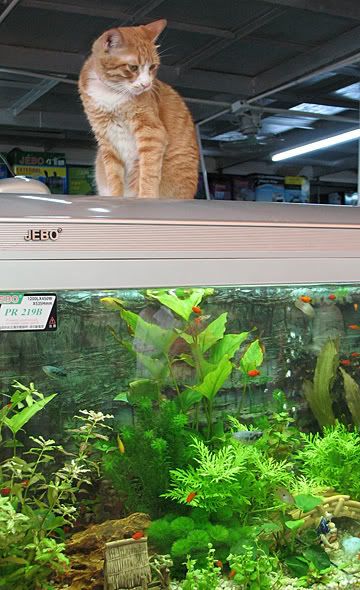 Some of the shops sell pet oddities like scorpions(Gasp!), spiders(Eeeeeek!), snakes(Shiver...), lizards(Yuck!) & others creepy crawlies.
Creepy Crawlies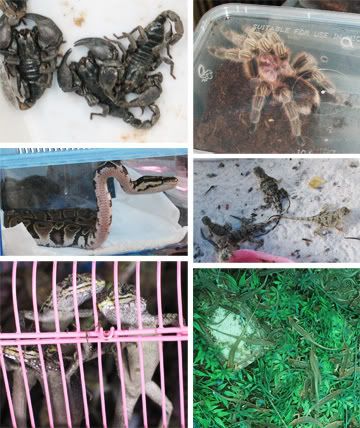 An Escapee! "I bet that if I stay still, no one will notice me."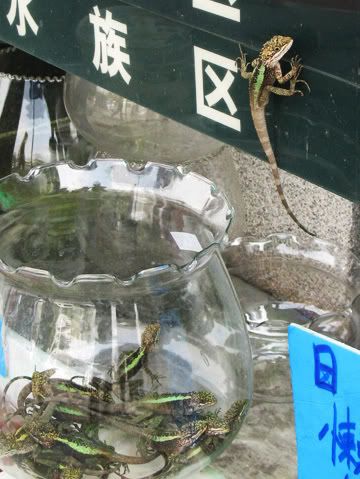 Choosing Little Friends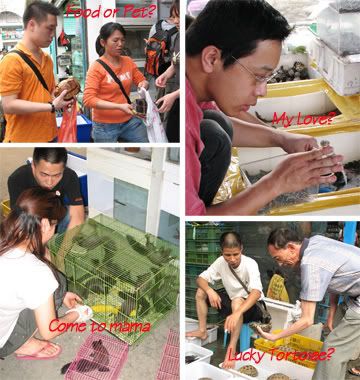 Off to the side, under zinc shade are lots of vendors selling mostly tortoises. I dunno whether tortoise is the in thing for pets in China or not, but I've never seen so many different kinds of tortoises in one place.
Tortoise Market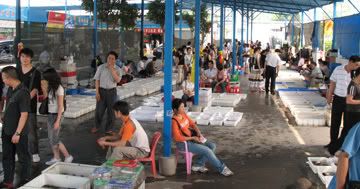 Tortoise, tortoise & more tortoise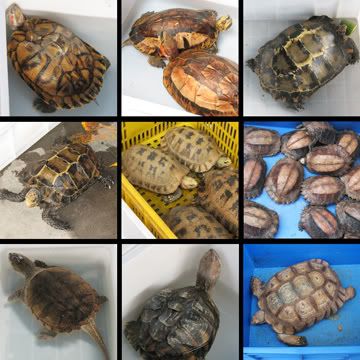 More Tortoises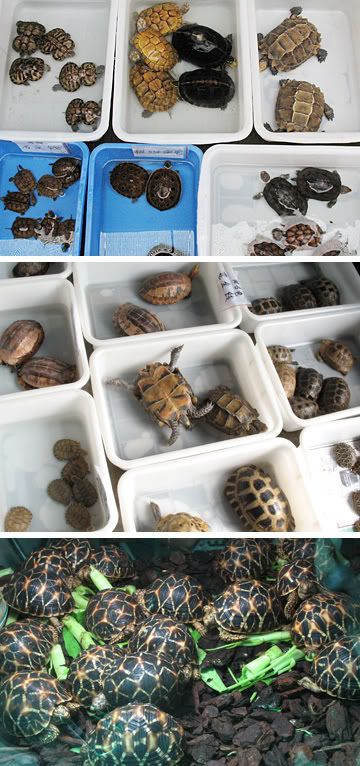 My Slow Friends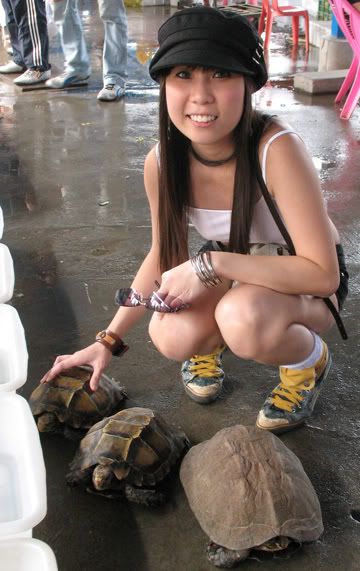 And here we have painted tortoises! No idea why they paint the shell of those tortoises for. I'd seen shell painted with Chinese zodiac, lucky charms, cute animals, even Pikacu & Hello Kitty! Wth... it's really crazy manz...
Painted Tortoise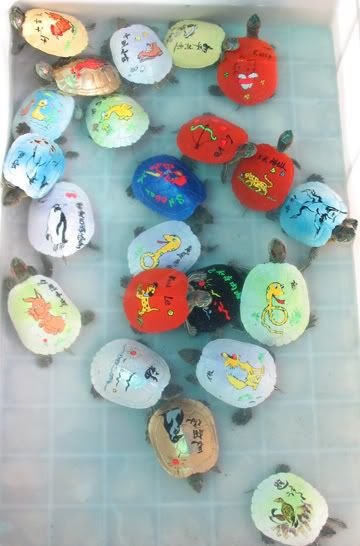 Since we are getting loony about tortoise, now for some tortoise humor...
Life of a Tortoise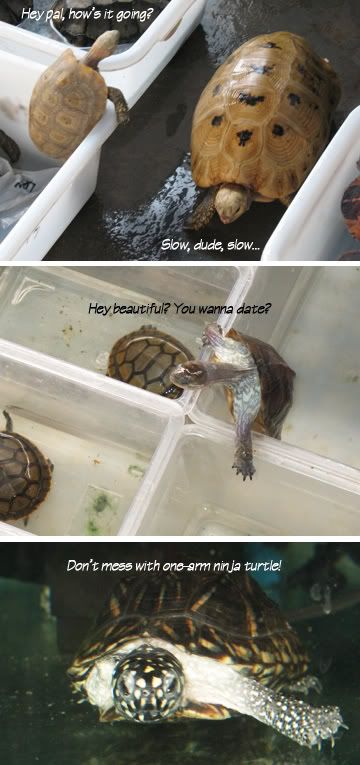 Tortoise Actions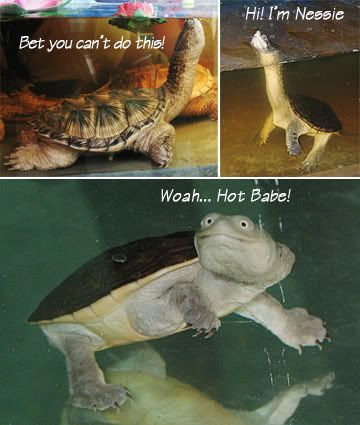 Across a lane from the tortoise vendors, you will come to a section selling bigger animals. Hamsters, rabbits, cats, dogs & a section for birds.
Cutie cutie black eye-patch rabbits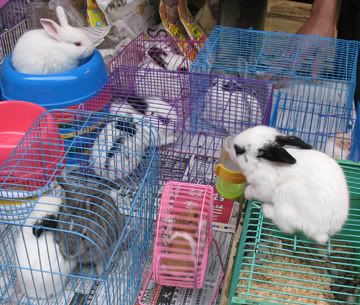 Friendly doggy & more eye-patch rabbits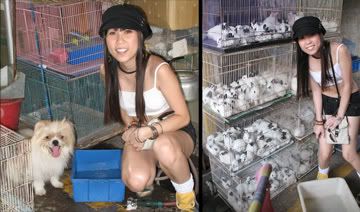 Looking for Fine Feathered Friends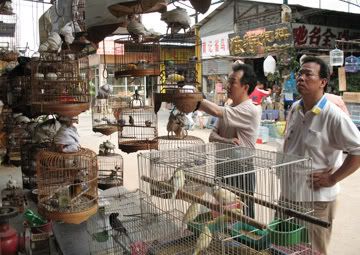 Birds of the same feather, caged together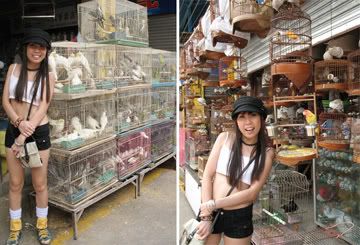 Hello Parrot & Cockatoo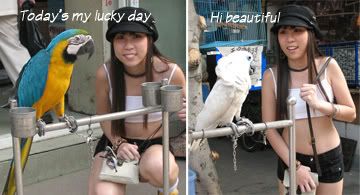 Bird owner warned that parrot & cockatoo bite... as if I dunno meh. He had been ogling me for sometime already. *row eyes* Asked where I'm from. My friend told him, "Singapore" Birdie man goes "Is it? Can't be!" In exasperation, my friend told him I am from Japan. Birdman loudly exclaimed "Of course! She's Japanese! No wonder so fair, cute & pretty!" and he went shouting to his friends nearby that I'm a 'Ka-mui'(Cantonese for Japanese girl) *fainted* Then he insisted on taking a pic with me. Said he wanna make his wife red eyes with jealousy. Ok lor, No problem. After my friend took the pic, Birdman wanted a copy thinking it's Polaroid. Alamak! Mountain tortoise lah! My friend told him it's digital cam & Birdman went off disappointed. Hahaha... stupid!
Me & BirdBrain xD