An Eventful Weekend
Went through a weekend of steak, confrontation, rojak, KTV, dragon, pork-ribs & donuts... in that particular order.
Saturday: Went Astons Specialties with a few friends. The shop serves western dishes at a very reasonable price. The last time I was there, it was damn bloody hot & crowded due to limited space. Now they had taken over a space next door & it wasn't so hot anymore. The company was agreeable & my rib-eyes steak was delicious.
Friends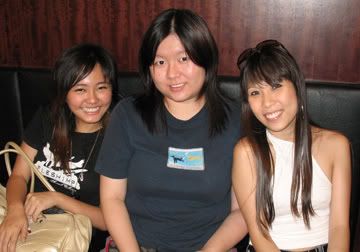 My Yummy Rib-Eye!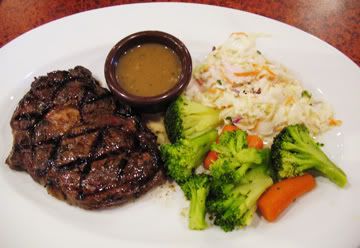 Other than for the tasty food, I'm there for another matter. An ugly matter. Was waiting for a group of forumers to show up. Within that group is a guy who falsely accused me of doing something which I had no part of. He went around telling people I had exposed him... expose as in putting up his pic in a forum. Without any evidence, he claimed that a clone of mine put up a pic of him. Clone is a forum term used to indicted a nick or an account registered by a known member to mask his/her original identity. Most of these clones are registered to make mischief. Most times, clones are used by cowardly members who are afraid to use their original account to flame or slander others. That fellow jumped to instant conclusion that the clone was me due to another matter. He thought I was holding grudges against him & using clones to irritate him. Hahaha... that's crazy! Firstly, I am not that childish. Secondly, I had already left that matter behind. What for make such a big fuss over small matters in forum? After he saw the thread with his pic, without finding out more or even bother to contact me for explanation, he childishly declared war against me. Said want to feed my own medicine back to me & he went around speculating about me. Next thing I knew when I visited that forum, my blog, Friendster links & video were all over the place! I didn't know what happened till much later I found the thread in which he declared war against me. In there, I posted that the clone wasn't me. I also told him his own pic with some personal info is in his blog. Anyone can grab it what. I mean, wth... you done yourself in. No one point a gun at you threatening you to upload all that & now you screamed about people exposing you? Note: I search the web for him only after he start those accusations. He said I lurked so long, watching the fun, now then come & declare my innocence. Look, I have a life, unlike many who lurk all day in forum. He refused to accept my explanation saying that I'm collecting forumers' pic for flaming others. Haiz... another unfounded accusation coz as forum records show, I don't engage in flame war. Complete waste of time & totally immature. Then he posted about wanting a showdown with me. I was like... huh? Wth? You come bash me w/o any provocation & went speculating about me. Now want a showdown with a me, a girl? What kind of guy is this? Many forumers thought they can get away with slandering others coz they are safely hidden behind their monitor. Many also have the misconception that they cannot be held accounted for whatever they stupidly posted on the net. Lots of kids done it... ok, juveniles behaviors, but hey, that guy is not a kid, you know? He's legally an adult! Didn't he know that making false accusations or slandering people even on the web is illegal? So I accepted his challenge. That was when he said he believe me & wanna back out, but by then, I'm so pissed with his nonsense. So, I was at Katong waiting to confront him. Oh ya, I was with a group of friends. I'm just a small size girl. Need some sort of protection what. How can I predict what that crazy guy gonna do, right?
When they arrived, one of my guy friends went up to confront that fellow. When my friend called out to him, that coward... yep, I label him a coward coz he wanna pull my friend away somewhere else to talk. My friend asked him, Why? Can't we talk in front of other forumers? What dark secrets you have to hide from them? If you are so sure of yourself & do no wrong, why have to talk where no one can hear? As he mentioned in forum before "Let others judge." Now, in front of others in real, he wanna talk where no one can hear. You can state anything you want among your friends & will be believed by default coz the other party was not around to defend. When the other party confront you in real, you are afraid to get caught out by your own lies? Now you wanna back off when you openly issued a challenge in forum? You only dare issue that challenge coz you knew I'm just a little girl? Bully tactics? When face with another adult guy, you are frighten? Is not that an act of cowardice or dishonesty? Too late... why didn't, as an adult, think before you went around spreading speculations? A question that fellow asked my friend just sounded plain ridiculous. "Are you a gentleman?" What a lame question coming from someone who didn't behave like one! What an idiot! After my friend gave that idiot a piece of his mind, told him that slandering is illegal & will take action if his nonsense continue, walk off... that idiot said " Thanks for coming" & tried to escorted us off... Hahaha... WTF? My friend told him that we don't need his thanks & no need to escort us off coz we ain't small kids. I mean, what the heck? That idiot trying to made it appear like as though nothing had happened? How lame can that be? Trying to shoo us away? I shouted at him, why should we go away? I mean, it's a public place, you know? What rights have anyone to tell us to go away? Some people gonna raise the issue of gatecrashing. What gatecrash? It's a public place. We have every right to be there as much as the next person! After that fellow left to join his friends, one of his friends came up & asked what happened. Told us that he's representing his friend. My friend then told him the whole matter in short & we will take legal actions if he continues his nonsense. His friend said that's fair enough & promised to talk to his friend about his actions.
Note:

Till now, as I'm writing this, that fellow did not apologizes for his actions in forum. Maybe he feel that he is right in doing what he had done. Maybe he still wanna deceive others. He can tell his friends his version of the story. As this is my blog, my memories, it's also within my every rights to write in defence of myself & also as a thanks to my friends who had supported me through this. Maybe some will feel agitated after reading this. Please be restraint with your words online. Remember, what you posted online will be held accountable in the eyes of the law. You can try your nonsense, but I don't think you will like the consequences. I'm a peaceful person till provoked.
And now, to more happy memories...
In the evening we went down to a newly open rojak stall operated by two members of another forum in support of their new venture. We ordered two plates of rojak. Very tasty! Wishing you guys best of luck & have lots of loyal customers queuing for your rojak!
A little guest salivating at yummy fruity rojak =P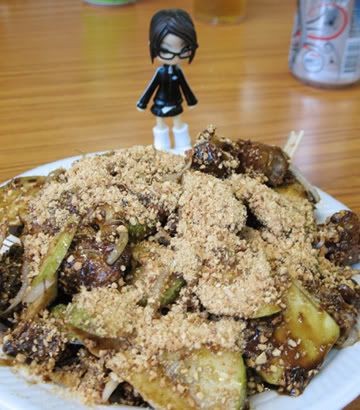 Our group with stall owners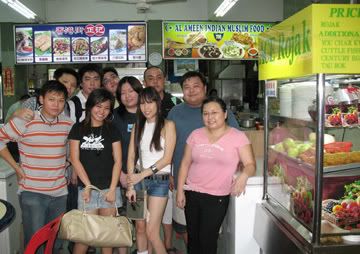 After rojak, we went to K-Box. Karaoke... haha... I can't sing for nuts, but I enjoyed listening to those who can. I just joined in certain chorus or went laaaaalalalalalalaaaaaaaa... or make silly noises as and when the occasion called for. Best is watching some of our guys friends singing love duel to each other. Broke Back Mountain! LOL!
Sober songsters before the craziness started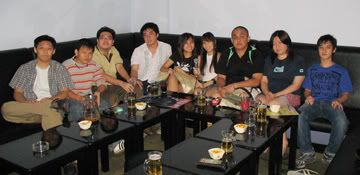 Gayish actions! =P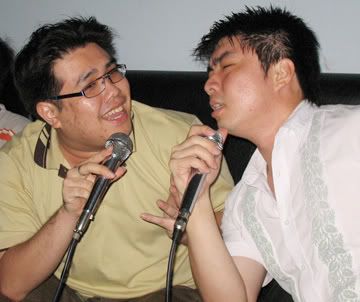 Sunday: Woke up late, rushed down to Chinasquare Central to pick up the new McFarlane Dragons series 5 which I'd ordered. I just love dragons! By now, I had collected quite a few dragons figures including those McFarlane sets. Series 6 coming up soon! Had a quick browse around the flea market for other figures, but nothing to my taste.
My New Dragons!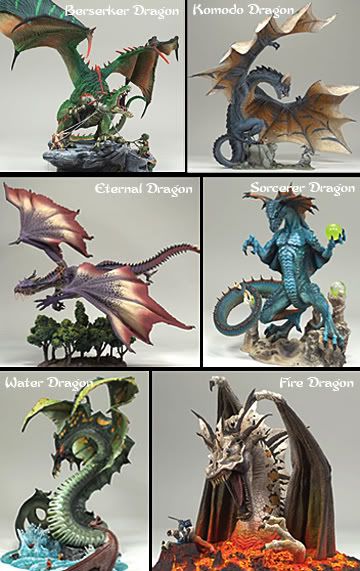 Rushed to City Hall MRT to meet my friends at Cafe Cartal. Ordered a late lunch of Hawaiian pork-ribs. Yummy!
My Sunday Lunch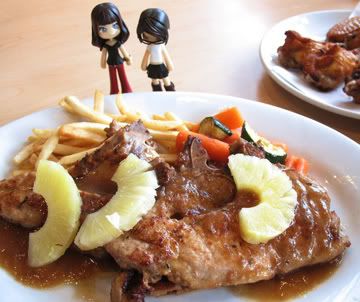 One of my friends ordered two boxes of Dunkin Donuts. We attacked them expecting victory. Stuff ourselves silly. Can never completely annihilate them. They kept coming! We surrendered to the fierce onslaught of donuts.
Army of Donuts =P (Credit: Pic taken by my friend)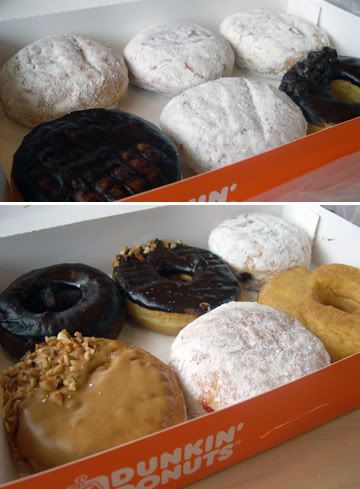 Chatted for hours there. Wide ranging topics from good company of food, naughty childhood days, caning from angry parents, kampongs, early days of playing in HDB flats, the sea, fishes, watching dolphins & whales...