Katong Laksa
Had a craving for Nonya dumplings last evening. Heard the 'zhangs' at Katong is good. Off I went to East Coast Road, the stretch with lots of food outlets. I also love Laksa. When I saw a stall proclaiming Famous Katong Laksa, couldn't help, but ordered a bowl.
Laksa with Lime Juice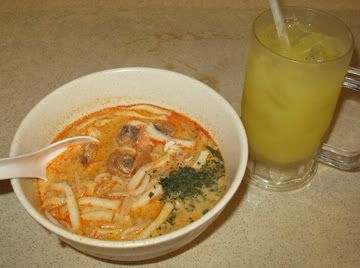 Delicious! I clean out the whole bowl... =P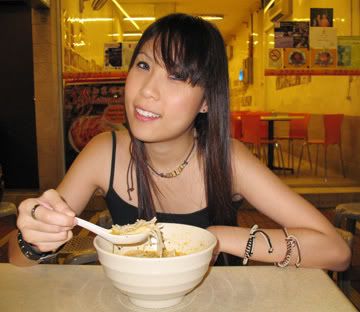 I'd been to Katong a few time. Noticed that there're a quite a number of laksa stalls all proclaiming they are the famous Katong Laksa. All those laksa stalls have newspaper or magazine clippings pasted on their stall to support their claim. My question is, which one is the REAL Katong Laksa? So far, at Katong, I ate only from this stall...
328 Katong Laksa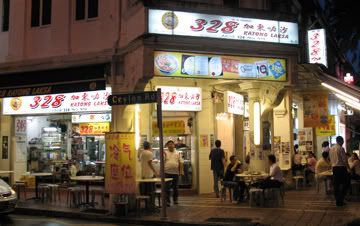 Across a small lane, opposite 328, is another laksa stall, the 49 Katong Laksa operating inside Hock Tong Eating House.
Another Famous Katong Laksa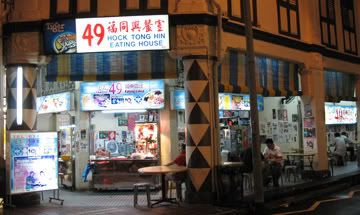 Just two shops away from 328, is another laksa stall, the 59 Katong Laksa. Further down that stretch, near Joo Chiat Road is yet another laksa stall...
59 Katong Laksa & a small one near Joo Chiat Road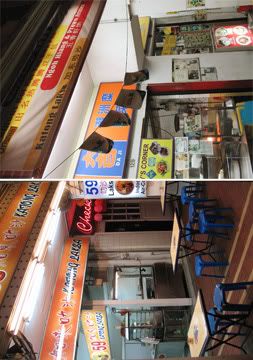 Walked toward Still Road & saw one more Katong Laksa stall across the road, near Still Road junction. Another 328 Katong Laksa, maybe operate by the same owner as the one I ate eariler.
Another 328 Katong Laksa

So, in Katong alone, there're five Katong Laksa stalls. I knew of a few more scattered around in other places. One such is a small stall in a kopi shop opposite Bugis Junction.
Will the REAL Katong Laksa please stand up?
Next, I'm going to try the famous Sungei Road Laksa. Heard it's much better than the Katong one. This one no need to guess. I have a friend who knew the real one despite many self-proclaimed stalls along Jalan Besar. =P
Oh ya, my Katong 'zhangs'... for supper, I bought back two, a nonya & a salted egg 'zhang' & some nonya kuei plus a small tub of 'ornee' ~ Yam paste.
My 'Zhang' supper =P