Magical Botanic Garden - Gifts of Friendship, part 3
Friday, 7th Aug 2009 ~ Took a day off from my stressful work. I had a replacement leave coming to me anyway. What's the best way to relax if not among greenery? So I went to Botanic Garden. I love Botanic Garden! It's such a lovely place & I wanna visit the new Jacob Ballas Children's Garden, a part of Botanic Garden. Moreover, my pet CatBus was dying for a walk. So off we went to the Botanic Garden in the afternoon.
Entrance to Jacob Ballas Children's Garden
Unfortunately, I couldn't get in as I was informed by the staffs that adult have to be accompanied by a child or children to gain entry. Haha... this is weird! Most time is the other way round! But, but, but... I'm a little cute Hamster! No pet allowed? CatBus was disappointed too.
Don't I look young enough to be a kid? =P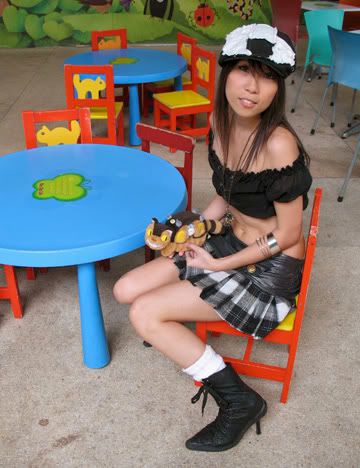 Never mind then, we shall go to the main part of the garden where there are more to see.
Among the fruits & flowers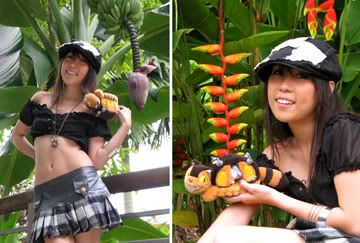 So we took a stroll among fragrant flowers, lovely fruits & in the midst of them, many insects flying or crawling around.
Exotic flowers that we came across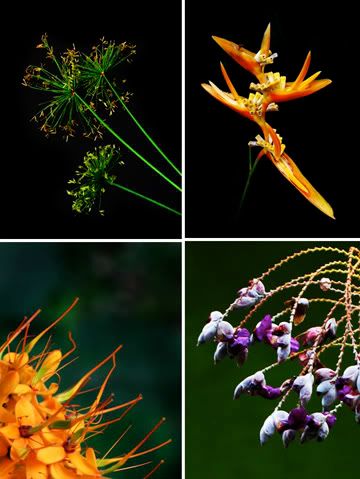 Fruits: Breadfruit & Chempedak

Insects we met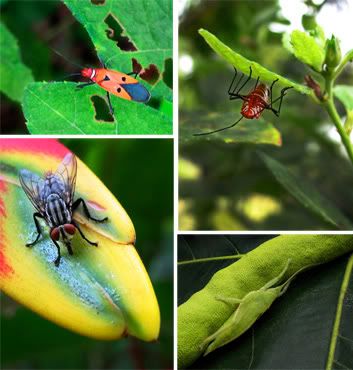 Dragonflies! My favorite insect! xD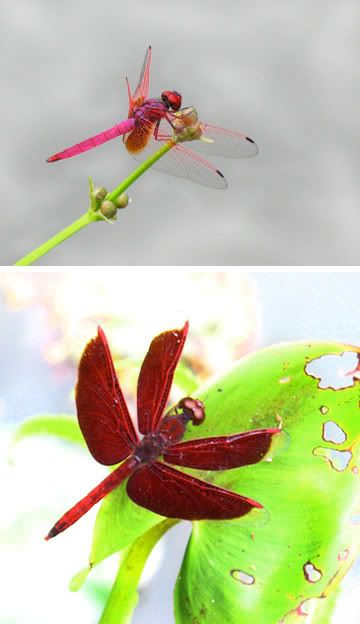 And among the bushes, we found a couple doing the birds & the bees!
Sex in the wild! xD
With all these beauty around us, my little CatBus wanna to be unleashed. He wanna roam, to explore, to be free.
Unleashed the CatBus!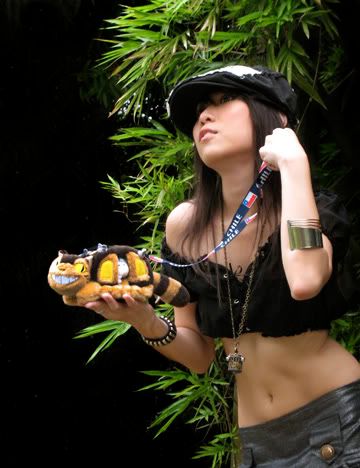 CatBus happily leaped among the plants & his curiosity took him everywhere, bringing to him many wonders of the garden.
CatBus leaping happily around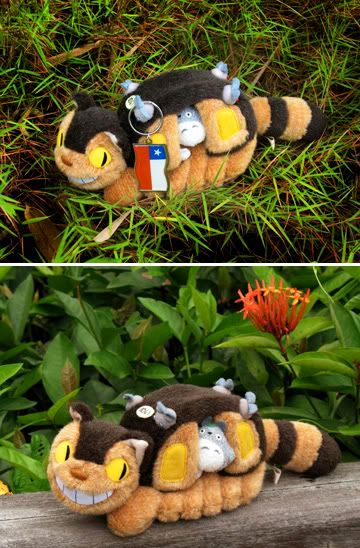 And he tends to find odd things to bring back to me whenever he roams. Once he brought back a DVD titled. 'Restoration', an introduction to a sort of practice of Christianity. Odd...
Restore Me? xD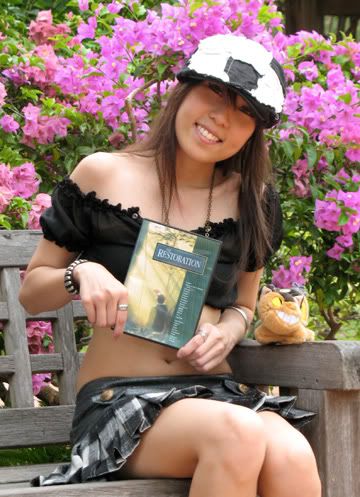 Next, CatBus brought back a Chilean flag keychain. It's very lovely!
CatBus found a keychain & I love it! xD
Off went CatBus again! After some time, he bounced back in a hurry & insisted that I follow him. What had he found this time that excited him so much? He just gave me his big silly Cheshire Cat grin...
What had CatBus found?
CatBus leaded me to a bush. Within the bush, among the beautiful flowers was a pair of dancing FAIRIES! One dressed in white & the other in pink. They look like twins & they are so CUTE! xD
Dancing Fairies!
Later, I discovered that they are in fact twin sisters.
Fairy Sisters Love!
What are they doing in the bush? Those cute fairies replied that they are lonely & quite vulnerable in the wild. They are waiting for someone nice to bring them home & take care of them. How could I resist them?
Love my Magical Dancing Fairies!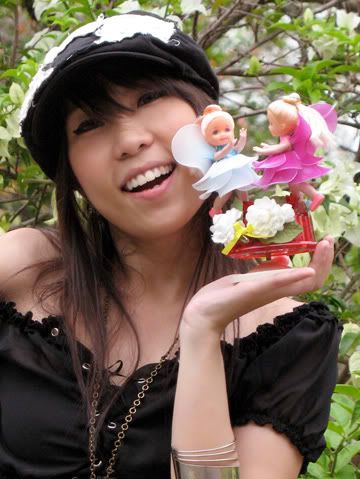 I introduced them to CatBus & they quickly became firm friends. A fairy tale happy ending in the making, I hope.
Fairy Tale Friends!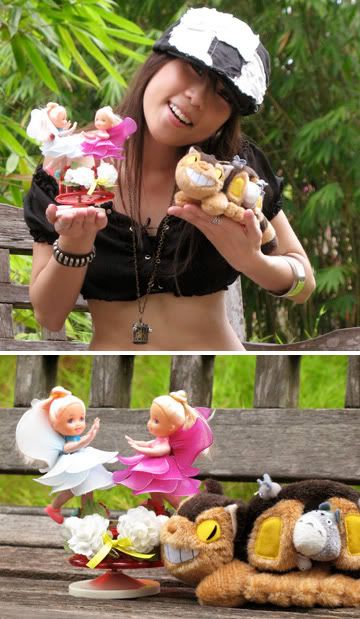 It was getting dark & we left Botanic Garden bringing with us the items that CatBus found & of course, the cute dancing fairies.
Later in the evening, we met up with a couple of friends for dinner. This guy friend of mine, Joshua, has a new girlfriend. Her name is Melissa, a very nice girl of mixed parentage, Malaysian Peranakan mother & Swiss father. She was here for study & after visiting relatives in Malaysia, is returning to Switzerland soon. After dining at Han's, we chatted at a cafe till nearly midnight.
Joshua, Melissa & me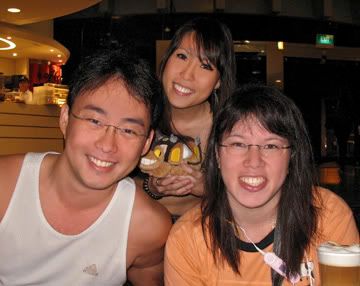 It was a very happy day for me & the next day, I'm going ice-skating! Yippee! I will be updating on that soon. xD
Note:
The above tale is just a story I created for this entry. Only the last part where we met our friends for dinner is real. I did went to Botanic Garden on that day. The flowers, fruits & insects were pics taken by my soulmate & me while we were there.
In reality, CatBus is a soft toy produced by Studio Ghibil which I bought. It's a character featured in the famous anime, 'Totoro' by the great Hayao Miyazaki of the renowned Studio Ghibil.
Those items that BusCat supposedly brought to me are actually gifts from oversea friends. The 'leash' of CatBus is actually a lanyard. The lanyard, the DVD & the keychain are gifts from a good friend of mine, Carlos Gonzalez of Chile, South America.
The pair of dancing fairies is actually a musical box given to me by my dearest Thai sister, Namtip Phasang, whom I love very much. We met on Flickr & had became sister.
Wonderful gifts & I love them all! xD