Social House - Luxy Girls Crew
1st Aug, 2009 ~ It's Saturday Night Fever! Hahaha... no, but close. Social House @ Liang Court is having a fresh launch with performance by the sexy Luxy Girls Crew, a dance troupe from Taiwan! Cute sexy dancing girls! Woah! Yayaya, I know this is a guy's kind of thingie. BUT! On that particular night, Social House also offers any lady who come in a bikini top, free entry & with free-flow of drinks whole night! Yes! I'm so going! And yes, in a bikini top & why not? I've got a bodyguard with me! xD
Reached Liang Court quite early as I've another appointment earlier on. So we waited for our friend, Ricky to turn up with his friend. At about 10pm, a long queue had already materialized at the entrance of Social House. Didn't spot any girl with bikini top. Too shy? Haha... oh well... the night is still young & more might turn up. Ricky & friend were late. I was worried about the long queue, but Ricky assured me that it won't be a problem getting in. Turned out that his friend knew a friend who know a big shot of Social House & that person can get us in as VIP. So, no need to queue! xD
However, public entry to Social House was delayed by nearly 2 hours due to some unknown problems. By the time we got in, even with VIP status, one of the first to enter, it was nearly 12am. I wonder how long it took for those clubbers in the normal queue to get in... poor fellows.
Ricky & Me @ Social House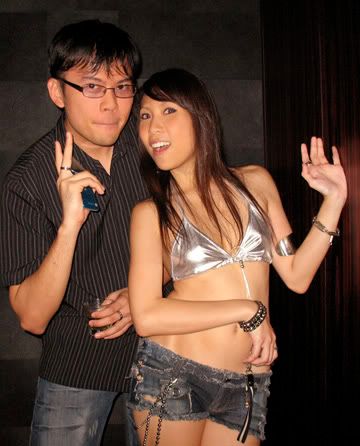 Social House is a new club, just opened for business not long ago. We have never been inside the place, so we went exploring. There's a main dance area with a low center stage which have poles attached. Pole dancing? There are also a few smaller, private rooms situated in corners.
Social Girl xD
Ricky went to the washroom & when he came out, he asked when the performance gonna start & so coincidentally, my soulmate/bodyguard spotted the dance troupe walking past. We quickly followed them & a few seconds just before they went on stage, I managed to have a pic taken with them. Yeah! Happy, Happy! xD
Sexy Luxy Girls & A Over-Sexicited Hamster! xD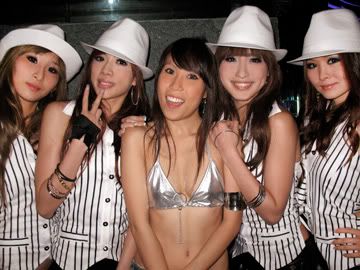 And the performance started. Pole dancing Luxy Girls watched enthusiastically by a nearly all males crowd, wolf-whistling, howling & maybe even drooling... LOL! =P
Luxy Girls on stage

Low hair sweeps & high kicks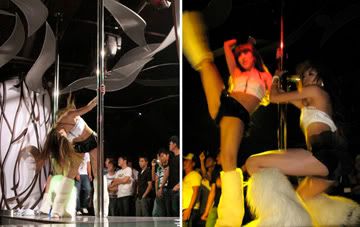 Hot, Hot, Hot! xD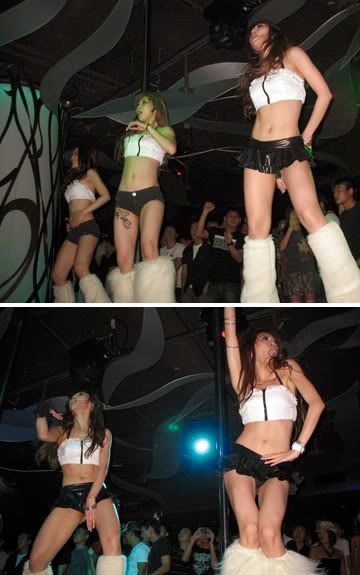 Woo La La! =P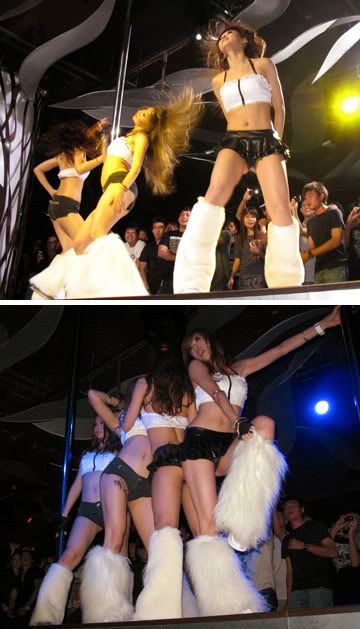 Video taken by me
(Sorry if the video quality is bad, as it's taken with my cellphone.)
After the 1st performance ended, I posed on the low stage dreaming I'm a Luxy Girl... LOL! =P
Luxy Girl Me? xD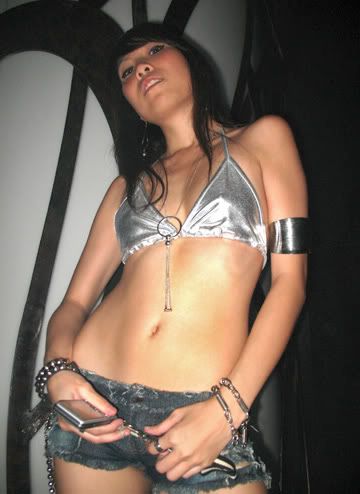 While I was posing for the camera, some clubbers also took pics of me thinking I am 1 of the Luxy Girls! OMG! Do I look like one?!? =P
Was saved from further embarrassment by the arrival of Ricky's friend, Jamie, who joined us on the dance floor.
Ricky, Jamie & Me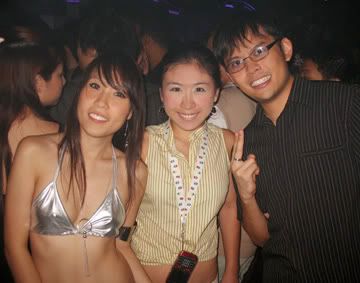 We danced for a while & went to get a drink... free-flow, right? =P

Cheers!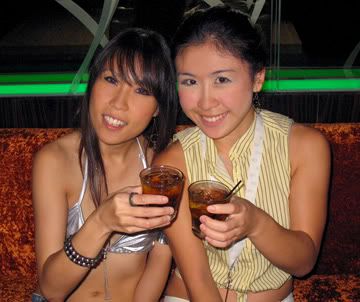 Jamie & Ricky clowning around =P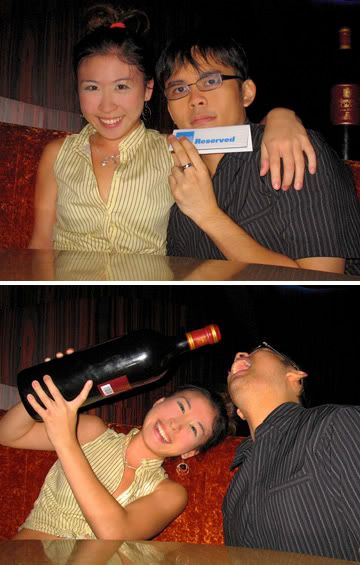 Then the second performance started. Luxy Girls with different outfit! You guys who are into anime gonna love this stuff. Pretty young sexy girls in Japanese style schoolgirl uniform! Otaku Paradise! I wonder if any guys in the audience nose-bleeded? LOL! xD

Japanese Schoolgirls on Stage! xD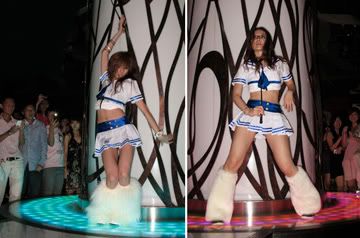 Did anyone nose-bleed? LOL! =P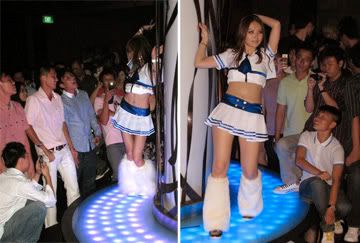 Otaku Dreams! xD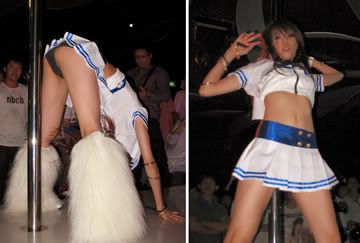 Woah... what a performance! Which Otaku wouldn't die for those Luxy Girls in Japanese schoolgirl uniform? Otaku wet dream night! Hahaha... xD
After the second performance ended, playful Ricky pulled me up onto the stage & requested me to do pole dancing! I was the only person up there!Arrr...!!! Freak Out! Hamster Dance you want? =P
Later, naughty Ricky also pushed Jamie up onto the stage & together, we did a few convincing pole grabbing/rubbing moves. xD

Pole Dancers xD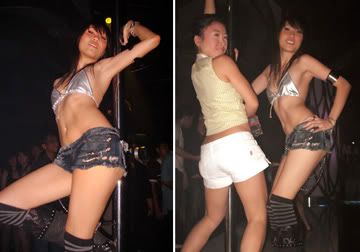 It had been an enjoyable night, but I didn't stay to watch the rest of the performance. Am quite tired by then as I was out the whole day, rushing about to a number of places. But before I leave, a final image...

Do I look like a Luxy Girl? xD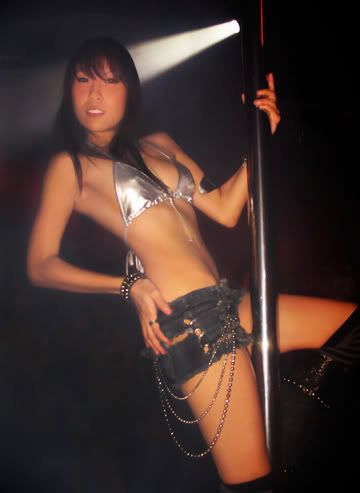 Labels: Event