Ice-Skating at Leisure Park Kallang
12th April 2008 - Went Ice Skating with a few friends at Kallang Ice Skate. Suppose to meet up at 2 pm, but I was late, very late, reached there about 3.20 pm. Grrrrr...... very angry with the shuttle bus service! Leisure Park Kallang's free shuttle service operate with an interval of about 45 min & stop operating between 1.30 pm to 3 pm. The management of Leisure Park Kallang have their heads up their arse or what?!? With that kind of timing with their shuttle service, how to get many shoppers there? The timing is so inconvenient! Never heard of any shopping mall's shuttle service that operate with that long an interval with breaks in-between! Most operated at about 15 to 25 min intervals, without breaks. Then comes the worse part. At 2 pm, I was at the bus stop at Kallang MRT station where the shuttle bus are suppose to pick up passengers. No shuttle bus arrived till 3 pm & guess what happened? It entered the bus bay & drove away without even stopping! WTH?!? I couldn't believe it! If there's an excuse of it blocking public transports, there's no vehicle behind it. If the idiot driver come up with a stupid excuse of not seeing anyone waiting for it, a couple beside us & my friend was fanatically flagging at it! What a suxy service! I was so angry that we went to complained at the information counter after we took a cab in. Suxy shuttle service sorta spoil my day! And I pity those poor shops operating there. Business will fail due to lousy shuttle service.
This weekend, the ice rink was quite crowded, probably due to an event held at the Kallang Stadium nearby. That mall is usually not crowded coz location is quite out-of-the-way, too distanced from main shopping areas & with their lousy shuttle service...
Ice-skaters in the rink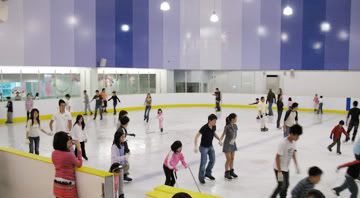 Recognized some die-hard skaters there. I remembered them skating at the old Kallang rink back in my school days. 2 of my friends are first timers. Most people in the rink are also beginners, clinging to rink side. Falls are common, no shame in it, can't learn without falling. Had my fair shares of painful knee or butt skating when I first learn ice-skate. xD
Friends on the ice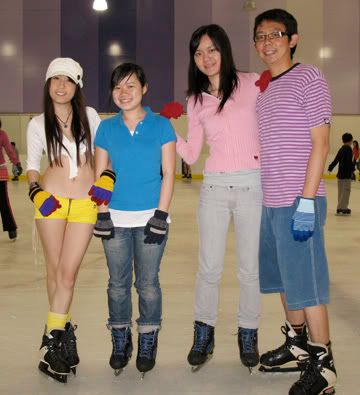 Me with my ice-hockey boots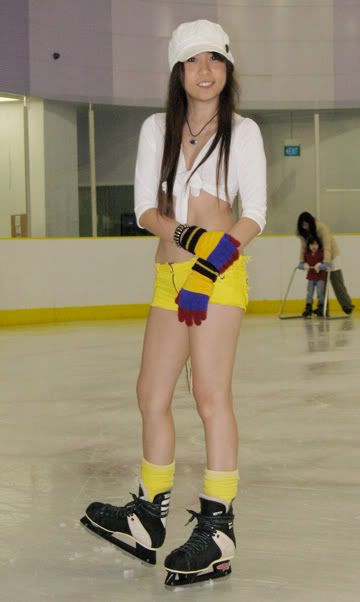 After 2 hours of ice-skating, went to Latendo to collect my pre-ordered item & bought some loose gashapon figurines for my collection. Why is it that whenever I took down those figurines from the shop's shelf, they started coming apart in my hands?!? Quite an embarrassment scrambling on the floor of the shop gathering up those dropped parts. =P
My Sexy RevolTech Pocco!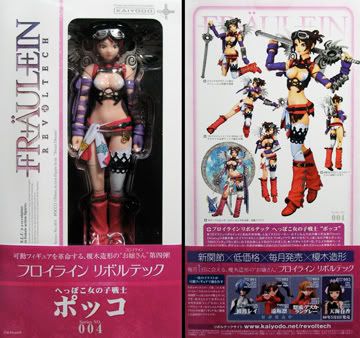 Adding more gashapons to my collection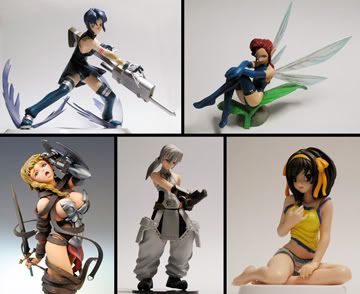 If not for that stupid shuttle service, my day would have been perfect. I really love ice-skating. This interest remains with me the longest, since my school days. Spent lots of time & money on ice-skate during those days. Now wishing for more friends who are interested in ice-skate so I can ice-skate more often. Anyone wanna go ice-skate with me? =P
Before anyone ask, why am I not cold wearing so little on the ice? I hate the local humid heat & perspire too easily. I'm an Ice Hamster Princess who love it cold! Hahaha... xD